Piter Moreira Video Design Showcases Creative Storytelling Through Slick Presentation, Clever Editing And Innovative Motionography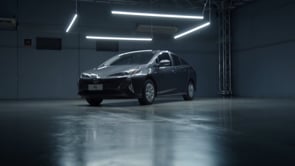 Piter Moreira's Website Uses Simplistic And Effective Navigation Focusing On The Video Presentation
Piter Moreira, an Uruguayan filmmaker and advertising director, showcases his versatility and creative drive with an impressive video portfolio neatly packed within his minimalistic, almost single-page website.
Besides a logical emphasis on video production, Piter Moreira's video design and his video-centric website follow the latest trends to a tee. The human brain processes visual information four times faster than conventional written content, which is why more and more websites utilize videos on landing pages.
Landing page videos are eye-pleasing, stylish and valuable information-wise, and it's clear that Piter Moriera is aware of their pull.
Piter Moriera's website builds upon this proven practice even further as it seamlessly transitions into a video platform/media library. Since the on-site cursor, wherever you scroll, acts as both a navigation tool and a play button, every click is significant, supplying effortless interactability and user control.
The Home Page Offers A Cinema-Like Experience, Fulfilling Promotional Purposes And Providing Satisfying UX
Dynamic videos in the background of the home page perfectly complement the rather short, but strong messaging presented with bold animated white lettering. This innovative blend of visual and textual elements is a strategic move that branding experts also employ to capture and hold viewer attention.
These copy snippets act as a table of contents, explaining the purpose of every video, similar to teaser trailers or book blurbs.
As a visitor, you cannot resist the feel of a movie-going experience or a flashy streaming platform promoting the latest additions to the repertoire.
Cycling through five showcased videos is instant yet not abrupt, with smooth transitions that further evoke the sense of carefully planned directors' intent.
As mentioned above, clicking anywhere but navigational elements start the chosen video. The video takes up the entire screen above the fold with strong imagery and quality audio cues.
Piter Moreira Video Design Shows Off His Mastery Of Various Styles
While the home page showcases five carefully chosen videos, the whole portfolio reflects Moreira's mastery of different production styles and genres.
From short movies, study cases and music videos to a variety of advertising campaigns, Piter Moreira crafts every project with meticulous care, implementing the latest industry trends.
The common thread between all these videos is a noticeable playing with light sources, shadows and color contrasting, a subtle but powerful style uniformity.
Whether it's an original twist on classic horror tropes in his short movie "El Guardian," depicting a slow descent into madness, a stylish and varying commercial that play on the dichotomy of rich history/tradition and new/modern, or charming and highly original music videos, Piter Moreira has it all.
To promote this captivating video material, auto-playing snippets draw visitors' attention, giving them a glimpse of what every single video embodies, before the ultimate transition to the Vimeo platform.
Receive proposals from top video design agencies. It's free.
GET PROPOSALS
The Hy Project Video Merges Visual Conventions Of Car Commercials With An Environmental Preservation Agenda
The Hy Project is devoted to solving the emerging environmental problems caused by the increase of electric and hybrid cars around the world. New regulations require that these vehicles emit sound as a safety standard, both for the benefit of pedestrians and traffic as a whole.
Piter Moreira's case study video (the first one in the growing library) uses a narration style similar to a documentary producer's approach. That, combined with the aesthetics of the automotive industry commercials we've come to know over the years.
Moreira incorporates plant life into the mix, portraying an innovative perspective while retaining the appeal and "promise of power" every quality vehicle carries.
The video's slightly colder color palette subconsciously conveys the feeling of professionalism and corporate culture, united with the greens the project aims to save, highlighting and adding to the overall feeling of harmony.
Piter Moreira Video Design Showcases Diversity, Expertise And A Refined Sense Of Aesthetic
Piter Moreira's stylistic choices play with viewers' expectations in an engaging way, drawing the audience in with the subtle framework and strategic use of sound.
Expert sound gradation and color contrasting pervade all his work, giving them a recognizable feeling and a specific directorial signature, regardless of the type of video. This ability to leave a distinctive imprint is something that talented video producers often strive to achieve.
Submit your best designs for a chance to be featured on DesignRush!
GET STARTED