NFTs have taken the world by storm. As much as 23% of Millennials in the US collected NFTs and almost $41 million was spent on NFT marketplaces.
The appeal of NFTs is in their accessibility and uniqueness. NFT creators can be ordinary people, musicians, public institutions, brands, artists and so on. They provide a way for users to monetize digital assets that they own or create.
Since NFTs exist in digital form, they are easy to transfer over the internet – and since there is no production or physical delivery, nor any licensing, anyone can buy or sell NFTs online.
In this article, we will discuss the trading side of Non-Fungible Tokens: where to buy NFTs (among seven recommended NFT marketplaces), how to buy them and – just as importantly – why buying them could prove to be a smart investment.
What Are NFTs?
Non-Fungible Tokens (NFTs) are one-of-a-kind blockchain-based tokens that owners trade online and use to authenticate ownership of a digital asset attached to them.
As they are uniquely identifiable pieces of data, NFTs belong only to their respective owners. They can be works of digital art, collectibles, videos or any other form of digital content. NFTs are generated or "minted" from a specific digital asset or cryptocurrency such as Ethereum.
Simply put, NFTs allow digital creators to release their work to the public (via dedicated marketplaces and NFT websites), without the risk of being copied or counterfeited. It is impossible to copy the image file or create and distribute the screenshot of someone else's NFT because they are, essentially, cryptocurrency-based codes that vouch for their authenticity.
NFTs are also increasingly used to gain entrance to special events, such as VIP parties, private concerts, etc.
Non-Fungible Tokens owners have a flexible way of storing and controlling their digital information, while NFT creators can get royalties from transferring ownership or even get a percentage from sales of their NFTs.
The growing popularity of NFTs lies in their unique marketplace value for digital assets, as more and more brands from all industries take up minting their own NFTs to sell online. This was accelerated with the rise of Metaverse and ownership of virtual lands and characters.
Considerations When Choosing Where to Buy an NFT Crypto
The simplicity of creating, buying and selling Non-Fungible Tokens, their novelty and potentially lucrative trading has made them an extremely popular type of digital asset in 2023.
Likewise, their appeal lies in their collectability and the fact that every NFT is unique and cannot be mass reproduced. This resulted in several high-profile NFT multimillion-dollar sales, such as Pak's "The Merge" which sold for a staggering $91.8 million!
However, before jumping recklessly on the NFT bandwagon, potential buyers should be aware of the NFT trading mechanism that is currently in place.
NFTs can be bought directly from a creator on any of the independent NFT trading platforms or marketplaces. These communities are growing in numbers daily and offer a convenient way of browsing through thousands of different types of Non-Fungible Tokens.
Also, well-established business entities and companies such as Gucci, Walmart, New York Stock Exchange and Time have announced that they too will launch their proprietary NFT marketplaces.
There are several types of NFT marketplaces fit for collectors, artists, gaming fans, etc. They vary in size, format and subject:
Open NFT marketplaces
Collectibles NFT marketplaces
Games NFT marketplaces
Curated NFT marketplaces
In case you are unsure which type of NFT to buy, it is advisable to visit several NFT websites and browse through their offering, check out the prices and evaluate the purchasing process on each of them.
When deciding on a specific NFT marketplace, you need to consider:
The type of NFT you are looking to purchase
Third-party information and disclosure on the chosen marketplace
The safety mechanisms in place to make sure the NFT buyer makes a legitimate purchase
What specific cryptocurrency is required to buy an NFT
If any fees are involved in the transaction
If there are other similar NFTs available to the one you're looking to buy
What digital wallet you will use to store the NFT post-purchase
How and where you can sell your NFT in the future
Where To Buy NFT Crypto: 7 Best NFT Websites and Marketplaces
NFT Marketplaces are popping up left and right to match the accelerating popularity of these tokens and keep up with the trade demand.
We have narrowed our list of the best NFT websites and platforms to seven based on the number of reliable buyers and sellers and the sheer volume of offerings.
OpenSea NFT marketplace was founded in 2017 by New York developers Devin Finzer and Alex Atallah. It is one of the first and largest websites for buying and selling Non-Fungible Tokens. It supports Ethereum, Polygon and Klaytn cryptocurrencies.
The buyers on this platform can acquire NFTs directly from sellers for a fixed price or bid for them on NFT auctions.
OpenSea users can filter NFTs by their price and how rare they are to buy or sell:
Art collectibles
Music and original sound loops from the world's eminent artists
Games
Domain names
Sports goods
Virtual real estates
Other types of digital assets
The users can also have insight into the sellers' ranks by volume, average sale prices and number of NFTs sold.
Mintable is a marketplace for buying and selling NFTs, supported by billionaire Mark Cuban.
It uses Ethereum and Zilliqa blockchains as well as MetaMask for users to set up their digital crypto wallets. As per the platform's name, the users can generate or "mint" NFTs that are "gasless," printable or transaction-based.
After the users fund their wallets and set up their profiles, Mintable users can buy all the listed items straight from the source and partake in auctions dealing with:
Digital art
Photography
Videos
Games
Domain names, etc.
Zora is an open NFT Marketplace that began its lifespan as an invite-only platform, restricting its access to only the most eminent of NFT artists. On this platform, creators get to enjoy a higher degree of ownership of their art. It also allows for perpetual bids in which platform users can pay in any currency.
Zora's user-friendly interface and minimalistic layout make it very simple to use and get around. It frequently sells physical items, limited edition units and is one of the best platforms for buying music sound-bite NFTs.
At Rarible, users can mint, purchase and sell digital NFT collectibles in all shapes, types and sizes. Sporting a distinctly NFT-centric UI, this marketplace puts the available Non-Fungible Tokens at the forefront and displays them under numerous categories and tags.
A scrollable stack of columns features best sellers, live auctions and hottest collections. The token this marketplace uses is called RARI and it lets active users vote for platform upgrades and take part in decisions regarding the moderation of the website.
At Rarible, users can buy and sell:
Digital art
Photography
Music
Games
Metaverse memes
Nifty Gateway is an NFT platform that accepts brands and artists creating Non-Fungible Tokens and markets them via the so-called drops that make all collections available for a limited time only.
After the artwork sells or a drop ends, NFTs – or "nifties," as this platform calls it – are resold via the peer-to-peer marketplace. The platform has a collection discovery page as well as a very detailed log of all activity on the website.
Some of the brands that have minted and sold their digital art and collectibles on Nifty Gateway are Forbes, Playboy and Beeple.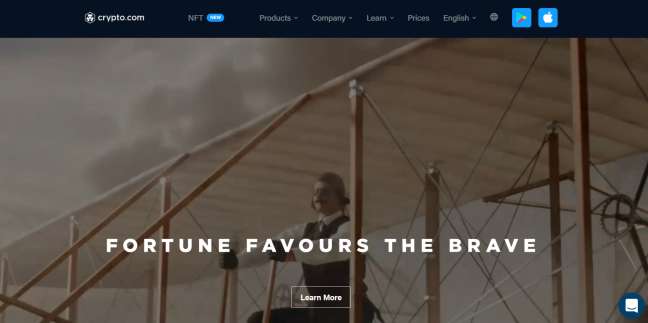 One of the most popular global cryptocurrency exchanges, Crypto.com is an Ethereum-based NFT marketplace with a massive base of over 10 million users. The site's marketplace was established in 2021 and offers art, gaming, music, crypto and sport NFTs.
On this Ethereum-powered platform, NFTs are available for a fixed price or via auction. Users can buy NFTs with their credit cards or cryptocurrency through the platform's proprietary gateway. There are no transaction fees when buying an NFT on this marketplace.
With a user interface that's easy to navigate and understandable to beginners as well as seasoned investors, Crypto.com has accepted NFTs made by some of the most popular music stars like Snoop Dogg. This particular marketplace provides an NFT app that allows users to buy and sell NFTs from their mobile devices.
Venly, a peer-to-peer NFT marketplace and digital wallet consists of well over 200,000 gamers that create, buy, sell and trade game characters and diverse in-game collectibles.
This platform also works with various cryptocurrencies like Polygon, Avalanche and Binance and, therefore, provides a "blockchain agnostic" service. However, it also allows paying with Fiat money via PayPal. A Venly or MetaMask wallet is required for users that want to pay with cryptocurrencies.
The platform incurs a 2% fee on each transaction but also offers a 10% royalty on resales.
NFT Purchase Process: How to Buy Your Non-Fungible Token in 5 Steps
Essentially, all NFT platforms employ a similar, if not the same process of purchasing Non-Fungible Tokens. Here is the step-by-step guide for buying NFTs that you can replicate on the above marketplaces.
Step #1: Set Up Your Crypto Wallet
An obligatory step when planning to purchase NFTs is to buy some cryptocurrency and fund it to your crypto wallet.
A digital wallet is a place where you can store any cryptocurrency you opt to buy: Bitcoin, Bitcoin Cash, Ethereum, Litecoin, Ripple, Cardano, etc. It is used to both pay for services or goods and receive cryptocurrency from other parties.
Once you collect an NFT, it will be stored inside your digital wallet.
Step #2: Pick Your NFT Marketplace
After setting up your digital wallet and funding it with a cryptocurrency of your choice, you need to pick among several NFT marketplaces (of course, you can choose to become a member on several instead of one).
As per our list above, there are numerous marketplaces you can opt for. What most of them have in common is that they sell NFT art, music, videos, in-game items, virtual assets and other collectibles.
Evaluate each marketplace carefully and go for the one with the Terms and Conditions, registration process and overall UX that you agree with.
Step #3: Connect Your Digital Wallet to Marketplace
Link your chosen NFT marketplace to the digital wallet you opted for in step 1. Your user account on the NFT buying platform should have a step-by-step explanation of how to connect. Once your wallet is all set up, you can start buying, selling and trading Non-Fungible Tokens on the site.
Step #4: Find an NFT and Place a Bid/Buy It
Sift through the catalog of NFTs on the website you have registered with and find the one you like. If you are looking for the best ROI over time, try identifying an NFT that will attract higher prices in the future: those would be digital assets that are popular, rare and likely to go viral.
Then, you can either place a bid on the NFT you have set out to buy or purchase it for a fixed price. This will depend on the nature of the NFT sale, as determined by the seller. NFT sellers provide additional details on the buying process, such as the selling price, auction time limit and acceptable cryptocurrencies.
Step #5: Finalize the NFT Purchase Transaction
If you are the highest bidder once the auction ends, the NFT marketplace will complete the transaction for you and proclaim you the new owner of the NFT. In some instances, the seller can choose to accept your offer even before the auction officially ends.
At this point, you now have the exclusive ownership of a unique digital asset! As NFTs can only have one owner (until and if you decide to sell them), you can hold onto it until it reaches a price that will make a sufficient profit for you – or you can just hold onto it indefinitely and have a unique item in your digital collection.
Why Should You Buy an NFT?
The reason behind the skyrocketing popularity of NFTs is that these digital assets contain identifying information on their owners that are recorded in the so-called smart contracts.
This basically means that NFTs are true ownership of one, specific user and cannot be owned by anyone else until the ownership is transferred to them in exchange for digital money.
NFT cannot be replaced by another token and can be traced back to the original issuer. In a way, they have their legitimacy certificates embedded in them.
The NFT value comes from its rarity – just like any "real-life" art piece. And, as an art piece, they can appreciate in value over time.
Simply put, NFTs provide these benefits for the buyer:
Scarcity and value over time: The NFT's rarity determines their value over time.
Collectability: NFTs provide a unique niche for collectors, just like art, antiques or sports cards.
Investment: Non-Fungible Tokens are an alternative opportunity for making money in the long run.
Takeaways on Where to Buy NFTs
Non-Fungible Tokens experienced a sharp rise in popularity with the advent of Multiverse in 2021.
Numerous NFT platforms and marketplaces now allow users to buy and sell NFTs, which can be anything from digital art, music and even digital real estate and fashion. Some of these websites also allow users to generate or "mint" their own NFTs.
The appeal of the NFTs is in their uniqueness – each NFT is essentially a non-replicable code that guarantees ownership of a token to a single person. This also provides them with a potentially great value that can appreciate over time.
Some of the most reputable websites where you can buy and sell NFTs include:
OpenSea
Mintable
Zora
Rarible
Nifty Gateway
Crypto.com
Venly
When choosing a place to conduct your NFT trading, be wary of several things such as:
Their terms and conditions
Any additional fees per transaction
Full ownership guarantee
Full transparency of the sale
We have listed the best blockchain technology companies as well as software development agencies that can help you on your way.
Subscribe to Spotlight Newsletter
Subscribe to our newsletter to get the latest industry news