1914 | Sainsbury's OFFICIAL Ad | Christmas 2014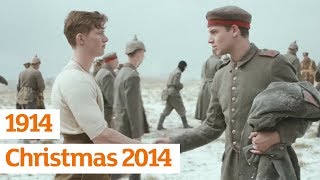 British company Sainsbury's Christmas advert from 2014, made in partnership with The Royal British Legion is inspired by real events from 102 years ago in 1914. It commemorates the extraordinary events of Christmas Day, 1914, when the guns fell silent and two armies met in no-man's land, sharing gifts – and even playing football together. The chocolate bar featured in the ad was made available on sale at Sainsbury's, and all profits (50p per bar) were to go The Royal British Legion and benefit the armed forces and their families, past and present.
The storytelling technique immediately connects with the audience. It tells the story of soldiers at war, away from home at Christmas time outdoors in the snow. The background score is melodious: a rendering of the Christmas carol Silent Night sung by the soldiers themselves. The chocolate bar is used as a symbol of peace, connecting with the brand identity of Sainsbury's. The writing, while kept to a bare minimum, is crisp and engaging. The video tells a tale of two opposing armies united by Christmas as well as by a chocolate bar, tugging at the heartstrings of the audience. Great attention has been paid to detail, with very appealing visuals as well as high quality descriptions of the snowy terrain, accurately depicting a cold and snowy Christmas. The spirit is festive and familial, in keeping with the theme of the advertisement.
The video at once feels human, connected to emotion, and very real. Most importantly, it is grounded in British heritage, which is also what the Sainsbury's brand is about. The video does a splendid job of following a clear strategy and engaging with the audience. The Sainsbury's ad also accurately highlights the company's brand identity while promoting a festive spirit of sharing and telling a compelling story.
1914 is a beautiful commercial video.