Kodak Alaris Social Marketing Video — Halloween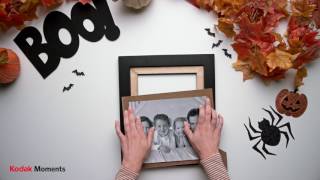 Kodak is one of the most widely recognized names in photography, and has one of the most memorable catch phrases that people often say even when not using a Kodak device—a "Kodak moment." This thirty second video gives a fun spin on what to do with printed photos for Halloween time.
The video all takes place within a single frame, and the camera never moves. There is no narration, and the music is a fast folk style. The subject of the video is a picture frame, and surrounding it are Halloween decorations, including pumpkins, leaves, bats, spiders, and the word "Boo!" in a fun bubble font. All of this is set on a white background, likely a green screened desk that has been desaturated to white.
We watch as hands put a black and white family photo in the black picture frame, taping the photo to the board behind so that it will remain in place. Then, the hands use a drill to remove the eyes of each person in the picture, drilling through the photo and the board. Small lights are then installed into the holes to give the eyes a glowing, haunted look.
Throughout the video, the words "Kodak Moments" are in the bottom left of the screen, a logo to brand the video. The words are red and black, and the typeface is the Kodak logo font, a classic, bold sans serif.
The video's purpose is to show a simple do it yourself project that can be done at home, something to do with a leftover printed photo or an empty frame. Even though no Kodak products are shown in the video, the simple branding in the bottom corner is enough to give Kodak a command over the video and instill a desire to use Kodak products to create projects like the one shown in the video.
Anyone with a camera, a drill, and a little ingenuity can follow the steps in the video to make a fun Halloween decoration this year.
Kodak Social Marketing Video is a great demo video.