Foster Farms Video Design Uses Colorful Presentation And Bold Messaging To Showcase The "New Innovation In Pizza"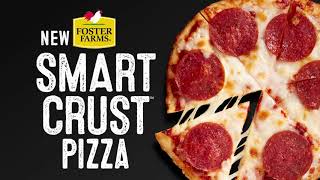 Foster Farms Video Design Shows Gastronomic Revolution Without The Guilt
E29 is a California-based full-service marketing & advertising agency that strives to deliver the value paired with a pinch of extraordinary.
Landing at their website, a visitor is instantly met with the agency's ethos:
"Creating extraordinary work at the speed of the marketplace"
Working on Foster Farms video design, E29 went one step ahead. Namely, they had to come up with an engaging ad that follows a launch of a niche, innovative brand into a crowded market.
In July 2020, Foster Farms launched Smart Crust Pizza, a low-carb, high protein, frozen pizza line. The primary challenge was to develop a revolutionary campaign to support the product launch:
Foster Farms had no existing brand presence in the frozen pizza market.
Frozen pizza is a crowded market with established brands in the grocery industry
There was no market knowledge of chicken-based pizza crust, hence the target audience required education.
E29 Marketing came to an actionable conclusion:
"Americans will do anything to get their pizza fix. No one wants to give up pizza, no matter what their dietary restrictions, fitness regime, or weight loss goals. Above all else, pizza is worth the cheat."
Within the robust campaign marketing mix that the agency crafted, what stands out the most is the creative promotional video. Clocking in just 30 seconds it succeeds to engage the audience right from the get-go. Video producers often use this short-form format to convey the brand message succinctly, ensuring it captures viewer interest and leaves a lasting impact.
Video leans heavily on gastronomical cravings of its target audience, replacing their potential fears (guilt among other things), with a revolutionary culinary innovation:
Enter Smart Crust Pizza!
Smart Crust Pizza Proves To Be A Smart Marketing Promotion
Ever since "keto diet", "gluten-free" and similar trendy buzzwords entered the general public, (especially after celebrities like Jessica Alba, Lebron James, Lady Gaga and Novak Djokovic started promoting various types of a healthy diet) food industry as a whole started reconsidering its video marketing efforts.
Family-owned and operated, Foster Farms specializes in premium quality chicken and turkey products and with the launch of Smart Crust Pizza in 2020, they aimed to revolutionize the frozen pizza category.
The innovative product goes hand in hand with inventive messaging. It's why branding experts prioritize the crafting of a unique and impactful brand narrative. Without it, "low carb, high protein, gluten-free and keto certified" are nothing more than a seasoning.
Foster Farms made their marketing position stand out in the sea of similar healthy food, by smartly employing customer's trigger words, pain points and modern language with a simple:
"Cheat? Nope!" and with it crossed every single ingredient-conscious consumer's worry.
Not to mention that the Smart Crust Pizza is "friggin' delicious."
The last point leans heavily on the fact that pizza became a major part of the American cultural zeitgeist.
"Tastes like a cheat pizza yet isn't one at all. Eat delicious pizza, guilt-free!" are sentiments destined to turn a lot of heads.
Receive proposals from top video production agencies. It's free.
GET PROPOSALS
Smart Crust Pizza Satisfies With Bold Typography And Delicious Visuals
Smart Crust Pizza's video playfully combines innovation and tradition. It uses huge, strong lettering to convey the "smart" nature of the brand, bold color palette and dynamic transitions.
It uses a variation of Shaimus Printed font that, when combined with colorful backgrounds, almost looks like it's made of pizza crust itself.
On one hand, its warm hues, yellows and blacks evoke the established fast-food aesthetic that subconsciously triggers our palates.
The snappy transitions reflect an active and healthy lifestyle and a brand that is ahead of the game with a campaign that is extremely hard to ignore.
The video is almost entirely made up of shots of people enjoying their slices of pizza. This motion entices the go-getters and the foodies. It encourages viewers to listen and watch, but also get out there and taste Smart Crust Pizza.
Foster Farms and E29 Share A Craving For Crisp Video Quality
Don't let the initial simplicity fool you. The video in its entirety is designed in a way that you can take every single frame of it and make it into a high-definition banner and/or stand-alone visual.
Namely, the high-bar standards in video production and dynamism of shots focus on content marketing and the innovative nature of the brand without asking the audience to spend too much time on a single frame.
Transitions are fast, but there's emphasis on quality. If they can make a simple video like this look great, you can only imagine what the pizza tastes like.
However, it does linger a second longer when it's most important and interesting, so audiences still get to see all the deliciousness without being cut short.
The video quality seems to be TV-ready and it makes it stand out in the sea of digital ads.
Foster Farms Video Design Didn't Cheat On Pizza and Video Production
Foster Farms knows the universal truth that everyone loves pizza, but not the guilt.
The video leverages this sentiment by capturing and highlighting how the new type of product revolutionizes pizza cravings.
The video is a simple, fun, lively but straightforward commercial infused with strong branding that appeals to both trendy, young and modern audiences. Even the lovers of the "good ol'" pizza, calories and all, will find this interesting.
Its bold, strong lettering and mouthwatering shots make Smart Crust Pizza hard to miss out and our video design experts couldn't agree more, hence giving it this much-deserved award.
Get a chance to become the next Design Award winner.
GET STARTED