Google - Year In Search 2016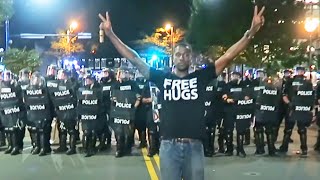 In December 2016, Google released "Year In Search 2016" video showcasing what the world searched for that year. It features catastrophes and disasters that occurred in 2016, from the Orlando shooting to the Aleppo boy. It also showcases the political surprises that the year was riddled with, including the US Elections and Brexit. The video is also inflected with events that shook the world of pop-culture, like Drake's new album and HBO show Game of Thrones.
The heartfelt video makes the viewer several emotions in just two minutes, using excellent technique. The video contains snippets of important speeches from personalities like Ellen and Barrack Obama, which match the action that is taking place on screen. While it definitely has a disparaging and negative element to it, the film ensures that it also spreading the message of positivity by also highlighting the positive events that took place in 2016, like advancements in the fight for equality for LGBTQIA. The video is beautifully set against the tune of "Light The Sky" by Grace VanderWaal.
The video tells the story of 2016 in just two minutes, using engaging clips, speeches and music. The writing is crisp and clear, and the the editing of the video is excellent, ensuring that each clip contributes to the video.
Essentially advertising Google, the video features an empty search bar towards the center of the screen, indicative of the fact that what is being shown on screen is what users most searched for. At the end, a simple message is displayed: "Love is out there. Search on." The message aptly advertised Google as well as advocates positivity and love, a win-win for the company. In all, Google's "Year In Search 2016" video is a great presentation for its users, which also doubles as an advertisement. It is beautifully compiled and edited and has audience appeal.  
Google - Year In Search 2016 is an heartfelt commercial video.