Heathrow Bears Christmas TV Advert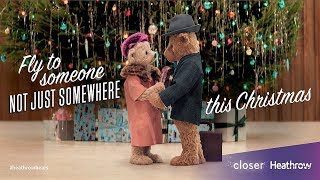 For its Christmas 2017 ad, London's Heathrow Airport created an advert centred around the Heathrow Bears. The advertisement is simple and heartfelt, in keeping with the holiday theme. It intends to promote using Heathrow Airport to travel, and the video manages to do so very effectively.
The two-minute-long video features the story of a bear who uses London Heathrow Airport over the years, from 1967 to 2017. He meets his future wife in the airplane, and the advert goes on to show how the airport has played an important part in their story. It shows the growth of their relationship as, over the years, they slowly build a family, including children and grandchildren. The video tugs at the emotional heartstrings of viewers, making for a very engaging watch.
The storytelling is compelling, using strong visuals to show the bears falling in love and the progression of their story over the years, instead of dialogues. The characters are relatable and fun to watch, making for an excellent viewing experience.
Another great aspect about the video is that Heathrow Airport is not explicitly advertised, but plays an important part in the script. The writing of the advert's script is crisp and clear, and the technique used while filming it is also excellent. The editing is well done, keeping the video short, clean, and engaging.
The colors used throughout the video are ale in line with the theme of the ad. It heavily focuses on colors like green, blue, and red. The soundtrack of the video is also completely on point with the script, reminiscent of both the holiday season as well as love. The video makes for a very compelling watch, with great writing and storytelling, and excellent utilization of technique. Overall, London Heathrow Airport's commercial is a great example of a holiday advert done well.
Heathrow Bears Christmas TV Advert is a sweet commercial video.