Kmart's "Ship My Pants" Commercial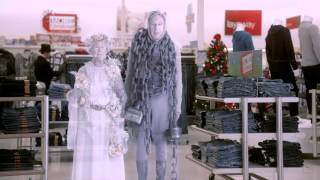 Kmart is promoting a service that provides shoppers with free shipping for products on Kmart.com in the event that the product is not available in stores. As part of its promotions, the video "Ship My Pants" was published, and the online commercial is a win for juvenile humor. In it, a store worker is informing store shoppers that Kmart can "ship your pants" for free, a punchline that was repeated at least ten times in the commercial.
The video uses an entertaining storytelling technique, making sure the message sticks with the audience in an engaging and compelling manner. Set in an actual Kmart, the video is extremely short and crisp, making for excellent consumer storytelling and brand advertising. The content is also not text-heavy, with most of the writing containing the words "Ship my pants" repeated over the course of the 35-second advert. It gets the message about Kmart's service out there, without being boring or too long, and makes for a good watch.
The video also features members of several different backgrounds and age groups, cementing Kmart's brand identity as a store for everyone. The content is short, crisp, compelling, and emotionally appealing to the audience. The writing is approachable, jovial, and friendly, and takes care to maintain Kmart's brand identity. The lack of any background score is a great feature, ensuring that the viewer doesn't detract from the message of the video. Great attention has been paid to detail in the short clip, from showcasing the Kmart products to the actual profile of Kmart consumers and Kmart store employees. The visuals are entertaining and engaging, a feat that is hard to pull off given the extremely short duration of the advert.
In all, the video does an excellent job of representing Kmart's brand persona, while also promoting its new service by using a clear content strategy.
Get connected with the right video production agency for your project.
GET STARTED