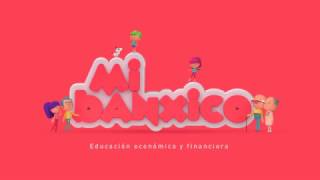 Global economic and financial education is an essential part of life. Studies have shown that those who enroll in a financial education course tend to better handle their personal finances. The Bank of Mexico recognized that need by creating a website called, Mi Banxico. Mi Banxico teaches the institution's current and future clients the ins and outs of the financial industry.
The short one-minute video uses bold typography and colorful animation to capture a viewer's attention. Each frame is a quick overview of why financial planning is important. It demonstrates the website's key functions, allowing viewers to learn about the different aspects of the website.
What makes this video unique is the attractive, bright colors. The images offer clean lines of symmetry, depth, and incorporates a three-point lighting interface to help pull the content together. It doesn't have a narrator, however, its light track uses the different notes of a xylophone that changes with each frame.  
The Bank of Mexico describes this website as "a colorful place where you can—have fun discovering, know how to interact, and learn how to play…"  Mi Banxico's video reiterates that message to its viewers. It embraces financial education's importance by sharing the basics, helping current and future customers learn the history of economics on a level that applies to them. Not only is the video an educational tool, but the program itself is one other financial institutions should consider implementing.
Mi Banxico is an illustrated animation and demo video.