TEMPTATIONS™ - Keep them busy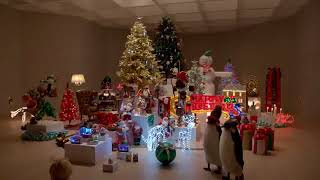 Temptations is a brand of pet food that specifically makes treats for cats. It is 2016 holiday advert, the pet food company released a video titled "TEMPTATIONS- Keep them busy" to promote the message of avoiding holiday destruction by treating cats over the holiday season with Temptations treats for cats. The video plays off of the idea that cats cause destruction, and uses engaging storytelling to advertise the brand.
The video starts with presenting a near-perfect decorated simulation of a Christmas festival. It has a very festive, joyous, and colorful vibe. It features trees, decorations, clockwork rails and mice, toys, candy, and other festive decorative pieces. There's also a cuckoo clock, and it all seems perfect until the clock goes off and the doors open, letting in scores of cats who wreak havoc on the perfect Xmas set up in mere seconds. The cats are shown clawing away at all the precariously positioned decoration pieces and objects and eventually leaving abruptly once the room has been ruined.
The storytelling technique invokes an emotional response that is humorous and festive, yet very relatable. There is no speech in the entire advert, and the video relies solely on action and movements to tell the story. Great attention has been paid to the details, from minute elements of the decoration to the movement and expressions of the cats. The background score is also exceptional, ranging from mellow and harmonious to utterly destructive depending on the activity taking place. The content follows a clear strategy- reminding the viewers of what could happen if cats are not fed, and then advertising the Temptations brand as a way of keeping the cats occupied. In all, the video tells a great story while engaging the audience using humor. It also presents the brand well without overly promoting it.