Train Like Legends Video Design Motivates Young Athletes to Go For Gold With Its Olympic-Standard Workouts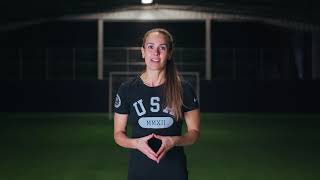 Train Like Legends Video Design Leverages Star Power to Inspire Platform Users
Train Like Legends provides an innovative digital platform that enables anyone to train like their favorite athletes without the hassle of scheduling or locations getting in the way of personal progress.
To better convey their training and wellness plan, the team added another major player to the roster – Forge Apollo. The Pennsylvania-based team of problem solvers, innovators and storytellers quickly drafted the Train Like Legends video design with the goal to present the program's values, features and benefits through engaging imagery and narrative that is sure to inspire viewers to drop everything they're doing and start working out.
Train Like Legends combines world-class programming and instructional videos with a wide supportive community designed to foster positive growth. The goal is simple: Educate, Guide and Inspire young athletes to reach their full potential both on and off the field.
And if anyone knows anything about scoring goals, it is Heather Mitts, one of the most accomplished female soccer players in the history of the sport.
Living in a "celebrity culture," there's no denying the transitive power of a celebrity endorsement. However, the three-time Olympic goal medalist is not here just to lend her star status to the brand or offer a quick cameo.
In fact, Heather Mitts is both the founder and the main coach that guides sports youth in their pursuit of greatness.
Get connected with the right video design agency for your project.
GET STARTED
Train Like Legends Uses a Powerful Combination of Narration and Visual Storytelling
At one minute and 38 seconds, the video features dynamic, heavily edited interweaved sequences of Heather Mitts achievements, her training routine, as well as the "look from the other side of the screen", or in other words, the user's point of view.
Behind every quality design, clip or B-roll is a meaningful story. Similar to how documentary video producers tell powerful narratives, this video taps into the essence of what it truly means to be "legendary."
In this case, the audience witnesses a classic case of Hero's Journey paired with modern advertising cues. Once the "legend" is introduced, emerging from the mist, we see the resolution (medals in this case) before the obstacles she faced to climb to a well-deserved throne. Yet, the story doesn't end with passive success, far from it.
A proper Olympian, laureled by gold keeps pushing forward beyond the active "sport service" and inspires others to follow.
Having the star of the video be its main narrator and drawing from her rich experience establishes authority and reliability but most importantly, it acts as a multimedia guarantee or quality assurance, if you will.
It takes a legend to make a legend.
Train Like Legends Video Design Gives a New Perspective to Women Empowerment
Although the Train Like Legends exercise program isn't exclusive to one gender, nor soccer professionals for that matter, it makes a huge leap when it comes to empowering women.
Train Like Legends turns the social movement on its head by infusing it with elegant physical prowess. The so-called "weaker sex" is all but yesterday's news. And let's face it, when it comes to the most popular sport in the world, "girl power" is undisputed across the US.
This video redefines the meaning of "team" by making individual athletes stronger. Each message and frame create a consistent, continuous flow that conveys a grand meaning – that it is a multilayered platform, boosting raw talent and strengthening the body, as well as the mind.
It showcases how video production experts can break barriers by challenging existing norms and pushing creative boundaries.
A Dramatic, Edgy Soundtrack Underscores the Action-Oriented Imagery of Train Like Legends Video Design
The video's music and sound editing play an integral role in the video design. The soundtrack develops steadily from a slow electric progression to hypnotic beats that underline the cinematic imagery.
The sonic effects create a "ready, set, go" mood that is both optimistic, action-packed and exciting – very fitting for a training reel video.
In conjunction with the video's promotional images, the music and narration embody the go-getter spirit and winning mindset of professional athletes, as well as the "regular" people aiming to become "new legends."
Train Like Legends Video Spotlights the Merger of App-Based Technology and Home Workouts
What is the main goal of a typical workout app?
Simply put, it offers guidelines users can follow to achieve their fitness goals in the gym or at home. Nowadays and especially in the last two years, motivating them to choose your app specifically in the sea of competitors flooding the market can be challenging.
However, Train Like Legends is far more than a simple exercising app. Aimed at aspiring professionals, this app-based platform packs multiple functions we got used to during the "new normal": a training program with a performance tracking feature combined with live feedback from certified trainers (and it doesn't get any better than an Olympic medalist).
Train Like Legends video design accentuates this live training-tech combo with two types of visual cues: The first being a stylish overlay showing graphs, stats and the subtle cues on the app itself.
The video opts for a brilliant optical scheme. It follows one key principle that branding experts live by: creating a visual language that resonates with the audience. It relies on showing rectangles of various sizes (goal post, squares on its net, etc.) and prominently emphasizing them for users to subconsciously make a connection with the shape of their screens (think about their phone as a doorway to their goals) and of course, the brand's logo.
These fine-drawn tricks of the trade may go unnoticeable at first glance, but they are the tipping point that makes Train Like Legends video design stand out and deserving of the Best Video Design Award for February 2022.
Submit your best designs for a chance to be featured on DesignRush!
GET STARTED