YouTube Rewind: The Ultimate 2016 Challenge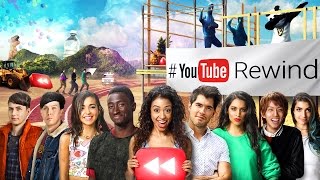 Released in December 2016, YouTube Rewind 2016 is a video by YouTube that aims to celebrate the videos, people, music and moves that made 2016. The video is dedicated to all the moments that brought us together in 2016, and to foster love and understanding in 2017. The film is a tribute to the most famous moments of 2016 in the world of pop culture.
The video has been very aesthetically and creatively planned and executed, but at the 6:52 mark, it manages to become even more compelling and engaging. It features an amalgamation of clips from the most popular and famous videos of 2016, as well as song videos, advertisements, internet sensations and YouTube stars.
The music of the video is excellent, matching the action on the screen perfectly. Made by Major Lazer, the fun tune is a mash-up of the year's biggest hits, including artists like Justin Bieber, The Chainsmokers, Fifth Harmony, Calvin Harris and many more. The video also features the YouTube Rewind logo at many instances in between the video, making for excellent branding. The branding does not take away from the viewing experience at all, and instead enhances it.
The technique used is excellent, and the editing is also great, ensuring that each clip contributes to the video. It aims to tell the story of 2016, and spread the message of love and togetherness.
The film manages to execute this goal with brilliance, and evokes positivity, love and togetherness, featuring people from across the world. It is happy, fun and energetic, and care has been taken to inflect the film with humor to keep the viewers constantly engaged.
In all, the video is a great example of a rewind film, and YouTube has used elements like storytelling, technique, writing and editing to create a unique experience.
YouTube Rewind: The Ultimate 2016 Challenge is a fun demo video.