Netflix's Streaming Platform Incorporates Personalization To Create A Captivating User Experience
Netflix's Intuitive Interface Offers Users A Personalized Viewing Experience
Netflix offers a simple, easy-to-use platform for users to stream movies and television shows. But with its vast collection of titles, it might seem a bit chaotic and stressful to find what you're looking for.
Luckily, Netflix takes the guesswork out of finding your next binge-worthy title with its customized and personalized catalog offering.
This website is organized into clean, clear rows, each signifying a different category or genre -- and the first few categories you're welcomed with are catered specifically to you.
Here, Netflix offers you suggestions based on your past viewing history. They offer recommended titles, shows and movies you've started but not finished, and programs you've finished but might want to watch again. It also incorporates into its platform a "Watch List" where you can tag titles to watch later.
Implementing an intuitive and personalized interface makes it easy to navigate Netflix on a laptop or desktop while keeping the experience exciting and creative.
Personalization in design has become a growing trend, and it greatly affects a user's overall experience when it comes to your website. The more personalized, the more engaging and the higher the conversion rate, mostly because it demonstrates that you're a brand that cares about its users.
Netflix demonstrates successful personalization in website design, leading users more effectively through the site and along their user journey.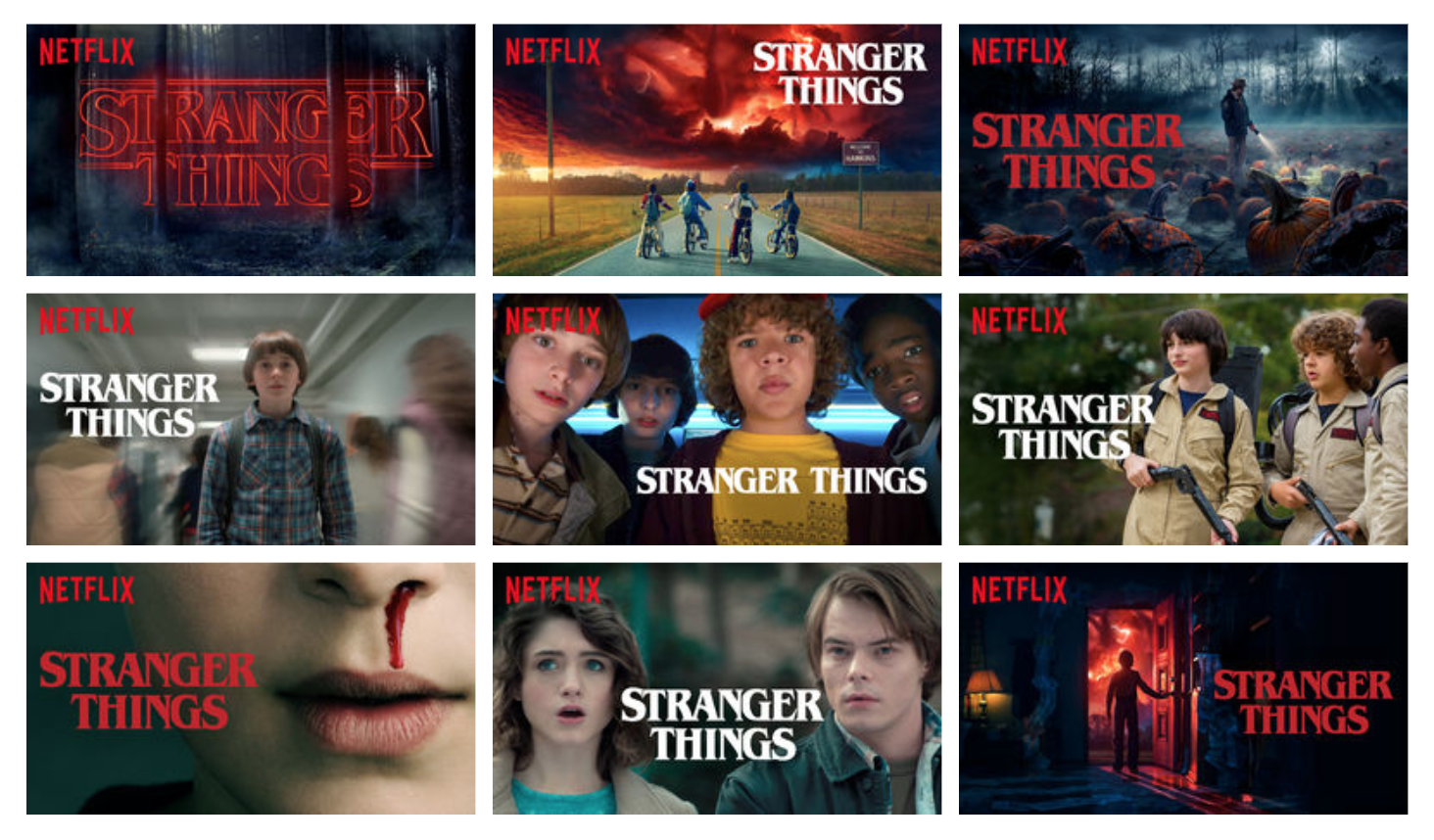 Looking for the best entertainment website design companies?
FIND THEM HERE
The Netflix Platform Uses Clean, Image-Focused Organization To Guide Users Through The Site
But the real stars of the show on the Netflix site are the titles, which are put on display right from the start. Upon landing on the home screen, a video automatically plays, detailing the latest Netflix series or movie they want to highlight. The feature is captivating, engaging and fun.
Beneath this, you're welcomed with an extensive, organized system of rows each embodying a certain genre or category. You have the personalized categories first, followed by the more recognizable ones like "Action," "Drama," "Comedy" and more.
There are given context thanks to bright, white typography labeling the category at first glance.
Subtle movement and scrolling effects allow you to peruse the offerings and learn more about the categories and titles available.
Hovering over the title brings up a popup with more information, an intuitive and engaging organizational tool.
Similarly, the menu bar is clean, cohesive and strong. It clearly outlines the genres and categories, giving you quick and easy access to other areas of the site as well as your own personal account.
The layout here is clean and cohesive, leading users throughout the site in a smoothly and seamlessly.
Netflix's Moody Web Design Creates A Movie Theater-Like Atmosphere Essential For Streaming
From the get-go, the Netflix platform was built to pull you in. You can see it in the moody, black background, bold white typography and eye-catching, iconic Netflix red that is subtly displayed in the design.
There's a serenity in this design due to the soft and sensual color palette and clean layout, making it easier than you could imagine searching through the vast catalog and land on the titles that are right for you.
The bold and eye-catching organization puts titles on full display in an image-heavy way making it clear and apparent what your options are right from the start.
It's a dark and moody design that puts you at ease. It opens your mind and relaxes your body, propelling you to sit back, relax and enjoy the show. There's a tranquility that puts you in exactly the right mindset to watch a movie — the layout and color palette looking like a darkened movie theater.
Similarly, the smooth transitions and easy navigation emphasize this simplicity and smoothness. There's an elegance and a refinement here that invigorates and excited but simultaneously pleases and pacifies.
This design evokes emotion and a deep understanding of its simple, intuitive and clean nature. And it leads you right where you want to go — even if you didn't know it at first.
Get connected with the right web design agency for your project.
GET STARTED
Netflix: A History Of The Modern Video Streaming Service
Netflix is a video-streaming service — one of the most popular video-streaming services available today. The company was created in 1998 as a video rental service, but in the 20 years since its inception, the brand has shifted gears and gone completely digital, offering up thousands of movie and television titles for users to stream from their phones, laptops, desktop computers and even their TVs.
Beginning in 2007, the Netflix brand switched from offering solely movie rentals, to offering streaming services online. At first, this service was only available in the United States, but by 2010, the company was gaining traction in the industry, taking advantage of faster internet speeds and claiming the spot as top video-streaming service the world over.
2010 saw the expansion of Netflix into other markets in Canada and Latin America. As the years continued, Netflix became more readily available in other markets too. It was also during the early 2010s that Netflix started branching out into video production, beginning its own "Netflix Originals" like House of Cards.
The Netflix brand was a clear leader in the industry, and went through many different redesigns and looks before it settled on the moody, sophisticated and stunning design we see today. And the creatives behind this final, stunning redesign were an agency, Gretel.
They created an impactful visual identity the is recognized the world over. Playing with a captivating color scheme, clean organizational structure and a layered card layout, the team at Gretel helped to transform Netflix and its brand identity, getting it ready for its future as an industry powerhouse.
According to the agency:
Netflix is one of the original innovators of streaming content, and they've grown exponentially in the last five years. With an expanding slate of original series, high-profile acquisitions and an exploding user base, Netflix saw an opportunity to implement a cohesive visual system that could grow along with the brand.The Global Brand Team at Netflix partnered with us to develop this through-line: a conceptual and visual thread to unify every touchpoint. Our collective challenge was to create something broad enough for a global brand but still unique and identifiable. It had to marry the brand with the content. It had to be variable yet systematic and bulletproof. It had to be visually striking, adapt to any format and hold up to interpretation by agencies and vendors around the globe.
The team needed a concept that was global, captivating and strong. It had to embody the innovative spirit of the brand and showcase its show-stopping content with ease, satisfaction and responsiveness.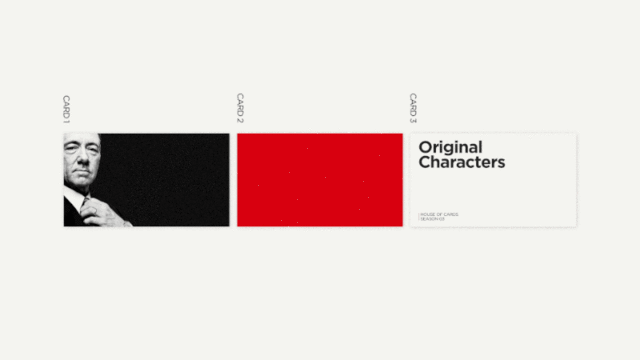 This was what they came up with:
Our solution: The Stack, a visual metaphor and an identity system in one. It implies both the infinite, ever-changing catalogue and the custom-curated selections that make up the core of the Netflix service. The Stack is an endless, living catalogue of shows and movies. It implies two ideas at the heart of the service: selection and curation. Netflix is both catalogue and curator, calling forth and constantly updating selections custom-tailored to users. As an identity it's distinctive, clear, infinitely variable and easy-to-use. It can scale to any size and translate to any platform. It works in motion, print, digital and out-of-home.
This was an innovative concept at the time, and it still stands out from competitor video-streaming services. It's sleek and strong — full of excitement, depth and motion that lulls users into a peaceful state of mind ready to dive into a new piece of video content.
The Netflix web design is stunning, straightforward and impactful — and it's one most people are intimately familiar with, promoting its excellence and prestige.
Netflix's Move To Digital — From Rentals To Online Video Streaming
As we've already touched on, Netflix wasn't always a video-streaming service. When it was first founded in 1998, it began with the intention of being an online service through which people could order movies and television shows for rental.
At the time, it was the second-largest movie rental service and was Blockbuster's biggest rival.
From 2002 to 2005, Netflix saw its subscribers skyrocket. Rented movies were in high demand, their base jumping from 700,000 to 3.6 million. The brand, even in its early stages, was doing something right and kept up this momentum for years to come.
It was a simple-to-use service — all it took was a few searched on an online database and an account and in days you'd have DVDs shipped to your door. Returns were equally simple as well — and that's what people loved about the brand. There was already a shift happening to online transactions and interactions, and fewer people wanted to makes the effort to go to a store when they could just get the movies they wanted from the comfort of their own home instead.
The competition was heave in the mid-2000s. Amazon and Hulu were launching video streaming services, Redbox came onto the scene and Blockbuster was trying to move to online issuing. That's why in 2007 — right when the brand had issued its billionth DVD, it also announced a video-streaming initiative.
As the prevalence on video streaming continued to grow, so did Netflix's dedication to a fast, efficient and user-friendly website design that was reliable for users. Without a great digital destination on which to stream videos, the business would be irrelevant. They had no choice but to thrive. 
That shift to digital had been in the works for a while, and the brand inevitably paved the way for others to follow in its online-only footsteps. And it was a powerful move, revolutionizing the use of video streaming on the internet and starting a domino effect of legislation in favor of these organizations.
One major piece of legislation was the 2010 FCC ruling that banned cable providers and television services from banning access to these sites, which opened the door for exponential future growth. Ultimately, Netflix's all-in approach to a strong website design was smart and solidified their foothold in the entertainment industry for years to come.
Netflix Is A Powerful Brand That Knows How To Interact With Its Audience And Provide The Functions They Want
Netflix is a strong, intuitive brand that knows how to stay fresh and knows when to change to give its users what they want.
Right from its conception, the Netflix brand was able to anticipate consumer behaviors, offering them an online service on a growing digital platform that only made them that much more powerful as the world wide web grew.
They gave consumers to DVD rental services they wanted. And when they noticed a shift in internet legislation and a growing strength and speed, they capitalized on it, moving towards video-streaming in an innovative and impactful way.
They're a brand that knows intuitively and intimately what their consumers want — even if they don't even know it yet.
And best of all, it's a brand that has fun and plays around. Take their secret categories option — much like the secret menus you'd find at Starbucks or In And Out — using super-secret search codes, users can unlock hidden categories like "Art House Movies," "B Horror Movies," Disney Musicals" and more. This is a fun way to connect with the Netflix audience, make them feel special, and enable them to engage with the platform to access the functions and features consumers crave.
Overall, the Netflix website is clean, focused and moody. From its dark black background which puts you in a movie-watching mood to the stacked cards layout and the image-heavy, grid-style organization, navigating through the platform is a breeze and makes it easy for users to connect with the content they want. 
Netflix knows video-streaming — just look at their track record. But this design brings its identity and prowess full circle.
Do you need web design help? Explore DesignRush's extensive web design agency listings to find the best company to grow your business online.
Submit your best designs for a chance to be featured on DesignRush!
GET STARTED