Research by Positive Technologies shares that an external hacker can breach an organization's network in 93% of cases!
Add to it the fact that businesses suffered 50% more cyberattacks per week in 2021 compared to the year prior.
The security of your sensitive data is not something to be trifled with – and, according to the above figures, organizations' networks are at a bigger risk than ever before.
In this article, we will discuss network security – what it is, how it works and which types of network security tools, including those offered by reputable cybersecurity company, are the most common and effective against cyberattacks.
Get connected with the right cybersecurity specialist for your project.
GET CONNECTED
1
"DesignRush Recommends: Multi-layer Network Security Tool"
What Is Network Security?
Network security is a system that protects the networking infrastructure from breaches, unauthorized access, intrusions and misuse.
It is an umbrella term that encompasses software and hardware solutions, processes and configurations that concern threat protection and network usage. Network security involves creating a safe environment in which applications, devices and users can operate and work securely.
How Does Network Security Work?
Network security software and hardware must address the layers where attacks can happen, with each layer implementing specific policies and controls.
Simply put, network security combines multiple layers of defenses at the edge and in the network.
Network security consists of three main types: physical, administrative and technical.
Physical Network Security prevents unauthorized individuals from physically accessing components such as cables, routers, switchboards and others. Biometric authentications and locks are among the devices that are essential for maintaining physical network security.
Administrative Network Security encompasses processes and security policies that regulate user behavior, authentication, access levels and the methods in which IT teams implement infrastructure changes.
Technical Network Security is in charge of the data stored on networks or coming to or from the network. It protects systems and data from unauthorized access, as well as against potentially threatening employee activity.
Get connected with the right cybersecurity company for your project.
GET STARTED
Network security protects an organization's data and information, keeps the shared data secure and ensures reliable access to authorized personnel while protecting users and data from cyber-attacks.
By protecting sensitive data and information, organizations that invest in their security network also boost their credibility and brand image in the long run. The reliable, impenetrable network builds trust with users that fear their data may get compromised.
Well-structured network security also reduces expenses and helps companies avoid financial losses caused by security incidents.
Finally, safe access to systems and data facilitates smooth business operations and ensures proper delivery of services to customers.
Network security comes in many different guises. Here are the 15 most common and most effective tools and systems that protect the integrity of any internal and external network.
Firewalls
Firewalls are network security systems that control incoming and outgoing network traffic and allow or block specific traffic based on predetermined security rules. The Next-Generation Firewalls that block malware and app-layer attacks are an important component of contemporary network security systems.
Workload Security
This type of network security protects workloads that migrate across cloud and hybrid storage environments. Because of their larger attack surfaces, distributed workloads should be secured, without compromising the business agility.
Antivirus/Antimalware
Malicious software of malware comes in the form of viruses, trojans, spyware, ransomware, keyloggers and worms. They spread through computer systems and infect the entire network. Antivirus and antimalware programs are network security software that scan for malware upon entry and continuously track anomalies and fix damages.
Remote Access Virtual Private Networks (VPN)
This network security tool encrypts the connection from one endpoint, most commonly the internet. VPN uses multi-factor authentication Secure Socket Layers (SSL) to authenticate the communication between the device and the network. VPN (as well as VPS) also provides secure network access to individual hosts or clients such as mobile users and extranet consumers.
Web Security
This networking security method controls the employees' internet use, denies access to malicious websites and blocks web-based threats. It consists of tools, hardware, policies and other aspects and is a blanket term to describe the network security measures to ensure the safety of an external network. Web security can also refer to the steps needed to protect a website, especially an eCommerce site.
Wireless Security
Wireless security networks are less secure than traditional ones, meaning that very strict wireless security measures are needed to make sure that causes of the threat aren't accessing the network. Usually, organizations need specifically designed products to protect a wireless network. This method of protecting networks is especially effective with keeping Internet of Things devices secure.
Network Segmentation
This type of network security defines boundaries between network segments in which group assets have a common function within an organization. It puts network traffic into different classifications and enforces security policies much easier. Organizations can assign access privileges based on role, location and other criteria so that the right level of access is given to the right people.
Intrusion Prevention Systems (IPS)
IPS is a network security method that scans network traffic to block attacks. They correlate massive amounts of global threat intelligence to block malicious activity and keep track of suspicious files and malware across the network.
Access Control
Access control defines users and devices that have access to network systems to deny unsanctioned access and potential threats. This tool recognizes each user and each device and enforces your security policies. For example, you can block noncompliant endpoint devices or give them limited access.
Behavioral Analytics
Tools for behavioral analytics make out activities that deviate from normal network behavior so that your IT security team can better identify threat indicators and find a remedy for the situation.
Cloud Security
Encompassing a wide array of policies, applications and technologies to protect online services and data, cloud security tools shield the users against cyber threats wherever they can access the internet and protect the data in the cloud.
Email Security
Email security tools block incoming attacks via emails and control outbound messages to impede the loss of sensitive data. Attackers often use personal data to create phishing campaigns to trick email recipients and send them to malware-infested sites.
Mobile Device Security
Mobile device security tools help configure the device's connections so that organizations can keep their network traffic private.
Data Loss Prevention
Data loss prevention technology stops people from uploading, forwarding and printing important information, as a way of making sure that the organization's staff does not send sensitive data outside of work.
Security Information/Event Management (SIEM)
These network security products pull the information that your security team requires in order to determine threats and respond adequately to them. These products can be physical and virtual applications, as well as server software.
Companies who want to take better care of their network security can benefit from business security solutions that make sure no stone is left unturned when it comes to security breaches.
Take NordLayer for example — a scalable business security solution that transforms remote access with multi-layered security.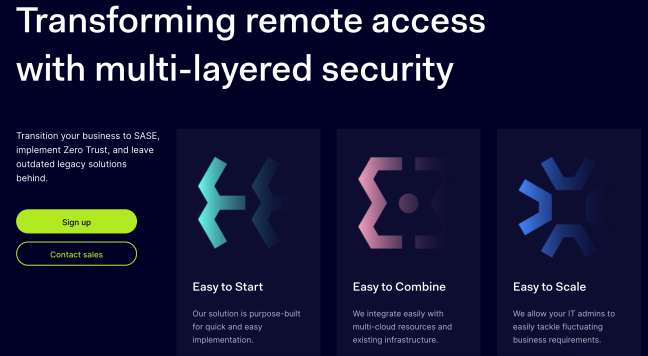 It helps organizations protect their networks from online threats and enables company teams to access their internal resources securely, remotely and from any device.
NordLayer's network security tool enables organizations to:
Encrypt data traffic: Networking security software encrypts all data that passes through your business servers, as it scrambles sensitive data to make it indecipherable.
Control permissions: Create separate gateways and manage access permissions to specific data to control who can access your servers.
Provide multi-device security: Safety for your network's every endpoint makes sure your data is safe on each device and operating system.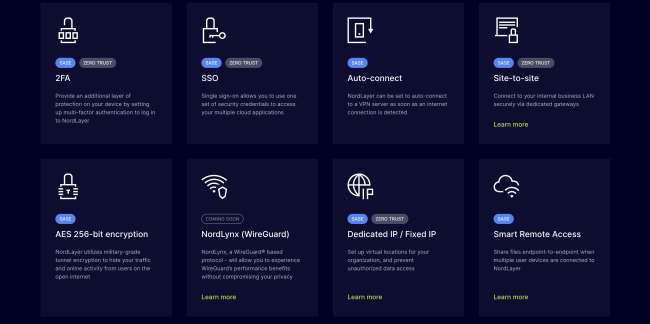 A network security solution such as this brings numerous convenient advantages to users, including:
Work on any Wi-Fi: Organization's entire team can work securely on any network, from home, office or any other location, thanks to the software's encryption of online traffic.
Remote access: The tool provides secure access to the company's work accounts and databases from any device.
Dedicated servers: NordLayer Advanced allows the purchase of dedicated servers on-demand, anywhere in the world, so that users can deploy it fast and whitelist their fixed or dedicated IP for convenient access control.
Manage permissions: Control who can access your company's resources and protect the business from unauthorized access.
Use third-party authentication: A single sign-on integration with GSuite, Okta and Azure AD lessens the need for more business credentials and reduces password-related issues.
NordLayer offers two basic subscription plans, monthly and yearly, with each containing three distinctive pricing tiers. Each tier provides a different number of features and benefits.
Takeaways on Network Security
Network security should be high in a list of priorities for any organization working with data networks.
It protects the company's assets as well as user/client data from external threats. It also manages network traffic efficiently, enhances network performance and boosts the organization's credibility and user trust.
There are multiple tools and systems to keep your network and IP address safe:
Firewalls
Workload security
Antivirus/Antimalware
Remote Access Virtual Private Networks (VPN)
Web Security
Wireless Security
Network Segmentation
Intrusion Prevention Systems (IPS)
Access Control
Behavioral Analytics
Cloud Security
Email Security
Mobile Device Security
Data Loss Prevention
Security Information/Event Management (SIEM)
To ensure network protection, businesses can also use a cybersecurity consulting company or a scalable business security solution like NordLayer to ensure networks are safe from online threats, enabling the company teams to access their internal resources securely, remotely and from any device.
Don't leave your data at risk! Get a multi-layer network security tool.
START NOW
Subscribe to Spotlight Newsletter
Subscribe to our newsletter to get the latest industry news