Rent The Runway's Clean, Image-Focused App Interface Facilitates A Streamlined Buyer's Journey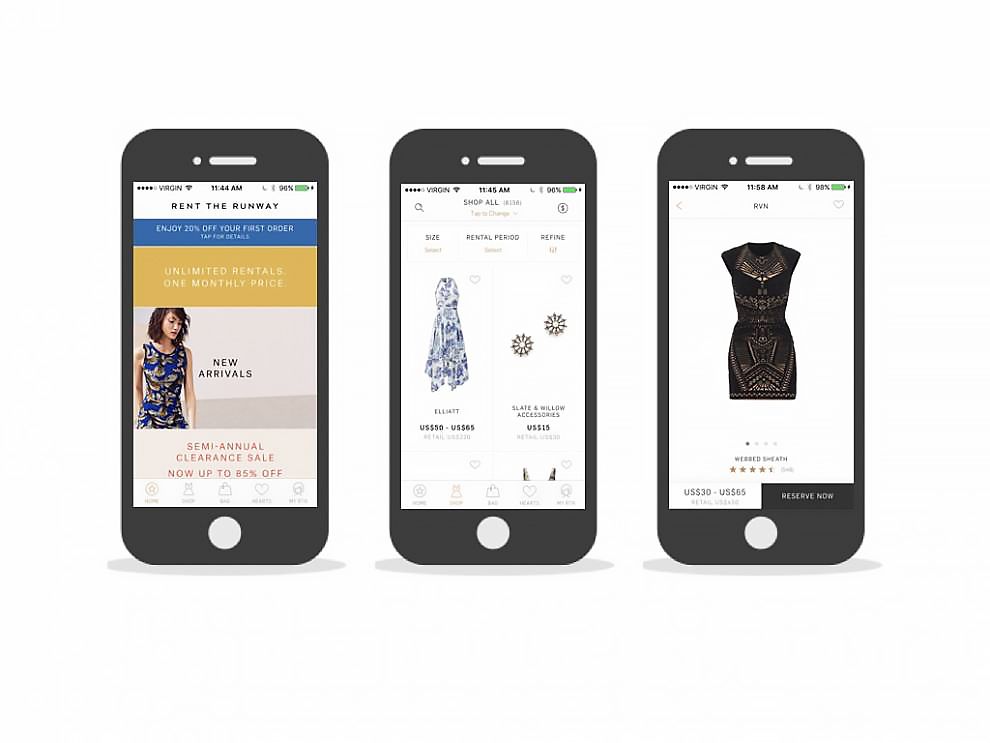 Rent The Runway's Image-Driven App Design Makes It Easy For Consumers To Browse The Clothing Options
Rent the Runway is a platform that gives users the ability to rent designer gowns for special occasions rather than spend hundreds of dollars to buy them. Users choose the perfect dress, accessory, or other clothing item from among Rent The Runway's massive inventory. Once a size and rental period is selected the item is delivered right to the customer's door with a return package ready to go.
Each product page features multiple images of the selected dress, as well as price range, reviews and similar styles for the user to explore. Users can also scroll through user-generated images from other customers who have worn the gown. This feature helps users get a better look at the gown in different settings, lighting and on different body types.
The Rent The Runway app is similar to its online platform in that it is very visually-driven. There is a heavy emphasis on product imagery with plenty of clean, white space surrounding it to make these images pop.
And that makes sense. This is a brand that rents out clothing and accessories. Consumers want to see these options before they go through with a purchase. And considering the brand only has five storefronts across the United States, not everyone has the luxury of being able to go to the store to check them out.
These images are bold and clean. And there's a transparency as well with the integration of UGC content from customers that have already worn these pieces.
With such a heavy focus on these images, the app is effectively simplifying the buying process. Every product image, every header and even the icons that sit as navigation tools are all created in a very elegant and breathtaking image that immediately tells users everything they need to know.
Users don't have to wander or get lost in this app — unless they want to! Everything is very obvious from the start, and that makes this app even more effective at capturing its audience and solidifying a purchase.
A Minimal Aesthetic Creates A Simple Buyer's Journey
The Rent The Runway app is clever, clean and enchanting. The interface is smooth and navigation is a breeze. And this all comes together thanks to its simple aesthetic.
The app itself is made up of a very minimalist design. White space is employed liberally throughout. Typography is kept very lightweight in various shades of grey and black. A muted beige accent color is used for supporting text and to orient users in the navigation of the app.
Given the massive amount of content on the app, Rent The Runway does an admirable job of helping users find what they're looking for and clearly representing each and every product, section and service.
And this brings a modernity to the brand that users want to engage with. Minimalism is a design trend that's here to stay, and brands that employ these design aesthetics can bank on reaching out to a younger, modern audience that cares about transparency, sophistication and class.
As you can see here, the interface is very pleasing and engaging to interact with. That's because it feels light and airy. It's a serene and breathtaking design that pulls you in and encourages you to start exploring the app.
This makes it more efficient for users to look through the vast catalog and find the pieces that they're looking for — whether that's a fancy cocktail dress, a mother-of-the-bride gown or a signature piece of jewelry to give their look that edge it needs.
And because there are no bumps or hiccups along the way, there is little stopping users from following through with their purchase and making it all the way to the checkout page. And that's exactly what a good e-commerce app does — it alleviates stress and puts users in the mindset to buy.
Minimalism helps with that, and here it's used wonderfully.
Rent The Runway's Mobile App Incorporates Intuitive Navigation Tools, Which Create An Appealing UX
The Rent The Runway app allows users to experience the full benefits of the platform right from their mobile phone. Users can browse clothes based on a huge variety of attributes, including length, color, occasion, level of formality, sleeve type, body type and weather. The robust filtering options virtually guarantee that every user will be able to find something she loves without needing to dig through thousands of search results.
But the comprehensive nature of the app could hurt the brand if it isn't displayed correctly. Luckily in this case, intuitive navigation tools in the form of a clever menu bar made up of icons and a hamburger menu that slides up the screen make browsing a dream come true.
Right from the start, you notice a menu bar at the bottom of the screen. This lets you shop, look at your favorites, check out, see what's recommended for you and keep track of your account. And simple illustrations detail these services clearly.
Similarly, when browsing for items, a handy menu icon sits subtly in the background. And when clicked, opens up into a full-screen browser menu that slides up from the bottom making it easy to hone in on what exactly you need.
It's clever and fun and easy, fostering a pleasing user experience that consumers keep coming back to.
What Is Rent The Runway?
Rent The Runway is an online service for apparel and accessory rentals. It was created in 2009 initially as an entirely online brand, but it grew so much that it opened actual storefronts in New York City, Chicago, Washington D.C., San Francisco and Los Angeles.
The brand was created by Jennifer Hyman and Jennifer Fleiss who met while attending Harvard Business School.
Here is the Rent The Runway vision:
Our mission is to make women feel empowered and self-confident every single day. We were told we were crazy. We're glad we didn't listen… When we're able to wear what makes us feel our best, we can be our best selves, and in turn live our best lives. Yet we've had to compromise – we've spent a lot of time and money on our clothes, but never had what we wanted. The result? A closet full of clothes and nothing to wear! We are changing that by building the world's first and only 'closet in the cloud': a dream closet filled with an infinite selection of designer styles. Imagine every trend, every color, every print, everything you've ever wanted to wear-but-settled-for-the-boring-black-dress instead. Some call it fashion freedom. We call it a fashion revolution.
Rent The Runway works by allowing people to rent pieces of clothing for a four to eight day period for a price that can be as low as 10 percent of the retail value. Customers get two sizes to ensure they can find the right fit, and everything including dry-cleaning is included in the price.
An additional service was launched in 2016 which allows people to rent four pieces each month for a flat fee. At the end of that month, they can swap out the items for new ones or keep them for another month.
It's one of the first retail brands of its kind and has grown exponentially since its conception. It's a brand that puts fashion first and makes sure everyone has access to the clothes that make them feel good regardless of their budget.
And this app simplifies the whole process more, ensuring that everyone who wants to participate, can.
The Benefits Of A Comprehensive App Design Like Rent The Runway
Rent The Runway's app is a comprehensive, robust platform that connects people with the fashion staples that will help them shine — whether it's for a special event or just in general. The brand offers consumers a variety of options to choose from and makes it easy to get the styles right for them.
And this app helps in that process thanks to its sleek, sophisticated and minimal aesthetic. There is a cleanliness that comes from the white space and the image-driven layout that makes it fun and exciting to swipe through the offerings and find what looks good.
And the myriad of sorting, filter and search options makes it easy to navigate the "Shop" section. And this cohesiveness is carried throughout the entire app with clever icons making it clear what each section of the app holds.
This app is extremely intuitive and engaging. It makes it clear what products they have to offer and infuses them into their app design to show that users can get the same experience online as they can in the app and even in store.
This is clever branding, and helps to establish the brand as one you can trust. It's strong and authentic and authoritative. And it's one that understands its consumers and is passionate about giving them the experience they deserve.
This elegant, regal and modern app really does offer revolutionary services and wraps them all up in an easy-to-navigate and interactive platform that encourages users to follow through with their quest and make a purchase.
Build your own exciting app platform with the help of these app design and development agencies!
More Best E-commerce & Retail App Designs
More Best Fashion & Beauty App Designs