Sephora's Comprehensive Interface Enhances The Brand's Credibility Through An Omnichannel Approach
Sephora's Comprehensive App Offering Is Simplified Thanks To Streamlined Navigation
Sephora is a popular beauty and cosmetics retailer with storefronts across the world. The beauty company offers a number of different products from a number of different beauty brands.
It's a massive company with a wide offering. And the brand expanded its offering to mobile platforms in the form of a comprehensive app.
There is a lot incorporated into this app. It's an e-commerce platform that also offers inspiration and insights. And to tie each piece of this app to the next, the designers went with an intuitive navigation system created with users in mind.
The app's navigation is streamlined and simple to use — a major challenge for an app containing such a wealth of information and product detail. The color palette is true to Sephora's branding — sleek black backgrounds are offset by colorful product images on against plain white tiles, and red accent colors are used to highlight key user interactions.
The app makes it easy for users to browse the site and all it has to offer.
The hamburger menu at the top left of the app opens up with an extensive list of clean, black and white options. The list is clean, organized and straightforward, taking people to the section of the app that is most important for them to search through.
Similarly, you can swipe through the app and land on another menu of categories that are written out in bold, black and fancy lettering.
It's extremely easy to get from section to section of the app design. And that's important considering the large number of options that users have when using this mobile platform.
This E-Commerce Platform Uses Bold Imagery To Encourage Sales
Sephora is a giant in the beauty space, and their mobile app is designed to meet user expectations of a high-end and engaging beauty experience.
The Sephora app offers users a fully functional e-commerce experience, complete with new features, daily picks and suggestions for users based on purchase and browsing history.
The e-commerce experience is slick and streamlined, featuring large imagery, full products details and Q&A, as well as ratings and reviews. Clear product color selections and calls-to-action make shopping on the app easy and enjoyable.
There is a heavy emphasis on imagery in this design. Photographs, images and playful imagery are infused throughout the interface to add a bold and exciting, attention-grabbing aspect to the design.
These images also help to smooth the journey and walk users through their e-commerce experience.
Images have a way of engaging users more fluidly. They help consumers remember a given piece of content and stay with the user longer than textual content alone. And especially when you're trying to sell a product, you want people to see what they are interacting with.
These pictures really jump from the screen and give users something more tangible to interact with. And it definitely leads them more naturally to the final process of the journey — the checkout screen.
Extensive Product Pages Provide Users With All The Information They Need To Make A Purchase
An exciting aspect of this app design is the product pages. And that's because they mirror so beautifully the online experience of the Sephora website.
The product pages in the app are just as extensive and comprehensive as the pages on the website. They provide ratings, reviews, product information, tips and even offer similar product suggestions.
And these are all displayed in a beautifully organized interface. As you scroll, more information floats into view. And this information is impactful and substantial.
And the navigation here keeps the page itself clean. All of this information is condensed into easy-to-follow content bars that expand when you click on them. So you can access this information if you want it, but you're not overwhelmed by it if you don't.
Similarly, these product shots are bold, big and in your face. They give you an in-depth understanding of the products Sephora has to offer and helps you make a more informed decision.
Extra Features Make The Sephora App More Than Just An E-Commerce Interface
Another cool aspect of this platform are the extensive features embedded within. This isn't just an e-commerce mobile app. It's a full-functioning interface that is also full of tips, tricks and beauty inspiration.
The app features a suite of inspirational sections that link back to the Sephora website, as well as a Community section of the app that allows users to connect with like-minded beauty fanatics and explore a wealth of user-generated content.
Users can also use the app to find a store near them and explore options for in-store services, classes and events. This feature helps unify the mobile, digital and brick-and-mortar aspects of the brand together via an emphasis on an omnichannel approach.  
This app wants to create a well-rounded experience for users. It doesn't just want to be a platform you use to make a purchase, but a place you can go to, to learn and discover.
This shows an omnichannel approach on the part of the brand. And an omnichannel marketing approach is imperative for a growing brand in this evolving world.
Businesses who invest in omnichannel strategies see 91 percent higher customer retention rates year-over-year.
Omnichannel strategies are growing in popularity because more people are using more devices to make purchases and switching from medium to medium throughout their experience. And this app is a clear indicator of that.
People get access to the same products, services, specials and perks on the app that they do when they visit a store or search the online site. And that shows a clear dedication to its consumers that is a clear marker of a worthy brand.
What Is Sephora?
Sephora is a France-based beauty company with stores across the globe. The brand offers a number of cosmetics and beauty products from more than 300 brands. And it's one of the most popular beauty retailers the world over.
Sephora first launched in Paris in 1969 where it remained until it was acquired by Dominique Mandonnaud in 1993. At this time, he merged his own perfume brand with the retailer and broadened the scope of the cosmetics brand.
In 1997, the brand was acquired once more by LVMH and took Sephora global.
According to the Sephora brand:
Sephora is a leader in global prestige retail, teaching and inspiring clients to play in a world of beauty. Owned by LVMH Moët Hennessy Louis Vuitton, the world's leading luxury goods group, Sephora has earned its reputation as a beauty trailblazer with its expertise, innovation, and entrepreneurial spirit. At Sephora, beauty is in our DNA. Our revolutionary beauty-retail concept, founded in France by Dominique Mandonnaud in 1970, is defined by its unique, open-sell environment with an ever-increasing assortment of products from carefully curated brands, featuring indie darlings, emerging favorites, trusted classics, and Sephora's own, SEPHORA COLLECTION. Today, Sephora is not only the leading retailer of perfume and cosmetics stores in France, but also a powerful beauty presence in countries around the world thanks to its unparalleled assortment of prestige products in every category, unbiased service from experts, interactive shopping environment, and innovation. Sephora believes every stroke, swipe and dab reveals possibility, and we share our client's love for the confidence that our products, services, and expertise brings to their life every day. In every store, clients unlock their beauty potential at our Beauty, Skincare and Fragrance Studios through intuitive technology and guidance from the most knowledgeable and professional team of product consultants in the beauty industry.
The Sephora website packs all of this luxury, expertise and passion into its mobile platform. It's a creative, clean and well-organized interface that gives users access to all of the e-commerce opportunities the brand has to offer and then some.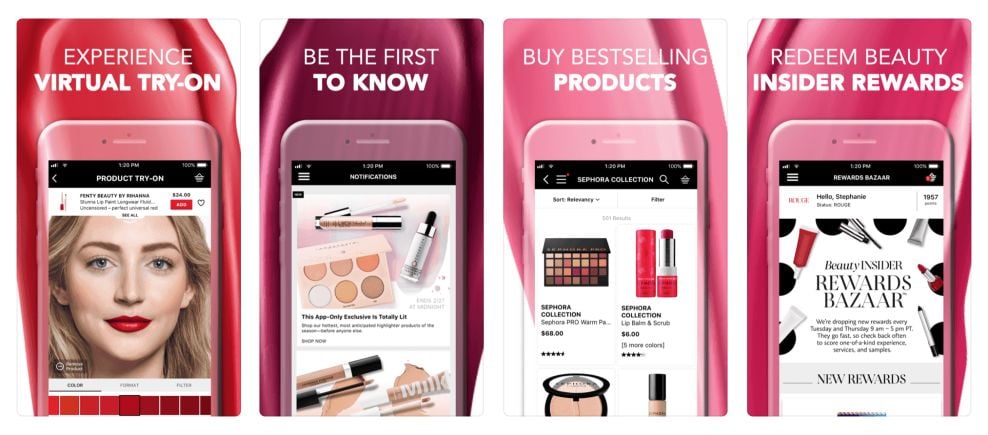 The Sephora App Is A Jam-Packed Platform That Still Holds Onto A Simplicity And Efficiency
Sephora's mobile app creates both a useful and playful environment for its leagues of engaged consumers and fans. The app's emphasis on content and inspiration gives users a reason to return to it frequently.
It's not just an e-commerce platform, but an app where users can learn and discover new ideas and new information.
Right from the start, you can tell that this app offers a comprehensive range of services. It's an e-commerce platform that is showing off thousands of products from hundreds of brands. But it also gives users access to information that can help inform them.
And it also connects them with deals and sales right off the bat.
The bold images help lead users on a journey, and the intuitive navigation tools make it easy for users to go from section to section with ease.
Product pages are clear and full of valuable information. And it makes for a user-friendly experience that keeps users coming back for more.
Create your own interactive mobile platform when you enlist the help of these app design and development agencies!
More Best E-commerce & Retail App Designs
More Best Fashion & Beauty App Designs