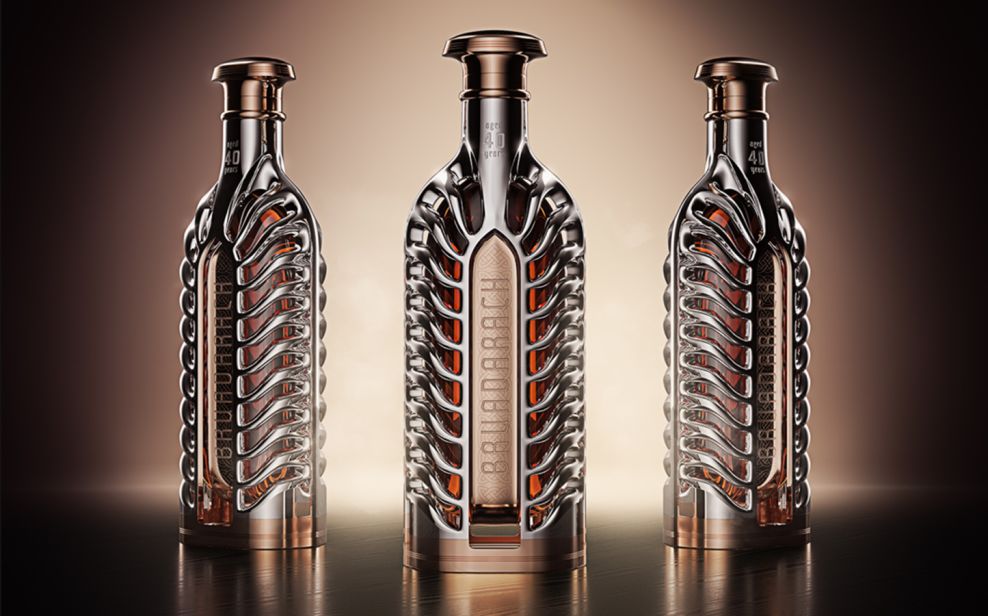 Design concepts offer designers a chance to show off their work. All the hours of study and meticulous dedication to their craft culminate in one message: show the world your talent.
Designer Ivan Venkov of Bratislava, Slovakia answered that message, with vigor. Enter Bruadarach, a premium aged whisky with a bottle design that looks like it came from another dimension. In fact, I have never seen a product that can serve as both whiskey and artifact from another dimension. 
The aesthetics of this bottle make it akin to some sort of turnkey into the spaceship that is Scottish Gaelic paradise. Bruadarach means "visionary" or "dreamer" in the ancient Scottish Gaelic tongue.
The cap is designed in a black marble that can be mistaken for peering into a black hole. The golden bottom casing reflects the amber whisky as if taunting you to either take a sip or sit and bask in aesthetic wonderment.
To dream is to conjure realms beyond our imaginations in locales that defy all logic. The platinum-colored ribbing forms the metal shell of the bottle like the robotic assimilation of Tony Stark's latest robot project. The gold cap melts into the design as if time and space have leaped past the laws of physics to sing in a synchronistic unison via the songs of angels.
This is a whisky that would be better off in a display at a museum for hypothetical beings from other dimensions that just so happened to grace us with their take on package design.
Though this is merely a concept, whoever wants to reimagine the whisky industry need not look any further. This is it. This is the next generation of whisky and alcohol packaging design to lift fans of the spirit not with wings, but with jetpacks.
Whisky can give you wings, perhaps. Spirits can loosen the soul. But Bruadarach will launch your imagination into realms yet to be discovered.
Bruadarach Whisky is an imaginative packaging design in the Food & Beverage and Luxury industries. 
More Best Food & Beverage Packaging Designs
More Best Luxury Packaging Designs