Stacy's Pita Chips - Women's History Month
In the era of #MeToo and Time's Up, many brands are taking a stand. Couple those two powerhouse movements with Women's History Month, which kicked off on March 1, and you've got the perfect recipe for activism. 
Stacy's Pita Chips decided to capitalize on the cultural climate with three specially-designed bags. These three special products were designed by three women.
What's more? Stacy's Pita Chips is pledging a $25,000 donation to Step Up, an organization that aids young girls in underserved communities. Talk about putting your money where your mouth is...
Want to see the best beauty logo designs of 2022?
GET INSPIRED
Founder Stacy Madison left her corporate life behind in the mid-nineties and founded Stacy's Pita Chips at the mercy of food carts around Boston. By 1998, she launched Stacy's Pita Chip Company and began selling to food retailers more formally. The company grew exponentially and was eventually acquired by PepsiCo in 2005. 
While traditional Stacy's Pita Chips packaging designs generally contain some creative elements, such as the signature script and delicate accent lines, the creations are much more simple than the Women's History Month iteration.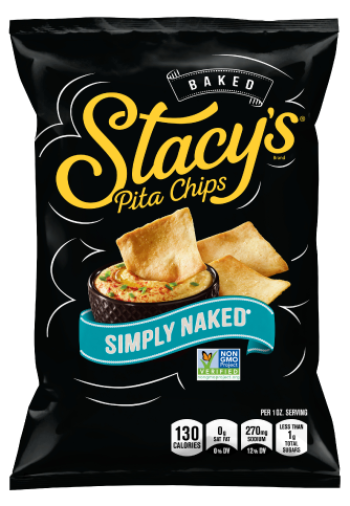 The original has a prominent logo, image of the product, and small accents surrounding the photo and flavor placed atop a black matte background with copious negative space. 
However, these limited edition creations are colorful and filled to the brim with personality. 
The "Unstoppable" design is bold, modern and minimal, placing emphasis on the feature of united women over the brand. 
The lips package design symbolizes the ever-growing conversation surrounding women's rights and equality. This idea is smartly coupled with positive affirmations. 
Finally, the lion displays the sheer strength women have, both individually and together -- like a pack. It is far and away the most intricate design, with tiny gold flecks in symmetrical patterns that create a stunning jewelry-like mane. 
The "O" in the word "ROAR," seen below the lion, is embellished with the sex symbol for women. Meanwhile, the logo adorns the lion-like crown, pulling the design together as a call to action for more female leaders like Stacy Madison. 
Stacy's Pita Chips - Women's History Month is a political packaging design in the Food & Beverage industry.
More Best Food & Beverage Packaging Designs