Duluth Trading Company's Clever Commercial Video Helped The Brand Succeed, Thanks To Humor & Wit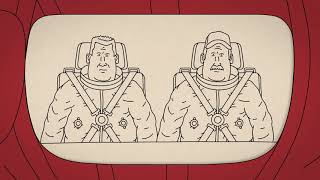 Duluth Trading Company Infuses Humor Into Its Video To Interact More Easily With Consumers
Duluth Trading Company is an American workwear company. It was founded in the late 80s and began selling specialized t-shirts before the product offering expanded to a full range of apparel for men and women.
Duluth Trading Company grew in popularity thanks to its captivating videos — and the brand even acknowledges the strength of these pieces of visual content. Here is what they have to say about them on their site:
We didn't get where we are today by playing it safe or doing business as usual. Duluth Trading animated ads hit the airwaves in 2011, and they've been turning heads ever since. In fact, it's one of the things customers say first when they walk in our stores. And that's fine with us. We don't just admire good craftsmanship in a dovetailed corner or a pair of Fire Hose® Work Pants. Well-crafted words, art and advertising are as much a part of who we are as the gear we sell.
In this video, in particular, that dazzling personality is evident and captivating right from the start. And it's most intriguing element is the humor infused throughout — from its witty wording to its funny imagery and the tone overall.
Here, the brand is promoting its special Bullpen Underwear. It's supposed to be a more supportive, breathable and comfortable pair of men's underwear.
And naturally, when talking about underwear, things can get funny. So the brand takes advantage of that. This video works like a comparison video, with the brand showing users what happens with regular underwear versus what happens with Duluth underwear.
When showing the competitors, you are shown a clip of two men sitting in a truck bouncing all over the place. This is to represent all that happens underneath regular underwear. It's a humorous image to see and one that instantly resonates with its audience.
When shown what happens underneath Duluth underwear, you're shown an otherworldly image of two astronauts taking off into space but remaining smooth and protected.
This clever and witty comparison adds a humor that makes the brand and its products more approachable to consumers. And it also establishes a brand identity that consumers remember and look at fondly.
Using humor can be challenging for brands, but Duluth Trading Company hits the nail on the head and perfectly infuses just the right amount of humor to grab attention but not too much to come off unprofessional.
Discover more captivating branded visual content in the Best Video Design section of the DesignRush website!
Simple Illustrations Add Context To This Video In An Approachable Way
But it's not just the humor that stands out. Of course, this feeling of happiness and lightness that consumers are left with comes from the humorous instances and impactful wit, but the humor alone isn't enough to cause a reaction.
You can't just tell a story with words. You need images too when it comes to video design. And the Duluth Trading Company creatives decided to go with simple, straightforward and engaging illustrations that tell an animated story that turns heads.
This video is created using motion graphics. Animations appear before your eyes and set the scene. You see images of underwear — both in animated form and in real product shot form. And then you also see these characters personifying features of the male body.
These illustrations are made up of clean, smooth lines. They aren't filled in or intricate. Instead, the artwork sites like minimal, elegant entities that add just a touch of sophistication and clarity to the story without looking too professional or artistic.
The subtle illustrations also bring the brand a friendliness that perfectly matches the humor that gives the brand an edge. This brand doesn't want to come off too full of itself. It knows its product but wants to make consumers feel comfortable too.
Similarly, it wants to take the stigma out of men's underwear. And in order to do that, it needs to be approachable.
These smooth motion graphics and simple animations give off that air of approachability and make for a captivating experience.
Duluth Trading Company Keeps Branding Consistent Through Its Video Design
The Duluth Trading Company videos are all tied together thanks to a number of similar attributes. For starters, the slick humor is evident around every corner and is embedded in every video. It's not overly funny. It's not hitting you over the head. It's just right, and each video captures that essence beautifully.
Similarly, the same custom illustrations are integrated into all the videos as well as the online platform. These characters represent the rough and tough men that use the Duluth Trading Company products. And they give off a friendly and playful vibe.
This spirit and personality is also present on the website, in the Duluth Trading Company social media accounts and in these videos.
Consistent branding is key to a full-functioning and comprehensive identity. You want to make sure that consumers are getting the same experience no matter where they are interacting with your brand.
And these videos keep that consistency front and center.
But what really embodies this branding is the overall personality of the Duluth Trading Company brand. It's vivacious and exciting and humorous. It's playful and intelligent and informative.
From the subtle color palette, the bold typography and the custom animations to the soul that breathes life into these videos and the workwear company, you always know who you're dealing with when it comes to the Duluth Trading Company brand.
Build your brand with the right resources — our branding agency listing section is the perfect place to start!
What Is Duluth Trading Company?
Duluth Trading Company is a men and women's apparel brand. It was founded in 1989 with the purpose of creating workwear for men — its first product was a long t-shirt for plumbers! But the brand grew and started offering more products for more people. And today, it's one of the most popular and well-known workwear brands that exist.
The brand operated out of a warehouse for most of its existence, opening its first retail store in 2010. And it spent much of its early years testing its technology and refining its apparel and gear for its consumers.
The two brothers behind this brand and its creation are Bob and Dave Fierek. They took their passion for construction and transformed an entire industry.
According to the brand:
Tough. Functional. Comfortable. Since 1989, we've been on the job – building innovative gear for can-do guys and highly capable women. With our Midwest catalog and online roots, and a national network of over 40 stores, the Duluth Trading experience is a colorful one.
In 2011, Duluth Trading Company released its first ad. And it quickly became a series, with the brand promoting more of its revolutionary products using similar illustrations, animations and tone. These videos have become part of the brand itself.
Duluth Trading Company has become synonymous with these hilarious commercials and videos ads and vice versa. You can't think of one without the other. And that's a marker of an incredibly successful video campaign.
How Humor Helps You Connect With Your Audience In Video Marketing Campaigns
Duluth Trading Company videos, this one included, show the importance of humor and its powerful effects on brands and their overall identity. The humor in this video gives the brand an approachability and gives it an authenticity that consumers are happy to interact with.
And it also keeps it memorable. It's hard to forget a brand when they create such captivating pieces of content. And Duluth Trading Company is hard to forget. Even if you're not in construction or other working environments, you still know about the Duluth Trading Company brand.
This, matched with smooth motion graphics creates a story that is easy to follow — and fun too. There's a relatability and an approachability here that comes both from the wit and from the simple illustrations that tell the story of these products in a very straightforward and easy-to-digest way.
And the branding is on point — from the second this video opens up to the second it closes. From the color scheme to the characters to the logo design — this video is consistent with the rest of the branding and creates a cohesive experience that users feel comfortable with.
If they see this video, they instantly know it's for Duluth Trading Company and if they end of on the website after watching, they're met with that same serene, cohesive and consistent experience. And that's vital for brand credibility.
This is a powerful video that understands how to interact and engage with its audience. And it understands the strength of its products, promoting them in a way that everyone can understand and relate to.
Promote your products with equal authenticity when you enlist the help of these video production companies!
And make these videos viral with a fully-functioning marketing campaign from these digital marketing agencies that can get your brand maximum exposure!