Kiehl's Video Design Blends Action and Comedy to Showcase Impeccable Grooming Solutions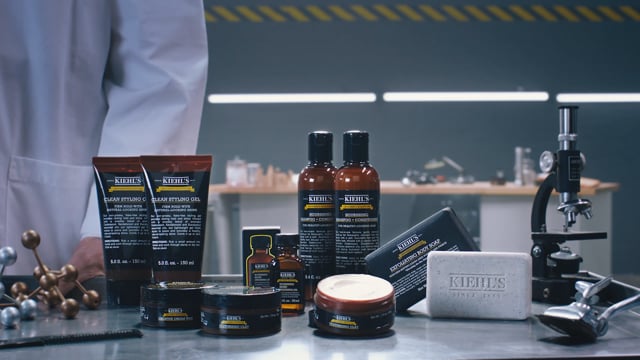 Kiehl's Video Design Features a Highly-Orchestrated Test Drive to Highlight the Brand's Excellent Product Quality
Starting out as a single pharmacy in Manhattan over two centuries ago, Kiehl's is now a cosmetics giant that specializes in skin, hair and body care products.
Their formulas are nature-inspired and scientifically proven. Their experts even go as far as offering personalized consultations to offer options that are right and sustainable for every customer.
This brand character is perfectly personified in their latest promotional video that speaks to men who are looking for the best grooming solutions on the market.
Melty Cone Video, the mind behind this visual masterpiece, birthed the concept of an in-house test drive. It shows individual sequences showing the products' ability to withstand intense activities that men go through in their day-to-day lives.
The video starts with a group of men lined up in a makeshift laboratory, set to be "test subjects" for the grooming products. A group of professionals clad in white lab gowns facilitate the test drive, further reinforcing Kiehl's expertise in the field.
They are enclosed in a rugged and bleak atmosphere, which effectively conveys the video's goal. That is, to showcase how excellent the products are by putting them under the most hostile conditions.
Receive proposals from top video production companies. It's free.
GET STARTED
Kiehl's Video Design Educates and Entertains with Humorous Lifestyle Scenes
The video progresses into a series of action-packed scenarios that combine posh style and humor.
Viewers first get to see the close-up shots of a man applying Kiehl's hair-texturizing clay to prepare for the "ride of his life". It cuts to him riding a motorcycle against the bustling winds – but not really. Instead, the experts have a wind-blowing machine pointed directly at him. They also propped up some fake trees and a digital backdrop to make it look realistic. Nevertheless, his hair remained luscious and glistening the whole time.
Here's another sequence. A regular commuter takes a bumpy cab ride that makes him lose his balance, but thanks to Kiehl's styling gel, his hair remains intact. Similar to the previous scene, the scene cuts to a wide shot revealing the experts forcefully moving the car.
The final sequence shows a man supposedly running a marathon. He brings life back into his hair by applying Kiehl's nourishing shampoo and using bottled water to wash it off. He appears to finish the race, only to find out that he's actually running on a treadmill with the experts faking a finish line.
We're all in on the joke, but you're probably wondering what's the purpose of all of this.
Are those scenes real? No.
Do they happen in real life? Yes.
Did the products help the test subjects survive those harsh conditions? Clearly, yes.
That explains it!
This creative storytelling technique showcases how professional video producers use humor to entertain audiences while offering value and staying true to the narrative.
Kiehl's Video Design Triggers Consumers' Buying Urge with Sharp Product Shots
The characters aren't really the stars of the video, but Kiehl's products.
Immediately after showing the subjects in the beginning, the viewers are treated to a gorgeous display of all the products used for the test drive. This is how branding agencies can shift the viewer's focus to the company's products subconsciously.
Before each sequence starts, the featured product gets flashed in a close-up shot. Each one takes up almost half the screen, with the rest of the scene completely faded out for extreme and laser-sharp focus. Even without the text descriptions, the audience can instantly recognize the product just by looking at the shot.
And because there are text popups, framing the products in a way that makes enough space for the descriptions is a smart move for the cinematographers.
The video designers also made sure to show the product's contents, so potential buyers can get a good look at each item in its totality.
Melty Cone Video's Design for Kiehl's Video Cleverly Taps into Its Main Consumers
The grooming products featured on the video obviously cater to men, so it's only right that Melty Cone Video used production elements that appealed and targeted the right audience.
The video is composed mostly of male characters, particularly adults, who come from different backgrounds. You have a motorcycle rider, a working professional, an athlete, and a regular guy enjoying a normal day outside.
As shown in the multiple sequences on the video, there's enough representation for the various activities that men typically have on a daily basis. This effectively shows that Kiehl's hair products are a reliable grooming solution designed for anyone, any occasion, any time of day.
The choice of high-intensity rock music in the background is also something that the male consumers can resonate with, especially in scenes like those mentioned above. The addition of sound effects like motorcycle revving and vehicle acceleration makes the orchestration much more realistic.
And get this – not a single form of verbal conversation is used to convey the messages. Everything is pure action, which pulls in the audience for a more exhilarating and attention-grabbing experience.
Simplistic Typography Does Beyond Informing in Kiehl's Video Design
Text popups make up for the lack of dialogue in this video design. To aid the visual storytelling, Melty Cone Video made sure to include simple text descriptions like "A Test Drive," "A Bumpy Commute" and "A Clean Finish". This allowed for a smoother flow and a clear distinction between the various sequences.
Along with the scene descriptions, the editors incorporated badges like "test #1" as well as product labels for a proper introduction and easier recall.
They used a simple and sophisticated pairing of serif and sans serif fonts so as not to take away the viewer's focus from the scene unfolding before him. The letters also reflect the brand's colorway in white, black and yellow for consistency and cohesiveness.
Not to mention the key statements are in bold letters with a black outline. They get extra points for clarity!
The video ends with a slogan that reads "relentlessly tested so you can groom with greatness," which is the perfect takeaway that spectators can get out of an action-filled, wildly entertaining and highly-convincing test drive.
Submit your best designs for a chance to be featured on DesignRush!
GET STARTED