Lively's Video Uses Minimalist Elements To Create A Short Film Catered To A Millennial Audience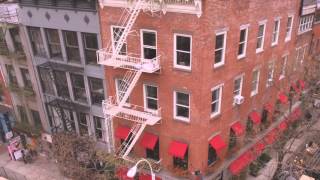 The Lively Website's Embedded Video Forgoes Text And Voiceovers To Create An Effortlessly Cool Atmosphere
Lively is a popular, new bra and underwear brand available exclusively online. It's a youthful and exciting company that's geared towards a younger, empowered audience. And that's evident from its social media presence to its web design and even in this embedded video.
The video depicts a young woman getting up and starting her day in the big city. It shows her waking up, getting ready and setting out on a big day ahead — whether she's going to work, to meet friends or run errands.
But what makes this video so impactful is the fact that there is no voiceover and minimal text. At the beginning and end of the video, you see the name Lively written out in bold, bright letters — almost like this is a short indie film or a modern music video. But that's all the textual context you get.
Throughout the video, a happy, peppy song plays as the actress dances her way into her Lively underwear. But in this video, there's no text and there's no voice talking over the video to tell viewers what's going on.
And in this instance, that was the smartest choice designers could make.
By removing the third-party nature of this video, the brand lets it shine like its own piece of art. It's a short film that shows consumers exactly what it's like to use these Lively products — and these products, plus the sheer happiness of the wearer, speak for themselves.
This video doesn't need anything else — it's simple and minimal that way. And it certainly works to give the brand a modern, sophisticated and dynamic edge. It doesn't need all of that fancy-dancy stuff. It just needs to show its products in action.
Discover even more effective video marketing content in DesignRush's Best Video Design section!
Compelling Real-World Action Puts Lively's Products On Full Display
Lively went in an interesting and compelling direction with its embedded marketing video. Instead of going with an animated explainer video or one full of motion graphics like many brands do, Lively decided to go with real-world actors and situations to bring its products to life.
And considering this is a brand that sells underwear — it was definitely a good decision to show these items in action.
The video shows many shots of these products — from the actress waking up and walking around in her underwear to her dancing around in her bra in front of her mirror in a carefree and approachable way.
This is an action many women can relate to — and one that they instantly want to do upon seeing this video, if only they had this super comfy and soft underwear.
The video zooms in on these products in some situations, and in others, the video shows the entire scene. But in every frame, these products stand out and promote that empowerment, confidence and forward-thinking nature of the brand and its innovative products.
And it sells.
This Lively Video Design Functions Like A Short Film
Like we've said, thanks to its subtle design elements, transitions and images, this video plays more like a music video or sophisticated short film than a marketing video.
That's due, in part, to the horizontal wipe transition and the playful music that plays in the background. It's also a result of the lack of text throughout the video and the playful Lively logo that ends the film.
This isn't an animated marketing video. It's a work of class and luxury that shows not just these products, but a scene in general. And it captures and effervescent and exuberant personality that instantly fills viewers with joy and lightness.
This leaves people feeling good. It leaves them, of course, wanting to make a purchase, but it makes them feel better about themselves, their bodies and their lives. And by leaving viewers with such an impactful final feeling, this video solidified its importance.
By creating a story, this video excels. And who doesn't love a good story?
Discover the importance of great storytelling in this DesignRush article about compelling brand commercials!
The Minimalist Nature Of This Video Appeals To The Brand's Millennial Audience
From the opening transitions to the limited text and the complete lack of conversation — this video is simple, sleek and straightforward. It tells a short and elegant story and does so with class and finesse.
But most importantly, it does so in such a modern and minimal way that is geared innately towards its younger, millennial female audience.
Minimalism is a popular trend in design — in all fields ranging from digital design to interior design. And videos are no different.
It's hard to really determine what makes a minimalist video until you see one — and this certainly steals the show. Not because there's an excess of white space and not because of the color scheme — but because of the entire tone and personality of the video itself. It's sleek, bold and blunt. It tells a story in a succinct and beautiful way without messing with too many elements that could clash and overcomplicate.
In this video, there's a woman getting ready. The designers incorporated some upbeat music and a few transitions but these add a subtle softness and further elevates its light and brightness.
And that makes for a serene video experience that propels consumers to buy.
What Is Lively?
Lively is a new lingerie brand dedicated to creating lingerie that is cool, comfortable and empowering. It's a brand that is transforming the lingerie industry, creating pieces that are just as sexy as they are comfortable to wear. And the outpour of support isn't something that should be ignored.
LIVELY is inspired by what we believe makes women sexy today; smart, healthy, active and outgoing. We are delivering bras and undies that blur the aesthetic lines of lingerie, active, and swim, taking the best elements of high-style and comfort from each category. We are establishing an entirely new category and POV of lingerie, a movement that we call Leisurée. LIVELY is not just about the products it offers, it is about a mindset we want to share with women around the world. One that reminds, empowers and enables us all to live life doing what we love, with the people we love! We call this #livingLIVELY.
This athleisure brand opened its doors in 2016, offering direct-to-consumer products. And after just a few months online, the business boomed. This e-commerce brand started picking up speed, gaining followers and delivering an inspiring message that slowly but surely started to make an impact on its younger audiences.
And they started turning away from traditional lingerie brands in favor of this fun-loving, confident and creative one.
The founder and CEO of Lively is Michelle Cordeiro Grant, who spent years in the industry learning about its financial possibilities and its market leaders. She learned that the lingerie industry itself was dominated by one brand, and she knew that just wasn't right — she wanted to shake up the industry and change people's perceptions about lingerie. And that's exactly what she did.
In the two years since Lively has been active, it has seen extreme success. And especially after watching this video, you can see why.
What Makes Lively's Brand Video Stand Out?
Lively is a lingerie brand built online — so it already had a lot of work to do when it came to building an audience and getting its message, products and mission across. But this modern, e-commerce environment also had its benefits. It meant that the brand could live online and look to popular avenues of marketing and advertising to reach its target audience — young people.
And so it turned to a creative and stunning website with an embedded video clip that instantly grabs attention.
This Lively video is extremely compelling right from the start because it looks like a short film. It's elegantly created with intriguing transitions like you'd see in a fancy film — the screen starts out blank, and then slowly opens from the middle, with the blank bars sliding up and down at the same time.
It's eye-catching and really makes you feel like you're watching a professional piece of artwork. And this shows the talent and expertise of the Lively team.
It's also very obviously geared towards younger, millennial audiences in it's airy and bright nature. The actress is obviously a younger adult living in the city — capturing that essence and relating to its younger city dwellers. And the lack of an abundance of special effects, text and voiceovers makes that even more apparent.
In this video, the Lively products are on full display and are shown how they are supposed to look. They're pretty, delicate and comfy products that still make the wearer feel good about themselves and ready to tackle their day.
And that's a message many women, especially younger generations of women, can get behind. They're not here to fit into traditional roles and put up with the stigmas of the past. They are here to get their stuff done when and how they want it.
This is a generation of empowered, educated and open-minded individuals, and this brand caters to that audience, holding that same openness and positivity in its branding. This video fits right in and urges people to continue along their buyer's journey.
Create your own dazzling visual display by perusing these DesignRush best video production agencies!
Submit your best designs for a chance to be featured on DesignRush!
GET STARTED