Agile Software Development Guide: What It Is, Its Core Values And The 7 Best Agile Tools In 2021
Agility is a trait often sought after in people and a term describing desirable flexibility and adaptability of one's nature. Agile software development is everything of the sort -- and it applies to the realm of enterprises.
The world of big and small business is always deeply intertwined with the human condition. As it gets more complex, the more it demands these same, human-like characteristics.
They come racing to the surface – in order to survive, improve and be influential.
In the contemporary business climate, being rigid and "set in stone" is an almost guaranteed one-way ticket to self-sabotage. The same goes for software and development enterprises.
Complexity equals competition. Competition equals struggle for survival which, again, equals evolution.
How Does Software Evolve?
By replicating the human experience and recognizing the necessity for collaboration. Also, by responding to change and continuous improvement in sometimes chaotic and unpredictable conditions.
This is the gist of our story about agile software development that follows.
What Is Agile Software Development & How Does It Work?
When talking about agile software development in a nutshell, it's vital to remember that it's merely one of the approaches and paradigms in this fast-evolving field.
And as such, it branches out and derives myriads of case-specific processes that define it.
In a wider scope, agile development encompasses activities such as:
Engineering
Debugging
Deployment
Maintenance
Testing
Design etc.
Much like any other software development model, right? Except it differs in the way these conceptions and final solutions evolve, which is through:
Flexibility
Continuous response to change
Breaking down of projects to its smaller scales
Collaborative efforts and synergy (with internal teams AND the client)
Frequent and incremental delivery
Prioritization
Responsiveness
Transparency
Touching base and measuring progress
Being in direct opposition to the traditional (so-called "waterfall") software development approach in which the final project is deployed and released at the end of the project cycle…
…the agile software is a consequence of developers' self-management, customer engagement, facilitation of daily operations such as reporting in brief sessions, feature-driven development, governance based on outcomes and autonomy of individuals.
Real-life will often get in the way of plans. Proponents of the agile approach find it easier to cope with this inevitable fact because their plans are adaptive.
And they are that way because anyone – regardless of their supposed traditional "role" in the project – is allowed to chime in on a specific issue.
Agile encourages team members to go beyond their narrow competence if an outside view will help the process.
Agile Project Management: Embracing Change at Any Point
Changes may and will happen at virtually any phase of the project – not necessarily only at the beginning and/or middle. The final stages are also prone to that. And while traditional models of software development will resist changing the closer a project is to being concluded, agile doesn't shy away from that.
Being in an agile workflow and state of mind requires a lot of discipline. Testing, acquiring feedback, altering plans, coping with bad news, daily release planning and more…It's all in the day's work!
Analysis of traditional "waterfall" software development and direct correlation with the cost of change led to a startling realization. When faced with declining funds, it's the final phase – testing – that suffers.
Testing processes are often interrupted or not at all carried out which hurts the product's quality.
Also, because of its conventional one-off activity approach, instead of continuous activities, "waterfall" developers may fall prey to not knowing how far or deep into the project they are.
To explain, it's only at the end of a project's cycle that you know whether you have a working product or not.
Scheduling is always stressful because you may not realize your team is completely off-base and off-track until it's too late.
Thanks to the early entry of feedback and testing as well as better visibility of the entirety of the project, agile's amount of risk (and cost) is reduced to a reasonable level.
Agile software development has become very big. Creating quality and capability of software demonstrations at virtually any stage of the development process is its trademark.
It has taken on such massive proportions and such loyal following that it has turned into something of a cultural movement.
Case in point: The Agile Manifesto!
The Agile Manifesto: A Software Developer's Bible
A particularly memorable and explanatory quote from this proclamation states that "We plan, but recognize the limits of planning in a turbulent environment."
If there is one sentence that captures the school of thought and entirety of agile software development practice, that one would be it!
The Agile Manifesto is a culmination of decades-long evolution of proto-agile methods that are usually traced back to the late 1950s evolutionary project management.
The document called Manifesto for Agile Software Development was conceived and signed by 17 developers in early 2001 under the collective moniker of Agile Alliance.
This piece of work is a reflection of their commitment to the revamping of software development ways.
Seeking to "restore the credibility of methodology", they have defined sprints as short stages of work during which clients and users are presented with upgraded versions of products and releases.
The signatories of the manifesto have outlined the four basic values (more on that below) that define the very purpose of agile software development philosophy.
And that would be focusing on creating final products that meet clients' expectations.
The fateful gathering in Utah's Wasatch mountains also promoted something that goes way beyond software development.
It asserted modeling teams and organizations that are based around people ("lose the word "asset" in "people as our most important asset" and act as people were the most important").
The 12 Core Principles of Agile
At the very heart of Manifesto are its twelve guiding principles:
To satisfy the customer through early and continuous delivery of valuable software.
To welcome changing requirements, even late in development
To deliver working software frequently, from a couple of weeks to a couple of months, with a preference to the shorter timescale
Business people and developers must work together daily throughout the project
To build projects around motivated individuals who have support and environment they need
Face-to-face conversation as the most efficient and effective way of conveying information
Working software is the primary measure of progress
Agile processes promote sustainable development. The sponsors, developers, and users should be able to maintain a constant pace indefinitely
Continuous attention to technical excellence and good design enhances agility
Simplicity is essential (an elegant definition states that simplicity is "the art of maximizing the amount of work not done")
The best architectures, requirements, and designs emerge from self-organizing teams
The team reflects on how to become more effective, then tunes and adjusts its behavior accordingly.
Agile Software Development's 4 Values
The Agile Manifesto recognizes four basic values of this method:
Individuals and interactions over processes and tools
Working software over comprehensive documentation
Customer collaboration over contract negotiation
Responding to change over following a plan
The first point stresses the importance of effective internal discussion as well as the creation of so-called user stories that are agile project's "to-do list".
Secondly, it's remarkable how easy it is to lose out of sight that documentation is needed to create software, not vice versa!
Contracts often set a psychological barrier and make two parties stiff and rigid in their requirements on one side and sense of obligation and boundaries of work on another.
Collaboration with a client can lead to a better understanding of their needs and make work more effective.
Finally, responding to change means analyzing, coding and testing on the go, making development continual and outlining flexible. As Agile in a Nutshell website proclaims, "roles blur, scope can vary and requirements can (and will) change."
Sizing the stories from the first step, setting priorities, executing and updating the plan in the process are all ways of responding positively to a change.
Agile Software Development Philosophy and Methodology
When Alaistair Cockburn – one of the signatories of Agile Manifesto – rejected the very premise of "people as resources", it helped set the cornerstone of agile software development philosophy and methodology:
Treating complex systems, not people, as non-linear and non-deterministic
Adaptive methods instead of predictive
Reducing the "leap-of-faith"
Just the "right amount" of documentation
As another forefather of Agile Manifesto Martin Fowler writes, the agile methodology developed as a reaction to engineering methodologies that he deems "bureaucratic".
According to him, planning out big chunks of software process in amazing detail is all good – until change kicks in.
That's where engineering methods start resisting and fail while agile "welcomes change", even thrives on it!
Being people-oriented instead of process-oriented is another of agile's philosophical views. "Agile methods assert that no process will ever make up the skill of the development team, so the role of a process is to support the development team in their work.", writes Fowler.
In describing a difference between predictive vs adaptive notions, he underlines the separation of design and construction (the former is difficult to predict and needs costly and creative individuals and latter more convenient to predict).
And while Fowler argues that predictability isn't impossible, he's certainly aware of requirements unpredictability and the way to control them is through – iterations.
Since agile software development is method tailoring, it's distinguishing characteristic if situation-appropriateness.
Time frames known as iterations involve teams working on all functions, at the end of which progress is reviewed (with the customer). After this, ROI is re-evaluated and optimized.
Scrum, one of the agile process workflows, has some of the shortest iterations lasting only two weeks. This means that teams are in the constant process of plans adaptation. For the betterment of this workflow, stories (descriptions that define requirements) are added to iterations.
In close relation to agile software development methods are software development life cycles: practices such as pragmatic programming or workflows such as the aforementioned Scrum or Kanban).
Other practices include:
Cross-functional teams
Behavior-driven development
Continuous integration
Iterative and incremental development
Pair programming
Planning poker
Refactoring
Story-driven modeling
Timeboxing
User story etc.
Agile Development Companies -- What's Their Approach?
Syberry
Location: Austin, TX
Website: https://www.syberry.com
Expertise:
Mobile App Design
eCommerce Design
Cybersecurity
Internet of Things
And more!
Hourly rate: $40/hr
Minimal budget: $50,000
Year founded: 2011
Employees: 250-499
ABOUT SYBERRY
This Austin-headquartered agency has helped numerous businesses in a variety of industries. Their wide scope of expertise is coupled with close partnerships and good communication.
Their engineers approach the development of projects using Agile methods (beside Waterfall) in order to keep them on track and to fulfill the end goal which is solving of clients' problems.
The Gnar
Location: Boston, MA
Website: https://www.thegnar.co
Expertise:
Product design
Website design
Mobile app development
Software development
And more!
Hourly rate: $150/hr
Minimal budget: $10,000 -- $25,000
Year founded: 2015
Employees: <49
ABOUT THE GNAR
The Gnar Company has a great track record in developing well-designed, reliable products for individuals and organizations.
Their preferred method of delivering results is through Agile methodology. This way, they ensure their engineers are working on the tasks clients set as a priority and hit the milestones even in the face of changing requirements.
Their team holds weekly Retrospective meetings that are part of their Agile workshops during which they determine the process of future sprints.
Emerge Interactive
Location: Portland, OR
Website: https://www.emergeinteractive.com
Expertise:
Product design
Website design
eCommerce design
Mobile app design
UX design
Internet of Things
And more!
Hourly rate: $185/hr
Minimal budget: $50,000
Year founded: 1998
Employees: <49
ABOUT EMERGE INTERACTIVE
Emerge's expertise lies in digital planning, website design and user experience -- but it is their methodology that sets them apart from the agencies that offer similar solutions.
Every phase of digital product or service they work on is accomplished through efficient Agile collaboration. This enables Emerge to scale the team and improve their operational agility.
ICON Worldwide
Location: Zurich, Switzerland
Website: https://www.icon-worldwide.com
Expertise:
Logo design
Graphic and print design
Website design
Mobile app design
SEO
Digital marketing
And more!
Hourly rate: $150/hr
Minimal budget: $10,000 -- $25,000
Year founded: 2007
Employees: <49
ABOUT ICON WORLDWIDE
Excelling in a diverse range of services, ICON -- that has offices in New York and Bahrain, among other places -- develops technology for companies of all sizes and profiles.
Waterfall and Agile methodology are both driving forces with their team of engineers that have helped launch iOS and Android platforms in numerous industries and niche.
Emergent Software
Location: Minneapolis, MI
Website: https://www.emergentsoftware.net
Expertise:
Creative services agency
Website design
Website development
UX design
And more!
Hourly rate: $160/hr
Minimal budget: $10,000 -- $25,000
Year Founded: 2015
Employees: <49
ABOUT EMERGENT SOFTWARE
Emergent Software makes it a point that their Agile process "puts the client in a driver's seat". Their process is such that it encourages close (and frequent) collaboration with clients, resulting in much faster market launch of products.
They apply the Agile methodology in all aspects and types of development, from front-end and back-end, to cloud development, CMS and mobile app development -- to name a few.
Best Agile Software Development Tools To Use In 2021
We got the substance, genesis and history of agile software development out of the way in the previous part of the article. It may be hard to get the head around the overwhelming amount of tools that help facilitate this workflow approach.
What is even more vital is to understand exactly why they're good for YOUR business!
To help you with that, we have compiled a definitive list of the very best agile software development tools to use in 2021.
Easy. Visual. Agile. Right off the bat, Monday.com takes you to the essence of its idea. This versatile, award-winning tool, apparently used by 70,000 teams and counting, facilitates collaborating on work, planning and tracking.
In short, the very heart of agile software development problematics.
Three key checkpoints, as outlined on Monday.com's home page, are building customizable iteration planning boards easily and visual planning.
It also tracks sprints on a timeline and creation of user stories and issues while tracking their progress.
No matter what top project your team may be working on, this adaptable tool ensures there's configuration aplenty when setting up the structure of the job. Going either full-on agile or employing hybrid methods is easy as 1, 2, 3.
The way it operates is teams or individuals need to put tasks on the board and then add in steps necessary to finish them.
A beautifully designed board provides multiple views, charts, lists, notifications, mentions, hashtags, automated processes, assignees, customizable task status and so on.
Can be fully integrated with other project management tools such as Jira, Slack, Trello, GitHub and other. What's particularly convenient is that Monday.com's customer support is at your disposal 24/7 via phone and e-mail.
Microsoft's Azure DevOps is a multi-faceted conglomerate of tools that make deployments to various team enterprises lightweight and facile.
It's a set of "modern development services" put in use for smarter planning, better collaboration, and faster release. It lets users utilize it in its entirety or customize it in order to better respond to their workflow.
Some of the integral parts of Azure DevOps are:
Azure Boards (primary app used for agility that makes most of Kanban boards, planning tools, traceability and reporting)
Azure Pipelines (enables building, testing and deploying on-premises on to any cloud, can be run on different operative systems simultaneously)
Azure Repos (code reviews, unlimited repositories free of charge, flexible hosting)
Azure Artifacts (useful for sharing public and private sources packages with the entire team and integrating them into CI/CD in a scalable fashion)
Azure DevOps can be integrated with Slack, Timetracker, Docker, GitHub and Sentry among 1000s of extensions that can be acquired from Microsoft's Extension Marketplace.
This agile software project tool is enterprise-ready, meaning it's ready for the most demanding levels of reliability with 99.9 SLA and monitored by 24/7 support. Every three weeks, the producer rolls-out brand new features.
Agile task management solution and a cloud-based project tool, Asana makes organizing most incremental and flexible development processes manageable and helpful.
It raises the level of communication and collaboration between departments and individuals and at the same time makes handling of multiple projects effortless.
With Asana, planning and managing projects, tracking important points of interest and getting everyone on board and up to speed is a mission possible.
Increased clarity, accountability and reaching deadlines with projects already in the pipeline – these are some of the testimonies of teams and individuals using Asana. Features such as Timeline help stay on track and within scheduled time-frames.
In the very best of agile traditions, developer can do all that and more as work evolves.
Customization of processes is made possible via templates, tracking the data with custom fields and Advanced Search reports on the criteria that matter to you and your team.
In order to improve the efficiency of agile development work, Asana creators suggest switching to Asana Premium, which requires fewer resources and is less time-consuming than the base package.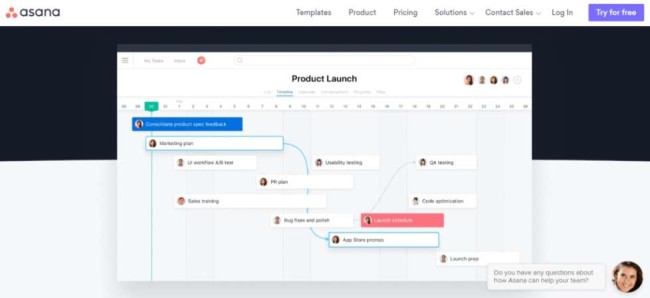 Agile workflow's most instrumental point is managing projects in real-time. That's where Smartsheet can come in mighty useful.
This platform for work execution provides further ability to plan and track processes in a collaborative manner, through a wide array of project management features.
Smartsheet's crucial appeal is in its design's familiarity: it resembles the spreadsheet layout we all got so well-accustomed to. The official website's claim that it "aligns people with technology" sounds just like something straight out of Agile Manifesto!
Businesses and enterprises of all sizes can "move faster, drive innovation and achieve more." How?
By scaling work fast, seamlessly connecting and integrating tools, apps and – workforce! Numerous templates and pre-built features help drive the growth of developers' projects.
The complexity of today's businesses and software products is best matched with the simplicity and flexibility of the creative process.
Esteemed clients such as Roche, Ogilvy and PayPal have filed in their testimonies in which they vouch for the success rate using Smartsheet.
And to top it all off, this agile tool can be deeply integrated with other tools and apps of the trade, letting businesses and teams of developers focus on their incremental delivery.
Although conceived to function within GitHub environment, ZenHub has quickly accelerated to the status of a standalone champion of agile software development processes.
Agile project management tool, lightweight and adaptable (much like methodology it's designed for), ZenHub is the ideal solution for the contemporary software developers willing to deliver the best software in expeditious a manner as possible.
By using GitHub's data in order to keep projects en route to completion, it aims to increase the productivity of teams by bringing the very notion of project management as close to the coding as a process allows.
But it's not limited to GitHub – ZenHub is also actionable as a browser extension or a standalone web app.
Sometimes it's extra difficult to unearth hidden issues in the project you're working on. Not with ZenHub, though, for its integrated reports such as Burndown Charts, Release Reports and Cumulative Flow Diagrams.
Among ZenHub most effective solutions, agile teams will find:
Reduced context switching
Improved team communication
Mastering any size project
Automatization of workflow
So far, we've covered a good deal of ground of agile software development tools that all have some common traits.
While GitScrum continues this trend of consistency and likeliness, this agile project management tool ups the ante and shows that it has some tricks up its sleeves that others don't!
First off, it seeks to simplify even the most complex of projects – for businesses' own good! It has a cool feature that keeps track of time for logging hours as well as another one that traces bugs and pull a special bug report for your convenience.
Fully integrated with the likes of GitLab, GitHub, Discord, Asana, Slack and more, it features kanban boards, task management tools, burndown charts and various other reports, sharing of files among team members, task filters, discussion forums, notifications…
In its Project Menu, agile enthusiasts will find user stories, sprints, and other agile and Scrum resources.
GitScrum offers a lifetime deal with an unlimited supply of updates. There are also Freelancer, Business and Professional packages, all coming with a different set of abilities and perks.
The official site proclaims this agile tool can answer to the needs of start-up founders, project managers, developers, freelancers, marketing teams, business operations and creatives in equal measure.
Sciforma doesn't beat around the bush and tells you what it is right from the get-go: enterprise-centric!
This software for agile project management has a platform that excels in flexibility. It maintains the notion that effective management resources is the way to go when pursuing business objectives and growth.
With it, teams of agile software developers can deploy and execute work in one robust system that manages portfolios and resources. This can be done in several ways:
Through status overview which identifies issues and checks status of all projects
Comparing multiple portfolios/options for the allocation of financial assets to maximize results
Analysis of portfolio performance in real-time
Management of resource assignments
Time tracking of each task
Identification of underused and overused resources
Also, developers can schedule projects via Gantt view and Agile project planning, controls cost and budget of projects and manage issues by analyzing risks.
Sciforma offers a 30-day trial period for all interested parties willing to experience reduced time expenditure on reporting, improved project timelines and avoidance of expenses on non-strategic projects.
Agile Development Principles Applied to Your Business
The philosophy of agility expands way beyond the realm of software development and incremental, adaptive processes thereof.
Recent trends show that agile is being at the vanguard of business aspects much closer to most people's experiences.
These notions arose from teams working on software products. They found a place in the hearts of people who are rethinking job relations.
So…how can agile be of assistance to you and your business?
As a way of improving productivity and quality of work – much of IT/software departments' agile framework is applicable to these three areas:
According to a study published on TechBeacon, organizations can follow the exact same agile principles as software development to optimize their productivity.
Globe-wide, as many as 166 companies from 29 countries responded on a survey. This helped reveal a roll-out of these new models.
Some of the benefits of agile business reform reported in the survey were: bigger satisfaction of both employees and customers, better market performance and overall superior working procedures.
The bottom line of the study is that, to achieve business agility, the entire enterprise needs to undergo something of a paradigm shift. "The change of mindset" which can affect the organization in ways unparalleled.
To understand what your clients value and how to get proper feedback from them, we advise you to skim through our extensive database of software development companies and ask for feedback from them. Also, in relation to agile software development, getting acquainted with the advantages of custom processes is advised.