In the post-COVID era, digital transformation has reached new speeds and heights. The US is among the top ten countries experiencing this, with 64% of responders saying the pandemic has accelerated the adoption of digital technologies "a great deal."
However, shifting your business to a digital sphere is never easy as there are so many aspects to consider – from SEO and digital marketing to website development and branding.
DesignRush is here to help your digital aspirations by bringing you a carefully hand-picked list of crème de la crème digital agencies that outshine any competition with their range of services and quality of execution.
Baunfire - A Digital Agency Specializing in Web
Location: San Jose, CA
Expertise: Web Design & Web Development
Notable clients: Google, Swiftly, Nike, Cisco
Average hourly rate: On inquiry
Baunfire is a digital agency focused on designing and building marketing websites for industry-leading brands in the heart of Silicon Valley. The agency consists of a creative team of designers, developers, and strategists.
The scope of their services includes:
Website Design
UI/UX Design
Content Management
Website Development
Content Strategy
Marketing Materials
Competitive Analysis
SEO Services
And more
Baunfire provides project-based and agency-on-record types of partnerships. The former is suitable for one-time collaborations that require an agile approach. The latter is a great fit for companies that have ongoing web design needs to drive their marketing efforts.
The agency's process for every project begins with the discovery phase to understand their clients' business and environment. They strategize a clear set of actions to meet business goals and execute UX-centric designs before launching and analyzing every campaign.
Top Notch Dezigns – Focuses on Websites That Convert
Location: New York, NY and Los Angeles, CA
Expertise: Branding, UI/UX, Web Design, Web Development, Digital Marketing, SEO, SEM, SMM, App Development
Notable clients: Long Island University, ATM Advantage, Janey Construction, Rios Interiors Corp
Average hourly rate: $150
Top Notch Dezigns agency caters to their clients' needs by paying close attention to their pain points in order to identify the objectives and build a strategy that leads to a successful web design and digital marketing project.
They provide the following set of services:
Branding
Web Design
Web Development
Digital Marketing
App Development
The agency's relationship with clients is founded on their high level of creativity, developmental skills, and digital marketing expertise.
Their six-step process (Research, Discovery, Design, Content, Development, Optimization+Launch) makes sure that the client knows every step throughout their campaigns. At the end of each process, Top Notch Dezigns provides ongoing support for achieving business goals.
Kanda Software – Accelerates the Digital Transformation Journey
Location: Boston, MA (HQ), San Francisco, CA and New York City, NY
Expertise: App Development, QA, Custom Software Development, UX & UI Design
Notable clients: Janssen, Accenture, Lookout, Lionbridge
Average hourly rate: between $60 and $100
Kanda Software is a full-service Application Development, Data Analytics and Visualization, DevOps and QA agency with over 27 years of experience specializing in the development of time-sensitive and innovative solutions.
Kanda offers the following set of services:
Custom Software Development
Digital Transformation
Mobile App Development
QA & Testing
Frontend Development
UX and UI Design
Big Data and DevOps
To every project, the agency brings a combination of domain expertise, engineering talent, rigorous best practices, commitment to the protection of client's IP and accountability of a US company with over two decades of experience.
Kanda serves companies of all sizes and expertise, from Fortune 500 companies to startups across multiple industries.
The agency also covers multiple verticals, from healthcare and marketing to education and hospitality.
Digital Silk – Focuses on Growing Brands Online
Location: Miami, FL, New York City, NY, Chicago, IL, Milan, Italy
Expertise: Branding, Digital Strategies, Web Design and Web Development, Digital Marketing
Notable clients: HP, Microsoft, Amazon, Xerox
Average hourly rate: $125
Digital Silk is a world-class digital agency focused on creating superior digital experiences for their clients.
They allocate a team of top industry experts on each project to assure success and a proactive attitude towards every project.
Services include:
Brand & Digital Strategies
Custom Web & App Development
Integrated Marketing Strategies
Cutting-edge Software Development
Their bottom line is generating measurable results for their clients and helping them grow their businesses online. The agency takes ownership of every project and integrates custom-tailored digital strategies to improve clients' customer experiences online and offline.
Victorious – Brings People-Powered Results for Your Business
Location: San Francisco, CA
Expertise: Search Engine Optimization
Notable clients: GoFundMe, SoFi, Wayfair, Salesforce
Average hourly rate: On inquiry
Victorious is a San Francisco-based SEO agency that provides transparent, goal-oriented SEO strategies. They combine the best of technology with the power of business partnership impacting search results.
Their SEO services include:
Strategy & Analytics
Keyword Research
SEO Audits
On-Page SEO
Off-Page SEO
SEO Content
Victorious operates in multiple verticals, including SaaS, travel, real estate and eCommerce SEO.
The agency caters to B2B and B2C businesses of all sizes: from small businesses to enterprise brands.
A winner of multiple awards, Victorious takes a data-driven and ROI-focused approach to SEO. The company is the only top digital marketing agency in the US that focuses exclusively on SEO in order to deliver a competitive advantage to its clients.
Victorious's reputation is backed by a 4.9-star Google rating – proof of exceptional results for customers of all sizes, from eCommerce giants to smaller businesses.
Huemor – Creates Memorable Websites That Sell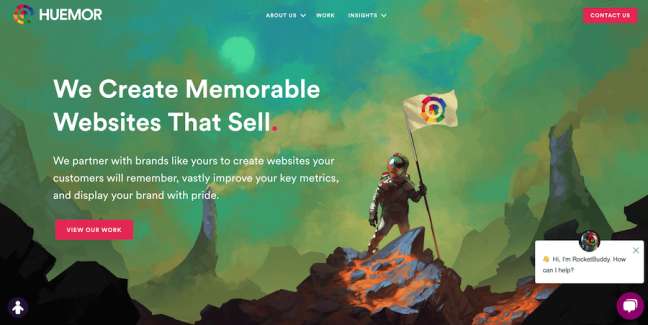 Location: Pittsburgh, PA
Expertise: Web Design & Web Development
Notable clients: Gleamin, Cernucci, VRC, Extensis HR, The United Nations, HITT
Average hourly rate: $150
Huemor agency helps companies, big and small, "discover what makes them unique and channel it into a memorable experience that outsells and outshines their competition online." They work with brands in retail and eCommerce, SaaS and technology, B2B and corporate, beauty and cosmetic, non-profit and social cause, agencies and consultancies.
The agency's services include:
Website Redesigns
Conversion Rate Optimization
Web Design
Full-Stack Web Development
eCommerce Website Design
Page Speed Optimization
Website Support
The solutions they provide encompass platforms such as WooCommerce, WordPress, Shopify and Hubspot. Huemor's client work process is simple, transparent, and customer-focused to create best-in-class user experiences that translate into business success for their clients.
Titan Growth – Grows Your Profit and Marketshare
Location: San Diego, CA
Expertise: Search Engine Optimization and Paid Media
Notable clients: Mizuno, Blackbaud, Suja/Coke, National Geographic
Average hourly rate: On inquiry
Titan Growth is an ROI-driver digital marketing agency that partners with brands in all verticals to help them improve their online profitability.
The agency excels in these services:
Search Engine Optimization
Paid Media Management
Amazon Marketing
Social Media Marketing
Link Acquisition
Besides a team of industry professionals, the agency also boasts their patented proprietary software, TitanBOT that emulates the spiders search engines use to crawl sites. This allows the Titan Growth team to see their clients' sites exactly like search engines do, giving them a unique advantage for SEO.
The agency was named a Google All-Star agency and Premier Partner, joining the group of top-performing Google Partners.
Amsive Digital – A Data-Driven Brand Growth Engine
Location: New York City, NY and Nashville, TN
Expertise: Paid media, SEO, Organic Social, Web Development, Data + Analytics, etc.
Notable clients: WWE, Clover Health, Samsung, Healthy Paws, Hiscox
Average hourly rate: $175
Amsive Digital is a full-service agency delivering data-centric digital marketing solutions with further omnichannel opportunities.
Their services include but are not limited to:
SEO
Branding
Performance Creative
Content Creation
Paid Search and Social
Influencer Marketing
Display and Video Ads
Conversion Rate Optimization
Media Planning and Consulting
With the people, tools and expertise to achieve superior results, Amsive Digital helps globally known brands such as iCIMS, NYU, and BCBS to amplify their digital presence and grow their business.
The multi-award-winning agency focuses on building custom solutions and holistic strategies for competitive markets with complex customer journeys.
Get connected with the right agency for your project.
GET STARTED
Lounge Lizard – Focuses on Branding Websites and Marketing Apps
Location: New York City, NY, Los Angeles, CA, Washington, DC and Nashville, TN
Expertise: Digital Marketing, Web Design, PPC, Display Advertising, Email Marketing, SEO
Notable clients: US Department of Defense, Granoff, St. Regis, Ford
Average hourly rate: $150
Lounge Lizard agency consists of brand storytellers and marketing specialists that build user-centric, mobile-first websites that are guided by the company's rule of having 7 seconds to create awareness and engagement.
They provide these services:
Branding
Web Design
Web Development
Digital Marketing
App Development
Website Maintenance
Free Website Audit
Lounge Lizard "marketing mixologists" craft smart marketing strategies that drive traffic and sales through SEO, Email marketing, PPC and Social Media.

The agency is a thought leader by contributing to publications such as Forbes Magazine, helping them build a good reputation and trust with their wide-ranging clientele.
Evestar – Helps Brands Transform Ideas Into Profitable Realities
Location: Miami, FL
Expertise: Web Design, eCommerce Development, Website Development, Business Consulting, etc.
Notable clients: Fawn, Inkkas, Elan, NZXT
Average hourly rate: $35
Evestar agency is one of the fastest-growing full-service eCommerce agencies. Founded by serial entrepreneur Lolita Petrossov, their entrepreneurial DNA has helped fuel record growth for clients ranging from small startups to billion-dollar brands.
The agency provides wholistic digital marketing strategies consisting of services in these verticals:
Branding
Ad Creation
Facebook Media Buying
Google AdWords Media Buying
TikTok Media Buying
Conversion Rate Optimization
Influencer Marketing
The agency's industries of expertise are fashion, consumer tech, jewelry, supplements, cosmetics and beauty. Their track record consists of working with companies and brands of different sizes, from startup companies to established small and medium-sized businesses
1o8 – Helps Consumers Add Your Brand to Cart
Location: Chicago, IL
Expertise: Amazon, Paid Media, Social Media, Website, SEO, Content, Creative Services, Affiliate Marketing, Shopify, Klaviyo
Notable clients: TY, Inc, TOMY, MUSH
Average hourly rate: $150
1o8 is a minority-owned agency focused on consumer brands looking to build and accelerate the growth for the eCommerce marketplace.
The agency's main scope of services includes:
Amazon Marketing Services
eCommerce Strategy
Social Media
Performance Marketing
Search Campaigns
The agency combines best-in-class creatives with data-driven analytics to create compelling brand stories that encourage consumers to add these brands to their cart.
1o8 helps brands and businesses of all industries and sizes grow their revenue and brand awareness through personalized solutions, well-crafted messages and data-driven strategies.
Bop Design – Generates and Nurtures Ideal Client Leads
Location: San Diego, CA
Expertise: B2B Web Design, Content Marketing, Digital Strategy
Notable clients: Bell and Howell, Digital Construction Works, Edge Technology, IVEMSA
Average hourly rate: $200
Bop Design is a B2B marketing and web design firm that specializes in creating holistic marketing strategies that include these services:
B2B Web Design & Development
Content Marketing
Social Media
SEO
Logo Design
Branding and Marketing Collaterals
Their focus is on B2B firms that want an external team of B2B branding specialists to enhance their brand positioning, build awareness and increase market share.

Bop Design operates within various industries, from Accounting and Biotech to Consulting, Software and Technology. They are also prone and well adept at working with companies of all sizes, young startups and established brands alike.
Marz Agency – Empowers Brands Through Disruptive Strategies
Location: Palisades Park, NJ
Expertise: Facebook Ads, Google Ads, Content Creation, TikTok Ads, Snapchat Ads
Notable clients: Mink Hair Wholesale, Hubble Studio, Kambia Kids, Bloombear NYC
Average rate: $2,000 minimum per project
Marz Agency is a creative digital marketing agency that creates and applies disruptive strategies to empower brands. Their digital marketing campaigns are tailored to a company's specific business plan to provide the maximum impact.
The agency's services include:
Social Media Advertising
Google Advertising
YouTube Marketing
SEO
Email Marketing
SMS Marketing
Content Marketing
Web Design & Development
Marz Agency has spent $50M+ across Facebook, Instagram, Google and other social media platforms and has generated over $150M in revenue across all of its clients.
Exaud – Builds Precise Software Solutions
Location: Porto, Portugal
Expertise: Custom Software Development, Embedded Software Development, Mobile Application Development, Automotive Software Development
Notable clients: Samsung, Facebook, Google, Blaupunkt, Presto
Average hourly rate: Starts at €40
Exaud is an established software development and technical consultancy agency that provides custom software solutions.
With over 10 years of experience, the company provides software development services to Fortune 500 companies, large enterprises and SMEs. Whether you're looking for a specialized fintech software developer or healthcare developer, this agency is one of your best options.
The agency specializes in different sectors, such as:
Automotive & Manufacturing
Fintech & Financial Services
Healthcare & Life Sciences
Software & Hi-Tech
Media & Digital Education
Retail & Logistics
Exaud's pricing and engagement model is quite flexible and the agency offers discounts based on the contract term and work volume.
Subscribe to Spotlight Newsletter
Subscribe to our newsletter to get the latest industry news