Corporate branding is about building, growing, and promoting the company brand as a corporate entity. It is how an enterprise presents itself to the world and to its employees.
In many ways, it is much broader than your conventional branding efforts, ensuring consistency in all marketing communications and corporate social responsibility (CSR) activities.
Created by specialized branding agencies, we're listing and analyzing the best examples of corporate branding on the market.
Standout features:
Emanates sophistication
Subdued color palette mimics the location
Geometric and minimal shapes
When approaching the creation of Eminence branding, Brandwell agency started with the key questions: Who is it designed for? Why is it different? What are the key features? What's special about the location?
After nailing down the name most appealing to the target audience, they progressed into the visual and verbal identity. The latter was based on the key elements of the architecture, and the vision behind the project focused on sustainability and using earthy materials and colors that reflected the environment itself.
The icon and logo were designed to represent a contemporary development with some hints of the consideration of space by creating a break in the "E" character to appear like a section of a floor plan. The first letter was then used as the leading brand mark throughout the marketing collateral.
This, combined with the geometric shapes (based on the architectural design), the aforementioned earthy color palette, and engaging content, created a very strong and appealing brand.
Standout features:
Colorful and optimistic
Innovative approach in both services and branding
Customer-centric
Benefito Mobile is a mobile virtual network operator that aims to bring an innovative model of the association between mobile telecommunications and retail to the Romanian market.
Bringing "new rules to the old game" was exactly what Brandfusion relied on when crafting the Benefito brand. The agency emphasized on the main benefits (pun intended) and how they help the end consumer, putting said consumer (customer persona) front and center. The "Surprisingly different" tagline became the main vehicle for Benefito's services.
Combining it with an exciting, saturated color palette was only the logical choice as it makes Benefito effortlessly stand out in this very "noisy" market.
We'll find qualified branding agencies for your project, for free.
GET STARTED
Standout features:
Monochromatic
Classy serif typography
Professional
Gent Holding branding, courtesy of Jaaqob Holding, exudes a sophisticated kind of stern minimalism that feels timeless, although heavily grounded in current trend aesthetics.
Although the so-called professional approach rarely leaves maneuverability for creativity, Gent Holding's branding bridges that gap, effortlessly providing both clarity and originality to the company's image and instating trust in customers with on-brand messaging.
Standout features:
Subdued color scheme
Stylish typography
Client-centric
The Coleman Group is a team of professional real estate agents operating in the metro Boston area, well-known for their vast experience in the industry, in-depth knowledge of the local market trends, and their hands-on approach to helping clients find the right home for their needs.
Starting with the highly sophisticated logo, GreyBox Creative designed a simple but robust "lockup" of the company initials but still retained a soft, open, and approachable feeling. The overlapping elements symbolize the intricate interaction between agent and client, working together to reach a common goal.
The color palette is monochromatic, simple, and precise. Black and greys paired with softer tones in between and seasoned with subtle splashes of color add to the company's open, out-of-the-box approach.
The same design methodology was implemented in all the marketing collateral and online platforms, including the fully responsive website that is by itself an excellent example of professional, albeit streamlined UX.
Standout features:
Symbolic logo
Flowing typography
Emphasized heritage and company's experience
Tom Tom Telematics is the leading digital solutions provider for fleet management. Recently acquired by Bridgestone, a multinational auto and truck parts manufacturer, the company has entered a whole new era. With its repositioning and the new flagship product Webfleet, it was time for a brand-new coat of paint (and much more than that).
Charged to handle this task, Mucho opted to celebrate the new beginning by creating a brand that emanates movement, strength, and integrity, is easily identifiable, but most importantly, is one that connects (fleet managers with drivers, data with performance, management with productivity and traceability with efficiency).
Drawing from the company's rich experience and focusing on the core purpose, Mucho structured a solid brand narrative and look that implies constant movement forward and connecting dots (in the world of telematics, these dots represent data).
Get connected with the right corporate branding agency for your project.
GET STARTED
Standout features:
Innovative logo approach
Dynamism reflective of the company's goals
Minimal
Joliark aspires to make architecture that sees the bigger picture. To honor and showcase Joliark's expertise and ability to find innovative solutions by "zooming in and out of problems," BVD created signs with changing dimensions and a dynamic, concise, and "free-minded" logotype approach. This, together with geometric typography, evokes the feeling of modern architecture, with a (literal) twist.
Along with the logo that perfectly embodies Joliark's spirit, BVD developed an intuitive brand strategy that captures its essence and serves as guidance for the future.
The range of colors is evocative of the style and elegance expected from such an unconventional company. It's simple, tactile, and in balance with the nature of the material.
7. Famatel by Nomon Design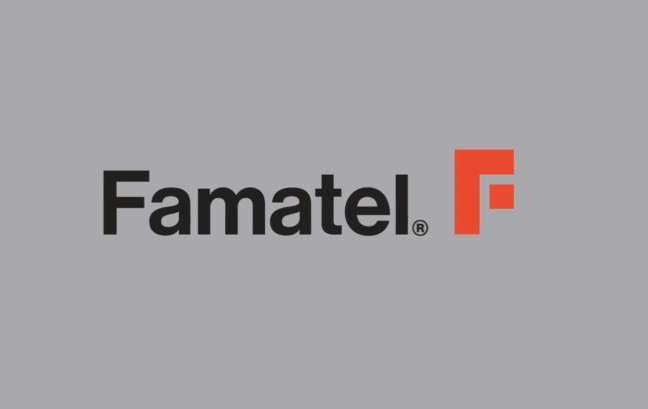 Standout features:
Striking color palette
Reflects both the power of the sector and the company itself
Robust market presence
With 25 years of experience, Famatel is present in 60 different countries developing electrical solutions that add value and simplify the lives of professionals.
Strengthening their position, Nomon Design created a brand-new corporate branding with an electrifying and flexible graphic code. Using the Neue Haas Grotesk typeface, Nomon designed a consistent and architectural logo that represents the power of the sector and of Famatel itself.
The new, chromatic palette with a dominant combination of gray, white, and black signals the technical aspect of the brand, while the fiery orange charges it with character and vitality.
Accompanying the logo is the isolated "F" (of Famatel) with fittingly straight lines to enhance the robust character of the company, but with a composition that is very flexible in all its applications. The resulting logotype is an easily identifiable symbol that stands tall above competitors. It works well on its own, both in digital channels and business collateral.
Standout features:
Clear, clean, and concise
Prominent USP
Blue color communicating highly professional service
Visible Logic designed STARC Systems' new logo to reflect the clean lines and ruggedness of the company's main product. In fact, the entire visual system and business collateral maintained a clean, consistent look to mirror the growing portfolio of panel walls designed to blend in with their surroundings.
First in line were the catalogs, a critical marketing tool for manufacturers like STARC. By implementing the improved messaging and visuals, Visible Logic showcased STARC's innovative qualities and provided the company's internal sales team with impactful and informative brochures to help increase sales.
9. Cliona by Aarts Creative Consultancy
Standout features:
Multilayered meaning behind the logo
Serif font
Amicability as the core value
After changing the studio's name to Cliona (from CARONA, for obvious reasons), which was also the founder's name, Aarts Creative Consultancy opted to infuse the newly found identity with genuine personality.
Since "amicability" had been established as the core of the brand, for it has always been found amicable by its existing customer base, this attribute became the brand's core value.
However, at the same time, the brand didn't aim to look funny or not serious by any means. Thus, Aarts incorporated amicability through a welcoming smile with a sincere and professional attitude by finding a figure that could hit the mark — The Archaic Smile. The smile in the identity also looked like the crescent of the moon, the ruler of emotions.
The smiling logomark (hidden in Cliona's "C") is clean, minimal, scalable, and most importantly, expressive of their top values: Amicable. Sighted. Exclusive.
Featured Custom Logo Designs by Top Digital Agencies
Standout features:
Abstract monogram
Black & white
Attention-grabbing
Athos Capital Partners is a private real estate investment partnership with offices in NYC and Coral Gables, Florida. The company's focus is on investing capital with institutional partners in highly differentiated developments in core urban and resort markets across North America, Hawaii, and the Caribbean.
WRK Partners, the agency behind ACP's visual identity, insisted on a dramatic mix of an abstract monogram and a black-and-white color combination.
The logo, being a focal point, has a decidedly modern look to it and is extremely conspicuous across a wide variety of settings and platforms. It looks consistently good on different platforms and business collateral.
The sans-serif logo typography is simple and clean; however, it grabs attention with a gradual fade from bold to regular font.
Get connected with the right branding firm for your project.
GET STARTED
Standout features:
Quality-focused
Classy, serif font
Blend of traditional and contemporary
Weinheimer Leder is a manufacturer of calf leather of the highest standard, made of the best raw material. They are intended for the production of high-quality brand footwear and leather goods.
Drawing from the company's rich experience, Rio Creativo brought the brand's century-and-a-half-long history into a new era with the slogan "Tradition & Modernity united in perfection."
Visual identification is based on clear and simple forms and carefully selected colors. It is elegant and tailored to the values important for the brand — class, transparency, quality, and attention to detail.
Standout features:
Symbolic "+" logo element
Contemporary
Future-proof
JT+Partners is an innovative architecture brand delivering projects around the world, spanning commercial, hospitality, residential, mixed-use, and masterplan developments.
IKTOMI was asked to revamp the JT+P brand identity and ensure uniformity in visual communications across all client touchpoints. It's safe to assume that this rebranding "exercise" sealed the firm's transition from success to excellence or, in other words, the transition from the past to the future.
The contemporary transition, or rather the fusion of excellence and success is embodied within the iconic red "+" sign. Its strong symbolism also represents the collaborative spirit of the JT+Partners team.
Standout features:
Emphasized symmetry
Eye-pleasing
Minimal
STUDIO GAD is an interior and architectural design firm, specializing mainly in commercial projects — hotelier spaces, recreation spaces, restaurants, medical centers, and cultural centers.
When imagining the company's branding, Basman Tenenbaum formalized a concept that subtly frames Gad Halperin & Co.'s work in every element.
The logo, for example, while simple, is symmetrical and balanced. The unusual letter "H" is seemingly the only thing out of the ordinary as it symbolizes and embodies the architectural design itself — it represents building blocks, lightly stacked on top of one another.
Standout features:
Craftsmanship-worthy monogram
Minimal
Subtle and strong
The Woodary is an interior design and bespoke cabinetry company based in Australia. Their primary branding concept, courtesy of Brandy & Coco, is all about keeping the brand subtle and strong.
The agency aimed to create an original look that speaks volumes of the quality and style, using not too much and not too little.
This branding concept is contemporary at its best but also timeless. Without being unnecessarily flashy, it refreshes the eye with geometric design elements, which led to a minimal logo made out of basic geometric shapes (circle, triangle, and rectangle) that combined to make the minimal image of a tree. Paired with a clear sans-serif typeface, it is rooted in consumers' psyche as the symbol of long-lasting, craftsmanship quality.
15. Wiley by Contrast & Co.
Standout features:
Bold
Streamlined monogram
Saturated color palette
Being at the forefront of defining the legal and regulatory frameworks for the most instrumental change-makers in the world for nearly 40 years, Wiley has evolved past a simple legal firm.
As its team accelerated into a new decade, Wiley needed an identity that could match said growth and effectively communicate its legacy as well as its vision for the future. That's where Contrast & Co. came in.
Paired with a new, streamlined law firm logo, imagery, and custom-tailored website, the new identity mirrors Wiley's unique structure and client-focused mindset, as well as more clearly defining its elite collection of practices.
16. RewardOps by Brandlucent
Standout features:
Neon color palette
Ultra-modern approach
Engaging right from the get-go
RewardOps is a Toronto-based engagement commerce platform creating positive disruption in the rewards space. Its cloud-hosted infrastructure, SaaS approach, and agile methodology set it apart from other companies in the loyalty industry.
Just by their bio, it is clear that a company with such energy can't be contained with just any branding. For this reason, Brandlucent came up with an ultra-modern brand that breaks down barriers and reflects its expanding future.
Both the logo and collateral designs are charged with vibrancy and power. The energy of the brand messaging is electric, and this current is maintained all the way through the build-out of their brand identity and website experience.
17. Teal Tree by TC Creatives
Standout features:
Art-deco style
Calming the color palette reflects the company's mission
Captures the essence of luxurious skincare technology
To distinguish the Teal Tree brand in the oversaturated luxury brand marketplace, TC Creatives used the product's unique light technology as the creative cornerstone for the motto, brand values, and color palette.
The simplistic, art deco-inspired logo represents a prism and light while capturing the essence of the new technology.
Besides the company's namesake, TC Creatives expanded the color palette by utilizing charcoal with accents of gold and dusty rose to embody the purification and the release of toxins the products provide.
A modern sans-serif font gives just the right amount of detail for headers, complimented by a classic sans-serif for all other messaging.
18. SMP Pharmacy by Ghalya Lherisson
Standout features:
Pastel color palette
Logo representing fertility, union, and growth
Inspires trustworthiness
For more than two decades, SMP Pharmacy has curated custom solutions to ensure a one-of-a-kind experience for their patients. Handling everything from fertility medication to emotional support, SMP opted for a unique visual identity.
While working as a part of The Brand Collective team, Ghalya Lherisson tackled this fairly sensitive task, designing the logo and revitalizing the brand.
The new visual identity embodies the brand's mission to deliver compassionate and complete patient care in a seamless and convenient manner. The clean logo design and pastel color palette not only represent a modern pharmacy but also create a more welcoming feel and inspire trustworthiness and professionalism.
Takeaways on the Best Corporate Branding Examples
In today's global market, corporate branding is more crucial than ever before. It's not just about a company's products or services but about its entire identity — from its messaging to its social impact.
By taking cues from the best corporate branding examples out there, businesses can create a lasting impression on their customers and employees alike.
Let the top performers we've listed above inspire you to elevate your brand to new heights and dominate the market!
Corporate Branding FAQs
1. What is corporate branding?
Corporate branding is the identity and personality of an organization. It's the values and beliefs that the business stands for, its tone of communication, and its message to its customers.
Corporate branding is the art of creating a consistent and recognizable identity for an organization. When done effectively, a strong corporate brand can set a company apart from its competitors and build loyalty with customers.
By consistently using logos, messaging, and style in all marketing materials, companies can make a lasting impression on potential customers and create a strong brand that resonates with its target audience.
2. What is the goal of corporate branding?
Integrating a corporate brand is key to creating a distinct and cohesive identity throughout all communication channels. By molding the visual aesthetic (logo, website, and packaging, among other components), establishing a consistent tone of voice, and imparting impeccable customer service, a company can convey a polished image that resonates with its clientele.
3. Why is corporate branding so important?
Having a strong corporate branding strategy can create a meaningful relationship between a business and its customers. It allows consumers to easily recognize and trust a company's products without needing constant and costly marketing campaigns for each new offering. Establishing a solid brand image that resonates with consumers can boost customer loyalty and repeat purchases.
Corporate branding agencies are companies specialized in this type of branding and can be a great asset to your business's effort in this regard.
Subscribe to Spotlight Newsletter
Subscribe to our newsletter to get the latest industry news