First impressions matter, and a strong visual identity is essential for any business looking to stand out from the crowd.
With 55% of initial impressions being visual, it's clear that the visual elements of a brand play a critical role in capturing a customer's attention and creating a lasting impact. Visual identity communicates the brand's personality, vision, and purpose, contributing to consistent business presentation — messaging and brand voice.
This article explains all you need to know about visual identity, including the steps, elements, and examples of building a strong visual identity.
What Is Visual Identity?
Visual identity is a set of characteristics that define a brand's look and feel across all touchpoints, from a company's website to its marketing materials and physical products.
It is the visual aspect of a brand that helps it stand out and be recognized by customers and communicates its values, personality, and purpose. Digital marketing agencies have to master these aspects of branding as well as the scope of services they offer to their clients.
A solid visual identity is a vital brand asset for creating a consistent and cohesive brand experience. It includes these elements:
The audience associates the brand with its offering and values through a carefully developed and coherent design. It is the business's first interaction with the consumer, and it is, therefore, important that it creates a positive and lasting first impression.
Professional branding experts can get the visual identity right for companies of all sizes.
Visual Identity vs. Brand Identity
Brand identity and visual identity are often used interchangeably. Although related, these two concepts are not exactly the same:
Visual identity is a subset of brand identity. It refers to the visual aspects representing a brand, such as logos, colors, typography, photography, and overall design. It is part of a brand's identity that can be seen and helps create a memorable and recognizable brand.
Brand identity encompasses all aspects of a brand, including its visual identity, messaging, values, purpose, and personality. It is the overall essence of a brand that creates a unique and differentiated identity in the minds of its customers.
In summary, visual identity is a critical component of brand identity, but it is not the entire picture. While visual identity focuses on the visual elements that represent a brand, brand identity encompasses all aspects of a brand's identity, both seen and unseen, that make it unique and memorable.
Get connected with the right branding agency for your project.
GET STARTED
Four Steps on How To Create a Strong Visual Identity
To create a strong visual identity for their brand, decision-makers should define several aspects of their business. Doing so will shed more clarity on the process, especially the desired outcome and final result.
Here are the four steps to help you create your brand's visual identity.
Step #1: Know Your Audience
Knowing who your audience is can help you build a visual identity that speaks to them.
The most important thing you want to know about your target consumers is their pain points. Identifying their problems can inform how you approach your solutions and, ultimately, the visual identity that represents those solutions.
To find the right audience to message your offers to with brand visuals, follow these steps:
Define your product or service and what problem it solves. This will help you understand who might benefit from it.
Conduct market research to identify potential customers and their needs, preferences, and behaviors using surveys, polls, and other questionnaires.
Look at your competition's customer base to see who they target and why. This insight will inform you about the audience demographics and their shortcomings, which you can use to differentiate your visual identity.
Use the insights from your research to create customer or buyer personas, fictional representations of your ideal customers. A buyer persona can include demographic information, lifestyle preferences, values, interests, and pain points.
Step #2: Define Your Brand's Purpose
Consider your business roots and remember why you established your brand. Defining or redefining your brand's direction and long-term objectives can provide valuable insight into the essential qualities your visual identity should have.
While figuring out your brand's purpose, try answering these questions:
Why are you offering your services?
What are your brand's short-term and long-term goals?
How can your brand and its solutions help the consumers?
What mission, statement, and vision does your brand adhere to?
What visual elements, such as colors, imagery, and typography, reflect our purpose?
Certain fonts, for instance, evoke certain brand personality traits: bold, sans-serif fonts evoke the feeling of modernity and are suitable for IT corporations. In contrast, quirky handwritten fonts reflect the more personable nature of business.
Step #3: Evoke Emotions Through a Brand Story
A brand story can help you appeal to your clients emotionally and set the standard for your visuals and imagery. It lets you connect with your target audience in a way that is meaningful to them and beneficial to you.
The brand story communicates the values, history, and development of your business that is relatable to your audience as something that feels close to their experience.
To tell your brand story that will serve as a basis for your brand visual identity, answer these questions:
What is your brand story, and how does it connect with customers?
How should the clients feel after interacting with your brand and reading its story?
How can you apply your brand story and customers' emotional response to your visual identity?
Answering all three questions, especially the last one, should inform the direction of your visual identity and the personality and emotion your designers will implement into your imagery.
Step #4: Define Visual Brand Identity Purposes and Roles
Before creating your brand's visual identity, you should understand that it covers various platforms with different design requirements.
The brand's visual identity can encompass, but is not limited to:
Ads
Packaging
Brochures
Corporate identity
Presentations
Websites
Wearables
Digital projects
Artwork
Depending on the type of brand identity, you may want to employ different experts for different platforms. Designers collaborating on developing your brand identity should be on the same page to achieve consistency in brand visual design. You will accomplish this using a brand book or guidelines that define the brand's visual standards.
To learn more about brand guidelines, read our guide on how to create a brand book.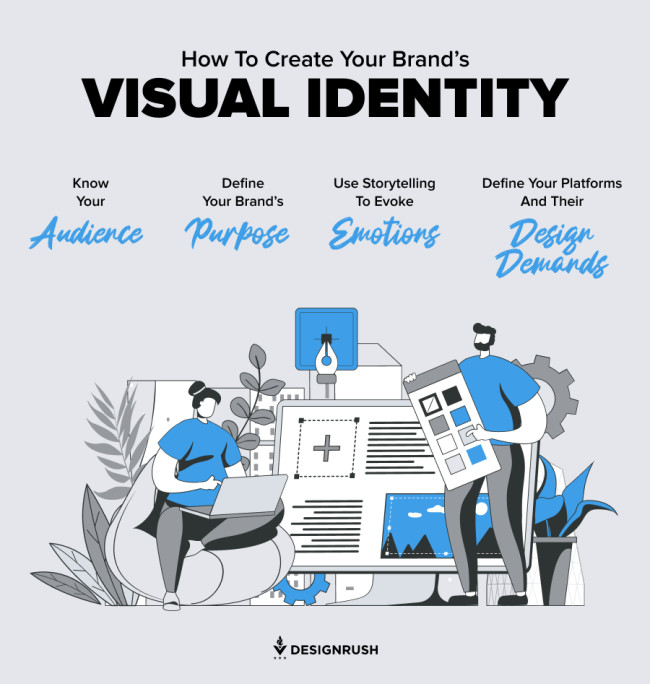 Five Key Elements of Visual Identity for Brands
The following elements are the main components of any visual identity:
1. Logo
A logo is a symbol or mark that represents your brand or business and helps people recognize it. A good logo effectively communicates the brand's values and personality to its audience using colors, shapes, typography, and sometimes a tagline.
As an essential component of a brand's visual identity, the logo should be used across various platforms to create a cohesive and consistent brand image.
If you're new to the market and you want your audience to memorize the name of your brand or company, you should use a wordmark logo. The imagery might be enough if your brand is recognizable due to its symbol (think of Nike or Starbucks). However, a letter mark or monogram logo may be better if your brand's name is long.
2. Color Palette

The colors of your visual identity are very important since they influence people's perception of your brand. Color enhances brand recognition by up to 80% and impacts purchasing decisions for up to 90% of customers.
Different colors can make people feel certain ways, so it's essential to understand how color psychology works when choosing them. For example, blue is associated with calmness and relaxation, while red represents strong emotions such as love, passion, and anger.
You will use your brand colors in many touchpoints — for instance, website, social media and printed materials. Therefore, pick colors that work well in various contexts.
3. Fonts and Typography
Choosing the right brand typography for your brand depends on the message you want to convey. Typography includes fonts and spacing between letters. It can affect the mood and tone of your message and help people recognize your brand.
Good typography should be easy to read, long-lasting, adaptable, functional, and able to communicate your message effectively. No one style of typography works flawlessly for every brand; therefore, you must choose the one that meets the specific demands of your brand.
4. Photography
Photography is a powerful tool to communicate your brand story and create a strong visual identity for your brand. To achieve visual consistency across your website and social media channels, consider the style, composition, and subjects featured in your photographs or videos.
Using diverse models in your images can help your customers feel connected to your brand. Including internal headshots, lifestyle/portfolio images, product photos/videos, and social media photos in your branded photography can create a cohesive look.
5. Graphics and Illustrations
Visual elements such as shapes, icons, and illustrations are important stylistic tools that visually represent your brand. They improve user experience on your website, highlight important content in your marketing materials or add a personal touch to your brand. All these visual elements contribute to your brand's overall identity and ensure consistency across all platforms.
We'll find qualified branding agencies for your project, for free.
GET STARTED
Five Examples of Great Visual Brand Identity
These businesses have paid a great deal of attention to details when it comes to their brand visual identity. They have created a holistic approach to their identity that is consistent across all channels and platforms.
Chobani proves that even a line of dairy products can have a thrilling visual identity. The packaging began through the use of a signature green color that communicated their products' non-GMO nature and expanded to a variety of gentle colors for yogurts, creamers, blends, and drinks.
The backdrops of their packaging allow the main ingredients to pop. The use of typography and font is another successful part of their visual story because Chobani uses a custom typeface that lends a family-friendly elegance to their items.
Chobani's brand identity goes way beyond what they produce and onto the web sphere: their Instagram account is full of vivid illustrations and backdrops that make this brand's products stand out effectively.
The mattress startup is another enterprise that takes a visual identity of a rudimentary, everyday object and takes it to another level with a slick corporate design and content marketing strategy. Casper publishes a quarterly magazine to further bolster their product and raise visibility and awareness of its brand.
Their brand colors are soothing beige and dark blue, that associate the night and comfort of sleep. They also use hand-drawn illustrations that enhance this feeling of coziness on their website, social networks and products themselves.
3. Frooti
A mango-flavored beverage originating from India, Frooti originally featured yellow as its signature color, which was used on all of its packaging. Their social media debut continued the yellow theme with their content but soon enhanced to include green and purple and incorporated them into all of their visuals.
To convey that their drinks are made entirely of fresh mangos, the brand rarely uses images of the bottles of their product. Instead, they post mango photos. The brand has altered their decades-old formula and adapted it to a digital age, while keeping consistency with its colors and messaging.
4. Analina
Analina is a brand with a unique mix of selling party costumes, event inventory, swimming accessories, makeup, and ballet shoes! With such a distinct business angle, the store has become quite popular for standing outside of any niche.
The traditional business model and the sale of items that are normally seen as slightly exclusive led them to create a visual identity that evokes a more modern market positioning. Simple but classy brand typography, with all letters in lowercase and a family of icons that symbolize brand's products, complement the pastel lavender and brown colors, accentuated with gold leaf effect.
A coffee roasting business that relies heavily on quirky illustrations and visual identity that provides them with a unique personality that isn't often repeated in their niche. The visual identity found in their name continues the theme of animal whimsy. The company's color palette is very clean blue and white, and the hand-written motifs expand to the brand's merchandise.
Little Wolf's visual identity is very simple. However, it provides them with a signature look that evokes a distinct quality.
Five Reasons Why a Strong Visual Identity Matters
Below are the most compelling reasons your business should develop a solid visual identity.
1. Grows Better Brand Awareness and Brand Recognition
Your visual identity is the first people notice in your business. It is important for building a strong brand and key to brand awareness and recognition. Think of brands such as McDonald's, Nike, or Apple — the first detail that comes to mind is either their logo or the product's distinctive design.
Brand recognition doesn't just benefit your current customers; it can also help attract new ones. By increasing brand awareness, you'll be better positioned to successfully engage with your audience, which can drive conversions and sales.
2. Helps Your Target Audience Relate to Your Business
Your target audience is more likely to feel a meaningful connection to your company if they can easily relate to your visual identity and find it appealing.
Your brand and its visuals act as the face and personality of your company. By lending your business a more relatable and human dimension, your brand can evoke certain emotions and opinions before prospects can truly experience what you have to offer.
Most impressions your audience forms about your brand come from your logo, ad campaign, or package design. These visual elements play a crucial role in shaping how people perceive your business and can be a powerful tool for building brand loyalty and engagement.
3. Gives Your Products/Services a Distinct Quality
Think about your brand from a customer's perspective. Extending your brand's visual identity to your products can effectively convey certain emotions and feelings to your audience.
Here are a few ways in which your brand's visual identity can impact your products:
Provide a unique feel for your offerings.
Convey the emotion you want your customers to feel when using your products.
Help convince your customers that your products can solve their issues.
4. Creates Business Continuity and Brand Consistency
Presenting a brand consistently across all platforms can increase revenue by up to 23%. This consistency applies to visual identity — but this trait is important for another reason other than turnover.
As your brand evolves and grows, certain elements will support its growth and keep it grounded and familiar: brand values and visual identity. Customers do not react positively to radical changes and you must consider this as you grow. Brand visuals should maintain a degree of familiarity and continuity so as not to alienate the existing customer base.
Some of your loyal consumers may be emotionally attached to your brand's visuals as it gives them a sense of belonging. Making a harsh break from the long-standing visual identity is a risky move, while maintaining it and staying true to its core can be rewarding in the long run.
5. Differentiates Your Brand From the Competition

A brand must have distinct visual standards to maintain a consistent visual identity and differentiate itself from competitors. A distinct visual identity generates eye-catching, distinctive and unforgettable branding and an exact nature effect on the client who encounters your brand.
Regardless of your business type or existing visual identity, you can always aim to achieve visuals that will be outstanding. They will further foster memorability in the minds of your potential customers.
Takeaways on Brand Visual Identity
Creating a visual identity for your brand comes with multiple benefits. It is an essential part of a general branding strategy of any business and is the most immediate aspect of it that consumers get in touch with.
Brand visual identity can:
Boost brand visibility and recognition

Help your business become more relatable

Give your products or services a distinctive feel

Create a sense of business continuity
A great brand visual identity should have:
Consistency

Uniqueness

No ambiguity, that is the exact interpretation of what your business is about
That's why partnering with graphic design firms and package design experts has become a necessity for modern businesses.
Visual Identity FAQs
1. How important is visual identity?
Visual identity is crucial for a brand's online and offline presence because it:
Boosts brand visibility and recognition
Helps businesses become more relatable
Gives products or services a distinctive feel
Creates a sense of business continuity
Builds relationship of trust with customers
Provides a competitive edge
Encourages customer loyalty
Attracts new customers
Enhances brand reputation
2. What is a good visual identity?
Aside from being beautiful, a good visual identity is also unique, memorable, easily recognizable, timeless, scalable, flexible, and consistent. As such, a good visual identity should resonate with the brand's target audience and evoke a desired emotional response.
3. What should visual identity reflect?
A visual identity should reflect the unique personality and values of a brand. It should visually communicate what the brand stands for and what sets it apart from the competition.
We'll find qualified branding agencies for your project, for free.
GET STARTED
Subscribe to Spotlight Newsletter
Subscribe to our newsletter to get the latest industry news