Social media usage is constantly on the rise, with more and more users creating accounts by the day.
According to Statista, in 2023 there were 3.96 billion registered social media users worldwide.
That number increases by approximately 20 million each year.
So, you've probably heard the saying: If you aren't online, you don't exist.
For businesses, this rings particularly true. In this digital age, brands need to utilize the full power of social media if they want to reach larger audiences, gain more exposure and improve relationships with existing customers.
In fact, for the first time ever, digital marketing spending recently surpassed the yearly budget spent on TV ads. All your customers are online, and you're missing out if you aren't there too.
Luckily, there are plenty of top social media tools and resources that can help you learn about your audience and grow your brand.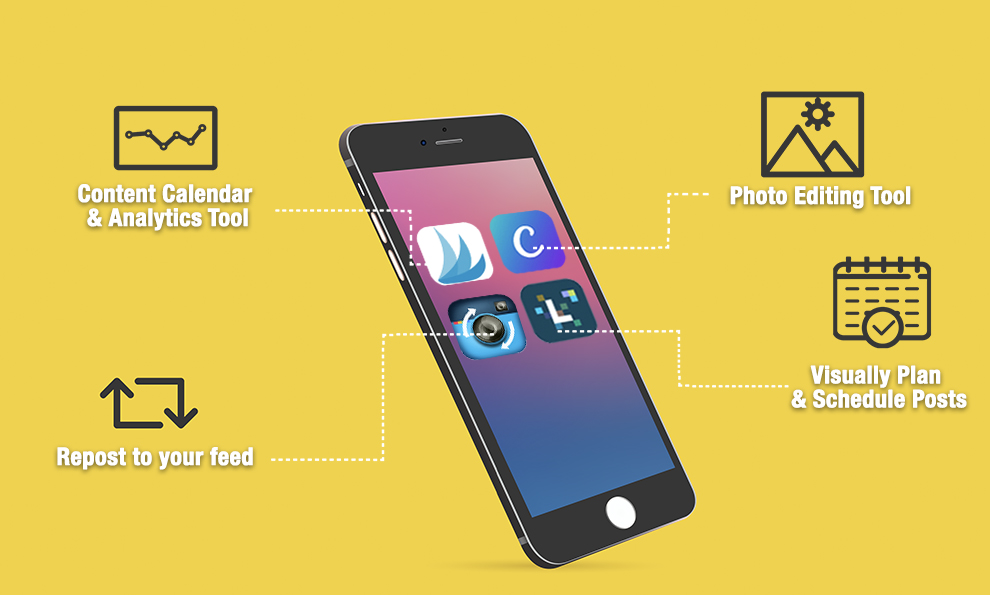 A lot of people, especially business beginners, latch onto the idea that tracking, boosting reach, curating content and general social media scheduling are easy tasks, and that everyone can be expert in such matters. Everyone uses social media all the time, and it should be easy, right?
Don't make the mistake of taking all these tasks upon yourself without adequate help from programs we've included in this list. Take advantage of all of the tools and resources at your disposal when it comes to social media management — no matter if you're managing your own business or just want to know what you can expect from a reliable social media marketing agency expert.
The Top Social Media Content Creation Tools
You could approach social media marketing without much structure, wondering each morning what you need to post. However, social media content calendars are very easy to create and help curate a specifically tailored strategy for your business.
In fact, a content calendar is one of the best social media tools (without even being a tool)… it's something you can make in an Excel spreadsheet!  
All you have to do is prepare posts in advance for each day of the month and enter it into the spreadsheet. This allows you to see what is slated for publication and enables you to match social media marketing strategy with other major dates, marketing initiatives, business growth campaigns, and even holidays and International days such as Valentine's Day and Women's Day.
Ultimately, a content calendar is vital if you plan to use social media as a major marketing resource for your brand.
When looking into how to create a social media campaign to boost your presence on major platforms, look to these tools.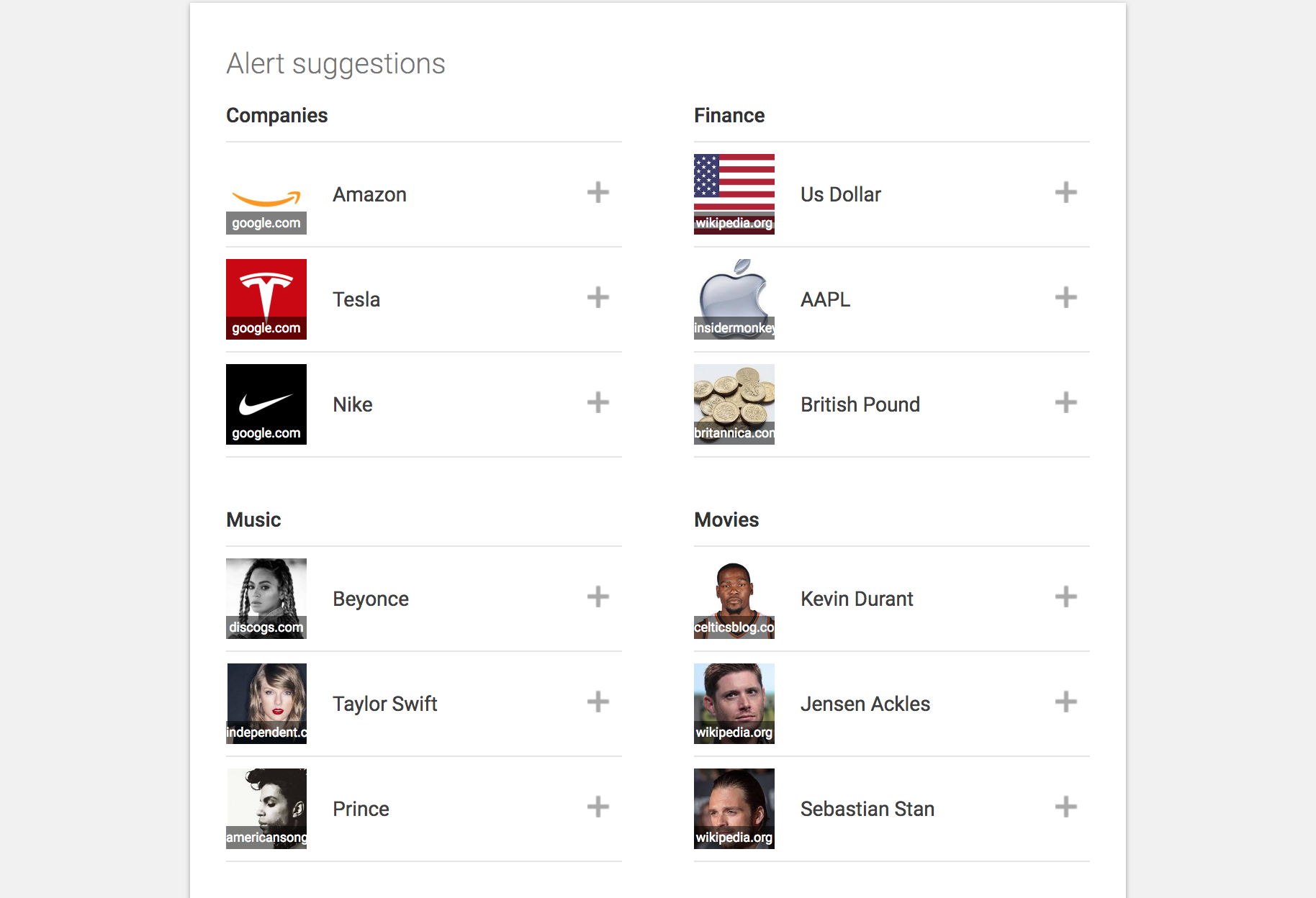 Google Alerts
Google Alerts is a simple tool that can help with brand monitoring, identifying newsworthy topics and finding leads. The beauty of Google Alerts is in its simplicity and ease of use. Just add the keywords or topics you'd like to receive notifications and connect your email address.
Anytime that keyword is updated, you'll be instantly notified with an email. This affords you the opportunity to build links to boost SEO, generate additional content for your social media channels, and even boost engagement by commenting and sharing certain posts.
Later for Instagram
Plan your Instagram dashboard ahead! Later's Visual Instagram Planner lets you optimize your feed by dragging and dropping media files to see how they'll look on mobile.
All Instagram marketers know the pain of fitting visuals into the feed – even if we're talking about high-quality photos. Sometimes they just don't go well with one another. And before Later, it was nearly impossible to tune or check how your feed would look like without actually sharing posts. Now you can create the perfect Instagram aesthetic with no risk.
And60 percentof businesses curate a cohesive Instagram look by using the same filter for every post, proving that consistency really is key.
Later helps you curate content with ease by allowing you to save content around the web with the Later plugin for Chrome. However, you can also search content by hashtags, users or likes and then plan the re-posting ahead. Later also helps you schedule your posts automatically – a coveted feature for Instagrammers everywhere.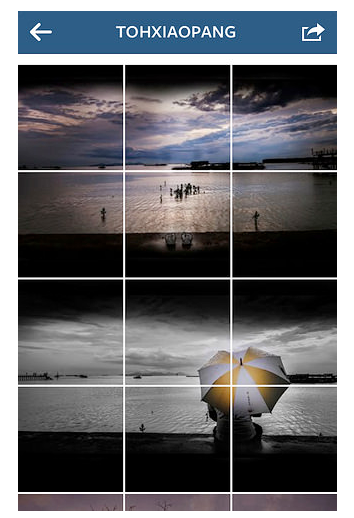 Regrann for Instagram
As you're probably aware, Instagram doesn't directly allow you to share posts from other users on your account -- even if they post about your business or mention you. Luckily there's an app for that.
Regrann enables you to repost other people's pictures, as long as you tag them on your post as owners. (That's just good social media manners, anyway.) Regrann minimizes time spent creating images for Instagram while empowering brands to raise engagement through user-generated content.
Featuring clients and consumers on your social media accounts will increase brand awareness and boost brand loyalty. What's more? The more user-generated content you post, the more your audience will likely create for you!
Canva
Canva is an intuitive, easy to use photo editing tool that offers preset sizes ideal for social media posts. You can choose from free-to-use backgrounds and photos, and if you want additional options, Canva charges only $1 per paid picture. This is a great solution if you want to manage social media promotions on your own but don't have a designer on hand (small businesses and startups, take note!)
Everything is based on a drag and drop interface. Pick the background you want, upload your picture or a logo to create posts with watermarks and increase brand recognition, customize text color, font and size and voila! You have a social-media-ready post. You can export the picture in various document formats like PNG and PDF.
Canva also has free PowerPoint templates you can use. People respond well to visual content so if you have some data you want to showcase or use for a sales pitch, or growth report, going visual can help you get your point across.
WordSwag
This extremely simple-to-use application proves to be a worthy adversary to the competitive tools out there today. WordSwag is the simplest picture editor there is — and we really mean it's simple as it sounds.
This app offers one feature only: Adding customized text to photos. WordSwag lets you adjust the promotional materials you plan on posting online to you fit your marketing message.
Developers brag that this is a "pocket graphic designer" and that it saves hours of adjusting text within promo photos. And, as a matter of fact, it does save a bunch of time, even though it is just an add-to-image editor.
Quuu
Quuu is a service that prides itself on curating the content your page should be posting and talking about in general. It works using a feedback system, in which you as a business have to select specific interests to form a huge pool of categories (over 300!). After that, the compiling mechanisms of this service generate topics and curate the content you should be posting.
This way, you'll not only have access to the niche content that works best for your brand, but you'll be able to post it using a more human approach. The content (based on your parameters) that Quuu curates is, as they say, hand-picked, and they even offer a well-developed recycle system.
Acquiring new customers and/or clients through this channel will help brands achieve a more organic reach.
Considering 71% of consumers who have a good social media service experience with a brand are likely to recommend it to others, organic reach is essential.
The Best Social Media Scheduling Tools
Scheduling tools are a lifesaver when it comes to social media management. First, this means that you don't have to be online all the time when you want to post something. Secondly, it streamlines communication and workload with agencies that you may be partnering with.
Many social media scheduling tools also incorporate a publication feature that can double as a content calendar. Almost all scheduling tools also come with their own analytics which can help you understand what your target audience likes, what they respond to and what posts perform the best on each individual platform.
Hootsuite
HootSuite is one of the more well-known scheduling tools. Depending on the plan you purchase, you can add several social media accounts and receive insights for each one. Hootsuite allows you to track clicks to your website or digital destination, add social media accounts for Facebook, Twitter, Instagram, Pinterest, LinkedIn, Google+, and add multiple social media managers.
HootSuite also comes with an easy-to-follow guide on social media marketing best practices. These are just some of the many reasons it found its place on our list of the best social media tools.  
One particularly amazing feature of the HootSuite platform is its social media listening capabilities. It's important to know how your campaigns are performing, but it's also vital to know what others are saying about your brand.
You can set up tracking of your company's name, keywords or topics so that whenever somebody mentions them in their social media posts, even if you aren't directly tagged, you are notified and able to join the conversation.
Hootsuite has a Hootlet plugin that's connected to your Hootsuite, and lets you share interesting content you find online while browsing the web. The URL you want to share is immediately shortened with an Ow.ly link shortener and posted to the platforms of your choice.
Buffer
Buffer is a very similar platform to Hootsuite. It also lets you manage multiple accounts for your company and lets team members collaborate easily.
Buffer's Power Scheduler is a great tool when you want to share the same content more than once, and even test different headlines for the same content. You can post content on Twitter, Facebook, LinkedIn, Google+ and Pinterest.
As opposed to Hootsuite, Buffer comes with its own free image creation tool called Pablo. You can quickly create images for social media posts and schedule them via Buffer.
While Hootsuite has Ow.ly, Buffer has Buff.ly and Bit.ly (more on those below). Just like Hootsuite, Buffer also comes with scheduling options like posting the same content more than once. However, the one thing buffer lacks is the monitoring tool for mentions.
Pro Tip: Buffer, Hootsuite and Sprout Social all have free trials so you can test both of them and then choose the one that suits your needs.
SocialBee
SocialBee is one of the fastest-growing social media management tools which allows you to share content across all your favorite platforms: Facebook, Twitter, LinkedIn, Pinterest, Instagram, and even Google My Business. One of the best features of SocialBee is the Evergreen Posting that enables you to recycle your content and re-share it again, after you've created multiple variations of one post or after you've made custom edits for each profile.
The content you add to SocialBee can be organized in Content Categories, so you can get the best mix of content while having all your posts organized. After you have the content added to SocialBee, you can generate a schedule for your profiles based on best practices.
While Hootsuite has Ow.ly, Buffer has Buff.ly and Bit.ly, SocialBee offers the possibility to use either Bit.ly, Rebrandly, JotURL, PixelMe, and many other URL Shorteners.
SocialBee offers a 14-day free trial, so you can test all their features and if it is a good match for you, their plans start at $19/ Month.
eClincher
If there was a Swiss army knife version of a social media tool, eClincher is probably the best fit for this description. This app offers features such as social media management, scheduling and publishing, direct Instagram publishing, link shortening and image managing. It's a solid platform that does a lot from the same interface.
eClincher is known for its well-designed, ultra-simplified scheduler that supports all social media platform out there. A simple, intuitive visual calendar is integrated. However, it's stacked with additional functionalities.
The app lets you filter the tags and trending hooks, and instantly generate and implement them into your calendar. This way you'll be able to create a better-prioritized schedule to hit your targets like a charm.
Of course, the support for various features is there in the form of link shorteners, analytics, trend following and keyword tracking.
But the cherry on top is the fact that all of this can be infused effectively and efficiently into your calendar. Managing social media accounts — whether you have five, 50 or 500 —  is a lot easier thanks to this tool.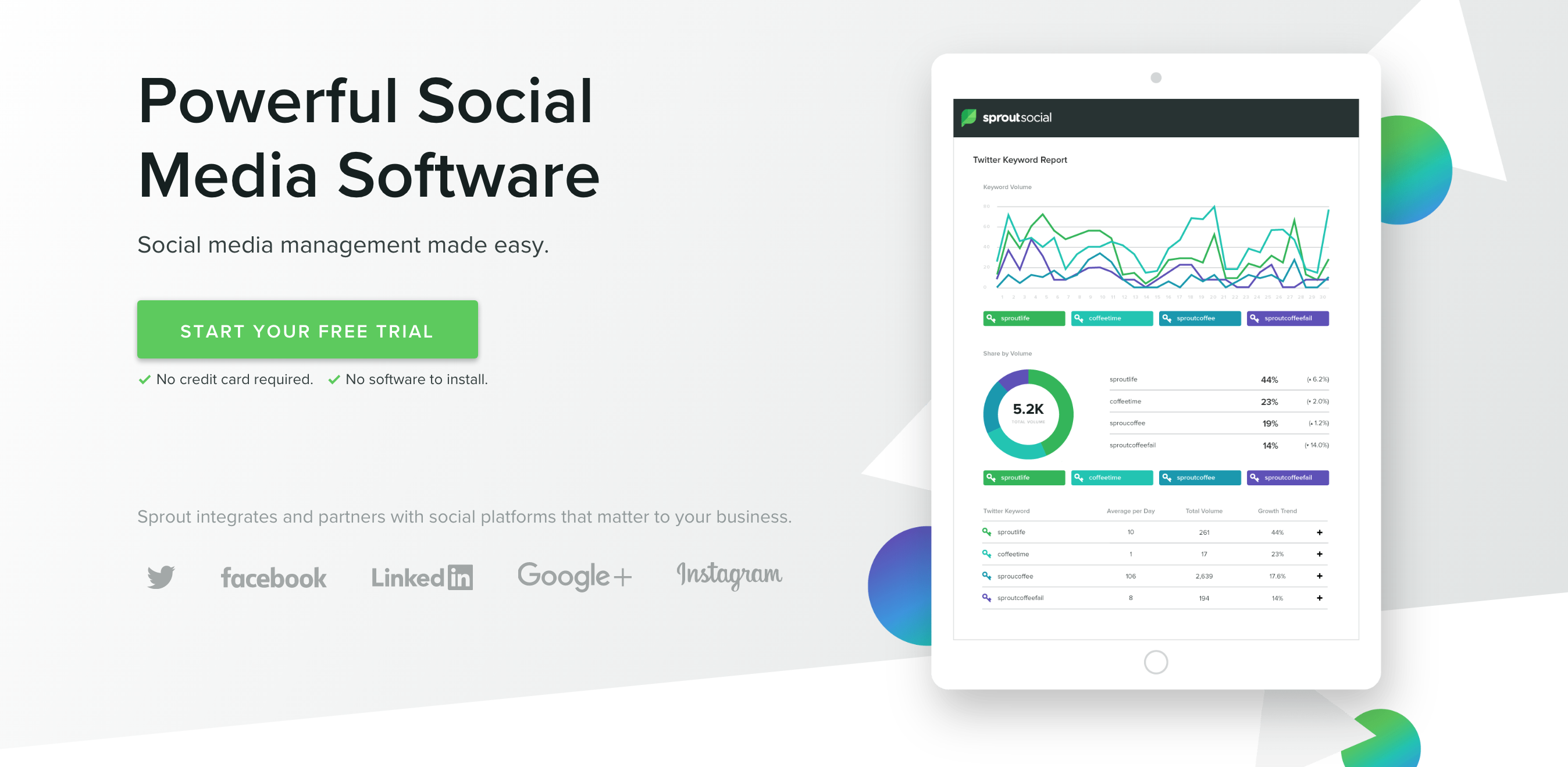 Sprout Social
Sprout Social is a powerful social media management tool similar to Hootsuite, but with added tracking and strategy tools. Sprout Social is a data-driven platform and as such has the most in-depth social metrics for Twitter, Facebook, Instagram, Google+ and LinkedIn. These platforms even acknowledge partnerships with Sprout Social.
With Sprout Social, you can gain comprehensive insights into Facebook pages, Twitter content, and even growth and strategy assistance. Higher tiers of Sprout Social membership even grant you an account manager that will help you hone your strategy further and achieve your goals faster. The platform also enables you to measure return on investment (ROI) on paid social ads.
Apart from social media analytics, Sprout Social comes with a Smart Inbox, a tool that brings all your social media messages under one roof, where you can respond to each and every one from different platforms in one spot.
You'll never miss an engagement opportunity again, and even be able to create streams and find more community-building opportunities with social media users. The Smart Inbox also comes with powerful insights for the social engagement and replies.
Sprout Social went the extra mile by offering a way to automate your social media by building your personalized and customized chat bot for Facebook and Twitter. This feature allows you to automate your post scheduling by reaching the customers when they're most likely to engage.
Evernote, in particular, utilizes this feature. They have decreased the replies sent per conversation by 18 percent and increased the overall number of customers they've helped per week by 80 percent — 92 percent of their team was new to this feature. Read the case study here.
Pro Tip: Buffer, Hootsuite and Sprout Social all have free trials so you can test both of them and then choose the one that suits your needs.
Tailwind for Pinterest
Pinterest is a useful platform that's often underused when talking about brand's social activities but is greatly important.
87 percent of Pinterest users say they have completed a purchase due to the social media network.
If your product is visually appealing or needs an e-commerce boost, Pinterest can help.
Think of Tailwind as a drag and drop content calendar that lets you re-pin directly from Pinterest and schedule those re-pins whenever you want. Tailwind also comes with an analytics tool that will help you post your content at the best time based on traffic, engagement, virality and audience.
Reports are visually represented and easy to comprehend. You can track growth regarding your followers, re-pins, likes, comments and boards, and analyze post performances by keywords and hashtags. If you integrate Google Analytics, Tailwind can even help you monitor revenue and traffic from Pinterest.
Tailwind also helps you discover what's trending, on what days and at what times. These features, called Trending Content and Interest Heatmaps, analyze the network, hashtags, categories, and your own boards as well.
Gain an even more in-depth understanding with this case study on how three sisters gained 20k Pinterest followers and half a million visits to their blog thanks to Tailwind.
Top Social Media Analytics & Targeting Tools
If you think that sharing links takes up too much space on your posts (especially on Twitter, where character space is numbered), and look ugly and disproportionate, then link shorteners like Bit.ly, Ow.ly, TinyURL are the real deal.
Shorter posts still perform well on social networks -- in fact, the can show a higher engagement rate! According to Buffer, the ideal tweet length is 100 characters, and only 40 for Facebook! So, if you have 80 characters for your URL, you can't really keep your consumers happy, informed and involved. 
Bit.ly tracks all the clicks on its shortened links so that you can know the exact number of people who were interested in your post. Also, Bit.ly comes with a personalized Bit.ly dashboard where you can keep all your links and track progress with ease.
Ow.ly is, as we have previously mentioned, associated with the HootSuite platform and is an integral part of its analytics. Buffer has the link shortener called Buff.ly that follows the same principles.
TinyURL doesn't provide link analytics, but it's fairly easy to use. All you have to do is post the long link in one field, press the button and you will get a shortened URL. That's it! However, TinyURL has one additional feature – you can customize your link ending. So it would look like this: https://tinyurl.com/AwesomeLink
Facebook Insights
It's important to know who you're selling to. Facebook audience insights can help you really get to know people who are already interacting with your page, people you have targeted, and people on Facebook in general. If you are willing to use Facebook's paid ads, you should find out your target audience before you spend money.
Whether your post is organic or paid, it's good to know how it performs. You can check your post's reach, the total number of people who like your page, and overall engagement like post clicks, likes, comments, and shares. You can check your weekly progress, page visits, and engagement for your video views, and more.
If you want to track what your competitors are doing, you just have to add them to Facebook Insights and you're good to go. This tactic is very useful to discover what kind of social media strategy your competitors are using and how they fare on social media.
Google Analytics
To perform well on social media, you have to constantly revise your strategy. And in order to optimize your campaign and achieve better results, you have to use analytics.
Google Analytics is a completely free-to-use platform that can show you metrics like where is the traffic coming from, how much of it is from social media, which channels perform the best, and how many social media users and followers have converted to clients. Our best social media tools list wouldn't simply be complete without it.
Google Analytics show much more data that can also be used for social media campaigns. For example, you can learn what people are searching for on your website and then use that information for paid social media ads. If you have a blog page, then you can easily see which blogs fare the best, or which ones are flopping.
Check metrics like bounce rate, and time spent on the page. Find out which blog posts are performing the best and then promote them through your social media channels, or bring more visitors to the blog posts that aren't performing well.  
Pro Tip: Google Analytics has its own video tutorials and Google Analytics Academy.  
Grytics
Grytics deals with everything related to Facebook groups. Essentially, this tool helps you get the most out of Facebook groups — from content to write about the audiences to reach out to. Grytics is very adaptable. It can be used by anyone, from small businesses to large-scale agencies.
In just a few clicks, you can customize the tracking of content in Facebook groups by parameters such as time zone or age group, which is, as you might have already known, paramount if you want to penetrate into new target groups.
This particular system takes a bit of time to set up, and rightfully so. It can essentially do the work of an assistant in just a few clicks. All that is required of you is to select the metrics you want to obtain at a given moment (via hashtags, tags, or live tracking), and select the way you want it presented. You can even compare all the groups you manage using this tool.
After everything is set up, you can set the app to generate and send reports (based on a time or goal basis). This allows you to keep your managing team well informed and on alert. Additionally, this service has a feature that enables you to archive community assets in the form of posts, comments, videos and photos, furtherly providing you better insight into this channel.  
ClickToTweet
We can't talk about social media reach and promotion mechanisms without mentioning ClickToTweet. Yes, you guessed it, it's a Twitter-only addon, but the magic it does by utilizing simple, yet solid features, is unbelievable.
It's essentially an app that allows you to create tweetable links that lead to your content, shorten them, and optimize them for sharing. Sounds like any other shortener, right? Well, the next thing it does is automatically write down the link in the user's tweet text box, thus making it extremely easy to share, or dare we say click to tweet.
And the functionality of this app goes even further. You can track this content and this sharing based on demographics and location. You can actively monitor the clicks and shares the link you created with this tool gets. This info is absolutely crucial if you want to update (and upgrade) the marketing strategy you are using for Twitter specifically.  
They do have a free program, but to get the most out of it, this brand provides a wide arrangement of features through a paid subscription.
Kicksta
No black hat techniques, no forbidden bots and software - Kicksta is the real deal if you want to increase the number of followers you have. It complies with all Instagram terms of services so using it won't ban your account.
Kicksta works with brands and influencers alike, and is able to create organic and valuable growth by automatically improving your engagement with other meaningful accounts, 1-2 likes at a time. The beauty of this tool is that it automates your Instagram activity – just set it and forget it.
Buzzsumo
Buzzsumo is definitely one of the best social media tools out there. Its social media and research insights can really help you grow your business.
Buzzsumo has several important features you can use to your advantage, and one of them is discovering whether the topic you want to write about and share online is worth your while. While Google Trends shows you what's trending on Google, Buzzsumo can show you what's trending across all social media platforms.
You can filter those results based on topic, or create your own feed. The faster you understand what's trending in the relevant domain, the faster you can reshare it which will increase its engagement.
Buzzsumo has a particularly helpful tool called Content Analysis... and the name speaks for itself. You can quickly discover whether people are posting about a specific topic and what the search trends are.
Plus, Content Analysis will even show you the types of content that work best on social media, and how the trends will likely develop further.
Also, Buzzsumo enables users to discover Twitter influencers. You can find important and relevant influencers and engage them. There's also the Retweet option which shows you which influencers respond to tweets and in what ratio, which can be beneficial for your outreach campaigns.
Buzzsumo doesn't stop surprising with its ever-growing list of features such as real-time brand mentions and keyword mentions -- including mentions found in website content, authors and backlinks.
This tool will even help you monitor competitor mentions, and if you are bold like Wendy's and want to roast them by calling them out online. See here how Wendy's blitzed McDonald's with a series of tweets.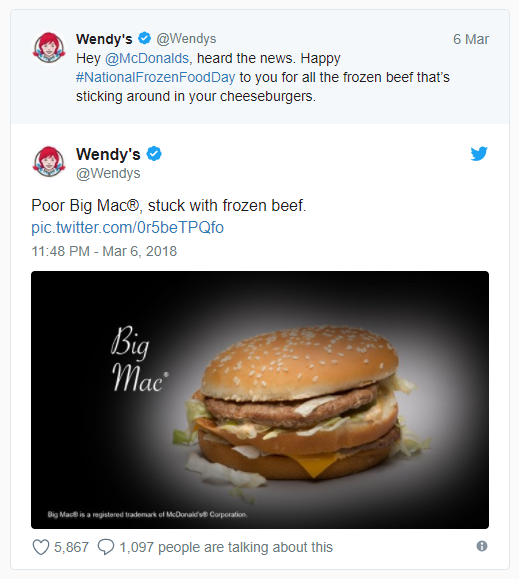 Snaplytics for Snapchat
Snapchat is slowly finding its way to businesses, and more brands are realizing that that's where the younger and trendier demographic is at. Snapchat stories disappear after 24 hours so it's important to have a tool that will monitor all your campaign activities and let you re-share your content so that more social media users can see it and interact with it.
Here are some fun facts about Snapchat: Users post 1 billion snaps on a daily basis, and more than 400 million Snapchat stories are created every day. It's impressive and proves Snapchat is a very potent platform your brand should be on.
Snapalytics is willing to provide all that Snapchat can't – information about what exactly works on Snapchat, what efforts are paying out and what campaigns need further optimization. Spending dollars on Snapchat stories without actionable information is wasteful. The metrics are refreshed on an hourly basis, and there's an option for exporting reports if you need to show them to your boss.
Snaplytics also helps you repurpose your content and share it Instagram, YouTube, Facebook and Twitter, and increase your social media presence with little to no effort.
Why You Should Utilize Social Media Management & Strategy Tools
A good social media presence can help you with customer relationships, customer retention and brand visibility. It's important that you engage your customers and hold conversations alive. It's easy to provide your consumers what they want if you listen to them carefully and these are the best social media tools that can help you manage and grow your business by using actionable insights and metrics.
Your ideas, impeccable design and business drive can all go to waste, no matter how advanced they are, if your social media presence is not properly covered. We talked about a professional set of tools that every social media handyman should utilize in order to finalize their product. And they're vital for success.
The market is evolving at an incredibly fast pace, and ensuring your survival within it as a valuable competitor depends on the reach you can acquire — and one way to do that is through social media.
Subscribe to Spotlight Newsletter
Subscribe to our newsletter to get the latest industry news