By 2025, we will be creating 463 exabytes of data daily.
The production and use of data has become immense prompting organizations to seek effective ways to store and manage information critical to their business.
These solutions are popularly referred to as "database management software."
In this article, we outline the best database software solutions you can leverage to store and manage data to drive deep insights for better decision making and greater efficiency.
Also known as database management software (DBMS), these tools allow organizations to store different types of information in various formats and structures while keeping them safe and secure from external threats.
The primary goals of each database program are to manage:
The data that enters the database
The mechanism that controls the data
The organization of the data
You can even hire an enterprise software development company to have them develop a DBMS for you.
Top Subscription-Based Database Software
These are the best subscription-based database software programs of 2023:
#1: Knack [Free Trial Available]
Knack is a no-code, Cloud-based database management system that businesses can use to build online databases and create their own workflow solutions.
Users can take advantage of the great number of customizable templates available within the platform and structure and extend data with no coding required.
From Fortune 500 companies and startups to educational institutions and charities, the software is trusted by 4,000+ customers among which reputable companies like HP and Harvard University.
According to Capterra, in 2020, Knack ranked as one of the:
Best ease of use portal software
Best ease of use application development software
Best value application development software
Key features:
App builder
Payment processing
Customization tools
Inventory manager
Donations manager
Project manager
Event calendar
Job listing
eCommerce features
Maps
Product catalog
API integrations
Reporting and analytics
Supported platforms:
Pros:
Easy to use interface
No coding knowledge required
eCommerce capabilities
Real-time insights
Cloud-based
Cons:
Can be slow at times
Not the perfect customer service
Small bugs
Pricing is too high for the amount of storage users get
Cost:
Knack is a paid tool and offers three pricing structures:
Starter ($39/month)
Pro ($79/month)
Corporate ($179/month)

Free trial?

Yes, 14 days (no credit card required)
#2: Oracle RDBMS [Free Trial Available]
Oracle RDBMS is one of the best database software systems on the market because it allows companies to store information into rows and columns, making it much easier for business owners and employees to locate data and specific values for analysis.
The platform provides users with agility and innovation but also a high level of security layers, so it is developed the way to withstand hardware failure.
Users can store data on-premises or in the Cloud which can benefit both enterprises and database administrators alike.
According to Statista, Oracle is the most popular database management software (as of December 2020) with a ranking score of 1325.6.
Key features:
Access controls/permissions
Backup and recovery
Automation of routine functions
Data migration
Data replication
Database conversion
Performance analysis
Relational
Virtualization
Clustering
Application builder tools
Supported platforms:
Pros:
Optimized for high-performance database workload
Automation for admins
Does not occupy much space
Supports large databases
Strong security
Reduces CPU time to process data
Excellent customer support
Cons:
Outdated design
Complex to use
Not affordable for smaller size companies
Cost:
The cost of Oracle RDBMS varies across different company sizes and industries. So, businesses should contact the organization for pricing details.
Free trial? Yes, 30 days (credit card required).
Altibase is open-source database software that has a fast working and user-friendly hybrid architecture.
The platform allows for high-intensity data processing and real-time management through an in-memory database portion.
Thanks to its in-memory and disk storage, the software eliminates the need for purchasing in-memory DB and on-disk DB separately.
Altibase is quite popular among many notable organizations like Samsung, HP and Hyundai mostly for its large storage capacity.
Key features:
IMDB (In-memory Database) that is much faster than conventional on-disk databases
Flexible deployment mode:

In-memory only
On-disk only

Hybrid (memory and disk tables)
Multiple durability options:

Process level durability (fastest option)
OS level durability (default option)
Enduring HW power failure (safest option)

Productivity and administration tools
Interoperability and migration tools
Supported platforms:
Pros:
High performance
Enterprise-grade
Relational DBMS
Low cost
Cons:
Not ideal for data wares
No mobile access
Lacks support for global indexes
Does not support server and client for Windows
Cost:
Altibase offers several paid subscription options. For detailed info on these, you need to contact the vendor directly.
Free trial? Not available.
As open-source database software, Altibase also offers a free version.
Developed by marketers for marketers, Improvado is online database software that users can leverage to aggregate all their marketing data in real-time and in one single place.
With this platform, both small and large enterprises can reduce their manual reporting efforts by up to 90% without needing any developer knowledge.
Improvado is a highly flexible and scalable solution with a custom dashboard where users are able to measure and compare the performance of ad channels and campaigns as well as track their customers' conversion paths.
Key features:
ROI tracking
Data collection
Customer insights
Multi-user access
Campaign activity
Campaign insights
Reports and dashboards
Campaign stickiness
Multichannel tracking
Brand optimization
Supported platforms:
Web browser (OS agnostic), Windows
Pros:
No developer knowledge required
Integration with many third-party tools like Facebook and Google Adwords
Great for brands managing spend on different marketing channels
Robust reporting system
Data visualization
Great customer service
Cons:
Onboarding is a bit complex
Customization options are limited
Cost:
To get the pricing options for this best database software you need to get in touch with the company (either via phone or chat) as their paid plans are custom.
Free trial? Not available.
Microsoft SQL Server is one of the most powerful relational database management software solutions on the market for medium to large enterprises.
Businesses can use it to store and retrieve different types of requests and developers can leverage it to create modern applications using their preferred language and environment.
Some of the biggest advantages of this software are turning raw data into meaningful reports and managing workload effectively and efficiently.
Key features:
Backup and recovery
Workload management
Advanced indexing
Query optimizer
Storage
Data manipulation
Automatic plan correction
Supported platforms:
Pros:
Excellent performance
Intuitive and fairly straightforward to use
Support of most data types (int, char, varchar, float)
Security
Stability
Scalability
Constant improvements
Cons:
Installation of all the features can be difficult
Long query execution may take too much time than expected
A bit expensive
Cost:
Microsoft SQL Server has several paid options that start at $931 and can go up to $14,256 for a one-time purchase.
Free trial? Yes (no credit card required).
There are also free options available.
#6: Amazon RDS [Free Trial Available]
We can rank Amazon Relational Database Service (RDS) among the best database software systems on the market mostly for its ability to automate time-consuming administration tasks including:
Hardware provisioning
Setup
Patching
Backups
It allows businesses to process heavy workloads in a single database system that is highly flexible and scalable.
Some of the most common use cases of Amazon RDS are:
Web and mobile apps
eCommerce apps
Mobile and online games
Key features:
Access controls/permissions
Backup and recovery
Data migration
Data replication
Mobile access
Multiple programming languages supported
Performance analysis
Relational
Virtualization
Easy storage scaling
Automatic host replacement
Event notifications
Supported platforms:
Pros:
Secure platform
Easy to set up and use
Highly scalable
Fast
Inexpensive
Many controls and features for users
Robust customer support
Cloud-based (read on to learn more about the types of cloud services)
Cons:
Requires deep understanding of the AWS ecosystem to be able to automate and scale efficiently
Clunky user interface
Cost:
According to the technology company, Amazon RDS is free to try where you will pay only for what you use.
You can calculate the monthly cost using the AWS Pricing Calculator.
Free trial? Yes, 12 months (credit card required).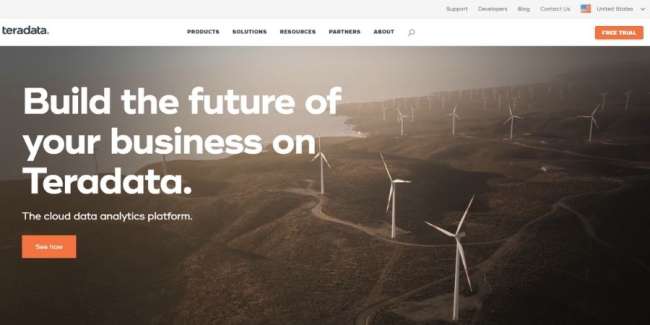 Terada Vantage is one of the oldest database management software systems on the market that allows organizations to manage, import and export complex data queries with an excellent processing speed.
This cloud data analytics platform requires no coding knowledge and businesses can unify and integrate any type of data from different sources and sectors into various formats.
Key features:
Data integration
Real-time processing
Data manipulation
Advanced analytics
Complex workload management
Supported platforms:
Pros:
Fast load capabilities
No coding required
Amalgamated data storage
Real-time processing
Enterprise-level operational activities
Easy data import and export
Cons:
Outdated GUI
Third-party tools not always responsive
Cost:
Teradata is a paid tool where users will pay only for what they used.
Free trial? Yes, 30 days (no credit card required).
#8: IBM DB2 [Free Trial Available]
What makes IBM DB2 one of the best database software on the market is the ability to use it without needing any professional skills or the help of a database administrator.
With an intuitive interface and easy-to-use data migration processes, the software is suitable for users of different proficiency levels.
It is very easy to install and set up and organizations can take advantage of it to cope with demanding workloads while reducing cost and improving business agility.
Key features:
Database conversion
Data manipulation
Anomaly detection
Database monitoring
Task scheduling
Legacy software
XML support
Supported platforms:
Pros:
Easy data migration and setup
Smooth administrations through various commands
Robust security
Integrates with multiple platforms and languages
Equipped with AI capabilities
Supports private and cloud environments
Great HA/DR capabilities
Cons:
Fewer region options
As data grows in a production environment, it becomes slow
Cost rises every year
You need to pay for prompt customer support
Lack of marketing by IBM
Documentation needs to be improved
Cost:
IBM offers two options to use their database management software:
Standard edition (inquire)
Advanced edition (inquire)
Free trial? Yes, 90 days (no credit card required)
There is also a community edition that is free of charge.
Claris FileMaker is an application development platform and one of the most popular online database software systems on the market that allows organizations to take on digital transformation and solve their business problems.
Users can create custom apps with their company logos, using built-in templates so no programming skills are required.
With this software, they can manage different types of data including orders and inventory, automate invoicing and more.
Key features:
CRM
Project management
Content library
Asset manager
Invoicing details
Contract management
Event planning
Field research
Supply management
Tour dashboard
Collaboration tools
Deployment management
Data modeling
Supported platforms:
Pros:
Easy customization
Total security
Workflow automation
Mobile AI
On-premise and Cloud deployment
Data export to Excel and PDF
Charting tools
Developed community
Cons:
Not available for Android apps
Some time is needed to get to know the scripting and database design to get the most from the app
Cost:
Claris FileMaker offers two pricing structures:
Essentials ($19 per user/month/billed annually)
Standard ($39 per user/month/billed annually)
Free trial? Not available
#10: MongoDB [Free Trial Available]
MongoDB is one of the best database software systems on the market built for modern application developers and for the cloud era.
It is capable of processing large amounts of data, so it is mostly used by large companies that need high-volume data storage.
Some of the notable organizations that have used this software are eBay, Adobe and Google.
MongoDB uses internal memory which allows for quick data accessibility and unlike some other tools, it stores data in documents rather than in tables.
Key features:
Access controls/permissions
Backup and recovery
Data migration
Data replication
Multi-cloud data distribution
Database conversion
Multiple programming languages supported
Performance analysis
Relational
Virtualization
Supported platforms:
Pros:
Easy to set up
Secure for sensitive data
Designed for developer productivity
Reliable for mission-critical workloads
Excellent library support for popular programming languages
Easy replication of the data
Great scalability
Cons:
Not a relational database
Complex aggregation queries can be tricky
No in-built analytics functions
Memory consumption is high
Cost:
MongoDB has three pricing options:
Cloud (starts at $57/month)
On-premises (Inquire)
Mobile (cost depends on the usage types; check their website for more info)
Free trial? Yes (no credit card required)
#11: Redis [Free Trial Available]
Redis is one of the best database software systems on the market that works with an in-memory dataset to ensure high performance.
It allows organizations to sort data into various structures like lists, hashes, sets, strings and more. They can run atomic operations, trigger event-based actions and use the tool as a cashing mechanism.
Key features:
Transactions
Pub/Sub
Lua scripting
Keys with a limited time-to-live
LRU eviction of keys
Automatic failover
Access controls/permissions
Backup and recovery
Data migration
Data replication
Database conversion
Mobile access
Multiple programming languages supported
NOSQLer
Performance analysis
Virtualization
Supported platforms:
Pros:
Easy to set up and use
Great performance for reading data
Robust support
Easy and reliable data distribution
Cons:
Lack of monitoring and administration tools
Not good native support for storing data in object form
Lack of UI
Cost:
For the different commercial packages of the enterprise, you need to send the company a pricing request.
Free trial? Yes, 30 days (no credit card required).
Redis is also a free database software.
#12: Snowflake [Free Trial Available]
With Snowflake, organizations can run their workloads from a single platform. They can manage different tasks like transactions as well as share and collaborate on live data across their business ecosystems.
What's unique about this online database software is that it offers a cloud data warehouse built atop Amazon Web Services.
Thanks to Snowflake, organizations can perform fast analytics and reporting that allows them to make accurate and data-driven business decisions.
Key features:
Data warehouse modernization
Modern data lakes
Secure data sharing
Modern data application development
Integrated data engineering
Advanced data science
Performance analysis
Supported platforms:
Pros:
Easy to use
Robust community
Handles high volumes of data with ease
Fast
Secure data sharing
High flexibility
Built-in support for the most popular data formats
Cons:
Users are not notified of updates on functionality
Doesn't have the function of auto-fill
Lacks support for common table expressions
Cost:
Snowflake offers four different pricing plans:
Standard
Enterprise
Business-critical
Virtual Private Snowflake (VPS)
Free trial? Yes, $400 worth of free usage (no credit card required)
However, to see pricing you need to pick the preferred platform and region. So, you need to visit the website for accurate info on the cost.
Actian Avalanche is a powerful, yet easy-to-use, cloud data warehouse and analytics platform. It is designed to meet the needs of both enterprises and small businesses, helping them unlock the most value out of their datasets.
Providing lightning-fast query response times even when dealing with large datasets, Avalanche is one of the best database software available today.
Key Features:
Cloud-native architecture

Supports ANSI SQL

Data integration

Machine learning
Pros:
Scalability

Simple setup

Fast query performance

Enterprise-class security

Supports real-time analytics

Optimized for modern hardware architectures
Cons:
Limited third-party integrations

Limited community support

Cost
Cost:
Depending on your needs, you can opt for the Enterprise or Enterprise+ pricing plans. Since Avalanche Units (AU) are priced per hour of use, the total cost can vary.
Free trial: Yes.
Top Free Database Software
These are the top free database software programs of 2023:
SQLite is an open-source, object-relational database management system that requires no installation or dedicated server since the database is stored on a computer hard disk.
The tool is quite lightweight when compared to other popular online database software systems on the market, yet it offers powerful features including high security, fast data sharing and automatic transactions.
Key features:
Data manipulation
Automatic transactions that are durable after crashes and power failures
Comes with a standalone command-line interface (CLI)
Backup and recovery
Raw data import from CSV files
Supported platforms:
Android, iOS, Linux, Mac, Solaris, VxWorks, Windows
Pros:
Zero-configuration
Easy Implementation
Fast performance
Great for use as an application file format
Cons:
Not that easy to scale into larger apps
Lack of built-in data encryption
Limited for many rows
PostgreSQL is an advanced object-relational database management software quite popular for its reliability, feature robustness and performance.
It uses the SQL language along with many features that help organizations store and scale complicated data workloads.
Key features:
Access controls/permissions
Backup and recovery
Data migration
Data replication
Data integrity
Database conversion
Multiple programming languages supported
NOSQL
Performance analysis
Disaster recovery
Supported platforms:
Pros:
High performance
Fast data sharing through dashboards
Customizable storage interface for tables
Supports international character sets
Supports several methods of indexation
Cons:
No explicit user control over data compression
Index operations are slow
Installation can be difficult for new users
Lacks query language consistency
What Is Open-Source Database Software?
Open-source database software is a software solution with a code that is open and free for anyone to view, use and modify.
It embraces principles of:
Open exchange
Collaborative participation
Community-oriented development
Using this type of software, developers can create their own software easily and quickly and businesses, especially those with limited budgets, can save money since these programs come free of charge.
These programs allow organizations to create systems based on their unique business needs, preferences and requirements.
The opposite of open-source database software is proprietary software, which is a closed system controlled under copyright laws.
It means that an interested third party can access under the vendor's agreement.
Types Of Database Management Software
There are several types of database management software programs that come with their own advantages and disadvantages.
Some of the most common are:
Relational Database Software
They are SQL databases that allow users to store and organize information in independent traditional table formats like rows and columns.
Relational database management software is one of the oldest and most commonly used systems that companies can use to organize simple data like contact information but also more complex data critical to their business operations.
With this type of software, users can store data in a single repository, so extracting data is quite easy.
Relational programs are highly scalable and can be stored:
On-premises
In the cloud, or
Through hybrid systems
Hierarchical Database Software
A hierarchical database management system is another common way of storing data that organizes info in a tree-like arrangement, in the form of a hierarchy.
In other words, the info is stored hierarchically in a top-down or bottom-up structure. This system is defined by a parent-child relationship where:
A parent may have many children, but
Children can only have one parent
This type of database program is very simple and quite used for creating high-performance applications among many sectors.
However, unlike some other types of systems, it is inflexible because of the parent-child one-to-many relationship.
Network Database Software
Network database management programs are a more complex extension of hierarchical models which use a network structure to create a relationship between entities.
However, unlike the hierarchical software, this model allows each child to have multiple parents where children are referred to members and parents are called occupiers.
It means that users can build more relationships among different data types, which makes it the best model for more complex relationships.
In network databases, information is stored in a graph.
Object-Oriented Database Software
Object-oriented database management software systems integrate with object-oriented programming languages like Python, Java and C++. Applications require less code and use more natural data modeling.
With this model, users can store data members values and operations in the form of objects where the structure is known as classes.
Document Database Software
As the name itself suggests, with document databases, organizations can store their information in the form of documents.
The model allows them to manage a wide variety of document types and sizes and organize files neatly while maintaining high levels of security.
The Biggest Benefits Of Using Online Database Software
The primary purpose of online database software is to allow organizations to create an organized working environment with easy access and smooth sharing of data among different stakeholders.
This is how your business can benefit from investing in such systems:
Improved security: When businesses handle large amounts of information, especially now when cloud cybersecurity threats are on the rise, the safety of data can be one of the biggest concerns they face. Online database software systems are highly secure programs that control user access and don't allow database entry to unauthorized users. This is what makes them reliable programs where organizations can store and manage their critical data with confidence.
Low repetition and redundancy: With file-based systems, the chances for storing duplicate files are huge since they are usually accessed by multiple users, which may lead to data redundancy. Using online database software programs, on the other hand, eliminates the chances to retrieve duplicate data since they leverage a single database.
Backup and recovery: Database management software programs allow companies to back up, copy, restore and recover different types of data files. This can be done automatically at specific time intervals after a system failure or manually after some files are deleted.
Easy management of large amounts of data: Database management programs are of key importance to businesses since they allow for easy management of different types of large data files. They provide them with the ability to access, modify and extract information efficiently helping them make informed decisions quicker. This ultimately increases their productivity.
Multi-user environment support: These handy programs support a multi-user environment meaning more than one user can access and modify information concurrently. They also support several views (searchable objects) of the info. In other words, different users may need different views to perform various tasks. For instance, user X may want to access a file to check the number of sales, whereas user Y may need to print the sales. Although both of them are querying the same database, they will be presented with different views.
Database Software FAQs
How to choose the best database software for you?
Choosing the best database software depends on several factors such as your business needs, budget and technical requirements. Before settling on a software, determine the purpose of your database, the volume of data and the expected frequency of data access.
Take into account the scalability as your needs might change as your business grows. Evaluate the performance of the database as well.
What is open-source database software?
Open-source database software is available to the public with its source code, or programming instructions, openly accessible and modifiable. Anyone can view, use, modify, and distribute the software without restriction.
As such, it is a popular option for many organizations as it can be more cost-effective than proprietary software.
What is the most widely used database program?
As of February 2023, Oracle is the most widely used DBMS.
What is the best database for personal use?
The best database for personal use depends on your specific needs, use case and the type of data you're working with. Some popular options include Microsoft Access, MySQL and SQLite.
Best Database Software Takeaways
Database management software systems allow businesses to store, sort and extract data critical to their business operations efficiently.
The key benefits of investing in these programs are:
Improved security
Low repetition and redundancy
Backup and recovery
Easy management of large amounts of data
Multi-user environment support
The best database software systems of 2023 are:
Knack
Oracle RDBMS
Altibase
Improvado
Microsoft SQL Server
MySQL
Amazon RDS
Teradata Vantage
IBM DB2
Claris FileMaker
MongoDB
Redis
Snowflake
SQLite
PostgreSQL
Subscribe to Spotlight Newsletter
Subscribe to our newsletter to get the latest industry news