When it comes to website design, there are a lot of elements to consider if you want your website to steal the show. And white space plays a key role in a design that excites.
But why is white space so important?
Picture this: you're in a grocery store trying to buy your favorite tea. The shelves are overcrowded, and products are lying on the floor making it difficult to move. More than that, the sales rep is continuously prompting you with the latest offers.
Needless to say, you would leave the store immediately with no intention of ever returning.
The same stands true for your website. The more information you cram into it, the harder it is for your visitors to navigate it and find the content or products they are interested in.
And you don't want to overwhelm or crowd visitors -- especially right at the start. Statistics show that 40 percent of users will stop engaging with a site and move onto another brand if they find a website too disorganized or crowded.
That's why whitespace is such a crucial concept in web design. It allows your content to breath, and it helps you draw the attention of users to the important elements on the page. It may sound paradoxical, but in the age of content overload, simplicity is your best chance of getting, noticed.
What Is White Space?
First things first -- white space doesn't have to be white. Many brands will choose to use the color white to make up this white space because it is a color that is bright and clean. But white space generally refers to the negative space in a design -- web design, app design, print design and beyond.
It's the empty space in a design. And in web design, this refers to the space between text, images, animations and other design elements that add something to the design.
As long as this space is free of elements like text and imagery, it is considered white space. And it's a powerful tool in web design for promoting a clean, elegant and engaging website.
In order for websites to thrive, consumers need to engage with them. And consumers don't want to engage with a design that is packed with text, imagery and other jarring elements. When there's too much going on in a design, people disengage.
They exit the screen and look elsewhere for the information, products or services they were originally looking for. And your brand and business can't afford any lost conversions, leads or sales.
So it's important you understand the importance of white space and how to integrate it into your own designs.
That's why we're here to help.
The following examples show you how you can use negative space to make your site stand out and retain visitors.
13 Stunning Examples Of White Space In Action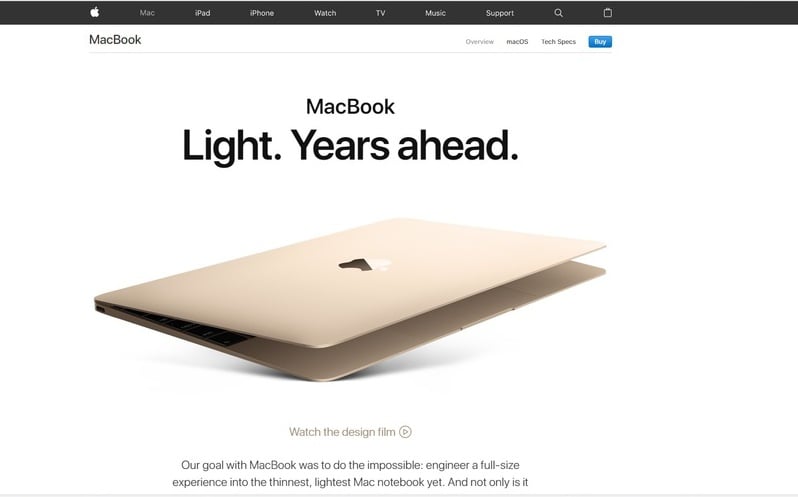 Imagine for a second that Apple was a new brand that you've never heard of before and this was the first time you landed on their site. We are willing to bet that the simple and clean design would have made a lasting impression on you and you would have perceived their products as innovative and highly-performant.
The white space here is phenomenal, letting the products take center stage. This product photography is eye-catching, and the simple text adds just enough context for the design to shine. The clean, white background is the perfect backdrop for these images and this text. And it sets the stage for a dynamic and stunning user experience and user journey.
In this example, the color white does add a cleanliness to the negative space that makes up the majority of the design. And it grabs attention immediately, fostering an atmosphere of excited anticipation.
Apple makes an excellent use of whitespace to highlight their gorgeous products. And you should definitely follow their example.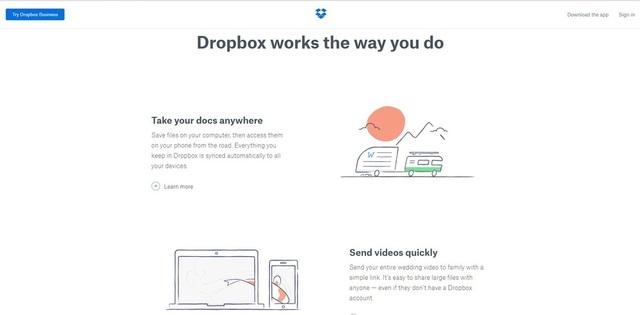 Dropbox comes with a risky proposition: their service will allow you to store your files in the cloud. With more and more news of breaches and leaks, it's no wonder that people are reluctant about putting their data out there in the virtual space. But, Dropbox managed to ease some of the worries through great design and excellent use of negative space. Child-like illustrations and calming color tones make their service look fun, approachable and interesting to try out.
The negative space in this design lets the illustrations and compelling text float to the surface. This is a brand that offers a complex service that many people might not understand let alone trust. That meant that the brand needed to spend a lot of time providing context and simplifying these complex concepts. And Dropbox does so with clever, intuitive illustrations and overall clean layout that leads users along with their journey with ease.
And it's with this negative space that an intuitive user experience is created.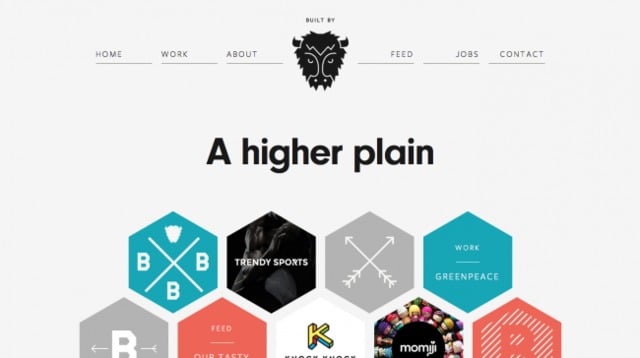 Whitespace isn't necessarily synonymous with minimal design. You can have a clean and breathable layout and still use a more complex design. The clustered hexagons on Buffalo's homepage would have been overwhelming without the negative space. But, because they are coupled with the colorful icons, the white line constantly holds your interest in the main categories while scrolling down.
The white space in this design gives the almost-chaotic designs on the homepage room to thrive and breathe. They're colorful and creative, with a personality that captures the essence of the Built By Buffalo brand.
The negative space that surrounds these elements is stunning and sophisticated. And it lets the brand and its essence really shine through, giving it a simple background that these elements can dance along.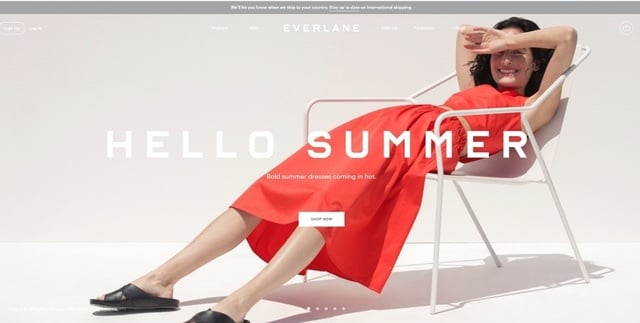 One of the most common misconceptions about whitespace is that it means the complete absence of color or pictures. That couldn't be further from the truth, and Everlane is here to demonstrate that.
Negative space and pictures work well together, as long as they're placed strategically on the page. Everlane uses pictures of its products as the background, but it does so without tiring or confusing the visitors. A simple call to action appears in the center of the screen, prompting visitors to shop. The beauty of it is that it doesn't disrupt the experience in any way.
This was a smart decision by the Everlane designers. Using photography is a bold and eye-catching way to engage and grab attention. And including serene white space even into photography shows the brand's dedication to staying modern, fresh and clean. This image lulls users along with their journey and keeps them scrolling for more.
The whitespace on Airbnb's homepage emphasizes their message and tells you in a clear and concise way who they are and how can they help you. Most importantly, it gets you straight to what interests you – to search for a room, which is a call-to-action in disguise without being pushy.
The white space here eliminates confusion and creates a concise and clear user journey. The user experience is heightened thanks to Airbnb's awareness. It knows what users want and connects them with it immediately -- with this copious white space helping them navigate to the sections they want to see.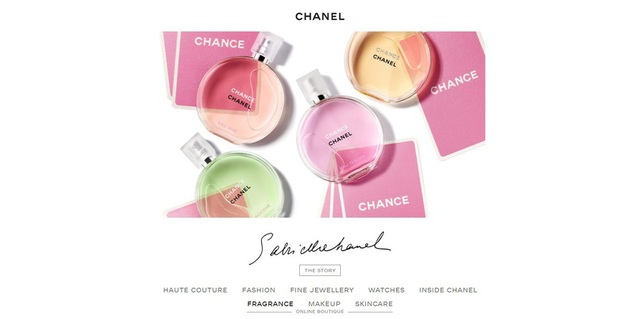 If there's someone who understands the potential whitespace holds in conveying a message of professionalism and sophistication, then that is the fashion industry. There's a reason why Chanel is one of the most powerful luxury brands in the world, and their eCommerce site is a lesson for anyone who wants to learn about great web design.
This website really puts the products on clear display, and the clean, white space creates an elegance and a luxury that is almost tangible.
Chanel uses negative space to showcase their products and to help users find the information that interests them. And it does so alongside creative and cool elements like photography, typography, and minimalism.
If you want to promote a regal, worldly and stunning brand, product and service, you can learn from this example of white space and its ability to elevate the design as a whole.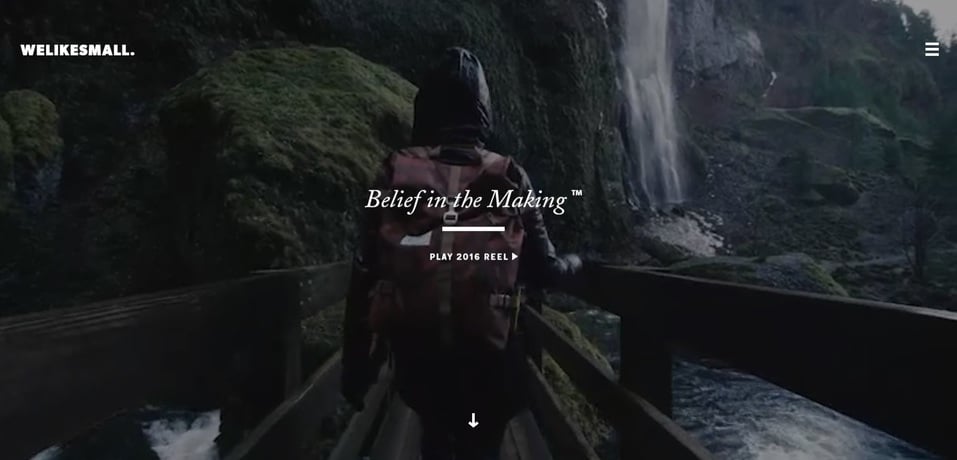 The digital agency proves that whitespace and minimalism don't have to be static. Or empty. Or boring. Instead, they chose to play a full-screen demo reel of their most recent projects in the background of the website's homepage. The exciting video entices you to click on the CTA to find out more. They kept the focus on the video with an excellent use of negative space and minimal copy.
This is a dynamic use of white space that almost doesn't feel empty. This video and this layered image is exciting, enticing and pulls you in immediately. And the simplicity that comes from the bright white text really puts visitors in the mindset to explore, learn and discover.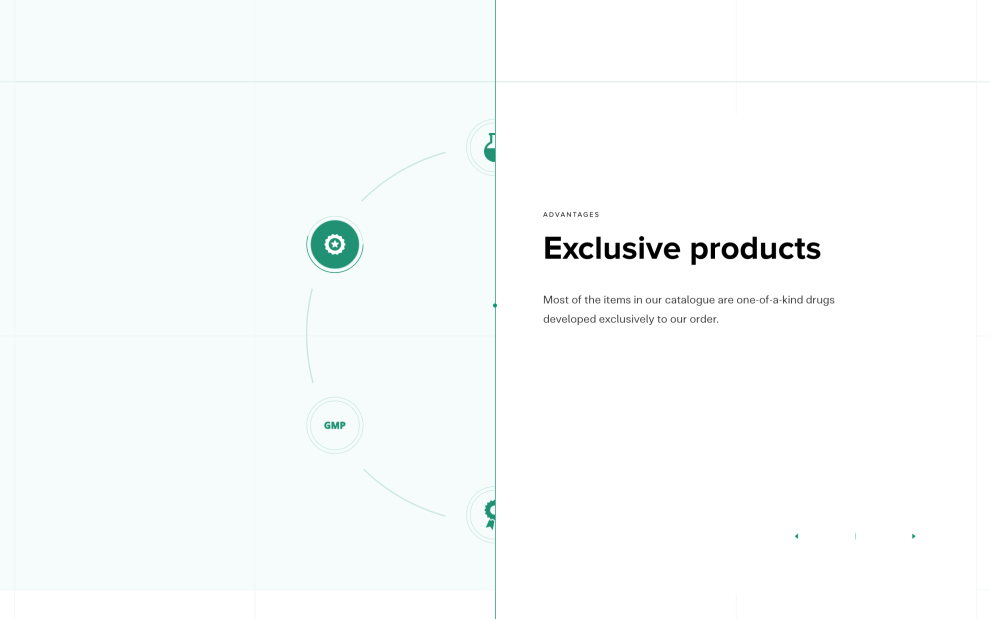 8. Eurovet
Eurovet is an innovative producer of veterinary products. This Russian-based brand has been in the business of technologically advanced products since 1998, and you can see that in the creative, modern-almost futuristic design. But the clean, open negative space is what really helps this design come full circle.
Scientific coloring and illustrations add context and clarity, and they're set against an open and smooth background that really allows for this images and figures pop.
This website aims to inform. There is a lot of information packed into this design, but it is oriented in such a way that it is easy for users to digest and understand. And the white space provides the perfect backdrop for these numbers and illustrations to really have an impact on the viewer.
The negative space makes this scientific design more approachable and friendly. It gives the design some breathing room and allows for users to really interact with this design and understand the complex concepts being presented to them.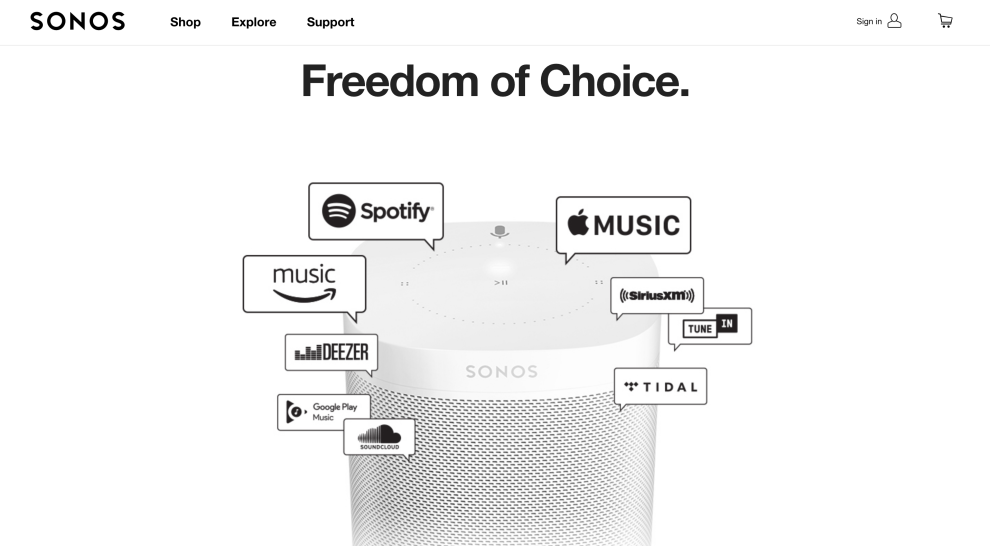 9. Sonos
Sonos is a brand specializing in wireless sound systems. It's a leader in the industry, with products that are innovative, exciting and in demand.
This is an easy-to-use product, and this usability is mirrored in the intuitive and clean website design. This design is made up heavily of product imagery, exciting videos, creative animations and white space.
The white space in this design is used to highlight products and promote branding. It's a way to create a cohesive identity that users can interact with, with ease. It is also used to outline the product and how its use, showing visitors to the site how easy is is the navigate the interface as well as the products.
The white space eases users along with their journey and helps them to see the brand and its products in a positive light.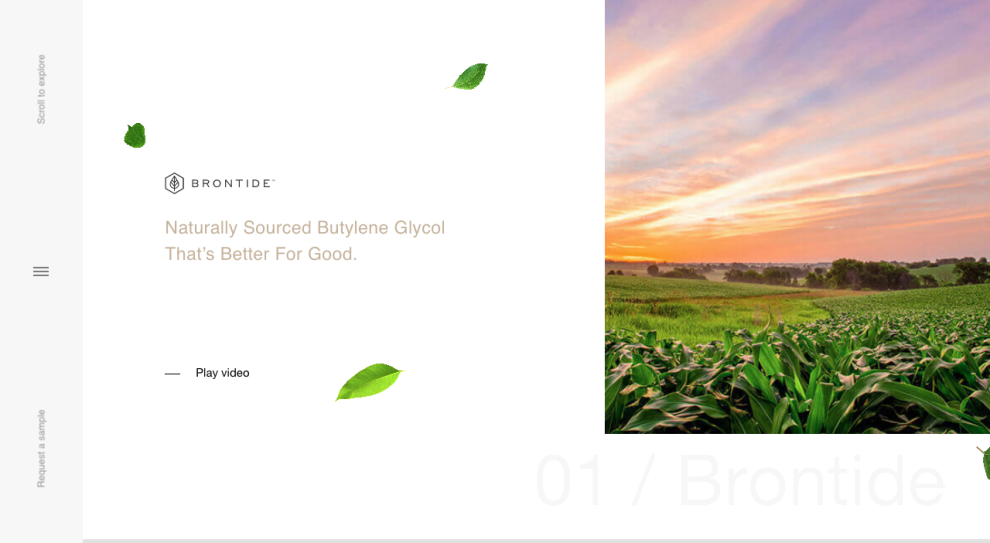 10. Brontide
Brontide is a brand dedicated to the production of butylene glycol. And it promotes the safe and efficient manufacturing of this chemical — and that passion is evident throughout the design.
This isn't a normal science-backed website — full of lines of text, boring imagery, and lacking design. No, this website is exciting, creative and fun — and the use of white space promotes that.
There is little text in this design, but just enough to engage and inform. Subtle effects add to this design, but there's an openness and a breathability here thanks to the white space that makes it easier for users to learn and educate themselves on this chemical compound.
If you want to inform, use white space to make the experience more fun.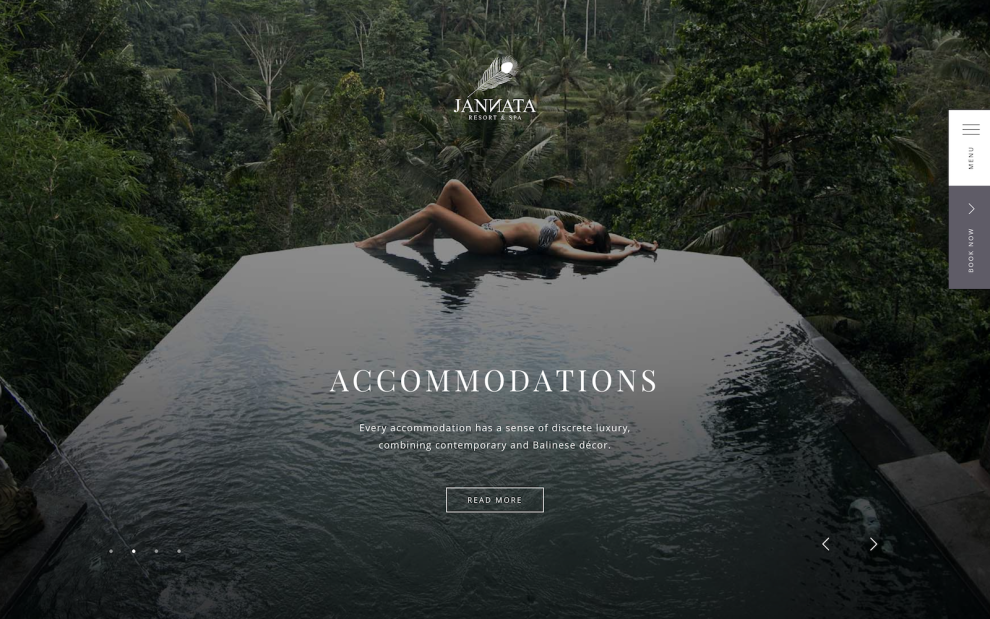 11. Jannata
Jannata is a boutique spa and resort in Bali. As a result, the website is a mashup of exciting and enticing images and videos to put you in the mood to relax. The typography in this design is bright, the images are captivating and navigation is a breeze.
But if it wasn't for the negative space that lives around every corner, this design would fall flat. The negative space adds a mood in this design, made up of shadowed and layered images as well as a dark and soothing background to the menu bars and text.
Negative space can help set the mood, and in this design, that's extremely apparent. A dark and mysterious color palette makes the white space a part of the design in an integral way, using emptiness to set the stage and engage on an emotional level.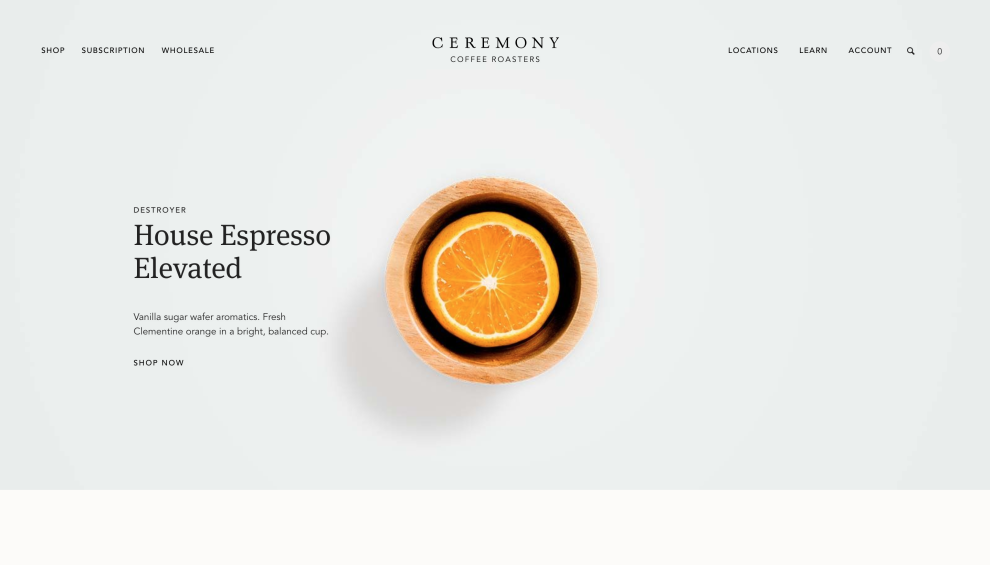 12. Ceremony Coffee Roasters
The Ceremony Coffee Roasters website is a bright, airy and sophisticated design that puts the sophisticated flavors of the coffee on full display. Images of exciting ingredients and flavors sit at the forefront of the design, but the pastel coloring that makes up the negative space really brings the design full circle.
This is a clean and colorful design, but it soothes thank to the ample empty space that makes it easy for users to explore the many coffee offerings, understands more deeply the flavors these coffees embody and how users can get their hands on them.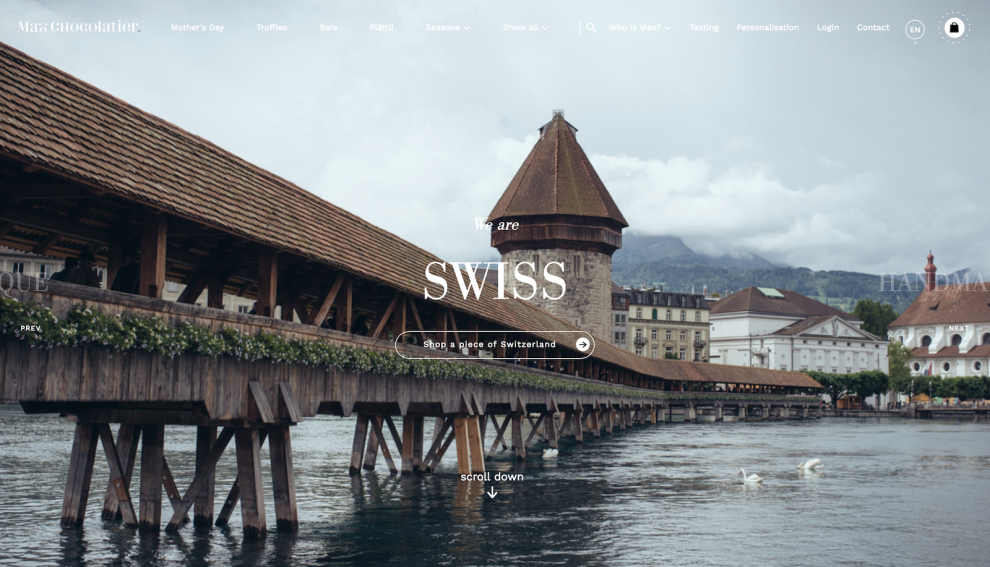 13. Max Chocolatier
The Max Chocolatier website puts an emphasis on chocolate culture, heritage, and creation. You can see this in the product pages, extensive landing pages and more. But it's also obvious in the image-driven design.
The home page opens up with a bold photograph of the Swiss landscape. This gives visitors a taste of where this chocolate comes from and the dedication this brand has to quality chocolate.
And the clean, empty space makes it dreamy to interact with, allowing users to create their own journey and navigate throughout the site in the way that they want to. This is an innovative and exciting use of white space that adds some fun to the presence of emptiness.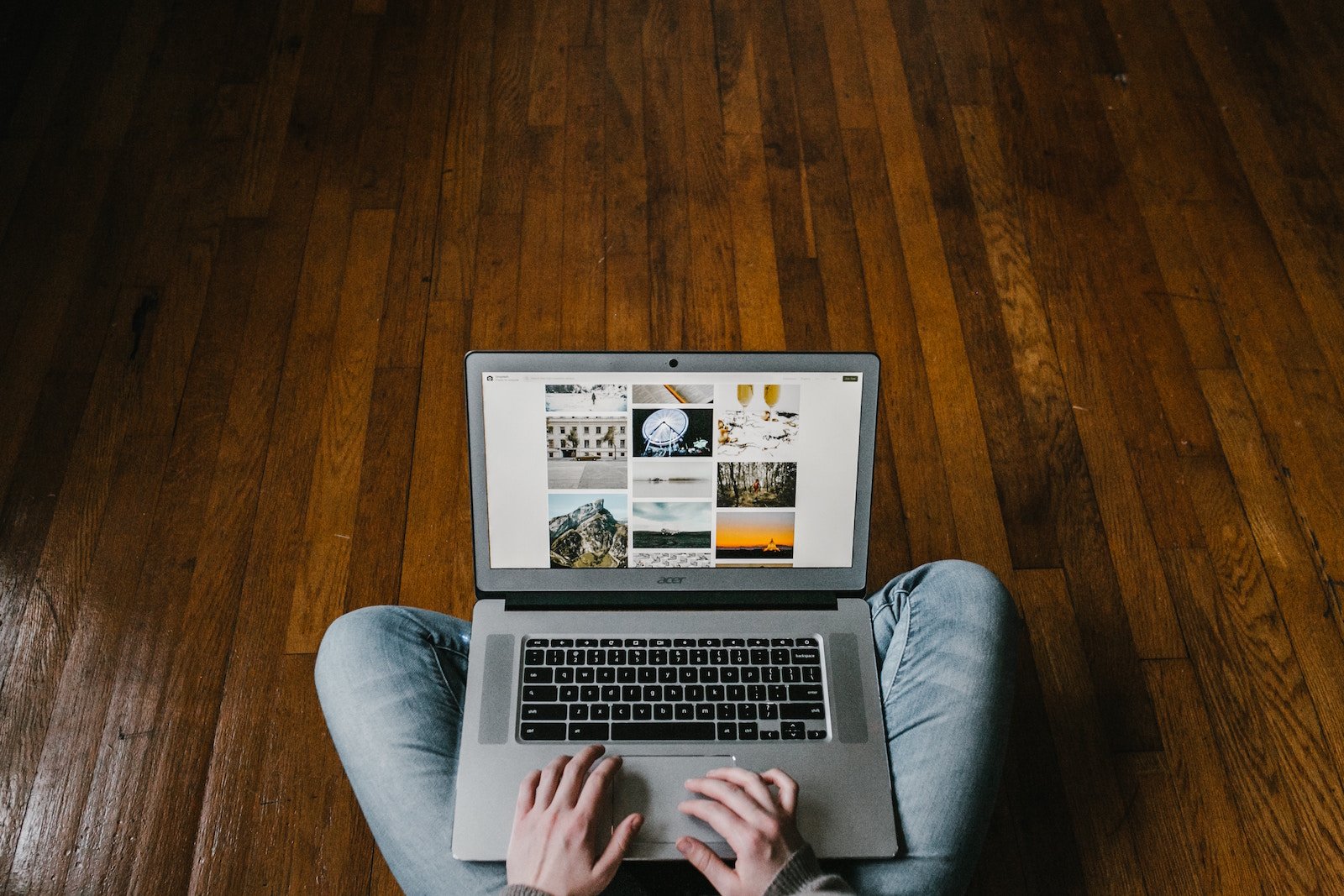 The Power Of White Space In Web Design
Clean, clear and cohesive -- those are just a few of the words used to describe designs that make effective use of white space. White space adds a lightness and a brightness to any website design that makes it more engaging to interact with.
Not only does it make people want to scroll, but it makes it easier as well. Navigation is simplified when the layout is open and airy, which is exactly what negative space can do for a design. It can give it some breathing room, making it much easier and more pleasant for users to dive into your website and its content.
Brands can learn from these examples of white space because there are so many ways to play around with it. White space doesn't have to be white, and it doesn't have to be boring. In fact, it can be the most exciting part of a design in some cases, fostering enthusiasm and anticipation that keeps people scrolling, learning, and buying.
White space declutters the screen and makes the overall user experience and user journey more appealing and more efficient. If your brand is utilizing a website that packs a lot of information into it, you might want to do a self-evaluation.
You don't want users to be turned off by your design before ever laying eyes on your products and services.
Hopefully, these examples have convinced you of the importance of using negative space and gave you some ideas on how to incorporate them into your designs. It may be difficult at first if your clients are the pushy type who asks you to include as much information into a page as possible, but don't give up. Explain how whitespace improves the overall user experience and increases conversion. A solid web design agency needs to navigate the expectations of a client and stand its ground when it comes to best practices.
And use these examples to help get your point across.
Subscribe to Spotlight Newsletter
Subscribe to our newsletter to get the latest industry news