Isle Studio's Multipurpose Bespoke Book Displays The Power Of Transformative Packaging Design
Bespoke Book's Elegant Packaging Design Combines Two Decorative Objects Into One
Isle Studio is a Brooklyn-based design studio with a mission is to "tell the story of you and yours."
This orientation toward customized designed solutions propelled them to commission vve.design to create a packaging for their most unique offering: Bespoke Book.
Bespoke Book is a multipurpose item that can act as both a book and a framed picture or photography.
It comes with a tasteful, minimalistic packaging design that makes it an ideal gift for newlyweds, recent graduates and others going through important life milestones.
The product design consists of a stylish cover, a first page paper insert that can also act as an easel back (a support leg against which the frame can lean on the table or a shelf) and a frame made out of 100% natural cork, which can hold the book or act as a picture frame.
The rigid packaging comes with lavish details and an expert curation of images, as well as a fully customized story to provide it with the emotional depth the customer desires.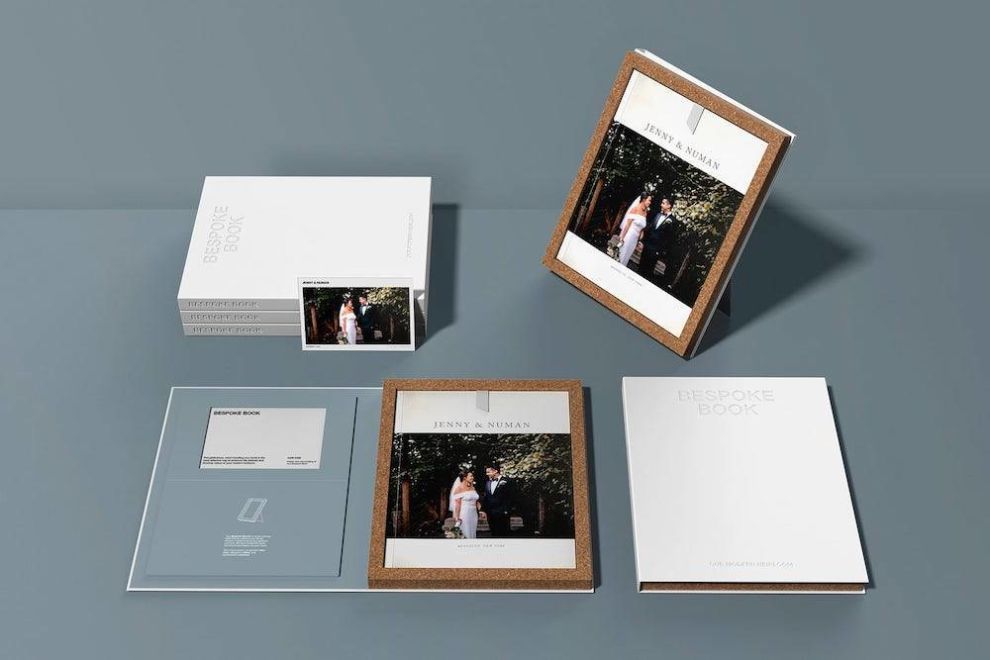 The Book Cover's Minimal Layout With Debossed Lettering Oozes Class And Exclusivity
Bespoke Book's most eye-catching element is its sturdy hardcover, all in white.
The product's exterior exudes exclusivity, elegance, class and sophistication.
This impression is amplified by the exquisite craftsmanship and the debossed effect in the title, reading "Bespoke Book" and the bottom of the cover text, "Our Modern Heirloom," in a simple sans-serif font.
The same debossed text also appears on the spine of the Book.
The interior of the Bespoke Book comes in a branded neutral, grayish blue color that helps keep the focus on the actual Book, which is the main element of the packaging.
The clean, minimal exterior that can transform itself into a frame makes the Book a perfect companion for any home environment thanks to its unassuming, easy-to-blend colors and layout.
A Natural Cork Frame Converts Bespoke Book Into A Keepsake Heirloom
What earns Bespoke Book a place both outside of a bookshelf and on it, is its ability transform from a book packaging into a picture frame.
Inside the packaging is a natural cork frame that contains a personalized book or photo album that retells the owners' story of their select unforgettable moments.
The books themselves contain between 120 and 130 pages, with 100 to 140 images in total.
When the packaging's front cover is fully folded to the back, the interior insert turns into an easel back so the packaging can lean like a table picture frame, displaying the cover of the inside book/photo album.
Receive proposals from top packaging design agencies. It's free.
GET PROPOSALS
Bespoke Book Lets Consumers Tell Their Own Story And Add To Their Personal Space
Bespoke Book blends seamlessly into home décor, thanks to its multifunctional nature and unassuming yet sleek design. As such, it is a welcome addition to bookshelves and coffee tables that lends a highly personal, emotional value to every home.
Although the actual packaging design is mass-produced and the same for everyone who orders it, the actual content inside is customizable and tailored to individual client.
This is the big advantage of this particular product packaging design: as opposed to product packages in general, that mostly contain the same, mass-produced content, Bespoke Book packaging allows countless options for what's inside, offering a distinct experience every single time.
The Sleek Packaging Design Of Bespoke Book Takes Product Personalization To A New Level
With Bespoke Book, vve.design has managed to revolutionize the packaging design field and create a whole new set of unique experiences for Isle Studio and their customers.
The unorthodox packaging that can serve as a book cover and a picture frame with natural cork details, a minimal cover with debossed text and other lavish details – this design makes the item a true standout.
This independent design consultancy firm discusses their product:
"Their motto, "a book that moves with your life while being part of your home," inspired us to create a packaging concept that should help to find its place out of the bookshelf. We created a unique product that is more than a single book packaging, thanks to its multi-functional detail."
Isle Studio lets prospective clients know that they'll work closely with a planner, curator, designer and a wordsmith to curate their own copy of Bespoke Book. During this phase, clients can review presentations and make alterations as they see fit.
The NY consulting studio describes their own contribution to this package design as:
"Each Book combines sleek design with lavish detail, expert curation of your images, and a fully customized narrative to infuse each story with the honesty and depth of emotion it deserves."
Bespoke Book's multiple worth is in its sentimental values, exclusive design, capability for customization and cutting-edge layout that blends with any surrounding.
Submit your best designs for a chance to be featured on DesignRush!
GET STARTED
More Best Content & News Packaging Designs