In 2003, Black Box Wines redefined the category by becoming the first U.S. vintner to offer premium, appellation-specific, vintage-dated wines in a box. Black Box Wines' consumer base consists of customers who care more about the quality of the wine than the container it is in. It aims to add convenience and utility to an otherwise somewhat complicated experience.
To that end, Black Box wines are stored in polythene plastic -- a safe, non-toxic plastic that does not affect the taste of the wine and keeps it fresh up to a month. The bag-in-a-box packaging also prevents against wine flaws like corkage and oxidization, though they also will not age and are meant to be consumed within 6-8 months of purchase. The boxes contain the equivalent of four bottles of wine.
Want to see more great wine packaging design examples?
Get inspired!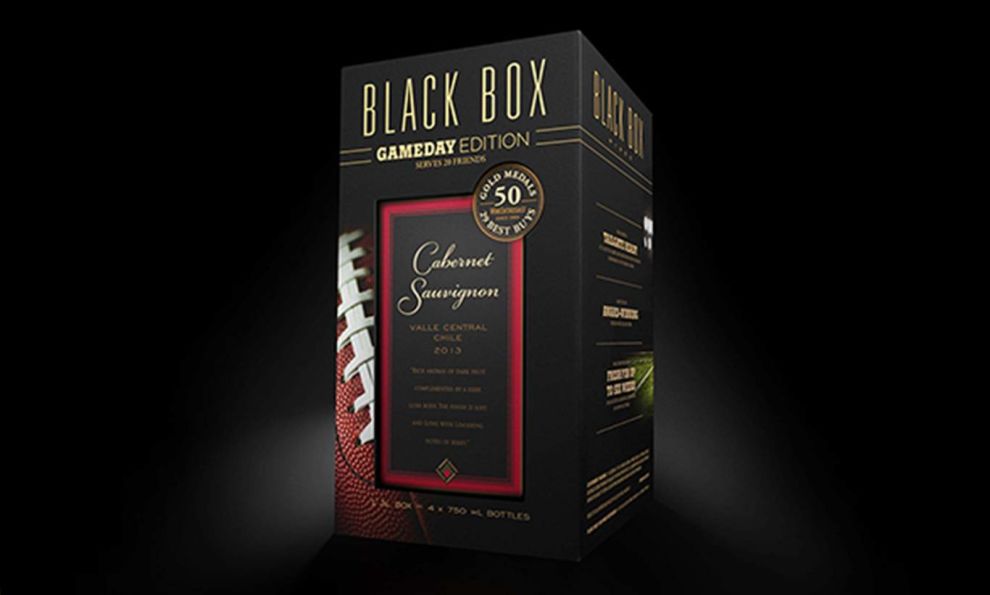 Because the entire packaging is recyclable, boxed wine is more environmentally friendly than the bottled kind. While wine bottles are also recyclable, the 3-liter boxes of wine contain the equivalent of four 750ml wine bottles, meaning 85 percent less packaging waste with half the carbon footprint.
The box is also lightweight, portable and safe for outdoor drinking. Black Box Wines stay fresh a minimum of four weeks and will never have cork taint. The package design reflects the brand identity and presents the company as minimal, hassle-free and convenient while still offering quality wines.

Black Box Wines are packaged in sleek black boxes (true to the brand name). They offer a variety of wines, but apart from a few minor design changes, the packaging is similar across the full spectrum of wine. The black boxes are elegantly complemented with golden text, which provides an excellent contrast to the dark background. The only other color used on the boxes is the accent hue used to differentiate between the type of wines offered by the company. These colors -- shades of blue, green or burgundy -- outline the descriptions on the boxes, making the packaging unique and memorable.
The branding is elegantly done, ensuring that the name of the brand is prominently featured. The 3-liter box has a convenient pull-out spout, and the bag compresses as wine is poured out of it, which helps to keep air away from the drink. 
The rest of the box contains information about the wine, such as ingredients, packaging information and quantity. This is all done using the attractive golden font, ensuring that attention does not stray away from the packaging and creating a classic vibe.
All these elements combine to create an elegant and sophisticated packaging design for Black Box Wines.
Black Box Wines is an elegant package design in the Food & Beverage industry. 
More Best Food & Beverage Packaging Designs