Packaging is the first opportunity and first introduction to a product and potential customers. What better way to elicit positive emotions than a picture with your product next to a pup?
Enter Rocketo—a dog food that reflects how a dog would eat in the wilderness. We are not talking about merely beef, chicken, or lamb scraps. We are talking about super nutrients. Food that is free of toxins and created with ingredients in their raw and natural form.
Compared to other dog food packaging, Rocketo's glows.
This isn't the dull and "left-over" feel that traditional dog food product packaging evokes. This is a packaging with a message: A high-end organic dog food is inside. The outside of the cans glisten with minimalism—a trait shared among the best packaging designs in the world.
In packaging design, minimalism eliminates clutter, which gives the brand's message the opportunity to reach the customer as intended. The customer wants a packaging design that communicates the features or ingredients of a product in a clear and concise manner. They do not want to search for answers.
It is the job of the designer to highlight the product information by eliminating chaos and through minimalism. Here we can see the font for Rocketo has ample spacing between letters. The capital lettering gives the product emphasis yet also brings a sophisticated and premium product charm.
The product must stand out. So far, compared to our perception of traditional dog food packaging, the Rocketo packaging is as bright as the sun.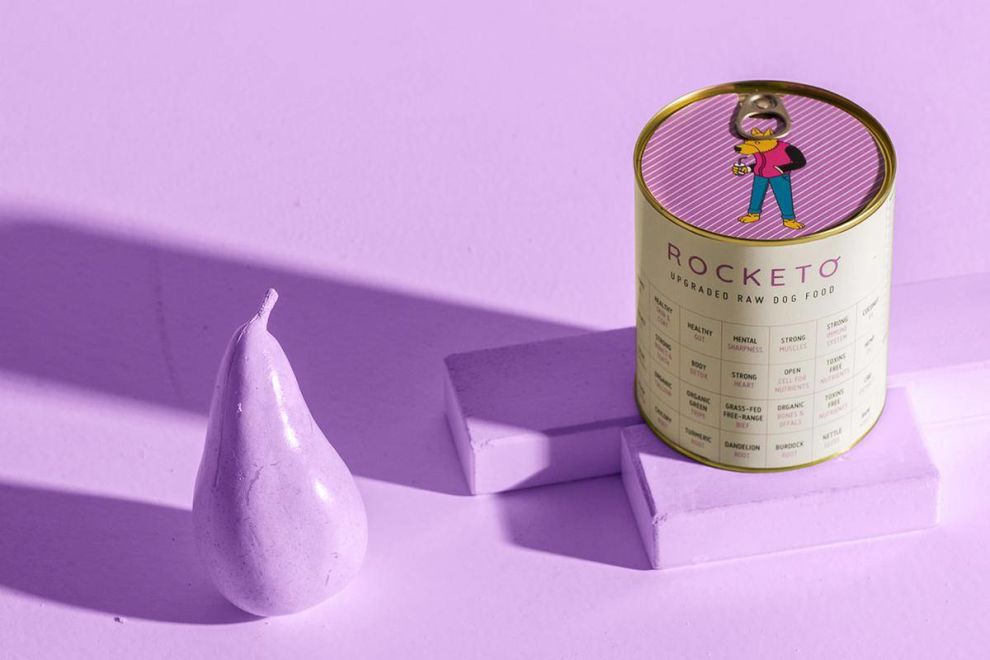 Illustrations and color are effective tools in the best packaging designs. Rocketo implemented illustrations of dog characters created by the stunning artist Gedimas Siaulys from PetPunk Lab.
The dog characters are a great representation of product packaging that knows its audience. To all dog owners, including myself, our dogs are more than just pets. They are our family.
They make expressions that make us wonder if they are really just humans trapped in dog bodies. Sometimes they understand our emotions better than ourselves or others. They know what makes us laugh, they know when we are sad.
What better opportunity than to emulate these concepts by personifying dogs with dog characters?
Any dog owner can see their dog as being a human. It's like looking at the picture and saying "Hey, there goes Ralph, my Frenchie."
You did not choose to purchase a high-end organic dog food because your dog is your pet. You purchased a high-end organic dog food because your pet is your best friend.
They deserve the best of the best.
Check out this doggo. He is having his daily nom nomz.
Notice the use of white space on the can. The use of white space is a key aspect of minimalism. It allows the customer to narrow in on the product information with ease.
Each can of dog food has a color theme depending on the flavor or type of dog food. This one is green. Having a unified theme in your product packaging allows the senses of customers to be aesthetically awarded when viewing the product. They develop familiarity with the product. To put it simply: it looks great.
Color contrasting is also a key element of the top package designs. The purple suit of the yellow dog character pops out from the light green and white background for added visual awesomeness.
Don't be a sad doggo. Next time you create your best packaging design, be sure to use minimalism, color contrast, white space, and a unified theme.
And know your audience. If you implement these elements, you will have the best chance possible to make your captivating package design stand strong among the best in the world.
Be bold. Be minimal. And be doggo.
Rocketo is a minimal packaging design in the E-commerce & Retail industry. 
More Best E-commerce & Retail Packaging Designs