Bronx Zoo Video Design Brings Book Characters To Life For An Immersive AR Experience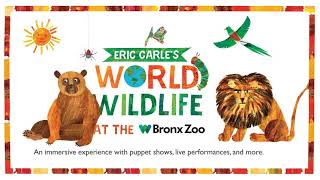 Bronx Zoo Video Design Animates The Work Of A Well-Celebrated Children's Book Author
Bronx Zoo has teamed up with Penguin Publishing to hold an exhibition of Eric Carle's children's book dubbed "World of Wildlife." The event, which took place from early July to late August 2021, was accompanied by a promotional video campaign, courtesy of Sticky Pictures creative agency.
According to the agency: "We provided Art Direction and feedback on the initial design and edit to make sure everything worked with the illustrations. We were then responsible for all aspects of production from rigging the illustrations to animation and compositing."
The resulting Bronx Zoo video design is an advertisement, clocking at 31 seconds, that borrows the drawn animal characters from Carle's book and places them in the Zoo setting.
This simple premise of the video's plot makes it more appealing and understandable to kids. The messaging is aimed at adults as well as children, inviting them to "let their imagination run wild."
The World of Wildlife video opens with an aerial view of the zoo, before showing shots of different animals in the company of the book's live illustrated animals. The video ends with the book's main characters, its title and a copy that says "An immersive experience with puppet shows, live performances, and more."
Receive proposals from top video production companies. It's free.
GET PROPOSALS
Gentle Music And Narration Go Hand In Hand To Create Bronx Zoo's Cheerful Video Content
The nature of the Bronx Zoo video design requires very tender and somber sounds: both in terms of music and voiceover.
A calming, gentle female voice narrates the story of the zoo exhibition, beginning with a simple verse before moving on to the specifics of the event. The narration pace is mid-tempo and quite easy to understand, thanks to the narrator's professional elocution.
The video commercial would not be complete without a fitting soundtrack. A merry melody, resembling children's TV shows and jingles, follows the narrator but never overpowers her.
Excellent sound design and production give enough depth to both the spoken part and the music so that they stand out on their own, without getting into each other's way.
Bronx Zoo Shows How To Make Animated Characters Interact Naturally With Real-Life Animals
When Sticky Pictures presented their idea of bringing the book's characters to life using animations, the Penguin Publishing team was reluctant at first, as they were concerned about the original illustrations' integrity.
The creative agency explains that "for each illustration, we began by figuring out rigging points. Once the rigs were set up the illustrations could 'hang' off the rigs creating a range of dynamic poses."
The team used a combo of CG and frame animations for the video's scenic elements, to make them blend better together.
The final video shows that the Penguin Publishing team has nothing to worry about: the animal animations are as close to the book versions as it gets. They even interact with other living zoo animals quite realistically. The animated bear looks at the real-life bear next to it. The zoo's monkey looks directly at the moving caterpillar and then switches his gaze to the oncoming butterfly. It's an impressive display of how a video production company cancreate seamless and lifelike animations!
Minimal Post-Production Results In A Very Raw And Organic Bronx Zoo Video Commercial
Bronx Zoo video design is not overly processed or overproduced. It doesn't use excessive After Effects nor rely on saturated colors to make it more vivid.
To keep it natural, the agency used minimal post-production and relied mostly on the original production values. This decision has to do with the video's theme and the target audience that doesn't require flashy and glossy effects.
The video's high-definition quality is enough for the video to impress and go along with the modern standards of video production.
Bronx Zoo Video Design Taps Into Children's Imagination To Deliver A Delightful Alternate Reality
Sticky Picture's Bronx Zoo video design is a testament to the creative prowess of video producers and branding experts in harnessing the power of children's vivid imagination. The seamless interaction between the animated and real-life animals, the excellent narration and to-the-point messaging make this video a success.
Eric Carle, the book's author and creative director, explains his philosophy of design that is also reflected in the Bronx Zoo video design.
"My aim in design is to simplify and refine, be logical and be harmonious. One of the important elements in this concept is the use of white or "negative" space. These uncluttered areas support and enhance the image.[…] Most important of all are my characters; from caterpillar to firefly, they must remain true to themselves. They cannot be altered, taken out of context or mixed-up with each other. Their placement is critical and must be considered with care and deliberation."
Sticky Pictures stayed true to Carle's vision and helped bring it to life with a well-executed video ad. For this reason, Bronx Zoo video design deserves to be a DesignRush Best Video Design Awardee.
Submit your best designs for a chance to be featured on DesignRush!
GET STARTED