As companies strive to deliver web experiences that feel increasingly personal, we've seen many designers incorporate custom illustration as a means of achieving this goal.
In the early days, most companies designed their web properties with the simple aim of presenting themselves as professional and trustworthy. But this impulse towards "professional" design was often rendered, in practice, through bland, corporate stock photography, and typography.
In effect, looking professional meant designing a boring website that looked the same as every other company site on the web.
Fortunately, web design is ever-evolving, and companies have begun to see the value of design that reflects their brand's personality. We're moving beyond stock imagery toward more authentic, resonant design. Custom illustration is a component of this movement -- one that comes with a handful of compelling benefits.
Custom illustrations can be extensive or minimal, but they have a major impact on a brand and its identity. This is especially true in web design, which is essentially the main digital presence a brand has to offer.
And using custom imagery has a way of helping brands stand out from the competition, carving out their own place in the online world with exciting, invigorating and compelling illustrations and animations that can help simplify complex information, lead users on their buyer's journey and create a playful and approachable personality.
But why exactly are illustrations so impactful?
Illustrations Have A Powerful Impact On Web Designs
Illustrations Are Unique And Identifiable
Because they're designed specifically for your brand, custom illustration is 100% unique and specific to you. When done well, it's instantly recognizable and easily associated with your brand even beyond the context of your website or app. It sets your brand apart from competitors, increasing your chances of being both easily distinguished and more memorable.
Whether you use them heavily or only infuse them in small doses, these illustrations are a powerful tool that gives you an edge over your competition because they build an identity for your brand that can't be forgotten.
Illustrations Are Emotionally Resonant
From a web design perspective, illustration is often more capable of conjuring an emotional user response than photography. An illustration is usually surprising and attention-grabbing -- we don't expect to encounter it, so when we do we're more likely to take notice. What's more, the inherently whimsical nature of illustration has the power to bring joy and delight to users.
Illustrations can call forth a nostalgia from a past experience or memory. They can ease a particularly difficult task. They can tell a story that resonates viscerally with your audience. And when you connect on an emotional level, you leave an impression that lasts longer and is felt more positively.
Illustrations Are Informative
While illustration is both visually-engaging and entertaining, it can also serve the highly practical purposes of imparting information and directing user attention. Custom animations, in particular, can be deployed to demonstrate how a product or service works, allowing the website to convey use cases with limited reliance on text. Illustration can emphasize a point and encompass an idea or indicate a category. It's easily understood by all users and can be more quickly digested than web copy.
They quickly and efficiently condense an idea or concept that might otherwise be considered complex and complicated. And it does so in such a beautiful way that users are instantly engaged, ready to absorb your content and digest the information you're providing them.
Illustrations Are A Compelling Branding Tool
As custom illustrations are unique, they have a way of capturing your brand identity and promoting the essence of your brand in a playful, engaging and comprehensive way. And they can easily be integrated across platforms and mediums to give your brand a specific look and feel that is impossible for consumers to forget.
And they're so simple too! You don't need to go overboard in your illustrations. They can be elegant and delicate and still pack a punch. And if you can continue using them in ads, social media content and more, you're sure to establish a presence in the industry that lasts for years.
77 percentof marketers cite branding as a critical element for growth.
So, with those benefits clearly established, which companies are using custom illustration to improve user experience? Below are 12 brands we can look to for inspiration.
These 12 Stunning Examples Of Custom Illustration Leave A Lasting Impression On Users
1. Warby Parker
Online glasses retailer Warby Parker brings a subtle touch of illustration to their web design. Illustrations are used for emphasis, identifying specific frames on category pages as "staff picks." They're also scattered throughout the informational pages of the website, again adding emphasis, as well as grouping concepts and punctuating more text-heavy areas of the site.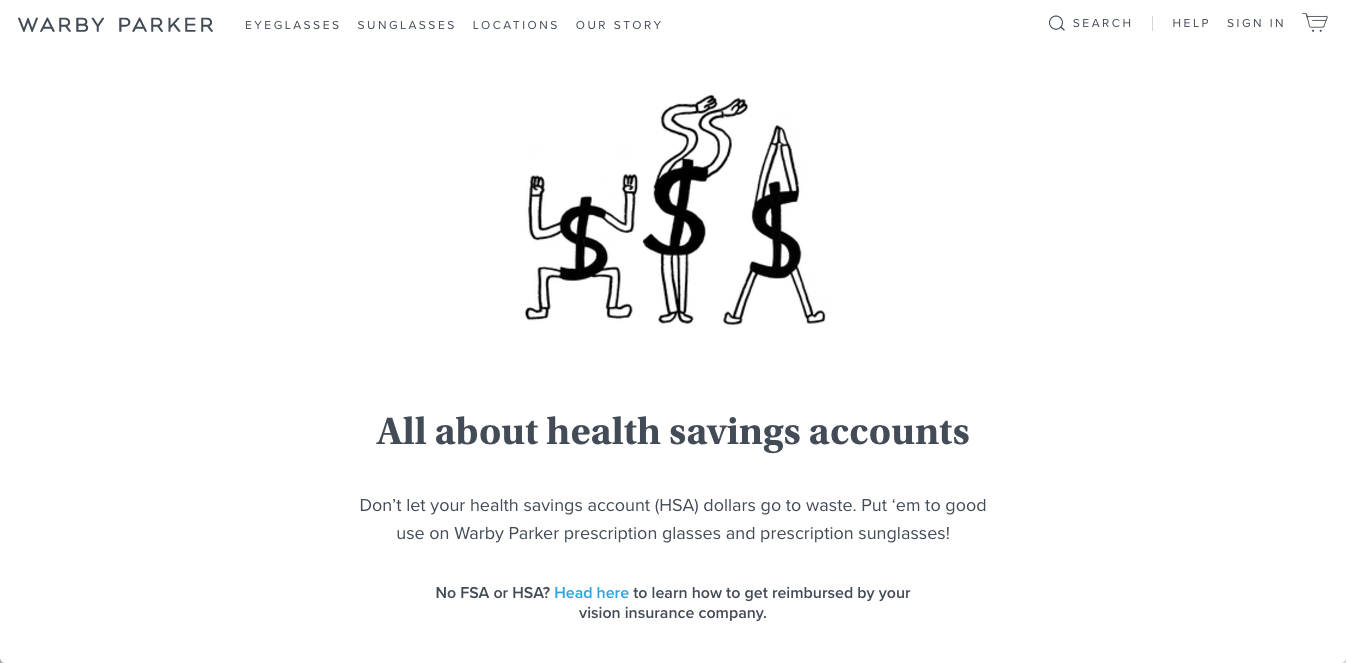 These illustrations add a simplicity and an elegance to the site that makes it easy for users to scroll through. They bring a cool and fresh personality to the brand and encourages more users to interact more earnestly with the design.
And these clever and silly illustrations take on a myriad of different shapes, some more conventional than others -- like these dancing money signs. But as a whole, they add clarity to a site that could otherwise be seen as too dense.
2. Asana
Asana is a powerful task-master and productivity tool that uses small custom illustrations to increase the pleasure the user takes in using the platform. The platform has a flat design that is punched up with bold colors and a handful of illustrations. These illustrations serve both to bring personality to the platform and to act as signifiers of information or available actions. Illustrations make the platform easier and more enjoyable to use.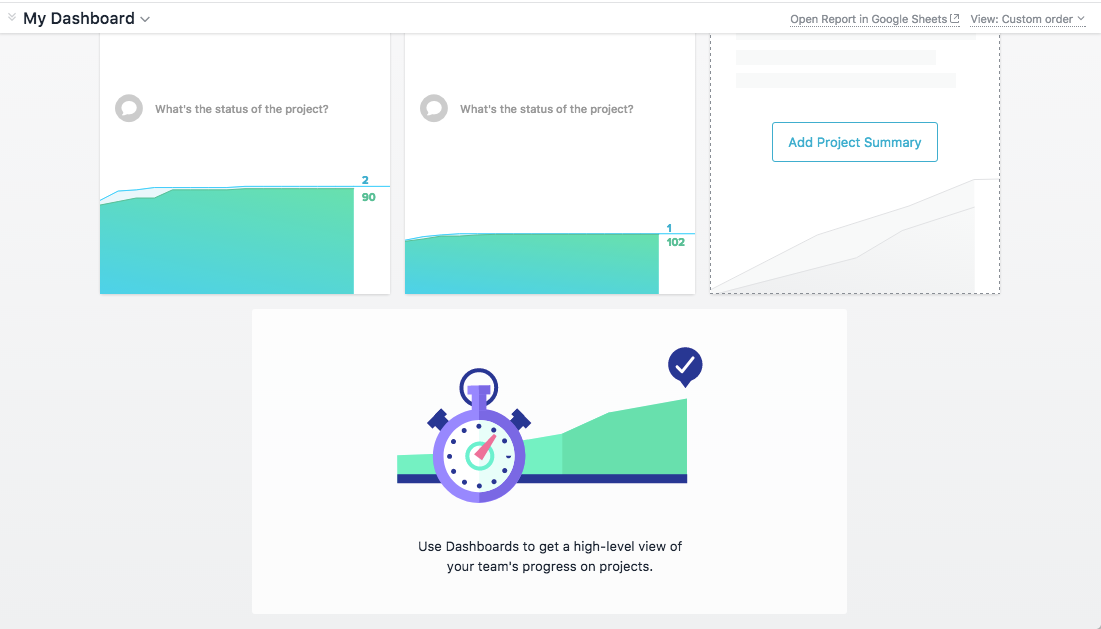 The illustrations on the Asana site are cool and crafty, adding a geometric, modern and intuitive edge to the site that promotes its sophistication and authority in its field, while also keeping the web design as a whole light and approachable.
The serene and subdued colors matched with the minimal, geometric and strict shaping and imagery is a great way to align the brand as a leader in productivity and management. And it does so without hitting users over the head to abruptly.
3. Duo Lingo
Similar to Asana, language-learning platform Duo Lingo also uses illustration to increase user satisfaction and enjoyment of the platform. The visual design of the platform is based entirely on illustration and iconography. The illustrations not only help visually represent categories of learning, but they also make the platform feel approachable, friendly, and welcome -- attributes that can make the process of learning a language feel less daunting for users.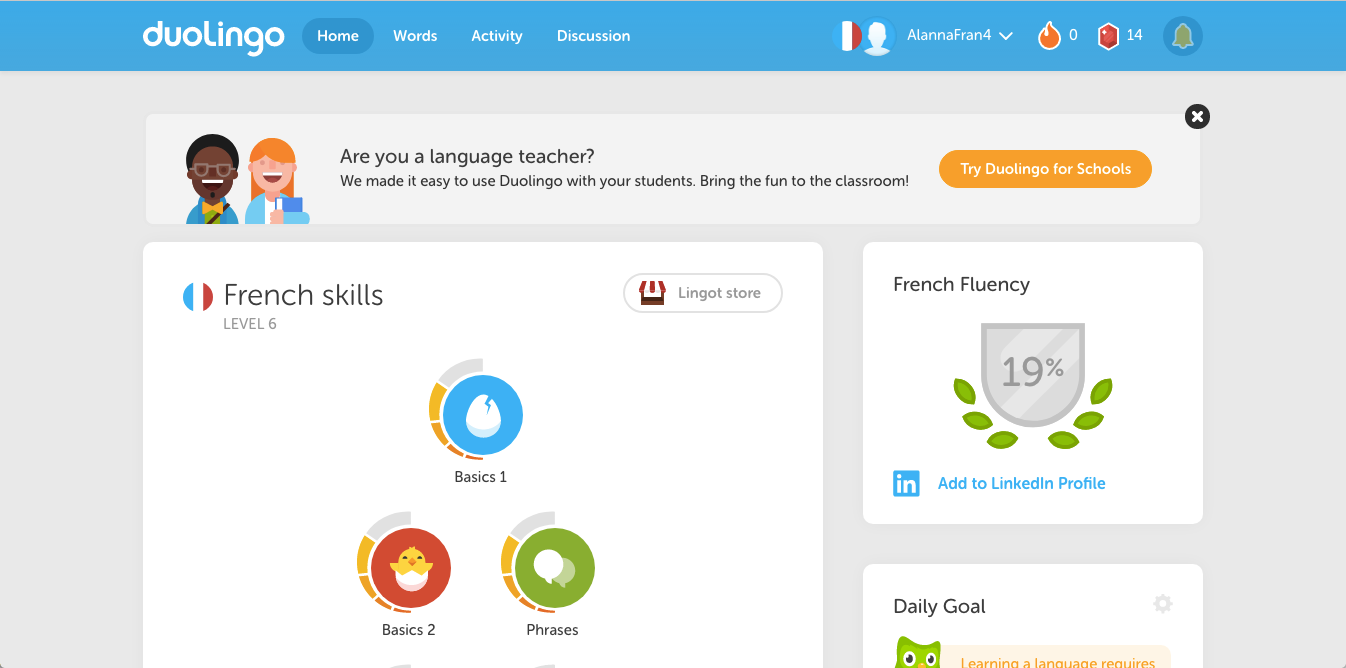 Duo Lingo infuses these illustrations all over the site -- and these illustrations almost make up the majority of the design as a whole, keeping text light and putting the focus on the power of these images.
This is a platform that helps people learn new languages. And even if you want to learn something, educational content can be difficult to interact with. That's where illustrations come in, adding a lightness and making the whole process of learning a new language easy and inspiring.
4. Bumble and bumble.
Illustration is the DNA of hair care brand Bumble and bumble. Custom typography and illustration is used in packaging and merchandising, and carried over seamlessly to the web. Illustration doesn't overpower or dominate the design of Bumble and bumble's website, but its presence reiterates the brand's distinctive style and aesthetic.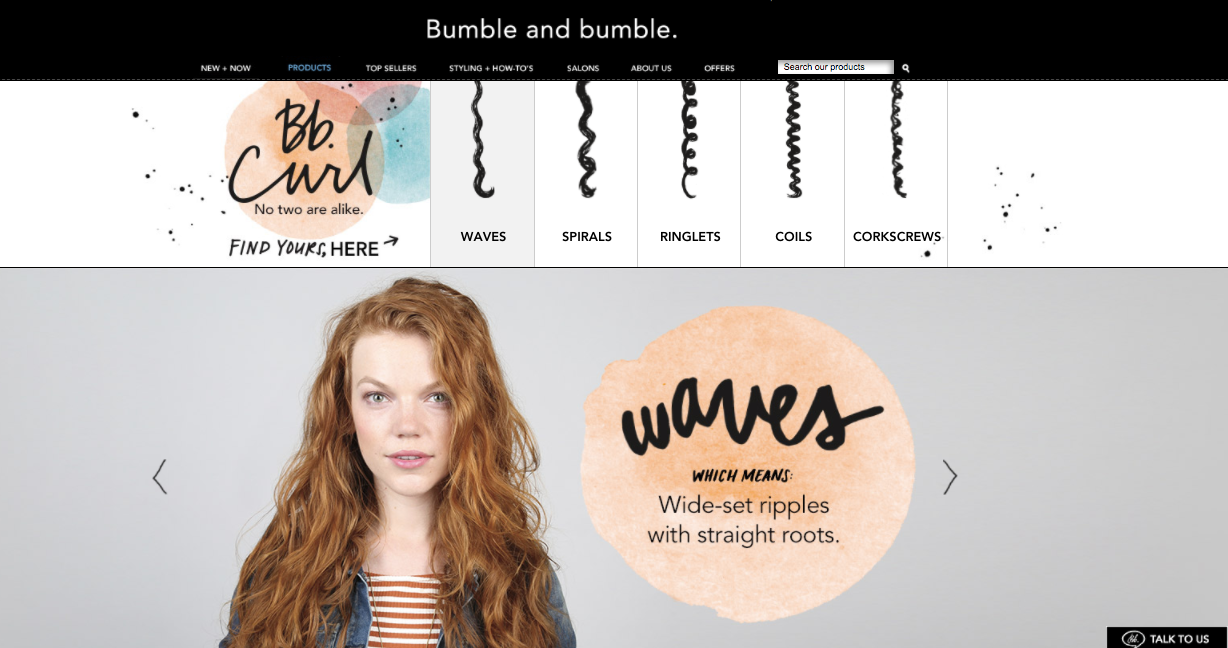 Bumble and bumble's illustration is serene, simple and supreme. There's a lightness and an airiness thanks to the pastel coloring and creative use of shaping and youthfulness that adds to this hair care brand -- and that's vital considering its young, millennial target audience.
Illustrations are craftily infused throughout the website, scattered in creative and sophisticated ways. They don't overpower the design, instead adding just the right amount of pep and liveliness to keep people scrolling through the vast product offering.
5. Osheaga
Music festivals are meant to be fun and this vibe is often carried over into the design of their web properties through the use of illustration. Montreal-based festival Osheaga uses recognizable mascots and other custom illustrations throughout their website and apps. These illustrations help create a cohesive visual aesthetic for the Osheaga experience that can be carried across properties, both digital and print.
Animations and illustrations are a great branding tool that are easy to incorporate across platforms. And starting with your web design is a smart first step. Osheaga does this here, with recognizable and clean looking illustrations that embody actual characters the brand uses across platforms.
These characters help tell a story and deliver a powerful message that website visitors find compelling and attractive. There's a softness to these designs that lightens the entire mood and sets the tone for an exciting festival experience. It puts users in the right mindset to make a festival purchase.
6. The New Yorker
The New Yorker has a history with illustration, which has long been used by the magazine in its print editions and is a core element of their overall brand aesthetic. The magazine honors and builds upon its history with illustration by incorporating it into their web design. The illustrations are immediately recognizable and they reiterate the personality of the publication.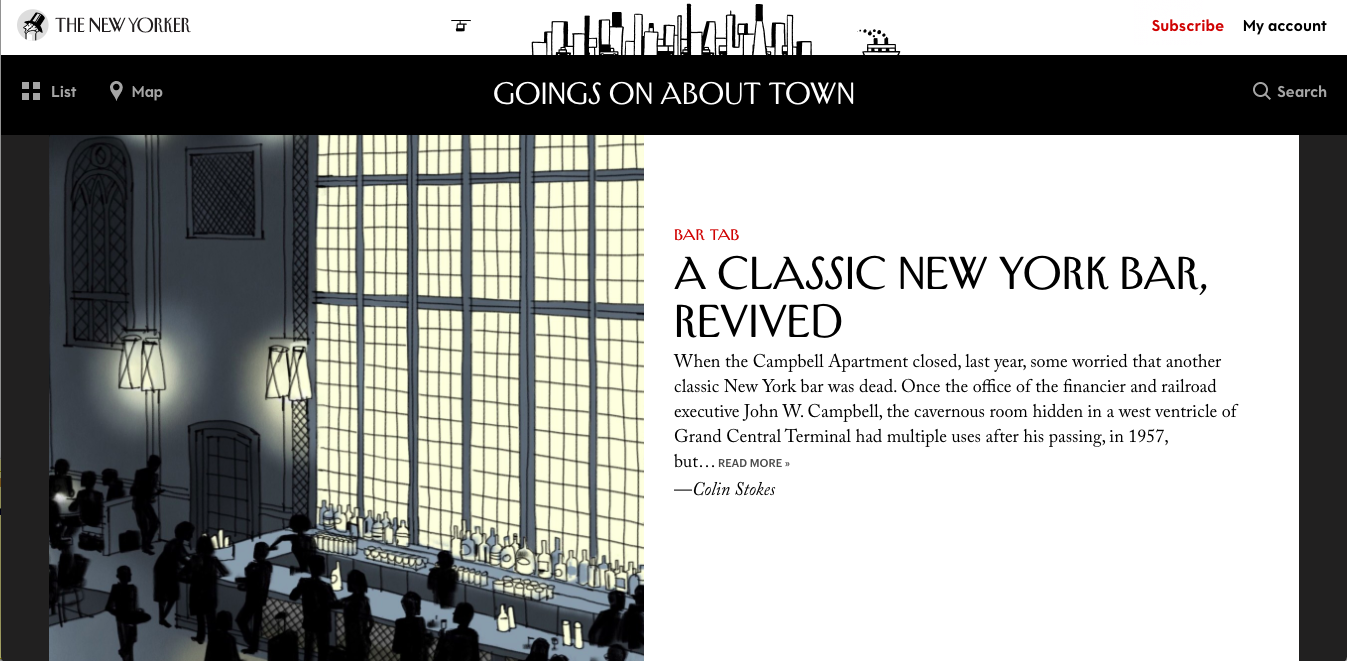 These illustrations are iconic and embody the brand and its classic heritage. There's a modernity to these sleek, sophisticated and clean designs that bring with them a clear mood and a tangible persona. The New Yorker keeps this theme going throughout the site as well through typography and tone.
Illustrations can craft an entire brand identity, giving it a competitive edge and elevating it from others in the same industry. And in the case of The New Yorker, these immaculate and mesmerizing illustrations set the stage for the creative stories that live on the website.
7. Lighthouse Brewing
Lighthouse Brewing Co. went all-in on custom illustration for their website. The animated illustrations on their homepage are both gorgeous and captivating. In conjunction with the name of the brand, the marine-themed illustrations powerfully convey the origins and personality of the brand. Overall, the company's use of illustration makes visiting their site a memorable and enjoyable experience.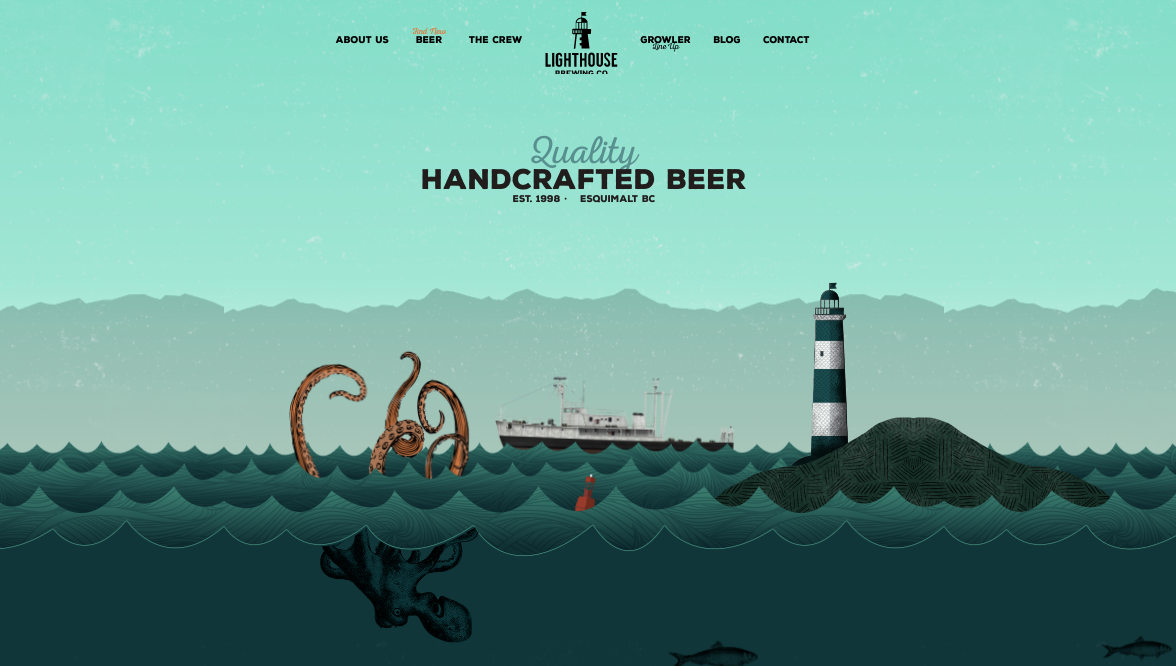 These illustrations make up the entire design, creating a complete and cohesive brand identity that leads users from page to page with ease. And it isn't a boring theme in the least, the nautical nature of the boats, waves and sea monsters creating a story that dances behind the scenes.
In this instance, illustrations tell a story that lasts from the second you land on the page to the second you leave -- and that's a powerful impression to leave on consumers that's sure to stick with them after they've left the website behind.
8. Slack
Team communication tool Slack employs custom illustration as a means of visually communicating product uses, features, and benefits. The illustrations help convey key selling points of the platform at a glance. Website copy and custom illustrations support one another, but users don't need to do a deep dive into the copy in order to get a sense of the information being imparted by each section of the landing page. It's an effective way to speed up the browsing process, making it simple and clear for users.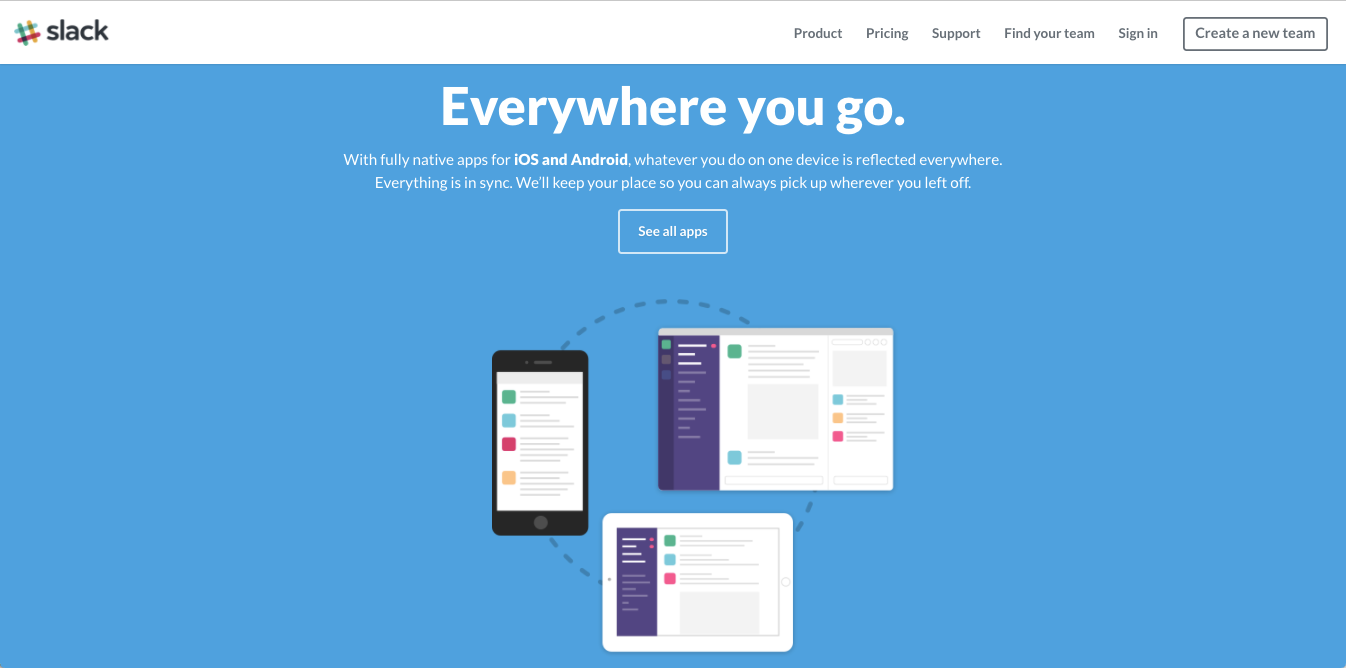 The Slack web design is minimal, with a heavy emphasis on images to really simplify the experience overall and provide users with a straightforward explanation as to what its intuitive platform is capable of.
These designs are simple, stunning and effective. You look at them and you know exactly what points the illustrations are trying to convey and they do so in an efficient, engaging and intuitive way.
9. Blue Apron
Meal delivery provider Blue Apron uses custom illustration to help demonstrate how the service works. It's a great example of how illustration can be used to explain a product or service that may be relatively novel to most users. Below, Blue Apron uses illustrations in the dominant blue of their branding to explain how the service works.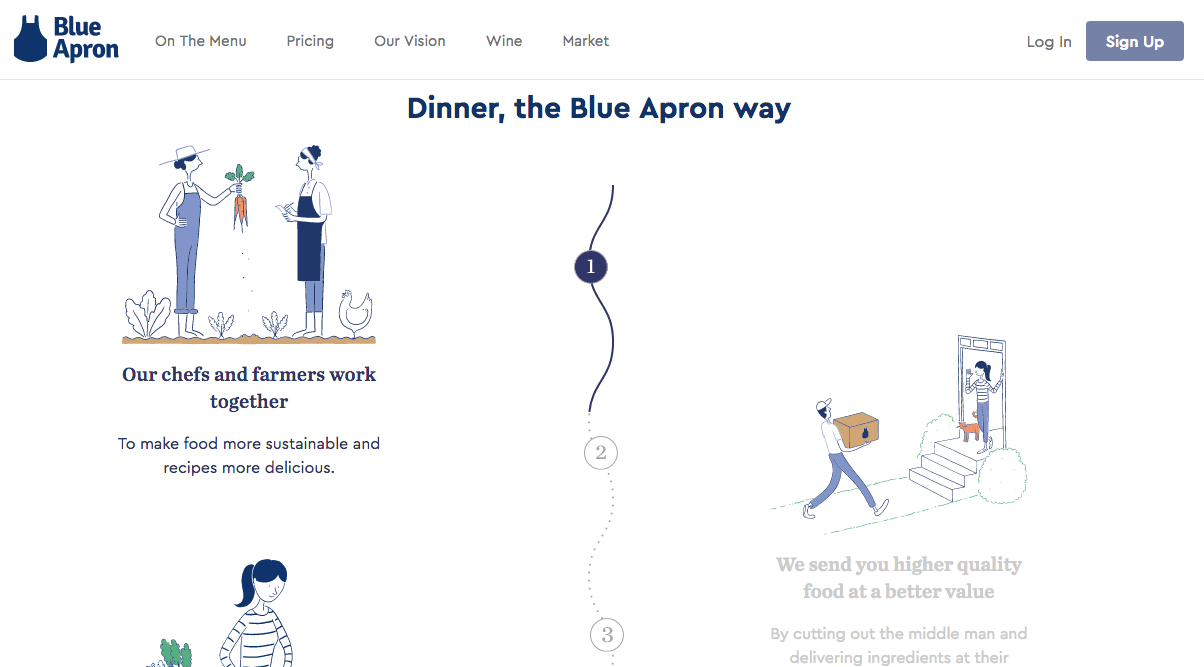 Blue Apron was one of the first brands to introduce food delivery in such a way -- and these illustrations right from the start have served to convey its objectives and its services to consumers who might not be able to wrap their mind around it at first.
And these illustrations bring with them Blue Apron branding in the form of color and tone. They are intuitive, engaging and comprehensive, telling the story of the brand in a clean and effective scenario that is understandable to all audiences.
10. Hub Brooklyn 
Hub Brooklyn's creative and intuitive real estate site is packed with colorful and cool characters all drawn out in clever illustrations. This is a playful and fun website design that infuses custom illustration to tell a story of the exciting new apartment complex and all it has to offer.
These intricate cartoon characters work to transform the real estate industry and add a modern and fresh edge to the brand and building as a whole.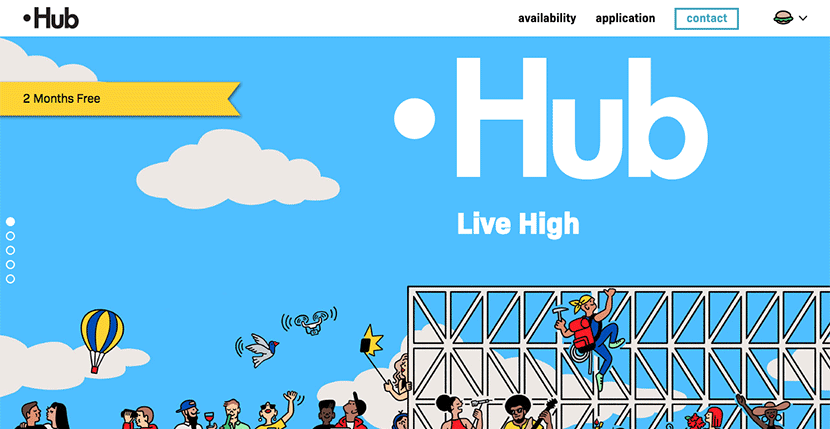 Custom illustration stands out from the competition of course because it's unique, and brands use them in a variety of different ways. In this design, it's used to promote a sense of storytelling, enthusiasm and community. This is a residential building in Brooklyn, New York. And to emphasize the inclusive and comprehensive amenities and services The Hub offers its residents, the site infused cartoon characters to stand in as actual residents.
11. Buffy 
Buffy is an e-commerce brand selling quality bedding products. And it's one with a modern, youthful and fresh persona that is embodied in its products, its marketing and its web design.
One element of its web design that really creates this fresh persona is the custom illustrations that dance around the design.
These illustrations are bubbly, round and playful. They pop in, set against images and text and live on this web design in an animated way that not only encourages users on their buyer journey but also gives the brand a young and silly vibe that makes audiences want to interact.
And these images also help to embody the brand and its products. They take on the shapes of pillows and blankets which is exactly what the brand sells — making it an intuitive design element.
These illustrations take on many forms — like little round blobs, ghosts and characters that smile happily at users as they scroll. And they give the brand the passionate and playful identity that makes it a top contender in its industry.
12. Supremo Academy 
Supremo Academy is an online platform for people to learn techniques, tactics and helpful insights that will prepare them for a career in digital advertising and design. And to both simplify the process and add an easiness to the entire learning game, the brand infuses creative animations and illustrations in the form of circus characters that lead users on their journey.
Educational content isn't the most fun content to interact with — even if you're interested in the subject and even if it's something you want to do. Absorbing and retaining these complex concepts has its challenges. So these illustrations actually help to encourage users to want to absorb this information because it's presented in a fun way.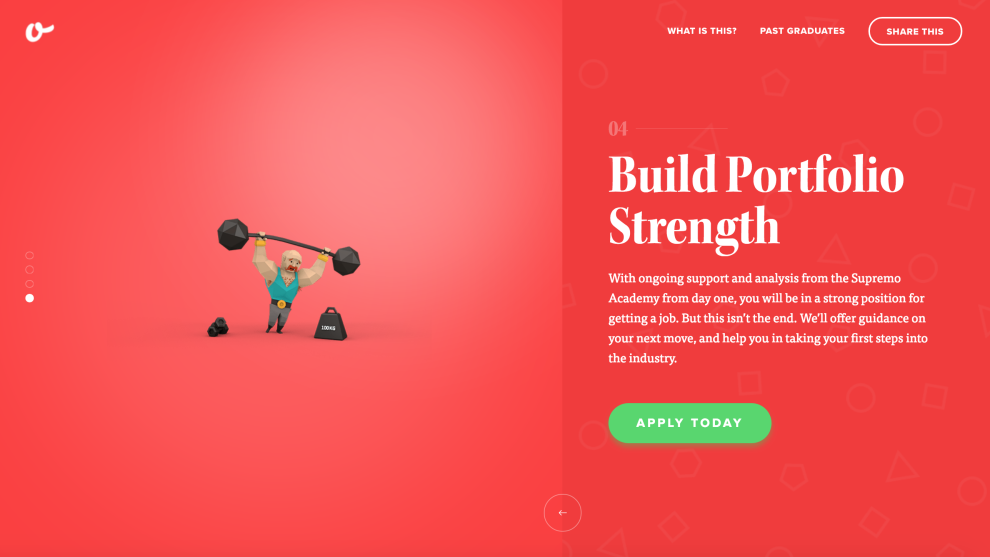 They also appeal to emotions, bringing forth a nostalgia that comes from the characters these illustrations embody. Many people have fond memories of the circus, and these clever animations help to recall those emotions.
In this design, these custom designs make a powerful impact on users' psyche.
The Importance Of Branding In Websites
When branding is consistent, businesses can see an average revenue growth of 23 percent.
Branding is vital to business success. And branded elements should be infused into all areas of a business -- from its product packaging to its social media presence and especially in its website.
There are a number of different ways to integrate consistent branding in a web design. You can incorporate a creative typography, a clever brand voice and a specific orientation.
But another way to keep this branding clean and comprehensive is through custom illustrations.
Custom illustration can serve many different purposes in web design and it can be deployed in a multitude of ways. Whether it's used sparingly to inject an element of whimsy into a site, or used as the dominant visual element of the site, it's an effective way to appeal to and captivate users.
And it's a great tool for branding -- taking these images and embedding them across platforms and mediums so that users have the same experience every place they decide to interact with your business.
And branding is what keeps businesses relevant. It's the perception consumers have of you, your products and your services. Of course, you have to ensure their experience with your products is a pleasant one. But outside of that, it's the visible design elements that bombard them on their smartphones, social media accounts and billboards that will leave a longer impression -- because this is what they see when they think of your business.
it's imperative that you're constantly thinking about branding and keeping your presence consistent and cohesive. You can begin this journey with custom illustrations -- and these 12 brands show you how powerful that can be.
Subscribe to Spotlight Newsletter
Subscribe to our newsletter to get the latest industry news