Naskay Showreel Packs Dynamic Visuals and Thrilling Motion Graphics in Just One Minute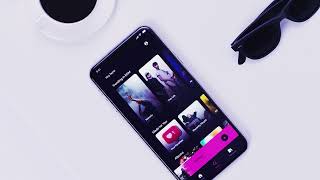 Naskay Showreel Offers a Quick and Exciting Portfolio Viewing Experience That Keeps the Audience Hooked
Is it possible to showcase a design agency's best work in 60 seconds?
Absolutely!
Naskay Technologies Pvt Ltd. proves that you don't need all the time in the world to make your brand shine. Sometimes, all you need is an exciting one-minute showreel that concisely communicates what your company has to offer.
It's a brilliant marketing move, too! Considering viewers have a limited attention span, going for a quick and snappy video to introduce yourself to potential clients and collaborators is the way to go.
But if you will create a short marketing video, ensure every second counts. (Read more about the benefits of video marketing)
That's why Naskay packed a lot of exciting elements in their showreel to spark interest among the viewers. They maximized motion graphics to unveil their portfolio, animating their best works in UI/UX Design, App Design and Web Development.
Geometric illustrations and dynamic transitions also added a visual flare to the showreel, holding the viewer's gaze throughout the video.
Naskay Showreel Highlights the Agency's Excellent Projects via Stunning 3D Mockups
There's nothing like watching a design come to life, especially when entering the app and web design territory. Users want to see an app or website in action more than its aesthetic features to get a preview of its functionality.
Naskay did a marvelous job showcasing their creations in animated 3D mockups. They displayed several interface designs in their natural habitat: mobile phones and computer screens.
Through these mockups, viewers see precisely how a Naskay-designed app or website interface looks on a specific device it's built for. The 3D design completely elevated the illustrations and made the designs 10 times more realistic. It showcases how motion graphics experts can bring designs to life and create immersive experiences!
The variation in angles and framing also gave viewers an excellent look into the designs from multiple perspectives.
A mix of macro and micro shots allows the audience to zoom in and out of the visuals, creating a more worthwhile and detailed viewing experience.
Receive proposals from top video production agencies. It's free.
GET PROPOSALS
Naskay Showreel Inserts Big and Bold Statements To Leave a Bigger Visual Impact
The design agency's stunning works can speak for themselves, but that didn't stop the brand from injecting meaningful statements for that extra brand impact.
We're not talking about full project descriptions and long text popups here. Instead, they went with short, sweet one-liners representing the agency's best qualities.
Words like "beauty," "brains," "results" and "smart solutions" pop up on the screen, instantly establishing Naskay's core design values and philosophy.
They are also strategically inserted between multiple projects, which helps break up the scenes and add a storytelling element.
Engaging statements like "Let's build something with passion" and "discover excellence" are also great ways to build that instant connection and inspire action among the viewers. It's precisely how branding professionals skillfully create impactful messaging that resonates with a specific audience!
From the unique text animations and transitions to the wide and bold typeface, each statement looks just as visually appealing as the designs. (Explore more motion graphics video examples here)
Naskay Showreel Uses an Upbeat and Edgy Background Music That Matches the Video's Visual Choreography
Video producers strategically use music to bring the action to life. Considering its many stellar visual qualities, the music used is a vital element that made Naskay's showreel video successful.
The video designers used an electrifying Pop background instrumental that eliminated the need for voiceovers and sound effects to round out the video sequence. The bombastic beats and intense build-ups make the visuals more exhilarating to watch.
It's also visually satisfying how the video's animations and transitions move harmoniously with the music, matching every beat of the background instrumental. (Check out these videos with amazing background music)
It's upbeat and edgy with a bit of drama – the perfect match to the agency's modern and future-forward designs!
Submit your best designs for a chance to be featured on DesignRush!
GET STARTED