Always dare to shop for luxurious items for your phone. Chaos is a luxurious phone case and accessory company set on creating top-of-the-line items for their consumers.
Upon entering the homepage, consumers are greeted are by a rapid flashing display of images against a black negative space.
The images range from products to neon displays of the company's name and several cross-cultural references to the company. All animations are center-aligned on the page as if ready to pop off the computer screen right at the consumer.
The introduction is abrasive, exciting, and utterly chaotic… the perfect way to start off a company website and leave consumers wanting more.
Discover how to design eCommerce product pages for success.
Learn more!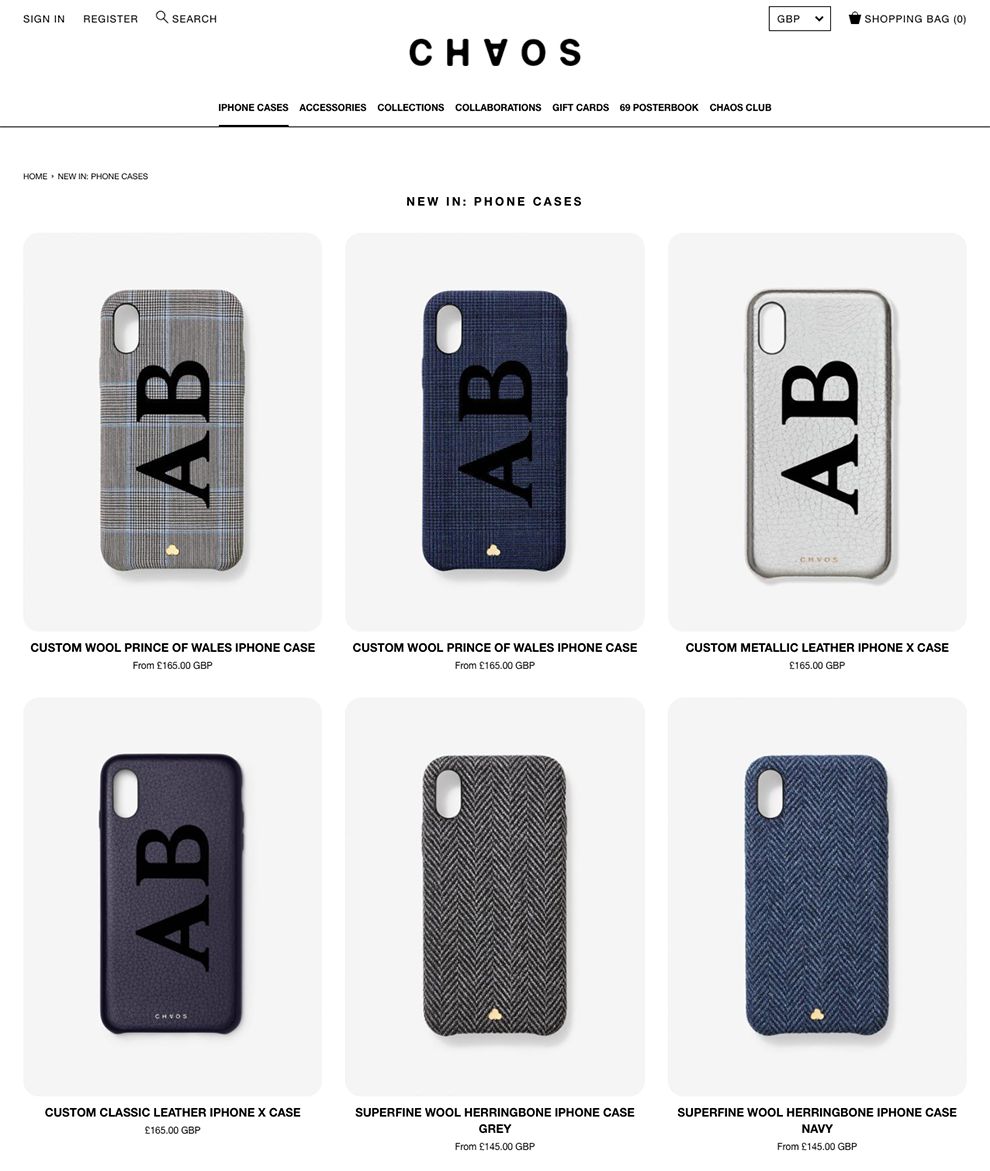 Specializing in phone cases, phone accessories and more, Chaos has a huge list of products for consumers to peruse and pick from. Each individual project is smartly broken down with a sans-serif font that vibrantly stands out on the page.
Inside each individual listing, the company aligns a variety of product images on the left side of the page in a grid format for consumers to enlarge and look through.
Against the monochromatic website design's color scheme, the photographs are the only color on the page to showcase the vibrancy of each piece. Left-aligned and directly to the right of the images, the company lists a detailed version of the product description, as well as how to care for the product once it is purchased.
The company offers a number of customizable products. To make it easy to do so, they employ a combination of drop-down menus for sizes and color icons to click on when needed. The simplicity makes finding the right product easy.
Chaos is a minimal website design in the E-Commerce and Retail industry. 
More Best E-commerce & Retail Website Designs