Did you know that eCommerce websites are the third most popular place to purchase Valentine's Day gifts?
That makes Valentine's Day one of the biggest days of the year for some of the topeCommerce websites across the globe.
In fact, 27.2% of consumers purchase Valentine's Day gifts online. Plus, Valentine's Day spending is expected to surpass $18 Billion.
However, consumers typically wait until after February 1 to begin shopping for Valentine's Day gifts.
That means that eCommerce brands have a short window to grab consumers' attention, encourage them to make a purchase, and ensure they receive their product on time.
Luckily, there are several eCommerce tactics that are easy to implement and will foster strong online sales quickly - and you can perform them without the help of a website design agency.
There are also innovative strategies for this special holiday that can help your visitors share the love, like animated icons for Valentine's day which they can send to that special someone.
Top 5 Strategies To Improve Valentine's Day eCommerce Sales
1. Prioritize Peak Sales Days
Peak sales days for Valentine's Day typically fall in the week leading up to the holiday.
Therefore, brands should prepare themselves for fast processing and expedited shipping. Keep an eye out for an influx of orders around February 7, 11, 12 and even February 13.
To ensure consumers have a great user experience while shopping during those days, ensure:
Your site has the latest system update.
The checkout and processing systems work well.
Search functions filter items properly.
Each page on the website loads quickly.
Top Ecommerce Companies
2. Incentivize Consumers On Days With High Abandonment Rates
Online shoppers are more likely to abandon their carts in early February. Be on the lookout for higher rates around February 2 and February 3 for both retail and travel sites.
Luckily, there are a few strategies shown to improve abandonment rates or re-engage consumers. Try:
Creating personalized messaging.
Providing personalized item suggestions to visitors based on their user behavior.
Re-engaging potential customers through email campaigns that remind them of the items in their cart.
3. Offer Experiences To Consumers
Although top Valentine's Day purchases include candy and greeting cards, they aren't the only purchases consumers are making during February.
In fact, the average consumer spends nearly $137 on Valentine's Day gifts.
Millennials are also more likely to purchase experiences, such as evenings out, vacations, and events. What's better? All of these items can be paid for online, too.
This shows that all B2C companies can benefit from driving consumers to their website and engaging them with the brand. So, be sure to optimize your website and engage consumers, even if you aren't a traditional retail site.
Want more insights like this? Sign up for DesignRush's newsletter!
4. Tailor Your Demographic As Needed
Research has shown that men spend nearly twice as much than women on Valentine's Day gifts.
What's more? They tend to purchase more big-ticket items, such as fine jewelry, luxury dinner reservations, and entertainment experiences.
Throughout early February, add some digital marketing initiatives geared towards men that will drive them back to your website and encourage them to complete a purchase. Effective strategies include:
Retargeting.
Social media ads.
Paid search.
And more!
5. Use Sales To Increase Strategic Spending
The National Retail Federation reported that strategic sales increase Valentine's Day spending.
In fact, 92% of consumers will spend more than they intended on a Valentine's Day gift for the right product or sale.
Plus, 48.6% of online shoppers would spend $10 more for an item that was a good deal, and 31.4% of consumers would spend an additional $10 if they would get a free gift with their purchase.
To market timely Valentine's Day sales, implement digital marketing campaigns such as:
Website banner ads.
Video marketing ads.
And more!
Top Digital Marketing Companies
2 Effective Examples Of eCommerce Sites Showcasing Valentine's Day Sales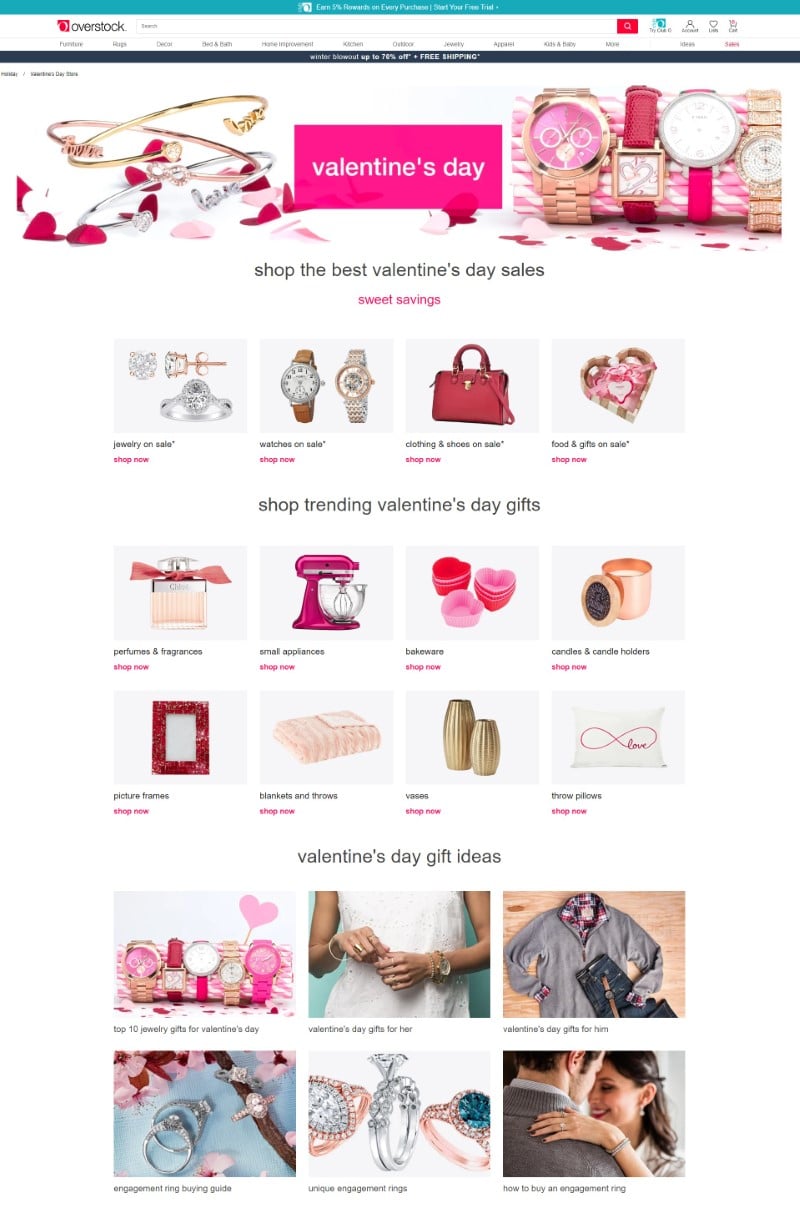 Overstock's imagery-driven site has a separate Valentine's Day landing page dedicated to timely sales. The online retailer showcases big-ticket items that men historically purchase at the top of the page.
However, they smartly incorporate "trending" products that other demographics could purchase on the page as well, mixing expensive items with smaller products. This mix of products allows Overstock to target consumers who may be looking for items for friends and other loved ones as well.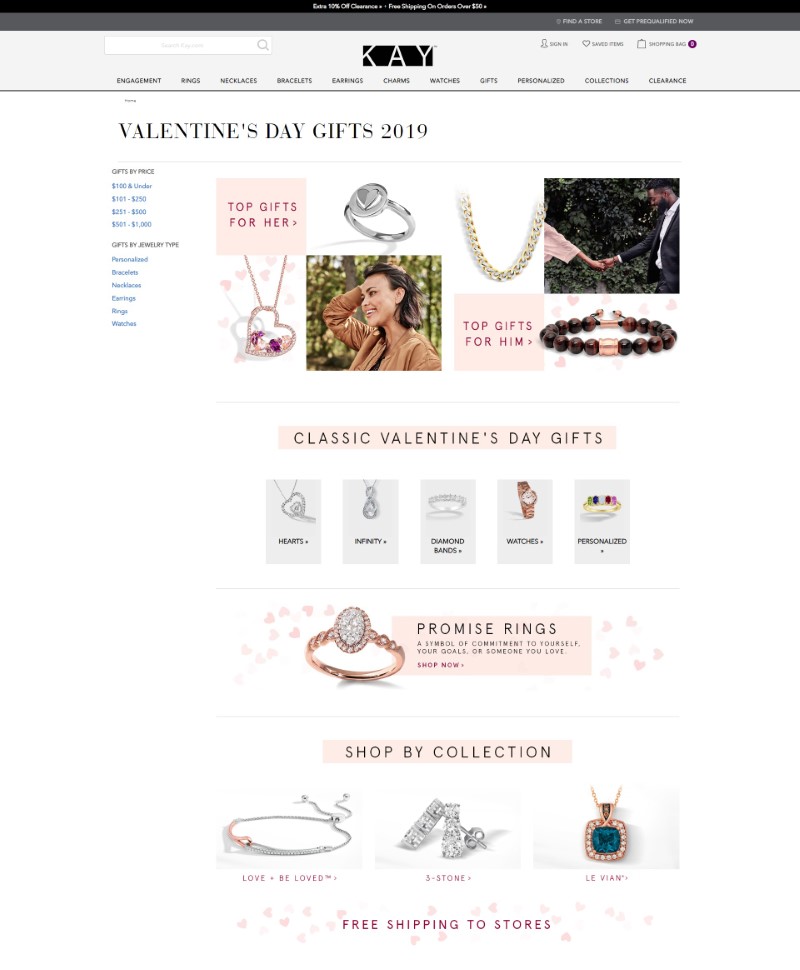 Although Kay Jewelers' top demographic is men purchasing for women, the fine jewelry brand equally targets men and women on their Valentine's Day landing page, ensuring they can use just one web page.
The landing page is organized into gift guides for both men and women. Below the gift guides, users can quickly find items by type of product, which makes navigation seamless and increases conversions.
Conclusion
Although Valentine's Day may not seem as important as bigger holidays like Christmas, the short window of time can actually foster strong conversions, improve brand awareness, and create returning customers.
But because studies show that consumers wait until the last minute to complete purchases, businesses need to optimize their eCommerce sites to attract consumers, encourage them to convert and ensure they receive their orders on time.
Top-performing digital agencies can streamline your buyer's journey. But you can also infuse a few of these tactics on your own to boost conversions with ease.
Want some help optimizing your eCommerce website for Valentine's Day sales? Check out the top eCommerce development companies around the world to find a professional partner that can help.
Subscribe to Spotlight Newsletter
Subscribe to our newsletter to get the latest industry news