As the eCommerce market is getting larger and more saturated, custom packaging for small businesses is becoming key to differentiating and staying ahead of competitors.
This article will introduce you to everything you need to know about custom packaging for small businesses, from its importance and examples to key elements and best practices.
What Is Custom Packaging for Small Businesses?
Custom small business packaging is designed and produced to fit small businesses' specific needs and branding. The size, shape, color, and materials used are suited to reflect the product and business, creating a better buying experience for prospective customers.
Buyers first see packaging when their shipment knocks at the door. It fosters a positive experience and lays the framework for building brand loyalty. Therefore, the package must be custom-made for small businesses to leave a lasting impression.
The choice of packaging entirely depends on the brand's mission, USP/UVP, and the product itself. For example, food and beverage packaging quite differ from cosmetic products. Despite these differences, effective custom product packaging should reflect its respective brand's unique identity and stay consistent with the colors, logos, and fonts.
How Important Is Custom Small Business Packaging?
With growing competition in the market, small businesses struggle to persuade prospects to buy from them. Yet, many still use plain cardboard boxes, missing an opportunity to enhance the user experience and catch customers' attention.
As a small business owner, you must do everything possible to ensure your product gets noticed. Custom packaging for small businesses can help achieve these goals and has become increasingly popular to sharpen businesses' competitive edge. Custom packaging can be more than just a throwaway item and elevate a product's value on the shelf.
The Benefits of Custom Packaging Solutions for Small Businesses
From a small business perspective, custom packaging offers several benefits:
1. Excellent Customer Experience
A healthy conversion rate is important, but understanding customer behavior is crucial for user retention. Unique custom packaging creates an excellent user experience, especially since unboxing videos have become popular on social media platforms. Branded or unique materials and high-quality shipping tape can make your brand memorable and create a positive experience, even without a physical storefront.
2. Brand Recognition
When a small business uses custom packaging, customers will know who their package is from. Finding a way to make your packaging cool and creative or banking on minimalist trends can set your brand apart. Remember, being innovative for the sake of innovation is not enough. Therefore, custom small business packaging needs consistency and cohesiveness in line with the overall branding and marketing.
3. Green Agenda/Sustainability
Green initiatives have become a major tool for brand recognition, with consumers preferring to buy from companies that share their values and take steps toward positive change. Young consumers, particularly millennials, want companies to act on social causes, such as using recyclable packaging.
More companies are investing in eco-friendly initiatives, especially in packaging and delivery. Custom packaging for small businesses should consider eco-friendliness to connect with their target audience.
4. Easy/Flexible Customization
With custom box packaging, you can easily customize your initial design for different products, holidays, seasons, and events. Adding to one of our previous points, you can also ship birthday-themed packaging to your customers during their birth months. Customers appreciate these details, driving them to maintain a healthy relationship with your brand.
5. Shipping Fees Management
Custom packaging can also help small businesses save on costs by avoiding unnecessary large boxes for their products. Meeting minimum order quantities and dealing with packaging that is not the optimal size or shape for their products can result in additional costs for supplementary materials.
However, by using custom packaging, small businesses can ensure their products are packed tightly and well-protected, in-store and in transit, while reducing shipping costs charged by companies based on volume. Business owners must balance quality and price when looking for custom box manufacturers.
Get connected with the right packaging design agency for your project.
GET STARTED
What Is Included in Custom Product Packaging?
There are numerous customization options when deciding on the perfect custom packaging for small businesses. These include material, colors, flexibility, safety, shape, and size.
To provide a unique unboxing experience and show your customers you're willing to go the extra mile, there are a couple of different packaging design options you should consider:
1. Fully Customized Packaging
Fully custom small business packaging refers to shipping containers, such as boxes or mailers, that are fully customized to reflect your brand through various design elements both inside and outside the container. This option is the most visually appealing and most expensive since it involves unique shapes that complement the product, full branding, and meticulous design to match the brand's image. Fully custom packaging is usually seen in higher-end products or subscription services.
2. Printed Stock Packaging
Printed stock boxes add a custom touch to plain packaging. Custom printed packaging takes a stock box or other container and adds a brand logo outside. This type of customization is a great way to increase recognition without the added cost of the material.
If you opt for this particular type of packaging, you need to ensure that the logo placement is prominent and immediately discernible. Also, be mindful of the color contrast. Darker inks help ensure the best possible visibility.
3. Customized Exterior Stickers
Another cost-effective way to customize ordinary packaging is by adding custom (logo) stickers. Once you receive the stickers and boxes, you can assemble them in-house to save even more money. Tailor-made stickers can be water-resistant, which is suitable for shipping products.
4. Package Insert Customization
Insert customization can contain:
Thank you notes and offer cards: Adding a (pseudo) handwritten thank you note or a coupon voucher is an easy and cost-effective way to add a personal touch to your packaging.
Custom tissue paper: Wrapping individual products demonstrates that you care about your customers' orders and that their goods are valuable. Custom packing paper is another great opportunity to reinforce brand recognition.
Inner packaging: Choose the inner packaging material depending on the product. For example, clothes are always wrapped in tissue paper and glass products in well-protected, sturdy boxes, while chocolate packaging involves aluminum foil.
5. Other Custom Designs
Add custom packaging supplies for small businesses to make your packaging stand out:
Customized rubber stamps: A simple and reasonably inexpensive design option. These stamps can include the company logo or tagline to resonate with the targeted customers.
Customized packaging tape: Adhesive tapes that help secure the boxes can also be customized to reflect your brand.
Customized bags: Customized bags can be helpful for businesses that need sturdy packaging. Customers can always use them as walking billboards, adding another free marketing layer to your efforts.
Five Custom Packaging Tips for Small Businesses
Even with an extensive guide, most businesses still wouldn't know where to start with small business product packaging. Should they go with a full package (pun intended) of customized solutions, or should they pick and choose elements best suited to their needs?
Here are some actionable tips for small businesses investing in custom packaging:
1. Select Your Custom Packaging Style
Before anything else, you need to choose the custom small business packaging style that complements your product. Below are the guide questions designed to help you determine that:
What product are you packing?
What values do you want to communicate?
Where will you sell your products?
Which packaging size offers the best balance of protection, quality and aesthetics?
After blueprinting the type of packaging, you want to create, it's time to choose your boxing style. Custom packaging companies usually offer:
Mailer box: These are sturdy, solid boxes that can be sent directly through the mail without compromising quality. They are perfect for subscription models, retail gifts and eCommerce packaging.
Shipping Boxes: They are ideal for heavier or larger items. This type of packaging is robust and durable and is the most economical option for bulkier products. You can also infuse branding to these boxes for added style and enhanced brand recognition among customers.
Product Boxes: For relatively lightweight products, you'd want to design more luxurious packaging. Enter product boxes! They act as primary product packaging and can be placed into the above-mentioned packaging to keep the unboxing experience one of a kind.
2. Design Your Packaging with the Customer in Mind
Identify your ideal customers and design custom small business packaging with them in mind. Does your audience like high-end products? Or maybe they are eco-conscious? Understanding your customers and their interests will help you shape the design of your new custom packaging.
3. Focus on Functionality
Your packaging solution should be functional and adequately protect the product inside. Additionally, it should reflect your brand in the desired fashion. The beauty of custom packaging for small businesses is that you can create and design them based on your brand's primary needs.
4. Personalize It
Remember, the whole point of customized packaging is to help you add a personal touch to your branding strategy. Consider different ways to make the unboxing experience tailored to your customers.
5. Do the Math
If you've just started thinking about custom small business packaging, it's important to do some calculations before finding the right provider. Calculate the potential ROI and the best and worst-case scenarios. Decide how much value you expect your custom packaging to provide to your brand and why.
Small Business Custom Packaging Examples
Picture says more than a thousand words; these small business custom packaging examples inspire you to choose your own:
1. Corrugated Boxes
Corrugated boxes are a popular choice for custom packaging for small businesses because they offer durability, protection, and versatility. They come in various sizes, shapes, and styles, and can be additionally customized to fit the business's specific needs. Customization can include the company logo, product information, and other branding elements directly onto the box, which helps to create a cohesive brand experience for customers.
2. Rigid Boxes
Usually made from thick, sturdy paperboard, rigid boxes are the ideal packaging for products requiring a luxurious presentation. They provide high durability and protection while offering various customization options to create a unique and memorable brand experience. Rigid boxes can have matte or gloss finishes and embossing or debossing surfaces to create a tactile and visually appealing look and feel.
While rigid boxes can be more expensive than other packaging options, they can provide a significant return on investment for small businesses by helping to create a premium brand experience that resonates with customers.
3. Fully Customized Packaging
Unlike standard packaging, fully custom packages represent your brand through custom features on the inside, outside, or both. This can include unique colors, designs, textures, and finishes that align with your brand's aesthetic and messaging.
While fully customized packaging is more expensive than standard packaging, it can increase brand awareness and make your brand stand out. It is often used for higher-end goods or subscription services, where the packaging can enhance the product's perceived value and create a premium brand experience.
4. Inner Packaging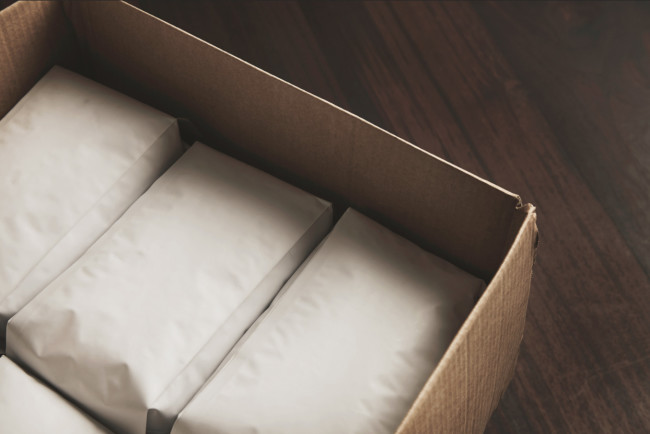 Inner packaging provides additional product protection and, depending on the type of material, provides a touch of elegance and luxury. The product inside the packaging determines the inner packaging material; merchandise like clothing is wrapped customarily in tissue paper, glass-made products in well-protected, sturdy boxes, jewelry in small, cushioned containers, chocolate in aluminum foil, composite films with plastic or paper trays, etc.
5. Thank You Notes
A thank-you note can be as simple as a short, handwritten message on a small card or piece of stationery, thanking the customer for their purchase and expressing your gratitude for their support. It can also include information about your business, such as upcoming sales or new product launches, to encourage the customer to continue shopping with you in the future.
Small businesses can also use the thank-you note to request feedback or ask the customer to leave a review, which can help improve their products and services and attract new customers.
Wrapping Up Custom Packaging for Small Business
Custom packaging can be expensive, especially for smaller businesses. But if implemented correctly, it can skyrocket their brands to new heights. If you can deliver on the visual promise neatly packed with your product, your business won't stay "small" for long. A packaging design agency is a good partner that can help you with your efforts in this regard.
Custom Packaging for Small Businesses FAQs
1. How to do packaging for a small business?
To determine the most suitable packaging for a small business, follow these steps:
Consider your brand's mission, values, and targeted audience.
Determine what packaging you need for your products, considering their size, weight, fragility, and quantity.
Choose packaging materials, considering cost, durability, and environmental impact.
Create a packaging design that is visually appealing and consistent with your brand's image. The design should include your logo, brand colors, and relevant images or text.
Monitor user feedback and adjust your packaging if needed.
2. What packaging supplies do I need for small businesses?
For small business custom packaging, you'll need the following supplies:
Custom boxes (mailer, shipping, or product boxes, printed or unprinted)
Thank you notes and offer cards
Custom tissue paper
Different types of inner packaging
Customized rubber stamps
Customized packaging tape
Customized bags
Our team ranks agencies worldwide to help you find a qualified agency partner. Visit our Agency Directory for the Top Packaging Design Companies, as well as:
Receive proposals from top packaging design agencies. It's free.
GET PROPOSALS
Subscribe to Spotlight Newsletter
Subscribe to our newsletter to get the latest industry news