The traditional shopping mall is quickly losing its appeal to shoppers. In fact, analysts estimate that about one-third of malls in America will close in the next few years.
But this news shouldn't come as a surprise to most of you. Just think about the last time you went to the mall to buy things like clothing or electronics. (Yeah, we can't remember either.) From fashion to food to toiletries, we can purchase everything we need online, with just the click of a button.
Perhaps you're one of the many people who is excited by the possibilities offered by e-commerce. Armed with tons of creative ideas, you've decided to open an online shop.
Now, comes one of the most difficult parts: designing your website (best left to a solid website development agency).
This can lead to a lot of confusion and anxiety — especially if you don't come from a design background. How do you even go about creating a website? How expensive is it? Where do you even begin?
Luckily, there are a number of dedicated e-commerce web design agencies and hosting platforms that can help simplify the process and put you one step closer to creating the e-commerce website of your dreams and giving you brand the digital presence it deserves.
For the most part, unless you have the time and resources to dedicate to creating your own unique and custom website, you'll likely want to start from a pre-existing template. And thankfully, there are hundreds — no thousands — of themes out there for you to choose from.
With so many custom-build options available, creating an eCommerce site is now easier than ever before. But, which theme should you choose to transform your site into a marketing tool that converts like crazy?
Here are a few ideas.
We'll find qualified web design agencies for your project, for free.
GET STARTED
10 E-Commerce Themes To Give Your Brand A Stellar Online Presence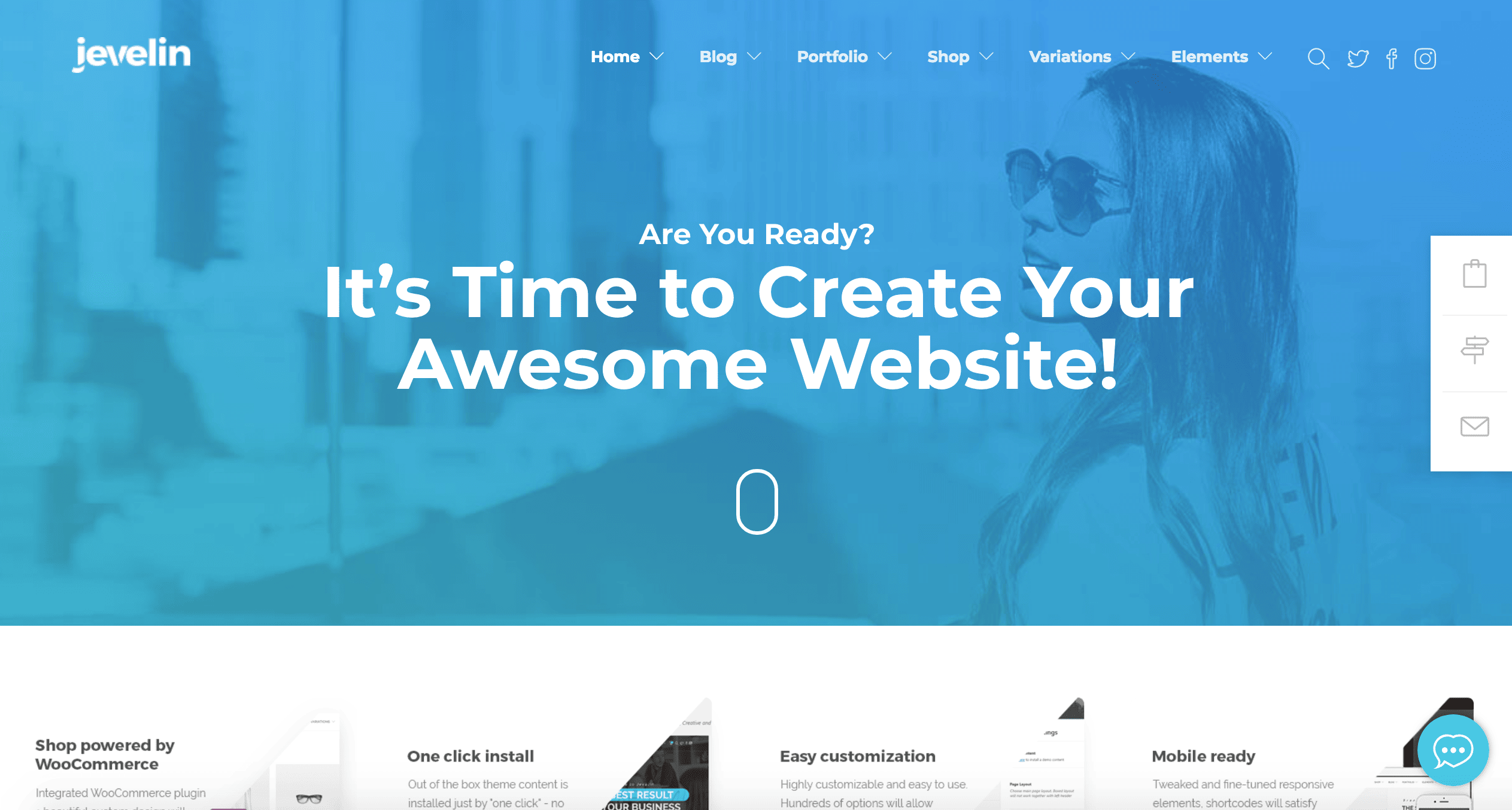 Price: $59
Jevelin is a premium, mobile-ready, multipurpose WordPress theme. Sturdy, intuitive, easy to use, and with a wide range of features, this theme ranks among the best sellers of its kind.
Jevelin is well-suited to handle the needs of a modern eCommerce shop. One of the things you'll love about it is that it features demo sites and page formats that you can use as inspiration.
Installation is a breeze as well, and it only takes a few minutes thanks to this theme's installer tool. All you need to do is replace the content already supplied in the demo version with your content, and you're ready to launch. Demos are added regularly and include everything from fitness and photography to wedding planning and other types of businesses.
This is a highly intuitive and engaging website theme that will make navigating through your website a breeze. This is a design that was built with consumers in mind, and you can tell just from scrolling through a few demo pages.
Features:
Revolution slider.
WooCommerce eCommerce plugin.
Over 40 customized codes.
Social sharing.
Multi-language and RTL support.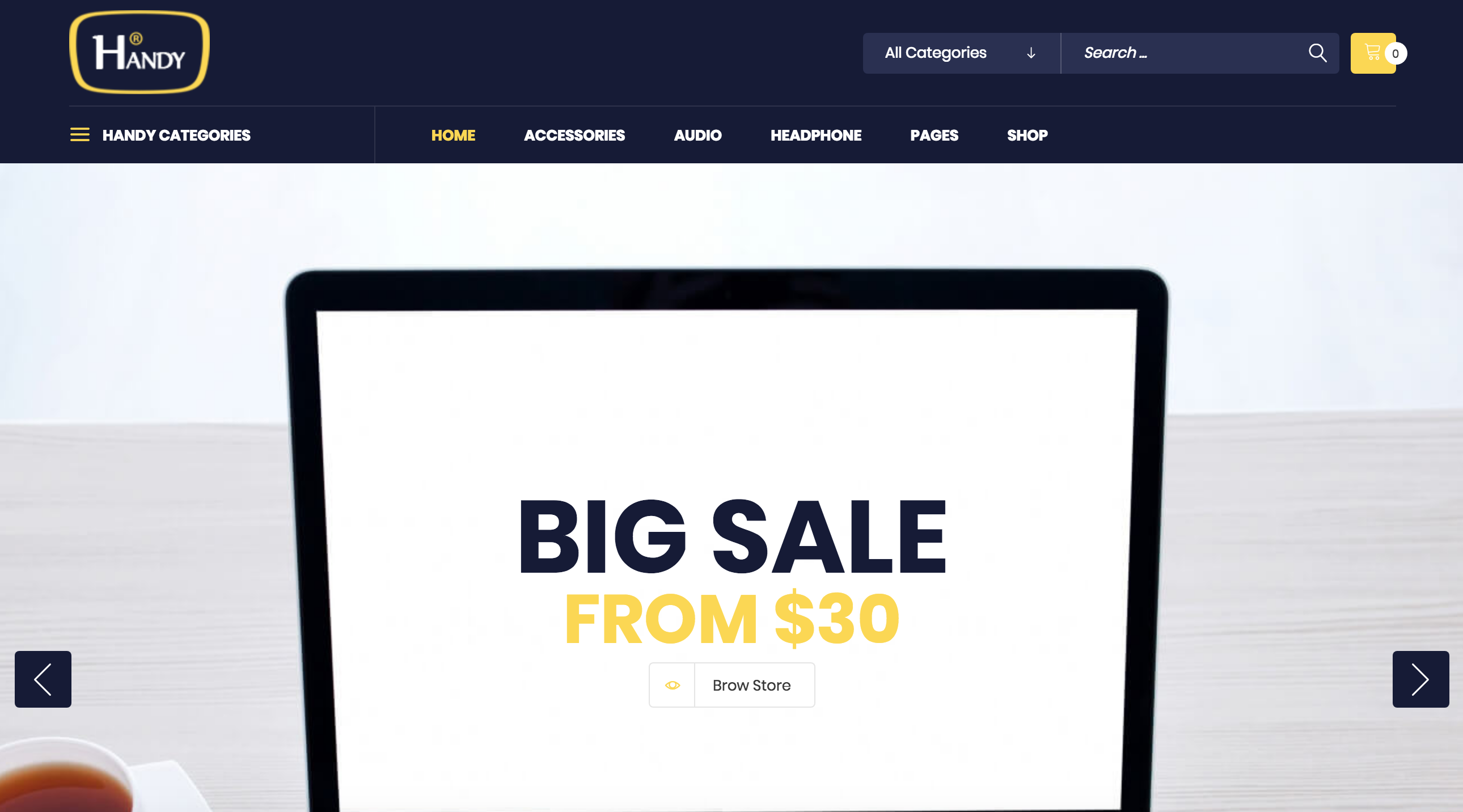 Price: $79
This theme was created to help small businesses build beautiful and engaging websites that could help attract customers. It is elegant and very adaptable – a simple and effective tool for webmasters with little to no coding knowledge.
One of the things that make this theme stand apart is that it's easy to configure. So, you can make it look the way you want it too without too much hassle. Moreover, this theme also provides streamlined filtering, loading, and sorting processes.
If you're a brand made up of a small team, or a small business in general, this is the ideal web design template to start out. It comes with all the vital bells and whistles and growing brand needs and it comes with an ease in setup that makes it a no brainer.
Features:
Built on HTML5, very reliable and sturdy.
Modular Bootstrap design.
WooCommerce ready.
Multiple layouts, color options, and fonts.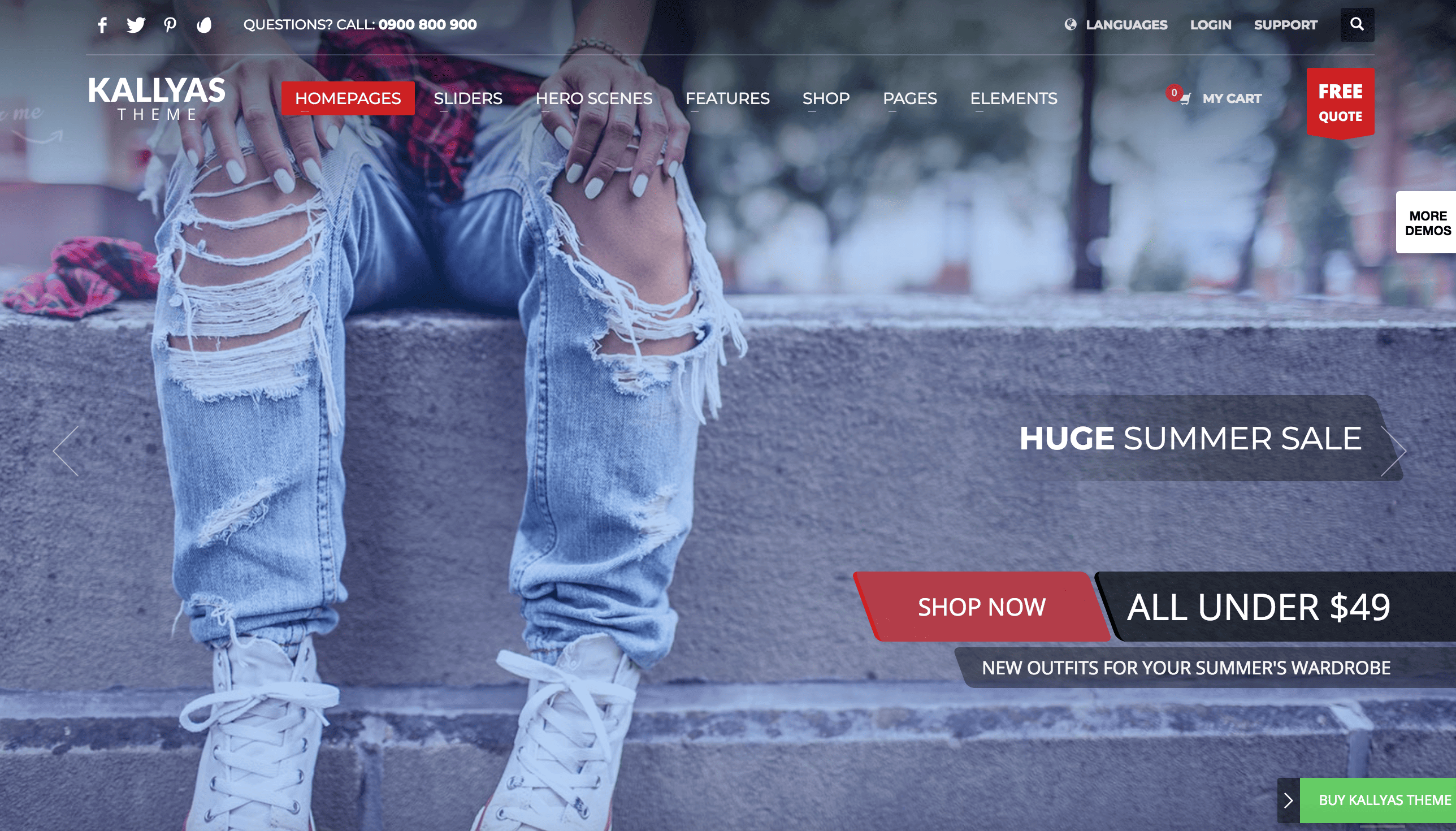 Price: $69
Kallyas is one of the most downloaded WordPress themes and for a good reason. It is extremely versatile, covering the needs of a wide range of businesses, from start-ups to large companies, from homemade jewelry and yoga studios to high-tech services. New demos are released every month, and the customer support they offer is fast and reliable. You can also access guides and video tutorials that can help you get your site up and running.
Unique and versatile, Kallyas truly deserves its name as the "World's Most Enjoyable Visual Website Builder."
There's no denying the number of exciting heights your business can reach ith the help of this web design themes, equipped with more than 100 pre-built tools that will answer any e-commerce or business problem you can come up with.
Features:
Drag and drop Visual Builder.
100+ pre-built tools.
Smart Loader – making the website very quick to load.
Modular Bootstrap design.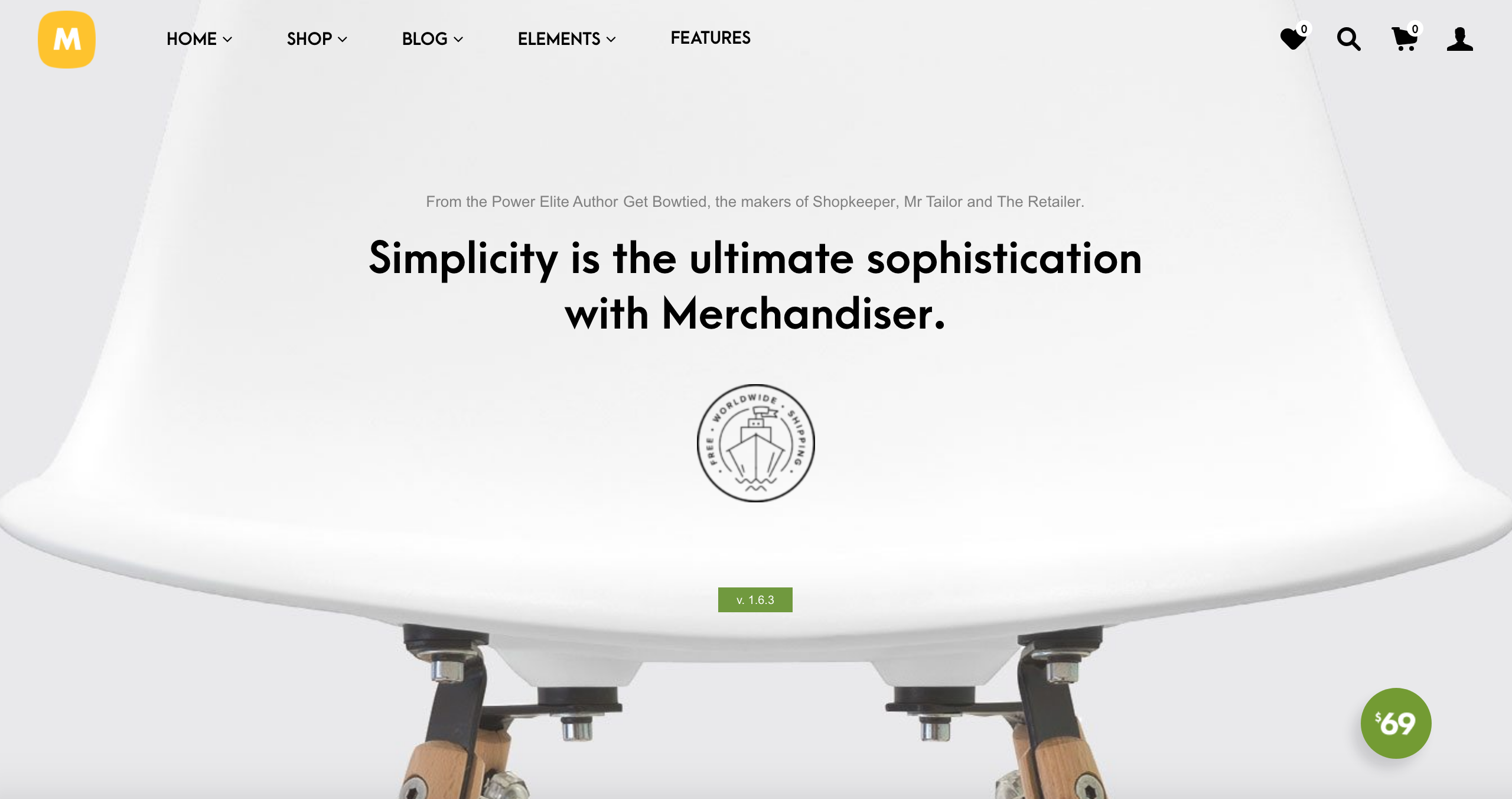 Check a Powerful Premium WordPress Theme that can be the solution for your web development needs.
Price: $69
The team behind Merchandiser specializes in retail websites, so they know a thing or two about creating designs that look sophisticated, but easy to use – much like a dress window. The theme is compact, intuitive and straightforward. You don't need to know much about coding to use it since it provides you with a multitude of templates and tools that make the entire process pretty easy.
Its minimalist design ensures that the theme comes only with the features you need. Add to that the fact that the team provides continuous updates and improvements. Not to mention, their stellar customer support is always there to help you when you need it.
Minimalism is a growing trend in web design, with more brands turning to simpler, cleaner websites to appeal to younger audiences. If you're a retail brand that's looking to burst onto the scene with an exciting, user-friendly and clean design, look no further than Merchandiser.
Cool to look at, user-friendly and reliable, Merchandiser is a useful tool for novices.
Features:
Off-Canvas Shopping Cart and Quick View.
Thorough WooCommerce integration.
Live preview and advanced options.
Drag and drop Visual Composer.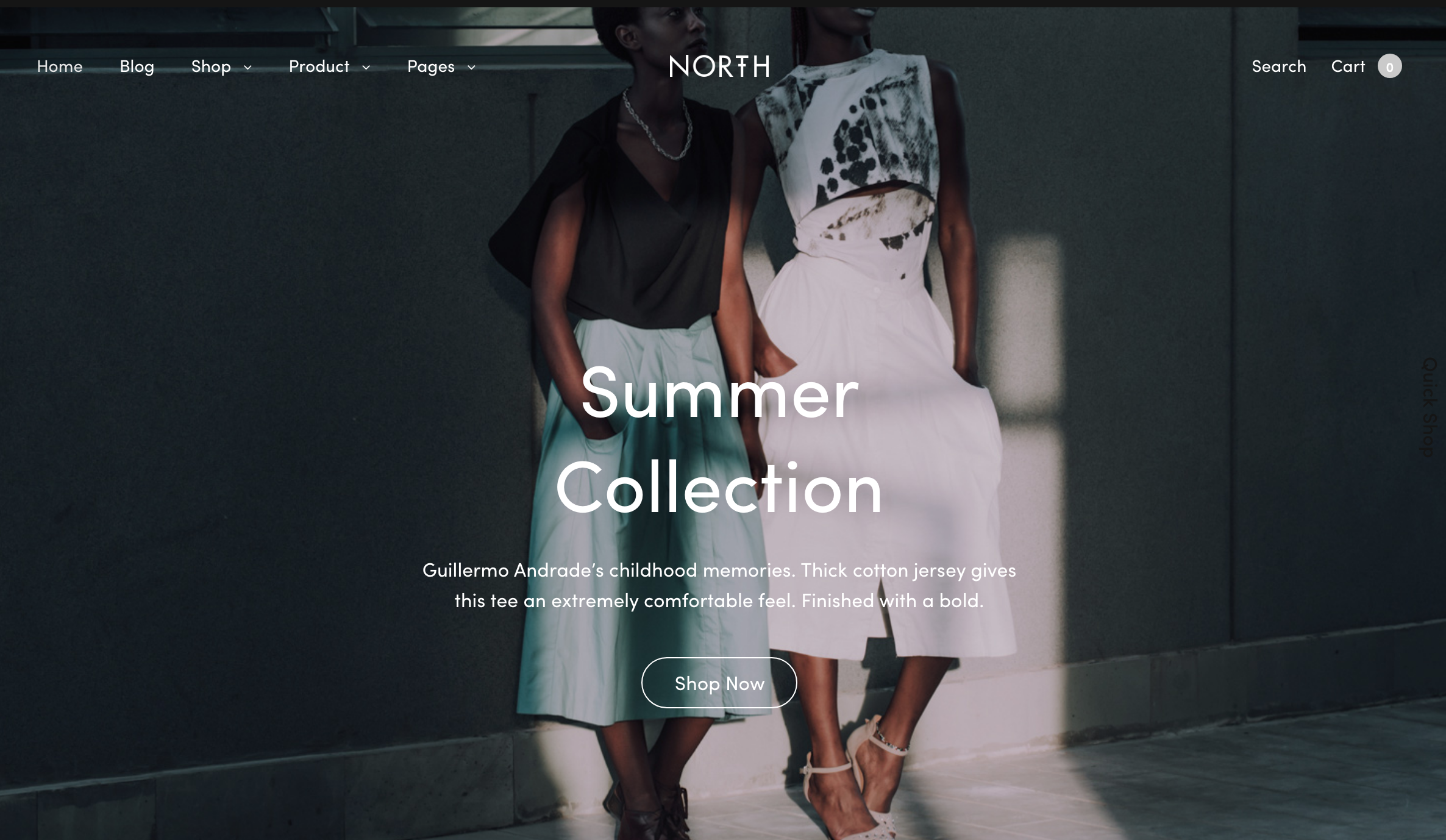 Price: $64
Of the five themes presented here, North is, probably, the eye candy. It is a fullscreen theme, which allows you to make the best use of the visual space available. Technically, it is designed to be fast and efficient. It's also WordPress 4+ ready, and it was developed using reliable code.
North works perfectly on all devices and provides a great user experience. Colors, fonts, and backgrounds can be changed, and the choice is huge, with more than 600 Google fonts, unlimited colors, many widgets and drag and drop elements.
One specific feature is that it provides unique account pages, specially designed for a smooth and elegant customer experience. North showcases six exclusive plugins, such as WooCommerce PDF invoice and Table Rate Shipping that can help you zone your customers by country, state or postal codes.
If you want to stand out, this theme is the one to go with. It's modern and edgy, with a chic and innovative vibe that is sure to let your visitors know that you're a brand that dares to go above and beyond, starting with your digital presence.
Features:
Visual Composer.
Revolution Slider.
Intuitive theme options.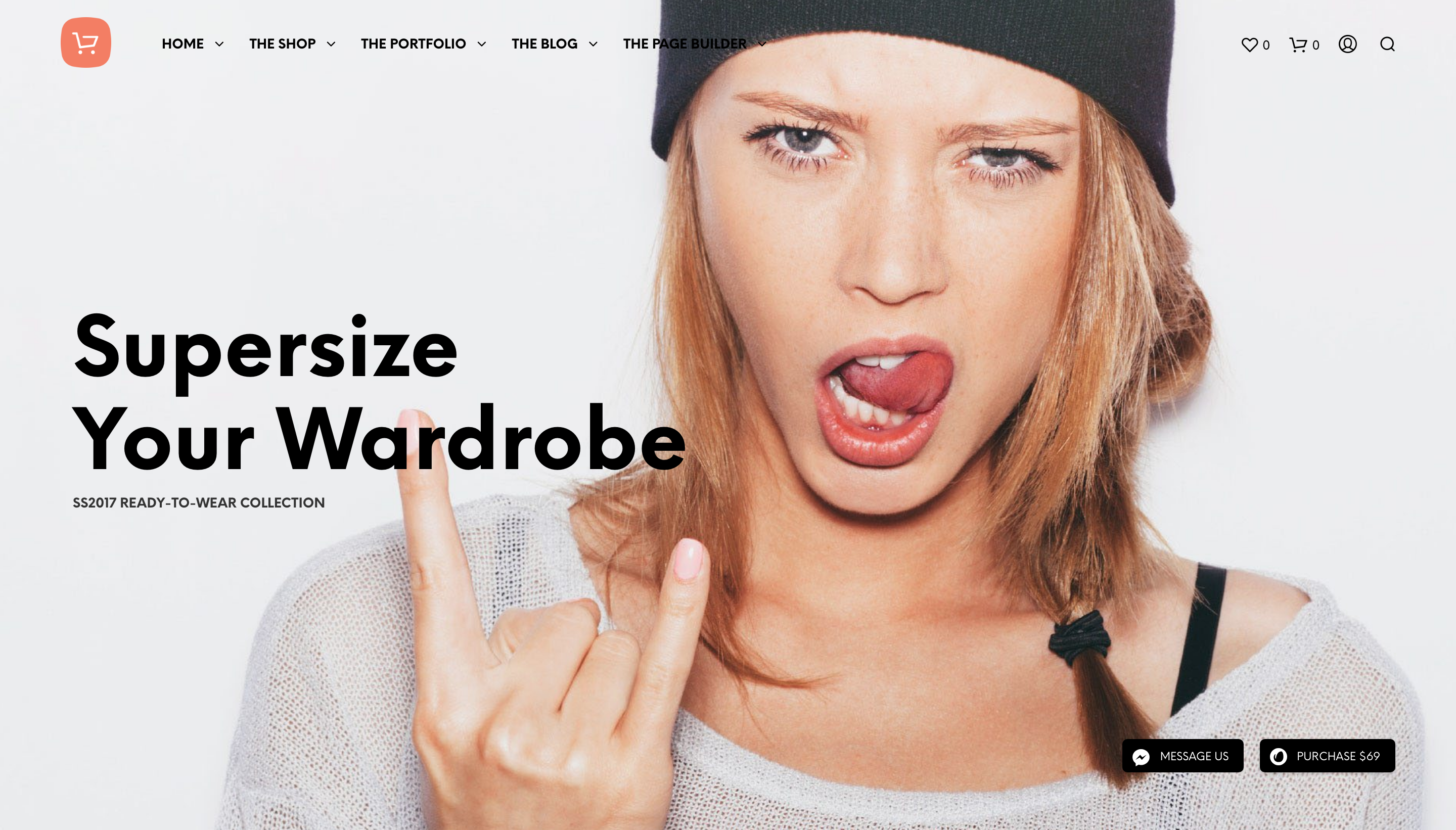 Price: $69
ShopKeeper is a creative and cool WordPress theme for WooCommerce. It was built with consumers in mind, coming with a host of extensive functionalities and a responsive makeup that makes it the perfect solution for a cohesive, cross-platform user experience.
This fast loading e-commerce site was built with performance in mind, allowing for creative and innovative blog integration to connect your users with your brand more organically. And it was built in a modern and sophisticated layout, emphasizing a clean and pleasing buyer's journey from the home page to check out.
An exciting portfolio feature lets you put your best products on display in a clever and engaging way, showcasing your talent and expertise in a gallery of glorious and eye-catching images.
Setup is a breeze, with a simple drag and drop system that lets you upload, edit and arrange your product inventory quickly. This is the perfect web design theme for brands that want a modern edge, but don't have the time to create a unique and completely customized design. But that doesn't mean they can't still amaze — and with ShopKeeper, choose from contrasting color palettes, content structures and header styles to make sure your website looks as good as it should.
Features:
Visual Composer.
Responsive Design.
Blog Integration.
Portfolio Functionality.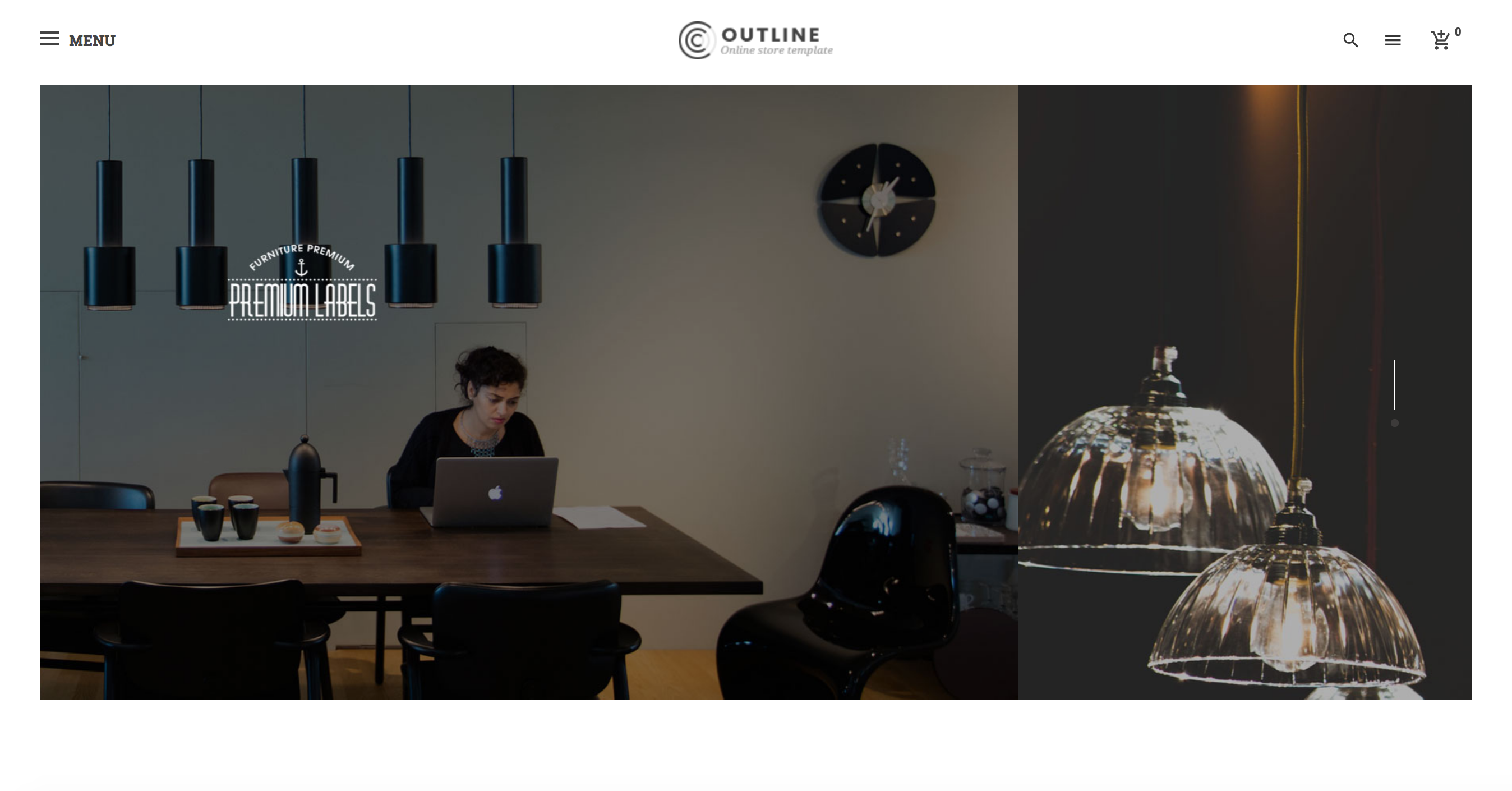 Price: $59
Outline is a crafty and minimalistic Magento website theme that steals the show with its sophistication and class. It's a clean and crisp website that offers e-commerce businesses a moody and minimal design to reach out to their younger, style-focused consumers.
It's a responsive design that's quick to load and easy to set up — just pick your template and start creating. There's a large variety of modules and features that can help give your brand the uniqueness that comes from your own customized designs without the hassle of creating it for yourself.
Innovative features like Ajax cart and layered navigation foster an environment that is peaceful and serene, guiding users throughout your site with ease. This is a great web design template for brands of all shapes and sizes, with the plethora of customizable options making it an adaptable and responsive design regardless of industry.
If you're looking to wow with a modern, sleek and luxurious web design, this is the one for you. Show off your products, and your design chops, with this elegant and regal theme.
Features:
Admin Panel.
Customizable Headers.
Product Slider.
Ajax Add To Cart And Layered Navigation.
Responsive Design.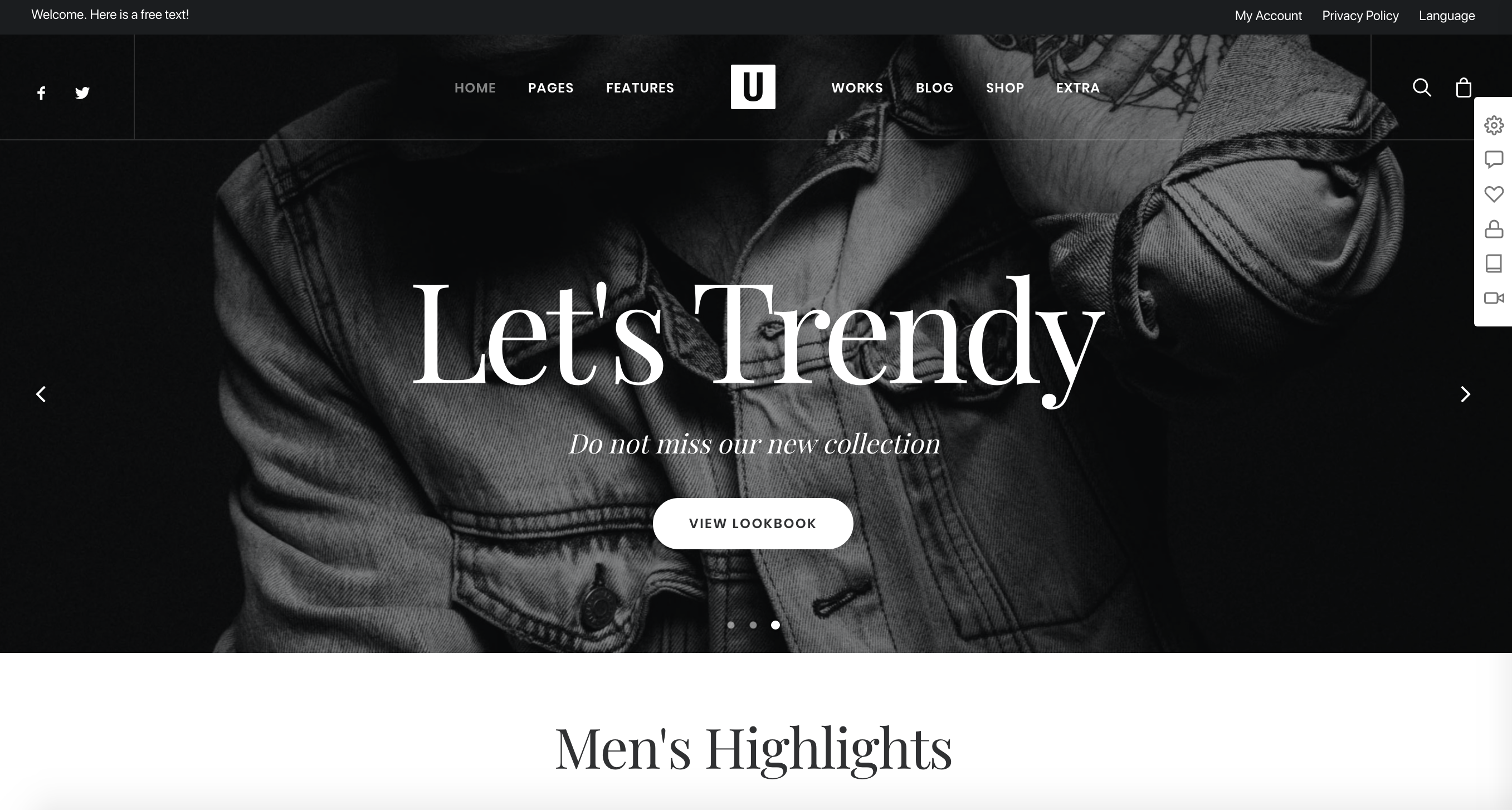 Price: $59
Uncode is a versatile Wordpress theme that can work for any and all brands — from big, e-commerce companies to small business startups and individual entrepreneurs. There are a number of templates to choose from, which can help put the focus on certain aspects of your brand and its product offering.
This robust website design was built with growth and innovation as its driving motivators. The design is sleek and sophisticated, with a host of powerful tools and functionalities seamlessly integrated to give your consumers a truly memorable user experience.
This website runs the gamut when it comes to brands that can utilize it, and have features perfect for each. The creative web builder makes creation and customization a breeze while the content block makes organizing your site a seamless and pristine process. The various module layouts is a playful touch that lets you have some fun with the organization, standing out from the rest.
This is an impressive web design theme that comes with enhanced functionalities and a simple setup so you can hit the ground running in no time flat.
Features:
Slides Scroll.
Shape Dividers.
Gallery Manager.
Visual Composer.
Parallax Scrolling.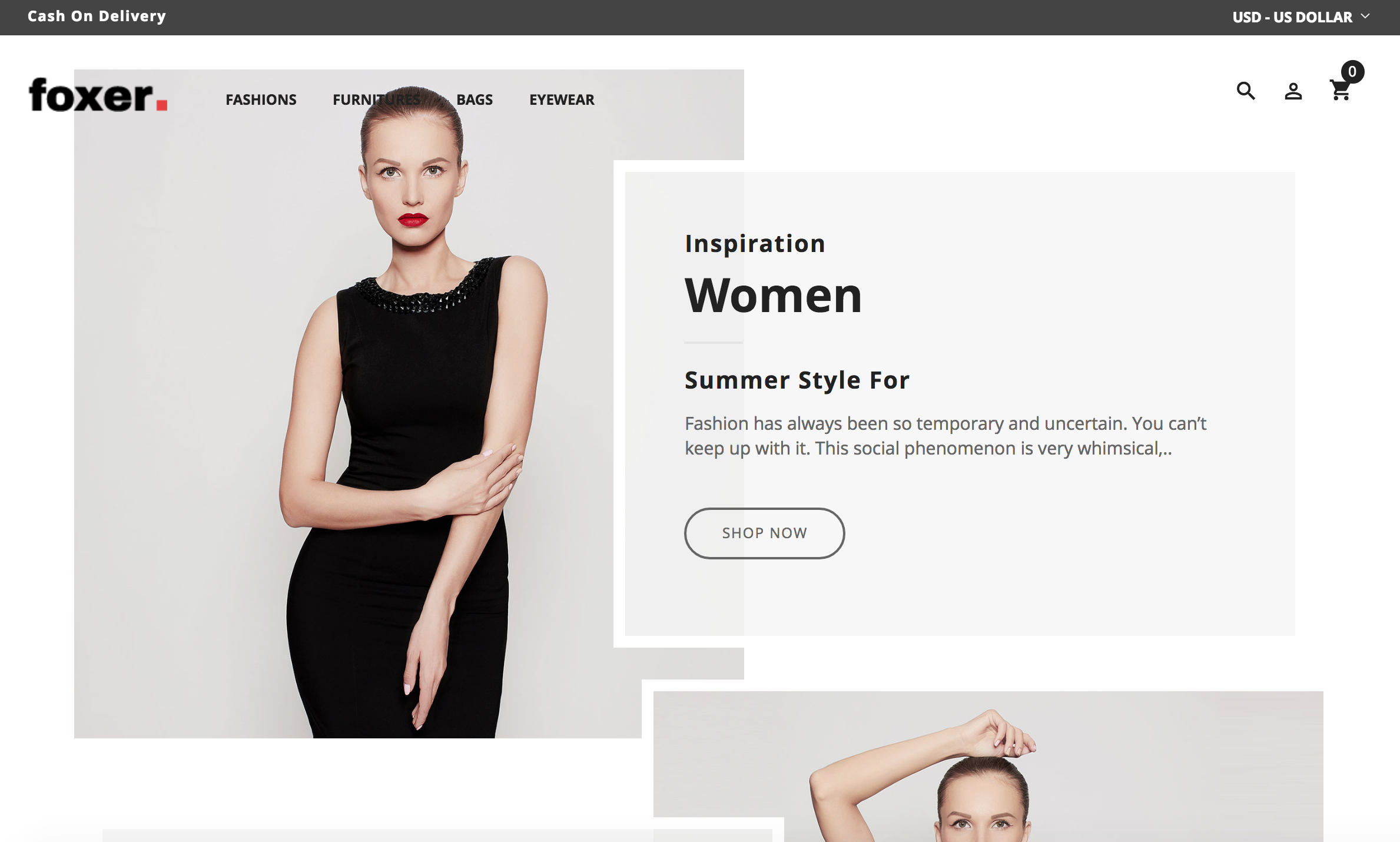 Price: $89
Foxer is a minimalists dream, bringing together a variety of sophisticated and elegant design elements in this Magento web design theme. This is a modern theme that brings together just the right amount of tools to excite your consumers, but not too many as to overload them.
It's a responsive design built to withstands all the content and products you can throw at it, created with customizability in mind. It's an innovative design with modern elements like rollover effects, hover effects and Instagram integration.
It was also a design built with a younger audience in mind, creating a design that promotes a seamless and fluid user experience. If you're an e-commerce brand looking to reach out to millennials audiences, this is the theme that will help you reach your sales goals.
Features:
Responsive Design.
Advanced Typography.
Header & Footer Variants.
Hover Elements.
Instagram Integration.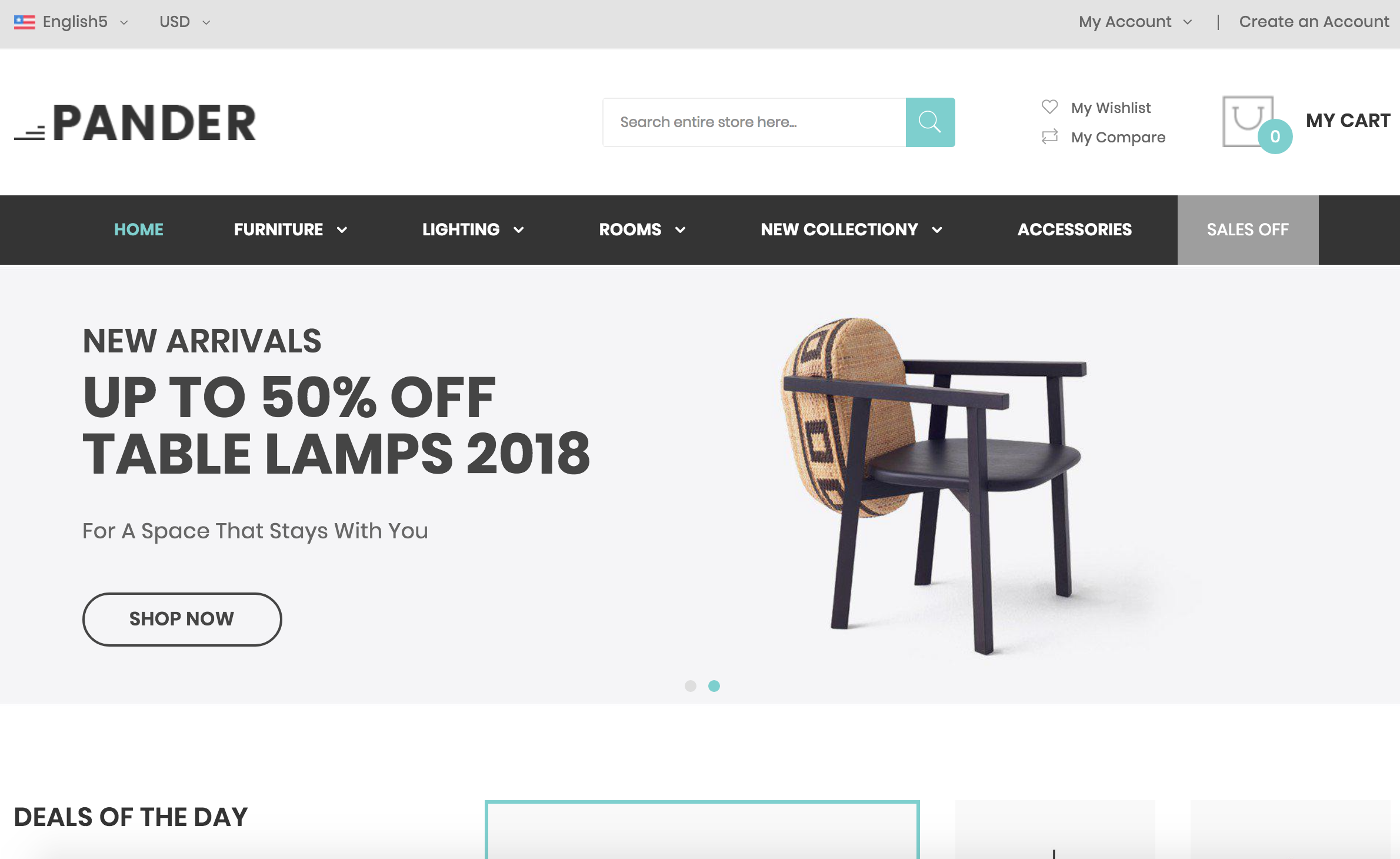 Price: $59
Pander is a Magento theme that has some of the most comprehensive integrations and functionalities on this list, making it perfect for a fully-functioning e-commerce store. Its long list of functionalities makes it stand out as a design that's perfect for exclusive, online-only businesses. There's no question as to why this is one of the most popular websites for e-commerce brands.
This was a design built to give consumers a complete and focused experience, with an emphasis on products, sales and services. Give your consumers the comprehensive experience they deserve thanks to extensive vertical menus, testimonials and daily deal inclusions that can make your website stand out from the many competitors you're facing.
Features:
Products Slider Module.
Vertical Menu.
Category Tabs Slider.
Daily Deal Module.
Testimonials Integration.
Receive proposals from top web design agencies. It's free.
GET PROPOSALS
Elements Of An Effective E-Commerce Website
Effective e-commerce websites come in all shapes and sizes. Many times, a huge determining factor in whether a website is successful or not is dependant upon its audience and industry. E-commerce sites for a vitamin brand might be different design-wise than that of a fashion brand — but there are some integral elements that are vital when it comes to e-commerce website design.
For one, you need to make sure branding is consistent. This is how your consumers see you and how they feel about your brand as a whole. So your in-store experience needs to mirror that of your mobile platform, and the same goes for your online persona.
Consistent branding has been shown to increase revenue by up to 23 percent — so it's important that your presence is cohesive and similar across experiences. This is important as far as colors, layout and typography are concerned.
Another vital aspect of a good e-commerce site is bold product pages. You want your products to stand out and get noticed, not fade into the background. So you need to ensure that you're using good product shots and high-res images to ensure you're keeping your audience excited and engaged.
It's also important to take the buyer's journey into consideration as far as organizational layout, navigation and checkout are concerned. You obviously want people to come to your website to buy, but you should also make sure how they get there is fluid and simple. Clear CTAs, simple navigation menu bars and tools and a clean design are all design elements that can foster a peaceful and positive user-experience, making the visitor more inclined to buy.
Staying on top of design trends is also worth your while. New trends come and go, but that doesn't mean you should forget about them. Take minimalism, for instance. This is a powerful design trend with a big push from younger, millennial audiences. Incorporating a minimalistic web design or design elements can help grab some of these users and reel them in. It's important to take into consideration all design trends — they are an indicator of what's fresh and modern, aligning you as a brand that is thought of in similar ways.
A trend that never goes out of style is cleanliness. A crisp, clean design with a bold and easy-to-maneuver layout is immediately engaging. And it also allows you to put the most important information on clear display. People don't want to see a messy interface full of too many photos and too much text. They want to be eased into it. They want to be led from page to page not hit over the head with an overload of information right when they land on a site.
These themes are modern and cool — the perfect foundation for a web design that sells. But you can infuse some additional thought and design creativity into these designs to make it uniquely yours. And making sure you can tick off some of the boxes will make your website shoot to the top of any consumer's list.
E-Commerce Themes And Their Impact On Your Brand
In this day and age, your digital presence matters. You could have the best products and services, but if you can't produce a website and mobile-friendly design to captivate audiences, you're just not going to make it.
You need a website that fosters a strong brand presence and leads users on an engaging journey — from the homepage to the checkout screen. And you want to lead them there with ease.
Online stores that understand their customers and what they're looking for sell. Because they have to look the part and take consumers where they want to go.
You might not have the time or resources to design your own carefully crafted site on your own — and that's okay. There are a number of e-commerce hosting sites that can help you get started. And they come with a variety of engaging and intuitive themes that can help give your brand the digital presence it's been lacking.
Using a well-built, beautiful and user-friendly theme can be one of the most helpful tools for growing your business. Thousands of designers compete to create the ultimate e-commerce themes for modern online shops. So, the only two things you need to do are making good products and getting smart about how you market them to your customers.
These themes give your website the backbone it needs to entice users and create a platform that they want to engage with. And the 10 options show e-commerce website design at its finest.
Share your best designs for a chance to be featured on DesignRush!
GET STARTED
Subscribe to Spotlight Newsletter
Subscribe to our newsletter to get the latest industry news