Coffee branding and packaging design play a vital role when it comes to customer acquisition. The journey starts with the appreciation of the package design, but a positive experience can influence future purchases and develop a consistent loyalty to your brand.
Whether you own a coffee brand or you're just looking for branding inspiration, you've come to the right place. We rounded up the best coffee packaging designs of 2023, each one being a stellar example of branding and design done right.
Top 15 Coffee Branding and Package Designs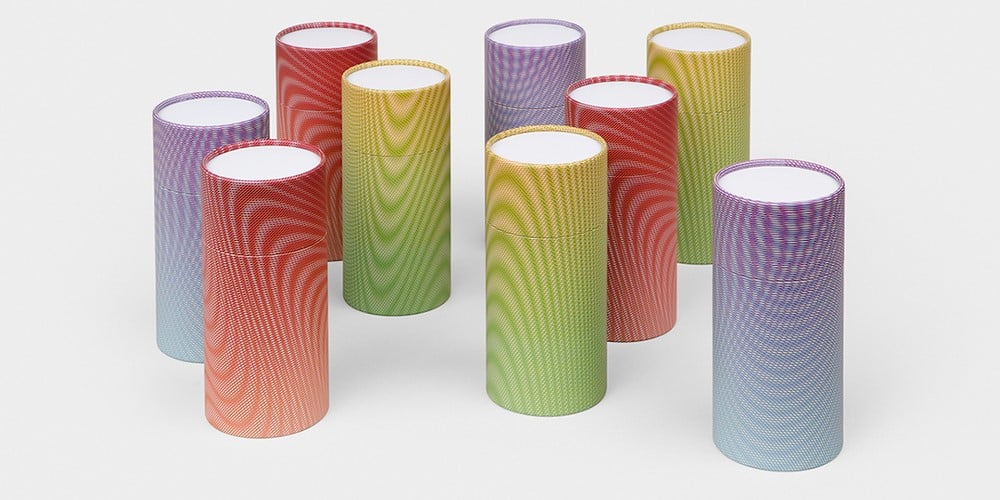 1. Square One Roasted Coffee
The geniality and depth of this coffee branding and packaging don't cease to amaze. Firstly, their name is Square One, and it signifies the beginning of a new day with your favorite wake-up cup of steamy goodness.
Second, their package isn't a square at all – it's a quirky oval. In a way, the name also acts as a disruptor, emphasizing just how different Square One is and how it stands out.
The adept addition of stripes and optical illusion looks like the package is flowing and on the move – something you'd want from your coffee to get you going as well.
The minimalistic design without encumbering graphics and too many words is perfectly accentuated with bold colors.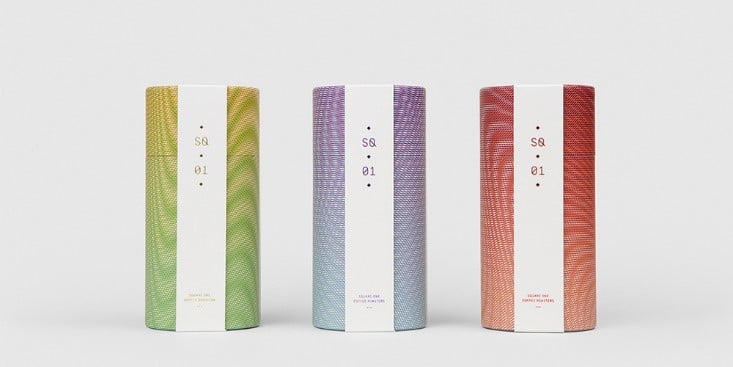 The colors are a good choice, as studies show shows that color increases brand recognition by up to 80 percent. Square One is a leading example of how to use it. The design is so inviting that it's not even clear at first it's a coffee package, so it sparks curiosity in consumers.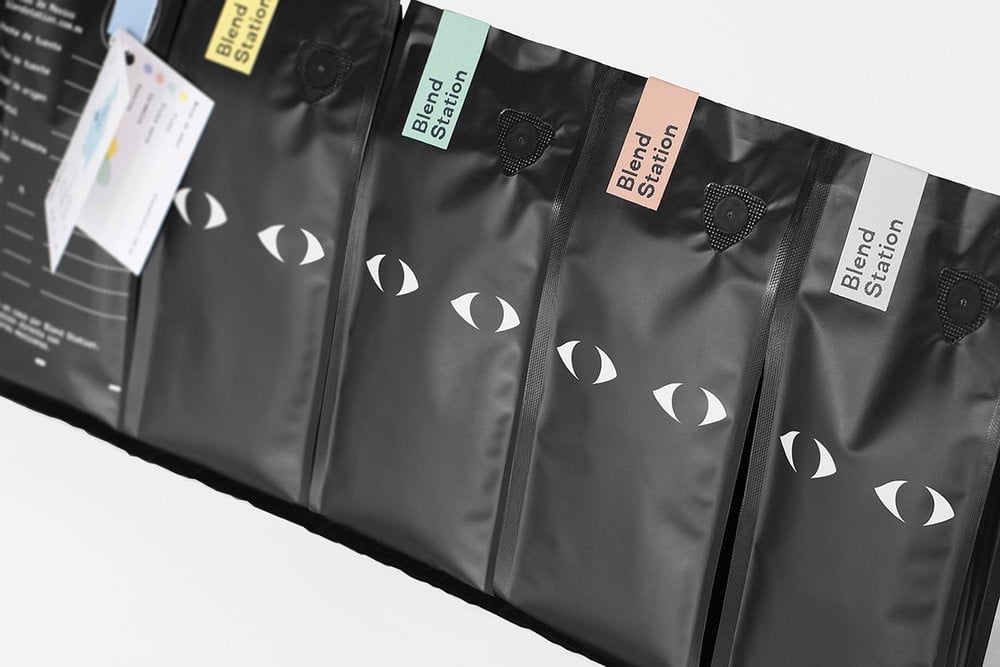 Simple. Effective. Right in the center. Those are the words that would describe Blend Station's packaging and design.
The logo design – two wide-opened eyes – is embedded in the background without clear borders. Every cup, business card and cafe sign are just staring at you until you've had a sip of their roast and can stare right back.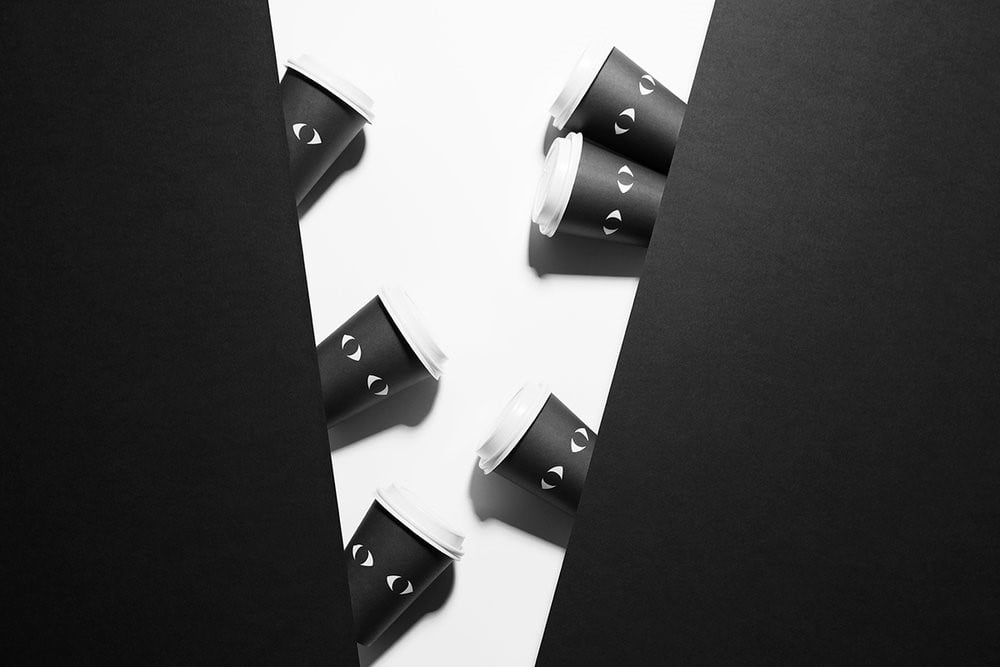 The roast package itself is comprised of sleek typography on a coffee blend's matching color, adding just a bit of spark to the monochromatic foundation.
Blend Station's branding relies on a fresh usage of dark tones and contrast, and that is why they stand out from the competition.
Set in the simple surrounding with natural materials and greenery, Blend Station pops out with minimalism and bold, modern brand promise: wake up and smell the coffee.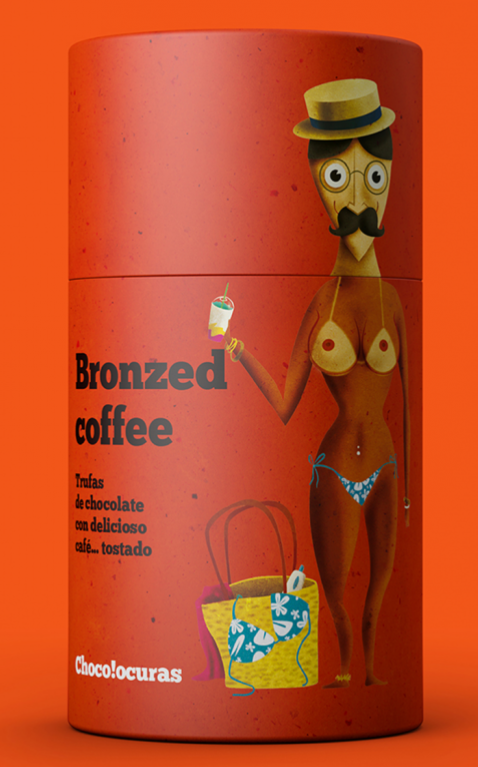 How does Chocolocuras attract customers?
By embodying coffee blends with funny heroes, laid onto the colorful matte background, this brand made sure it will pop out on any shelf.
The whole collection simply entices you to collect it and save the packaging way after you ate them all, but we will focus on the Chocolocuras Bronzed Coffee Truffles.
Oval packaging has two parts, the body of the main character, and the lid has drawn various heads on it, so you can change Mr. Sailor into a bikini-wearing woman in no time.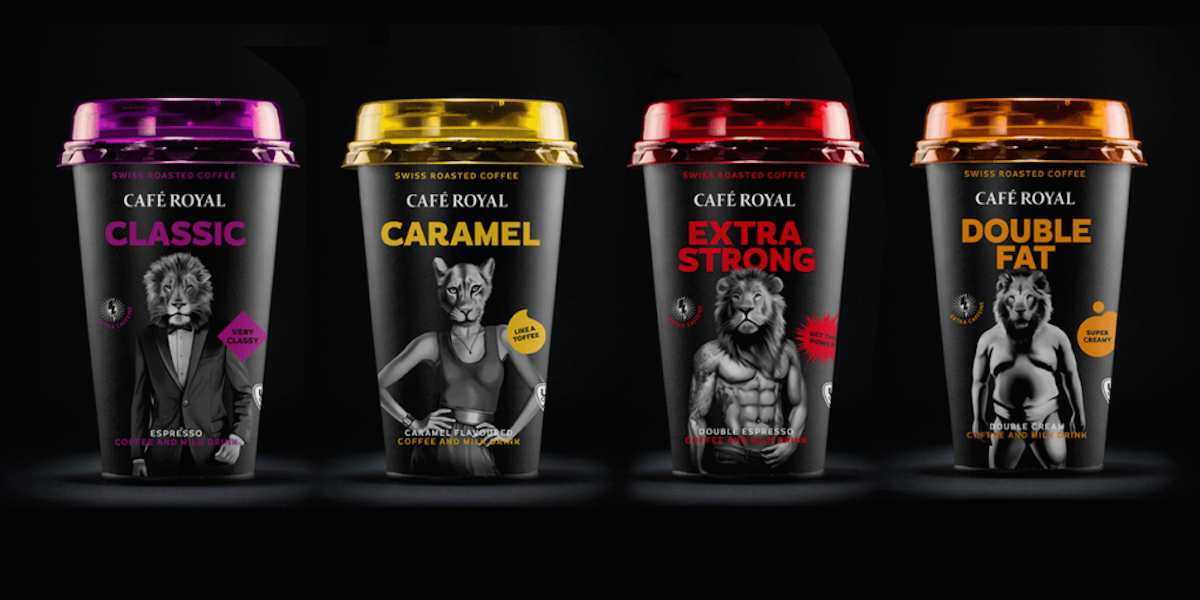 It is said that purple is the color of royalty, so it's an excellent choice for Café Royal's classic cup. Bold typography in vivid colors is a great contrast to the dark, matte background. The dark hue plays well with lions' shadows, accentuating characters on the cups.
Even the shapes of small blurbs next to lions' heads fit right in with the message. Extra Strong roast has a bit of tastefully aggressive appearance, Caramel toffee's blurb is softer and elongated, Classic is all prim, proper and square, and Double Fat looks plump and round.
Café Royal's design revolves around customer personas who identify with the brand, depicted through the body image. It helps round the message: "Feel good in your body. Drink Café Royal and roar."
Creative use of lions instead of faces leaves plenty of room for people to feel empowered, without giving the brand heroes a distinct face.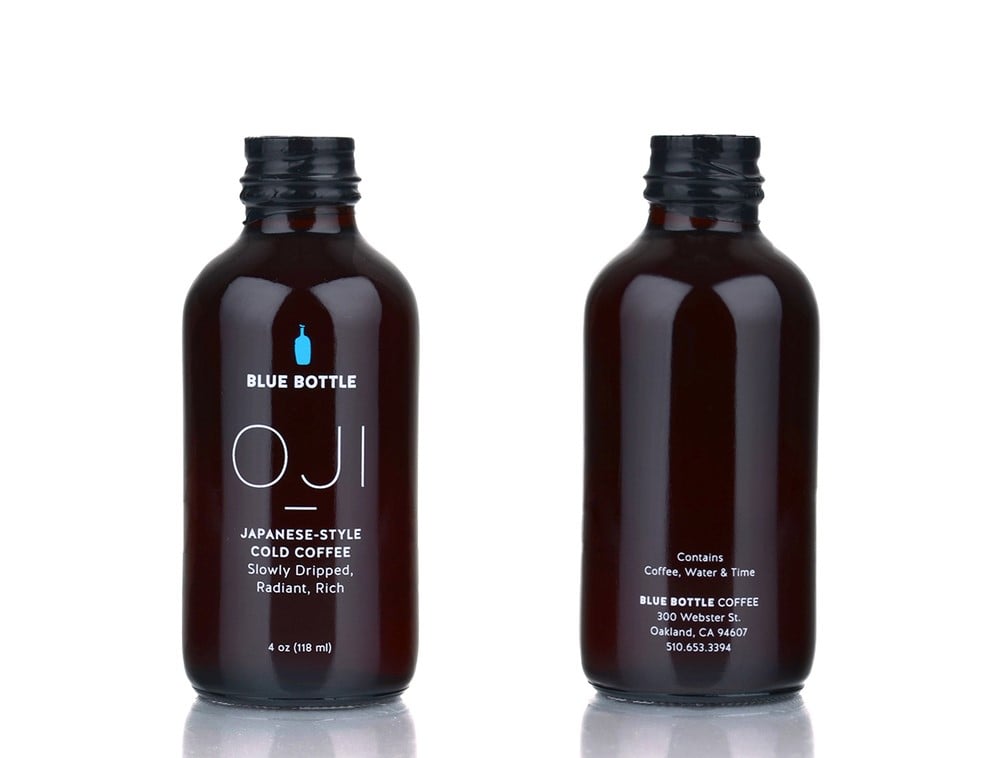 In order to understand how this brand package design shows off the best qualities of a product, we have to delve into the process of making this caffeinated beverage.
In essence, this is a coffee extract whose preparation takes a lot of time, thus the name "slow-dripped." Oji is a Japanese style of cold brewing.
When we look at the coffee branding and package design, we see that the lines are soft but bold, and minimalistic like the ingredients it contains – coffee, water and time.
Since the beverage is potent, dense and strong, the packaging reflects that strength with a sleek and small matte bottle.
Typography is elongated and rounded, without the brash edges, but also kept to a minimum. The small blue bottle at the top is the only color apart from the dark background and white text, which makes it stand out on such a small canvas, making sure people will remember it.
The overall design of Oji slow-drip coffee: Blue Bottle proves that less is more.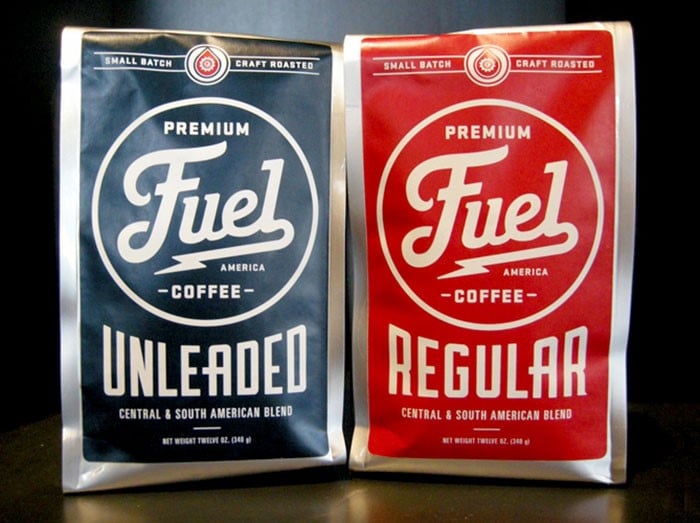 American blend, old American aesthetics, and a design that lives up to the coffee's name: Fuel.
Just like the majority of us run on coffee, this brand runs on the retro aesthetics of old motor oil packages. Typography is very bold and gives off a strong impression, complete with the lightning below the brand name.
This coffee is roasted in small batches, so it could be said that it's even limited edition, and the package also exudes that home-made feel. Even the colors are typically retro.
All in all, it's a well-rounded package that's sure to give you enough fuel for the day.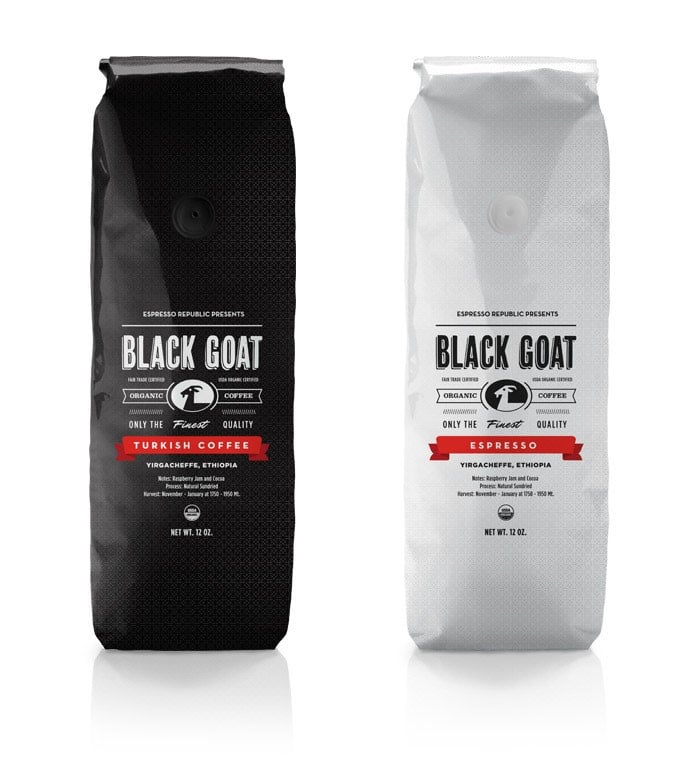 Even though the name might appear absolutely random, but, did you know we have Ethiopian goats to thank for the coffee?
An Ethiopian goat herder has noticed that his goats were up all night after eating berries from a tree nearby. He confided to a local monk and shared his discovery, so the monk decided to make a drink out of the berries.
The results were clear, he could withstand the length of his evening prayers with ease and stay awake longer. Slowly, all monks were enjoying the amazing berry beverage and word begin to spread until coffee beans reached Arabian Peninsula.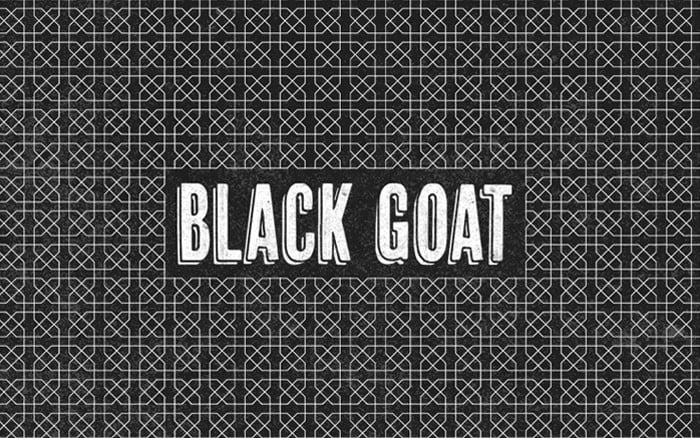 Now that we know the history of coffee, we can admire Black Goat's effective package design.
The seamless pattern with geometric shapes is chosen on purpose, since this coffee is sourced from a single origin, over and over again.
The pattern is so subtle and refined that it's not even visible at first, because you are attracted to the bold typography and goat logo which stand out contrasting the background.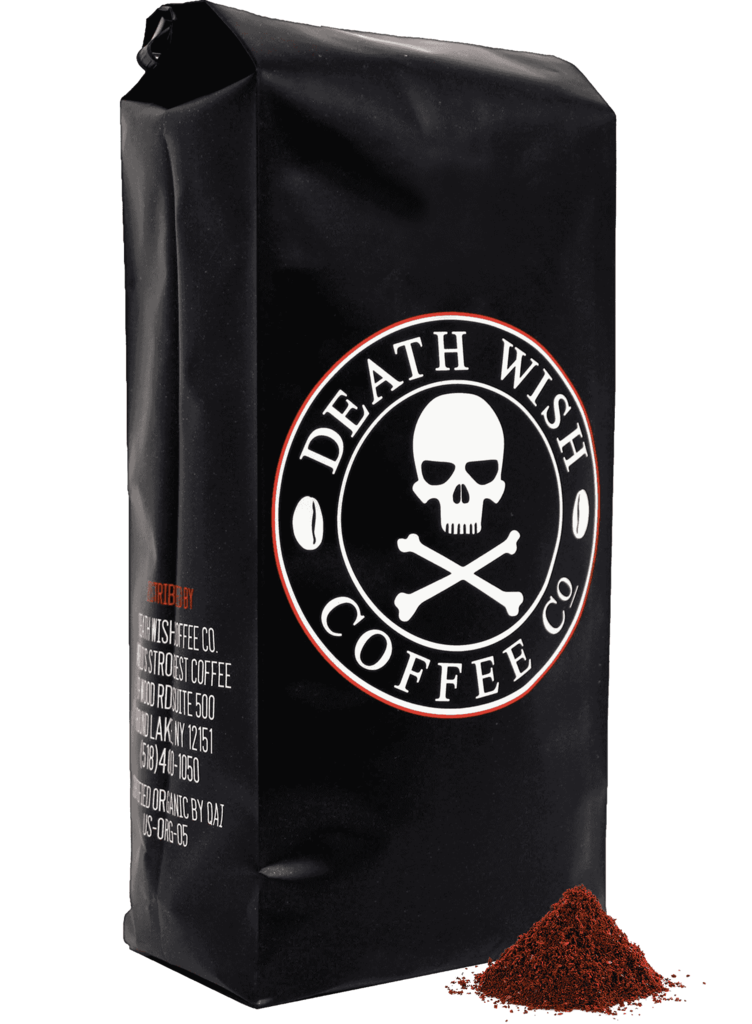 What is a brand's purpose? Fulfilling product's promise. If we take that into consideration, we can definitely say that Death Wish Coffee certainly fulfills customers' expectations.
How do you sell a death-wish beverage? With a strong visual like a skull and crossbones taking center stage on the package, all questions are answered.
Everything points that this roast is strong, enough to raise you from the dead even on the bluest Monday. Black, white and a hint of red to accentuate the Death Wish. The blank spaces here also tell a tale.
This coffee brand with skull logo also appeals to their favorite customer – the hardcore coffee addict who's always asking for more, a customer who wants to feel a bit rebellious.
Isn't there a better combo than showing strength and rebelliousness than a pirate flag? This design indicates that what's hidden behind is a pure treasure, and is sure to make your Roger jolly.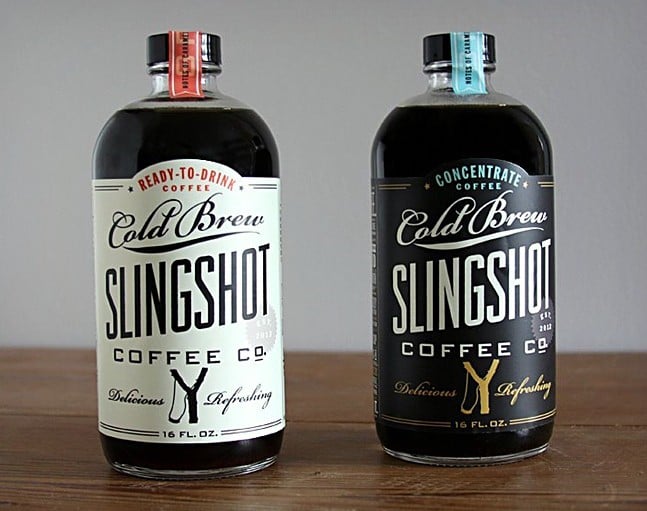 Push the saloon door, walk into the place and ask a bartender for a slingshot, while all the heads are turning and murmuring amongst themselves: "Who's the bigshot?" The answer is you.
And this entire tale is spoken with nothing but effective coffee branding and package design. Retro bottles almost give you a feeling that the bootleg drink is indeed brewed in the back of a saloon cellar.
Typography speaks the world about this coffee, without cumbersome words. They take the center stage with their size and feel like you're looking at the paper ad straight from the Wild West. Are you wild enough to pick this up from a shelf? We say: yee-haw!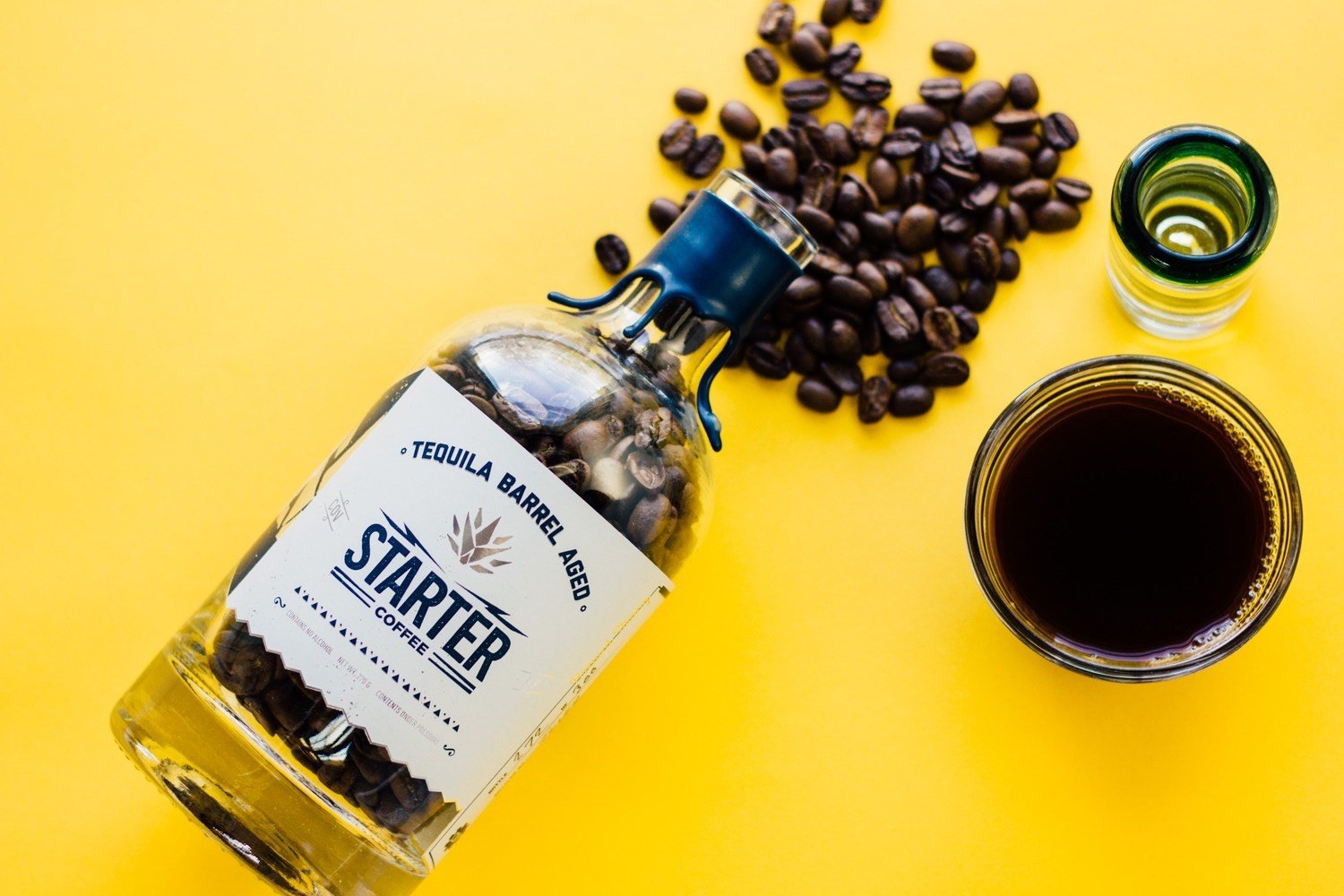 Barrel-aged tequila shot of coffee – the idea alone brings zest to the surface, but the packaging stays true to the product.
The bottle has a thick bottom just like glasses of tequila. Since the manufacturer uses Mexican blended Carabello coffee infused with tequila, the label portrays the culture and origin as well.
The agave leaves represented with sharp lines and geometric shapes, small flashes of lightning surrounding the Starter logo, and even the accentuating lines give out a true Mexican feel.
A see-through bottle filled with coffee beans isn't a usual design we see every day - it's using the natural beauty and pattern of stacked coffee beans. The lid looks like it's a melted old-style vax stamp, and it's a nice finishing touch on an already creatively impressive package.
Two billion cups of coffee are consumed every day worldwide. Maybe we should try the bottle?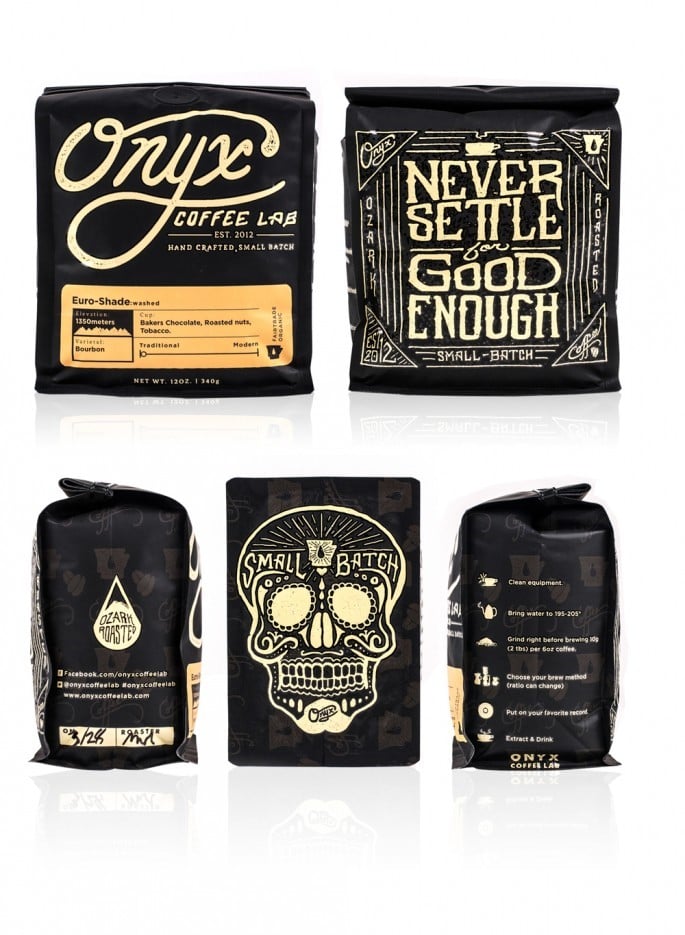 Onyx Coffee Lab is a great example of how modern coffee packaging design tendencies can market a traditional product. Think about the perfect blend of infographic features, tattoo-parlor ink and background with black hues just like those found in onyx stones.
Every side of this package has a story and a goal.
The front has an eye-catching Dia de Los Muertos style skull depicting a higher state of focus, clearly associated with drinking coffee. Even the brand name settles nicely on the forehead. Notice how the nose is made up of a coffee bean.
It entices you to buy it and enjoy the scent of a freshly brewed cup.
The infographic how-to on the side is pleasing to the eye, but it has a deeper meaning that aligns with the brand's motto – Never Settle for Good Enough. Clean, simple icons, concise text that serves the point and clear instructions for a perfect cup of coffee.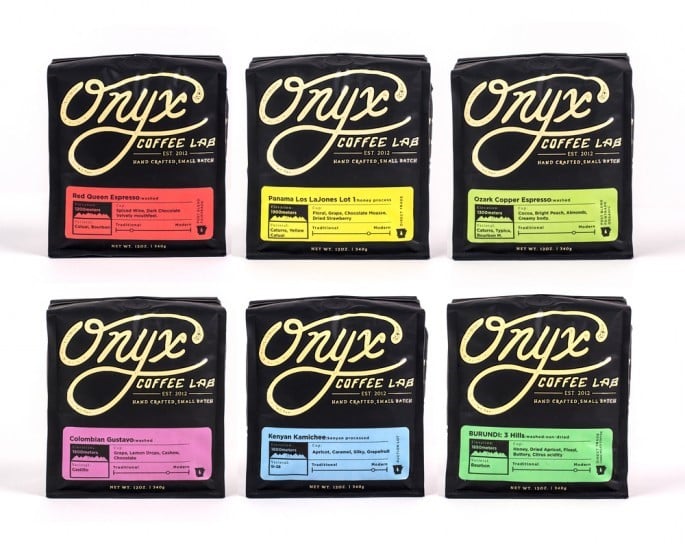 The other side is reserved for contact information and social media links. It's a clear shout-out for Onyx drinkers to join their community.
The back is reserved for attention-grabbing color labels that differentiate Onyx Coffee Lab's products, again with icons depicting strength, type of blend, taste, hints and even elevation rate where the beans are collected, showing the coffee's organic origin.
And all this is said with a coffee design package! It's clear why Onyx Coffee Labs have won a Good Food Award in 2016.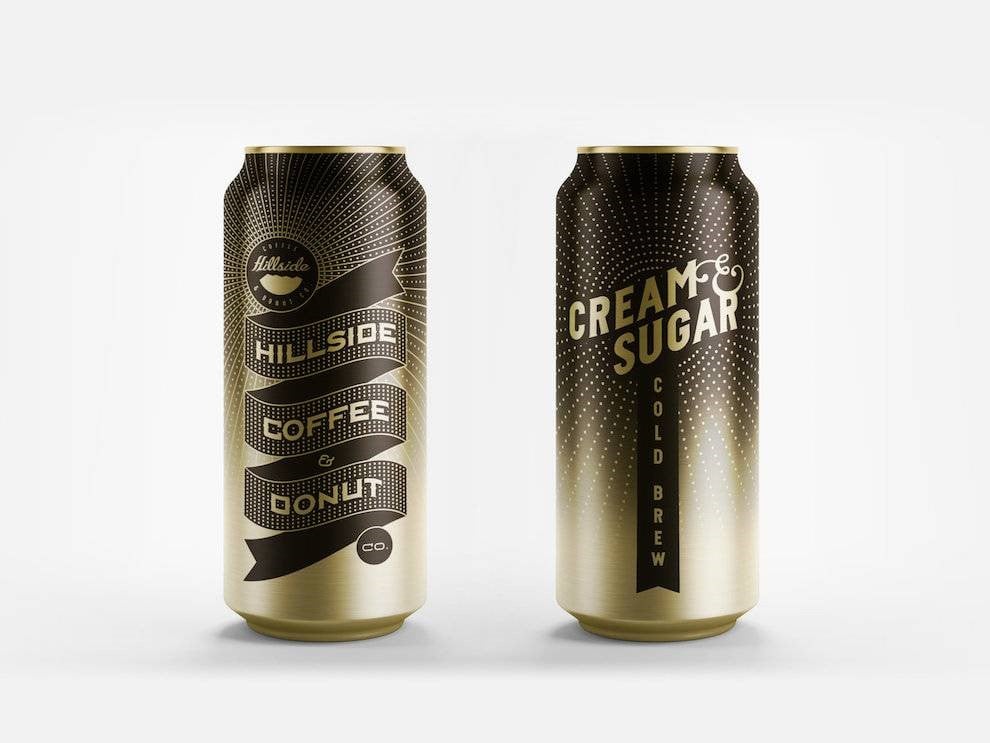 Hillside Coffee has a simple color palette but a strong message to convey – a high-end coffee beverage with premium quality beans, packed in a luxurious can.
It's hard to incorporate gold in design, but in this case, execution and design are aligned perfectly so the final product has the look and feel of extravagance, warmth, tradition. Something you'd want in a premium coffee brand.
The gold, metallic shine tries to entice people to taste the richness of Hillside Coffee, and a bursting pattern of dots and dashes speaks volumes about the intensity of flavor hidden inside.
The gradient from brown to gold accentuates the center of the can. Typography is massive and heavy, with clear lines and sharp edges for the company name, and rounded letters for the product.
All in all, well-executed and balanced design for a top-quality coffee blend.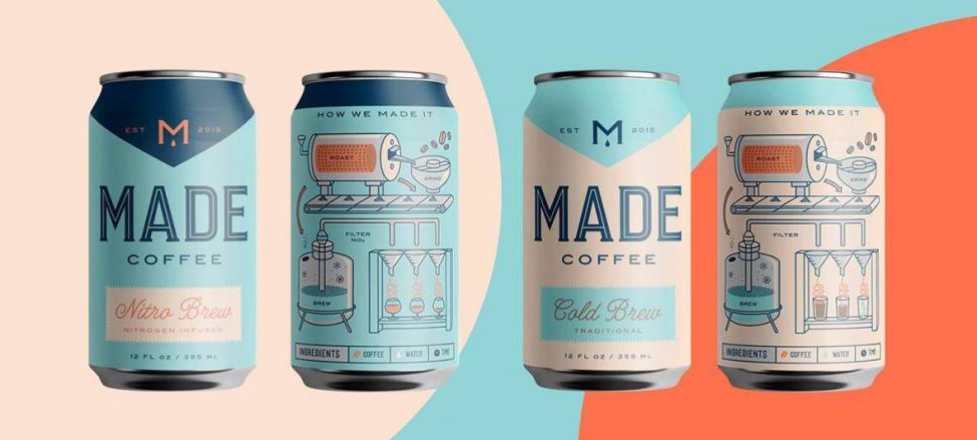 It's a pure rarity to see an effective brand package design that answers all questions with such ease and elegance. Everything falls into perfect place, from the typography to the color palette, infographic-like depiction and down to the logo itself – a perfect package.
As you can see in this article, black is the color that mostly dominates coffee branding and package design, so it's nice to see lovely hues of blue and beige telling a different story. Branding and design help you stand out, which is exactly what Made Coffee has succeeded.
Typography is sleek, full of contrasting lines, and prominent for the brand name, and playful and curvy for the product Logo itself speaks volumes about the product, with the letter M and a simple drop of the slow-dripped coffee.
The logo clearly answers the What question. The illustration both educates people about the process of cold brewing and How it's done. Icons also show the main ingredients, discovering what kind of taste you can expect inside.
This type of well-put design is a goldmine for customer acquisition and customer loyalty because it's so engaging. It's inviting, interesting and grabs your eye.
It's not the type of product you just throw into the shopping cart - once you pick it up, you will spend time studying it and discovering all it has to offer. And that is all thanks to a well-rounded design.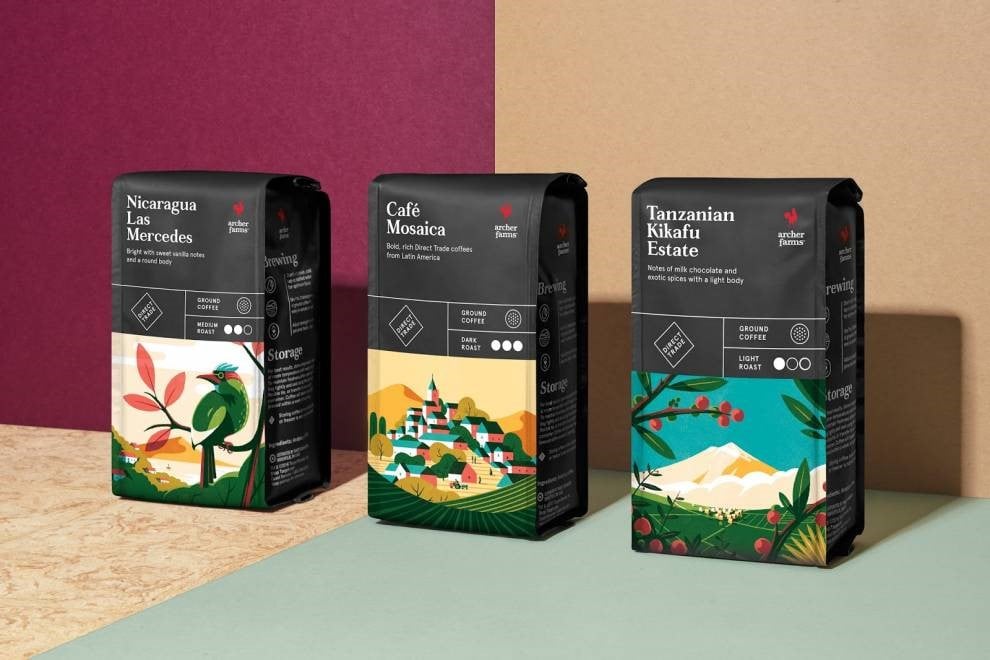 Archer Farms Coffee stuns with beautiful artwork colored with vivid hues of bold colors and a small but impactful logo. The red rooster is a great choice for Archer Farms because it simply promises you'll rise and shine – after your first cup of caffeinated deliciousness, of course.
Even though the pictures dominate half of the packaging's face, they aren't obtrusive. The difference between the upper half is well – balanced with lines and icons.
Each blend has its own illustration but when placed on a shelf next to each other, it's almost as if they together paint a large mural, connecting into a seamless artwork.
Icons are prominent and easy to comprehend, displaying information about the blend, the roast's strength, origin, taste and type.
On the side, the textual content dominates the space for those who want to learn more about storage and the best way to brew your coffee in just the right way.
It also shows that the brand cares about how you will use their product, and they want you to enjoy that experience, not just prosper on the sales.
Why Branding And Packaging Design Matter So Much
Attracting new customers and inspiring brand loyalty is paramount for every business. It's a mountain every company has to climb.
The good news? Branding and packaging affect both the immediate purchase AND customer loyalty. Plus, a consistent brand identity can increase revenue by up to 23%, while 90% of consumers expect a cohesive identity from a brand.
That's why carefully thought-through, on-brand packaging design for coffee (and any other product category) is crucial for your success on the market. It can help you attract more new customers, increase customer loyalty and strategically grow your sales.
What Creative Coffee Packaging Can Teach Us
The packaging isn't just a container for your product – it can tell a story about the product, focus on its origin, show its features and answer all questions with subtle clues.
Some of the lessons we can all learn from the best coffee packaging designs include:
We've seen how simple design captures attention through Square One's sheer color and Archer Farms Coffee vivid illustrations
Sometimes typography is the key ingredient for the perfect design like we've seen in Fuel Coffee
Also, the lack of typeface and a monochromatic color palette can be an effective solution, like with Blend Station's embedded logo
Black Goat packaging design is a great example of a seamlessly designed pattern
Like Death Wish, sometimes the product is self-explanatory so you don't have to encumber the design with too much content
Sometimes, the product's ingenuity can be represented through illustrations as we've seen with Made Coffee's package design
Use modern trends like icons, infographics, and social media handles to appeal to the younger audiences, just like Onyx Coffee does
Spark the rebellious side and invoke emotions with the right metaphor that will speak the brand's story – like Slingshot coffee did with its Wild West-themed design
A traditional feel can appear through a quirky and funny design like Café Royal's Classic lion
Also, don't be afraid to propose a different type of packaging than a regular coffee bag. We've had 15 coffee packaging examples how out of the box thinking (pun intended) can stand out on its own and attract attention.
Best Coffee Packaging Designs: Key Takeaways
We hope that our list of the best coffee branding and packaging designs has inspired you to create your new brand packaging or refresh the existing one with exciting, new ideas.
Here are the key takeaways for you:
Build a packaging design around the logo so it doesn't feel out of place
Choose colors wisely because each color has a meaning
Don't take typography lightly, it helps you pack up a visual statement
Experiment with styles (retro is always cool!)
Use relatable heroes that consumers can identify with
Play with shapes, patterns, lines and blank spaces
Interpret everything you can visually using illustrations
Keep your packaging design consistent with your brand style, create unique, distinctive solutions and then sit back and enjoy watching your sales going up.
Subscribe to Spotlight Newsletter
Subscribe to our newsletter to get the latest industry news