Condom packaging has come a long way since it began. No longer is it small, discreet and understated. It's not the stuff to be ashamed of — hidden in a nightstand under a stack of books, or only unveiled under the cloak of night. No more do you have to enter your local pharmacy after dark with a big, baggy hoodie, dark sunglasses and your head down like your some criminal in the dead of night.
Condoms have been around for centuries. For almost as long as people were having sex, there were people wrapping it up. But the widespread manufacturing of condoms didn't begin until the 19th century when Charles Goodyear created the first rubber condom.
Over the years, more organizations learned techniques and began mass-producing condoms. Of course, there was a backlash from the government — with courts across the globe banning the advertising of condoms.
But today, advertising and designing these condoms and their packaging is half the fun. Some of the best condom packaging designs push the boundaries. Created by some of the best graphic designers on the market, these condom package designs will definitely put a smile on your face.
The Top 5 Condom Package Designs We Love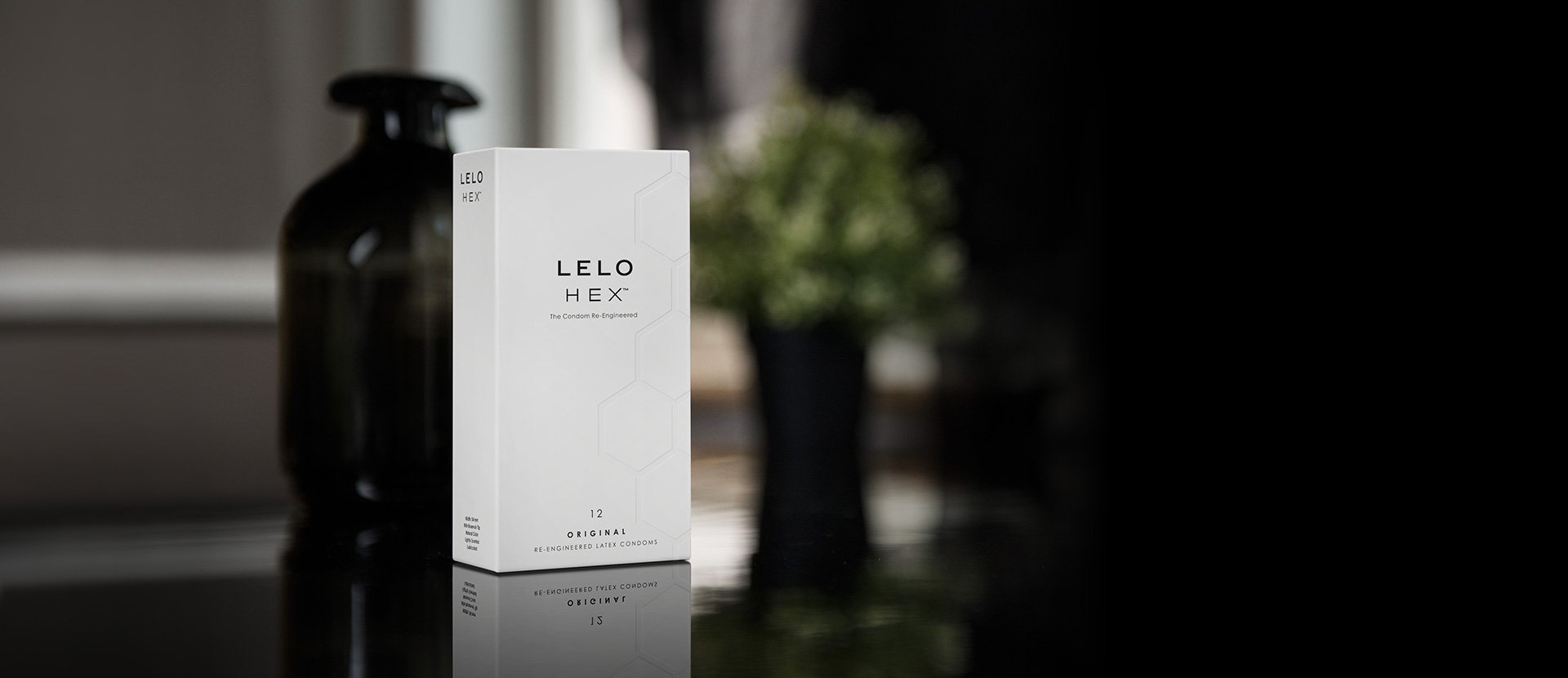 I LOVE the minimalist trend lately, and this condom packaging design incorporates it beautifully. With clean white packaging, minimal copy, and a subtle octagon design, this packaging is both discreet and alluring.
The stark white background really makes the name pop! And with simple, bold text, you're left in suspense and mystery.
The octagon design that decorates part of the box comes from the design of the condom itself, and this design spills over into the individual condom wrapper. The designers at Lelo really knew what they were doing here, tying all aspects of their product together in their design to give consumers a sneak peek into what their product is all about.

Sir Richard's Condoms are bright, bold and in-your-face — but I certainly don't mind a design this eye-catching!
Giving off a fun and playful air of aristocratic regalness, this condom packaging design incorporates a traditional plaid pattern with a colorful twist. Each condom type comes in a different color — some pink, some green and some orange. And this plaid coloring pops against a black and gray background that sets a dark and sensual mood.
The copy is minimal in this package design, not wasting time pretending to be something it's not. It's a box of condoms, after all. So each box details the type and style in simple, white wording.
At first glance, you might not know these are condoms. But this exciting design will have you investigating further.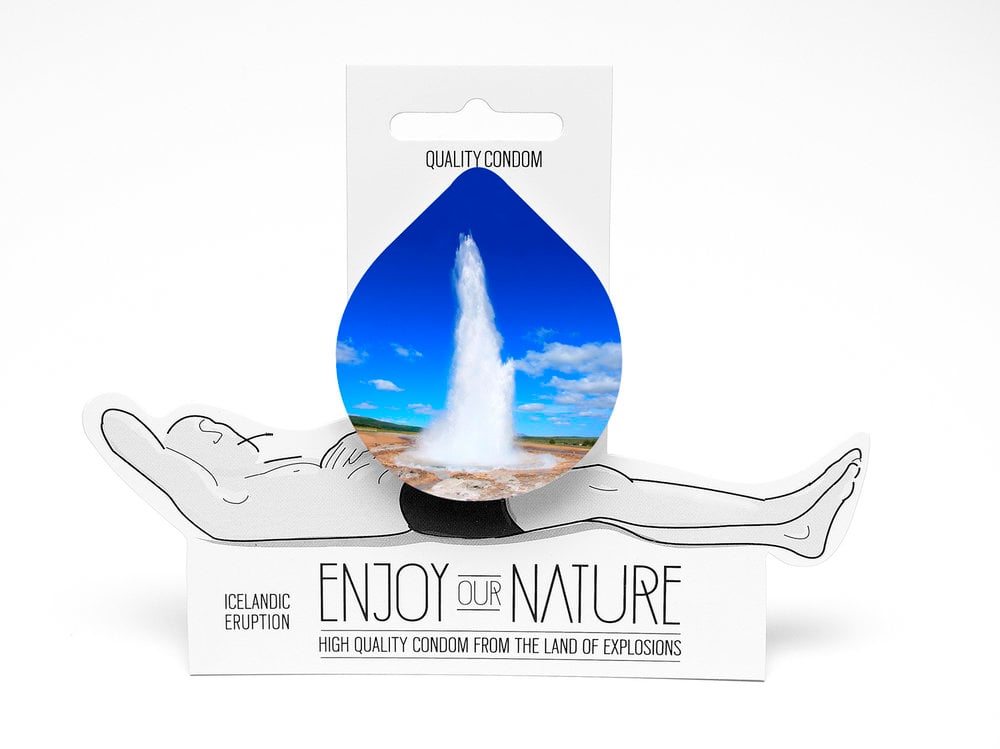 Crafty and clever, the condom packaging at Enjoy Our Nature is definitely head-turning, to say the least.
Each condom type has its own design twist, but each package design starts out with a white background and a man lying down, face up. This box isn't so much a box, as it is more of a pop-up card with a fun surprise inside! (Did I mention how much I LOVE this giggle-worthy design?)
Each package is named after a specific natural phenomenon or formation — one is named Geysir, one is named after a phallic-shaped rock formation, and so on... so, you get the theme they're running with here.
And in each design, an image of that same phenomenon or formation is strategically placed right at the man's pelvis.
This is definitely a design that will leave some feeling uncomfortable, and probably aghast at such a thing. I'd imagine they've gotten plenty of strongly worded letters and emails about their decision to go with such a dramatic and distinctive design. But it's this boundary-pushing nature of the design that makes it so effective.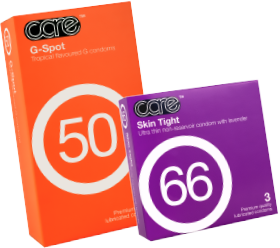 The package design for Care Condoms is bright, to the point and exciting. They use bright, vibrant colors as a backdrop for each box which instantly grabs your attention.
Each package comes with a corresponding number that is circled like a bullseye — letting consumers know how thick or ribbed the condom itself is. They're not allowing for any error here! You know exactly what you're getting when you pick up one of these boxes which, honestly, look more like candy bar packaging than anything else.
It really gets the mind working, that's for sure.
Small and compact, these packages are easy to transport and are full of fun little surprises. The design lets you know what's in store, leaving very little to the imagination.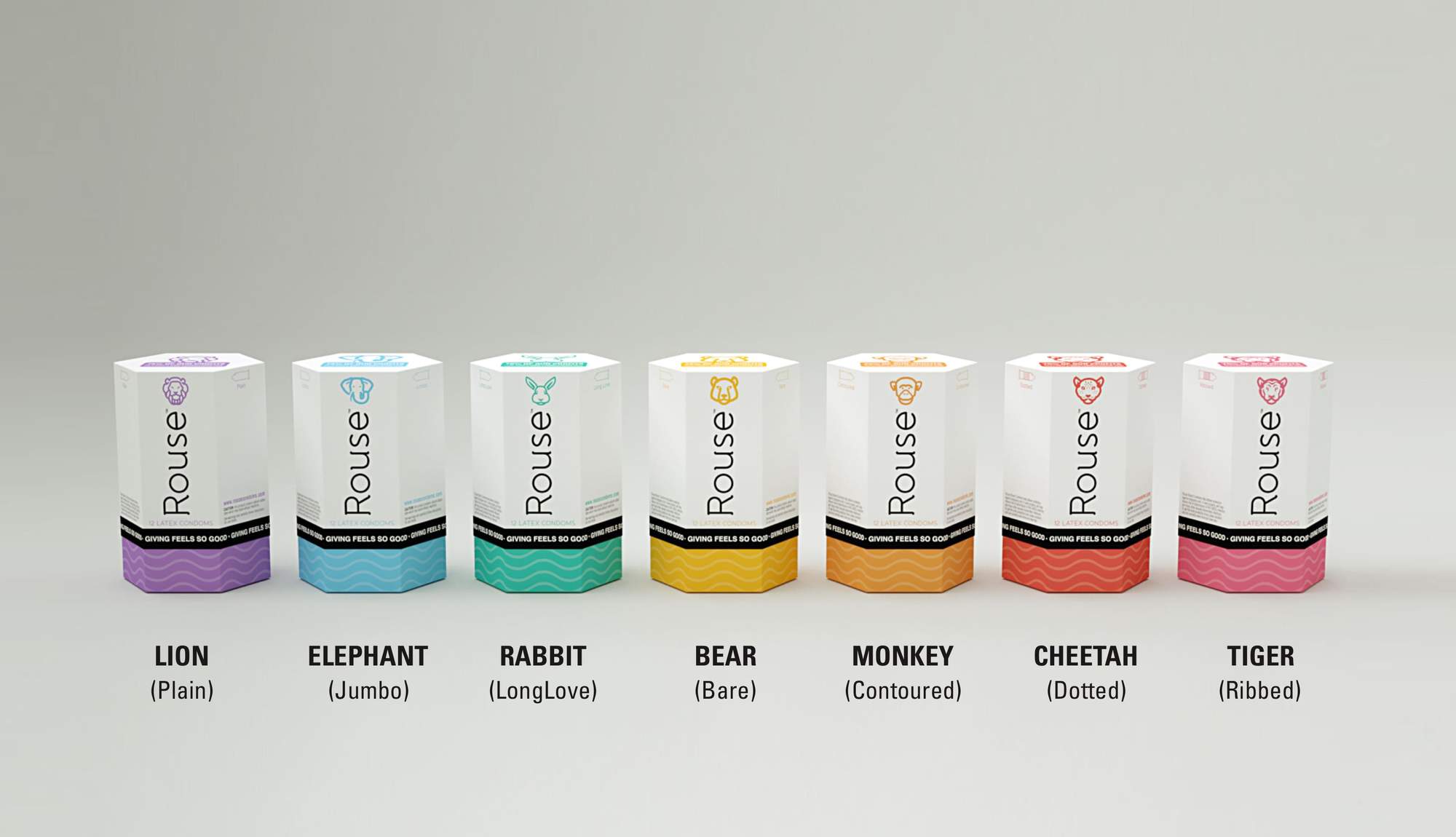 "Unleash the beast in you."
That's one of the many taglines alongside Rouse Condoms — and their package design doesn't let this line down.
One of the first things you notice about this condom packaging design is the shape of the box itself. Instead of the traditional box shape, Rouse Condoms went with a hexagonal shape to make this design more of a piece of art to be displayed than just a box of condoms you'll toss into the recycling.
And to play into the "beast" theme, each type of condom is characterized by a different animal. From lions and tigers to rabbits and bears — Rouse Condoms has the condom, it appears, for whatever beast you've got in you. A cute, crafty illustration of said animal can be found in each box, which adds a fun and playful edge to this very exciting condom package design.
Each box is also decorated in a different color. The bottom quarter of each package is decorated in a bright color with a wave pattern incorporated with it — giving off a very fun and relaxed vibe that definitely excites.
The phrase "Giving Feels So Good" also encircles the box, reminding consumers just what these clever boxes are for.
In big, bold letters, "Rouse" lines one side of the packaging, with the remaining sides available for more information on the condom itself.
This design is attention-grabbing, exciting and bold — a true home-run.
Package Designs That Are More Than Just Condoms
Not only is Rouse Condoms on this list because of their very detailed and intricate condom packaging design, but also because of how they are changing the condom industry itself.
Rouse Condoms is trying to make condoms more comfortable. They are trying to de-stigmatize condoms and sexuality — promoting healthy sexual relationships and sexual health.
At Rouse, 70 percent of the profits made go to supporting men's health initiatives through the Think Different Foundation. By promoting positivity and awareness, they hope to change the future of sexual health for men and women.
In each package, there is also a testicular self-exam flyer to help educate men on what to look out for and how to check themselves — saving them from cancer in the future.
Rouse Condoms isn't the only organization taking a philanthropic stand, but it is definitely doing it in an exciting, admirable and visually-pleasing way.
A Shift In Condom Package Design
So what does all of this mean? Sure these are some cool and quirky designs, but does it signify a trend in condom packaging going forward? We spoke with Scott Petinga, the founder of Rouse Condoms, to get some insight on what went into designing these dramatic condom packages, and how he thinks condom package design will change going forward.
What reaction did you hope to elicit from this package design?
"We wanted our cheeky illustrations, unique brand positioning and philanthropic philosophy to provide a deep sense of fun and satisfaction."
How long did it take to create and execute this concept and execute?
"Overall, the process lasted nine months from conception through production. The most difficult part was trying to match the Pantone colors on two different substrates."
How would you describe this package design?
"Simple, elegant and sophisticated design. Consumers no longer need to conceal their purchase of prophylactics with gum or some other useless random product."
What was the inspiration for the Rouse condom package design?
"We wanted to provide much-needed funding to medical initiatives as well as educate both partners about the importance of men performing monthly self-exams."
How do you think this design stands out against others?
"A side-by-side comparison speaks for itself and hopefully more traditional brands will follow our design strategy. Imitation is the sincerest form of flattery."
This packaging design is simple, yet eye-catching. What made you decide on a design that isn't as traditionally discreet as other condom brands?
"I found myself at a pharmacy purchasing contraceptives. I might as well have had a sign on my head that I was about to have sex. I wondered if it was just me that felt that way, but after speaking to a few close friends and an extensive Google search I realized I wasn't alone, so we set out to design packaging that made consumers more comfortable buying condoms."
Scott Petinga is a philanthropic entrepreneur and cancer survivor, who is using his businesses to help solve humanitarian needs. Petinga is the founder of Rouse Condoms, a new line of condoms that promotes and benefits men's health initiatives.
Rouse Condoms, as well as the other brands on this list, are making a stand when it comes to the buying and selling of condoms. They are stripping away the stigma and making it easier for consumers to walk into a pharmacy, pick up a box of condoms and feel good about it.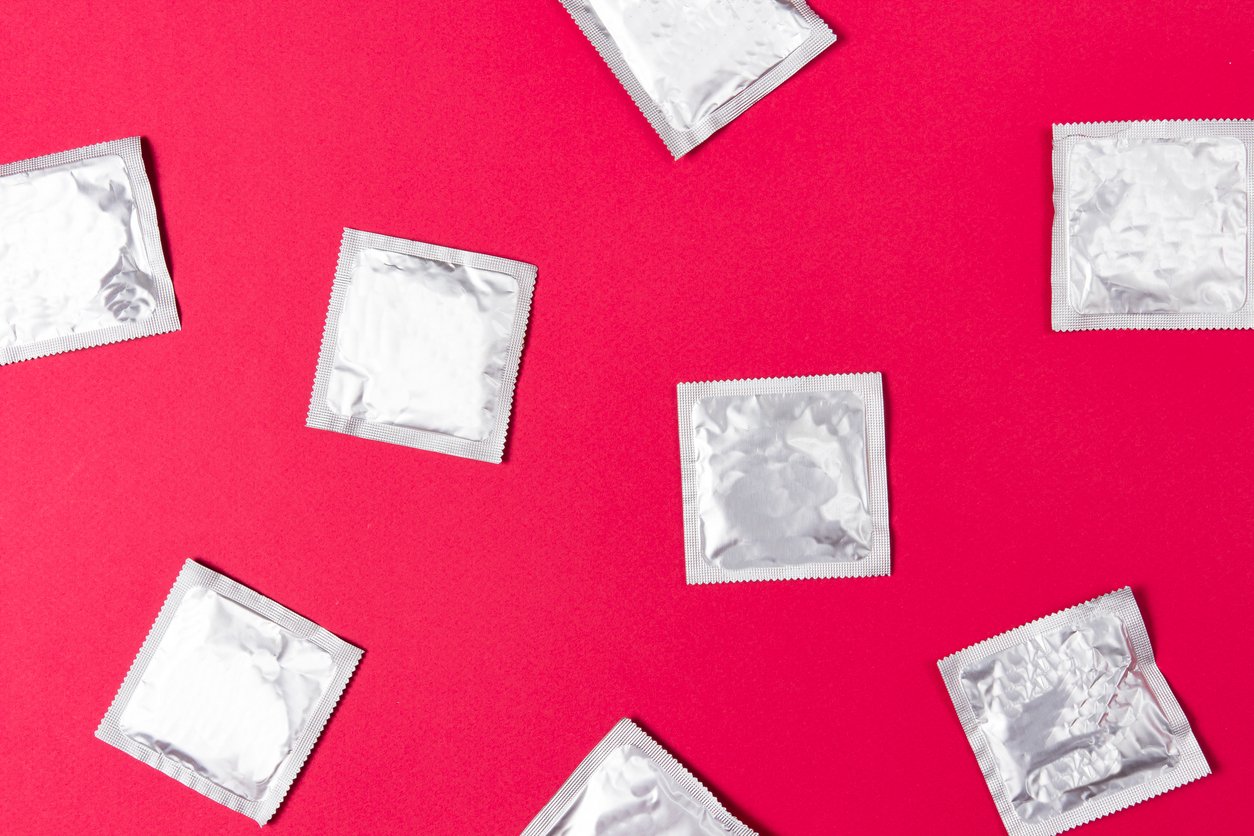 Now What?
Who knew we'd be where we are today, in a society that embraces sexuality and love — and in a place where we create designs that show this off like never before.
Condom packaging has definitely evolved. Because now, condoms are something to be embraced and acknowledged. Safe sex is important, and by making condoms so open, easily acceptable and fun, we are promoting safe, consensual sexual behaviors.
These condom package designs are bold. They are bright. They are hilarious. You almost want to show them off. And you certainly can't feel bad about taking them up to the registers — they're sure to start a conversation.
And it's this openness and comfort that should be celebrated, embraced and expanded upon. Sexuality and sexual health are not topics that anyone should be ashamed of — especially not in 2018. These brands know that, and they are trying to break down these barriers through design initiatives — health-conscious package design.
Hopefully, these trends in condom package design catch on and spread. I know I'd love to see more in-your-face and funny condoms hanging on the shelves of my local CVS, that's for sure. But I'd also love to feel more at ease and accepted when heading out to make a condom purchase.
If other brands jump on the bandwagon, we will be one step closer to getting the open and inclusive environment we've been striving for.
Who knew it could all start with the image of a naked man with a geyser as his nether regions?
Our design experts recognize the most innovative and creative designs from across the globe. Visit Design Awards to see the:
Our team also ranks agencies worldwide to help you find a qualified agency partner. Visit our Agency Directory for the top Logo Design Companies, as well as:
Subscribe to Spotlight Newsletter
Subscribe to our newsletter to get the latest industry news