Ikea Showroom's Virtual Reality Inclusion Aligns The Brand As A Trustworthy Innovator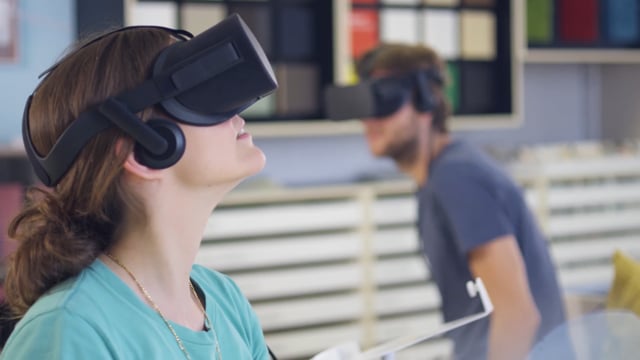 Virtual Reality Video Integration Creates A 360-Degree Experience For The Consumer
Virtual reality might be one of the most exciting trends in the tech world right now, and Ikea has jumped on the bandwagon to help their shoppers make the most of their time in the store.
Ikea is a world-renowned furniture store. Founded in Sweden, this retailer has become one of the biggest sellers of furniture, with stores across the globe and a name that is instantly recognizable.
And to continue building their brand, Ikea continues to innovate and inspire. One way they're doing that is with virtual reality — and it's the focal point of a video commercial that works to entice users to visit.
The beginning of this video presents us with a couple that we will follow throughout the video and a problem they will face.
First, however, there is some title text that the customers pass in front of as they make their way into this store. This simple use of video layers gives the video a greater feeling of substance and immersion for the viewer as it continues into the virtual reality space.
The problem that's presented for the young couple visiting Ikea is that they have to imagine how items will look in their home. That is: until now.
Using VR headsets, Ikea shoppers can experience how furniture and decor will look in a room rather than showroom floor. The shots used to simulate VR are very effective at showing the experience to viewers at home who may not be watching on a VR headset. The movements feel natural like you are wearing the VR headset yourself.
Ikea has given us a taste of the modern way to shop for furniture and decor. Their VR experience seems truly revolutionary in the retail space and their promotional video was perfect for getting customers at home to understand what it feels like to shop in virtual reality.
This virtual reality headset breathes life into the consumer experience for these shoppers. And it also gives the online viewer a look into this powerful technology and the depth of its ingenuity. With subtle, layered effects and a 360-degree view, consumers can create their own experience and come to their decision to buy with ease.
Explore more innovative video designs in the Best Videography Designs section of the DesignRush website!
A Helpful Narrator Guides Users Through This Video
Alongside the powerful infusion of VR technology is a handy voiceover that leads viewers on their journey through this informative video.
The voiceover is a powerful inclusion here — because it adds context and clarity. It lets users know what exactly this video is promoting and how beneficial it is for the consumer the next time they visit an Ikea store.
The point of this video is to promote the Ikea showroom. It's a virtual reality device that lets users see how furniture looks inside a real home depending on certain conditions. But it also expands brand awareness and promotes engaging brand identity.
And this voiceover works to establish that prominence and authority. It's strong, explanatory and impactful. It creates a kind of story that viewers can watch unfold before their very eyes. And it makes them want to have an Ikea story of their own.
The voiceover here isn't too demanding over intrusive. Instead, it provides just enough context for people to grasp the point of the video and informs them of this new technology that is helping to shape the future of furniture buying.
And it alleviates consumer tensions along the way.
The Live-Action Element Of The Video Design Aligns Ikea As A Valuable And Credible Brand
This video relies heavily on virtual reality technology — that's the whole point of the video and is exactly what the video is trying to highlight.
But Ikea also knew how important it was to create an experience that consumers could innately relate to, which is why instead of opting for an informative motion graphics video, the creatives went in the live-action direction.
This lets consumers see real-life people walking the same Ikea hallways and making the same, difficult purchasing decisions.
It makes the video more relatable and emotionally compelling.
These look like regular people — just like you and me. And that also makes this video and this technology more trustworthy. And that's exactly what the Ikea brand was going for in its creation.
Real people are more believable. Their reactions are more authentic and their emotions resonate better with the live audience you're trying to engage.
Top AR/VR Companies
Ikea Grows Its Brand In This Video With The Continued Use Of Virtual Reality
The infusion of VR tech into this video is important. It establishes a credibility and an authority. But it also works to keep branding consistent and provide users with a fluid and seamless user experience.
Because Ikea also uses this VR tech in its app — which shows users what certain furniture pieces could look like in their own homes.
It's interesting the way Ikea uses this technology across devices, but it does ensure that users are happy wherever they are interacting with the brand — online, in stores or on the app.
Virtual reality puts people in control — and it isn't just a fad. It's a highly intuitive and effective technology that is transforming the future of branding and business. And Ikea is capitalizing on that at every step of the way.
This helps the brand grow and thrive — it's one of the most prominent sellers of furniture and home decor in the world. And their consistent ingenuity, innovation and groundbreaking creations are helping to put it on that path.
What Is Ikea?
Ikea is a Swedish home decor and furniture company that sells pieces prized for being quick and easy to assemble. It's a low-cost brand that provides consumers with decors pieces that are simple, minimal and classic.
Founded in 1943, Ikea has quickly grown in popularity and influence. It's the world's largest furniture retailer and has held that title since 2008.
You'd be hard-pressed to find a home in the United States that doesn't have at least one piece of Ikea furniture or decor. And that's because Ikea has marketed itself as a home furnishing experience.
You don't just go to Ikea and buy furniture as you'd do at a traditional furnisher seller. You walk through the hallways and see showrooms unlike any other. Ikea creates a journey for its consumers inside and out.
Here's a look inside the Ikea company:
We are a values-driven company with a passion for life at home. Every product we create is our idea for making home a better place. At IKEA, we have 389 stores in 48 countries (as of August 2016). "To create a better everyday life for the many people", this is the IKEA vision. Our business idea is "to offer a wide range of well-designed, functional home furnishing products at prices so low that as many people as possible will be able to afford them". We work hard to achieve quality at affordable prices for our customers through optimising our entire value chain, by building long-term supplier relationships, investing in highly automated production and producing large volumes. Our vision also goes beyond home furnishing. We want to create a better every day for all people impacted by our business.
And this video is just another example of how powerful this brand has become in the years since its emergence. Not only do they build long-lasting relationships in-stores, but they've begun spreading their influence into the digital world.
This video is just one of the things that prove Ikea knows exactly what it's doing.
A clever infusion of virtual reality technology gives users an experience and a vision that is unparalleled. This technology allows consumers to see what certain furniture looks like in real-life situations, and it compels users to buy.
And it is also in line with the Ikea app that does the same thing inside consumer homes.
Ikea is a strong brand that understands its market and has carved out a place for success and innovation.
Ikea Infuses VR Technology Into Its Video Design To Create A Seamless User Experience
The Ikea Showroom is an impactful and innovative tool that aligns the Ikea brand as a leader in its industry and as an overall brand powerhouse. And this video design promotes the service in a stunning and sophisticated way.
The brand actually includes this VR tech into the video to give consumers a 360-degree experience similar to the one they can experience in Ikea stores.
A helpful narrator adds context and clarity, while subtle textual layering adds depth and authority.
Similarly, the live-action nature of the video further establishes credibility and builds brand trust.
This isn't the first time Ikea has used VR, and it won't be the last. But it sure makes them a leader.
Flex your creative videography muscles and capture consumers with the expertise of these top video marketing agencies!
And while you're at it, create a recognizable digital identity using these professional web design and development agencies!