Hotel booking platforms come in a host of different shapes and sizes. Some are simple and efficient, while others are chaotic, unorganized and confusing.
But when it comes to hotel booking sites, you don't want complicated. You want easy. You want a booking platform that guides you on a smooth user journey from conception to completion. You don't want to be bombarded by pop-ups and ads.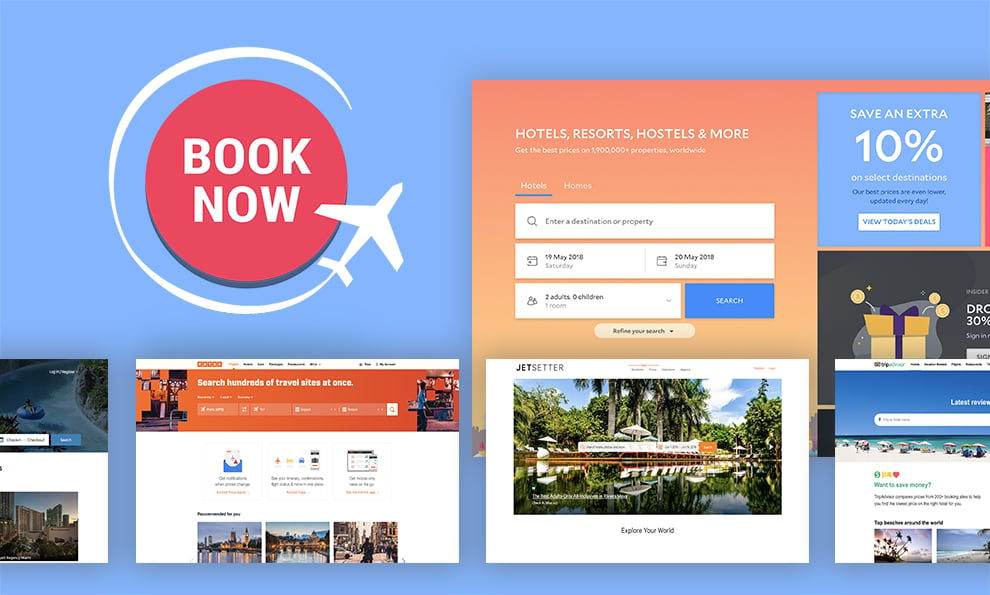 You want a simple list of options to choose from. You want to know price and rating. You want to see pictures and get a feel for the experience. But you don't want to go looking for all of these things, you want them to already be there waiting for you.
Finding the right online booking site can be a pain. Just because it's one of the most advertised, doesn't mean it's all that good. In fact, a lot of the mainstream travel booking sites don't even make our list. Their layouts are confusing, their color schemes are nightmarish and navigation takes years.
But if you're looking for an effective website that will make booking your next travel vacation a piece of cake, these 10 hotel booking sites are your dream come true -- and may even inspire other industries to create booking platforms that put a user's needs first.
The 10 Best Hotel Booking Platforms For Streamlined Reservations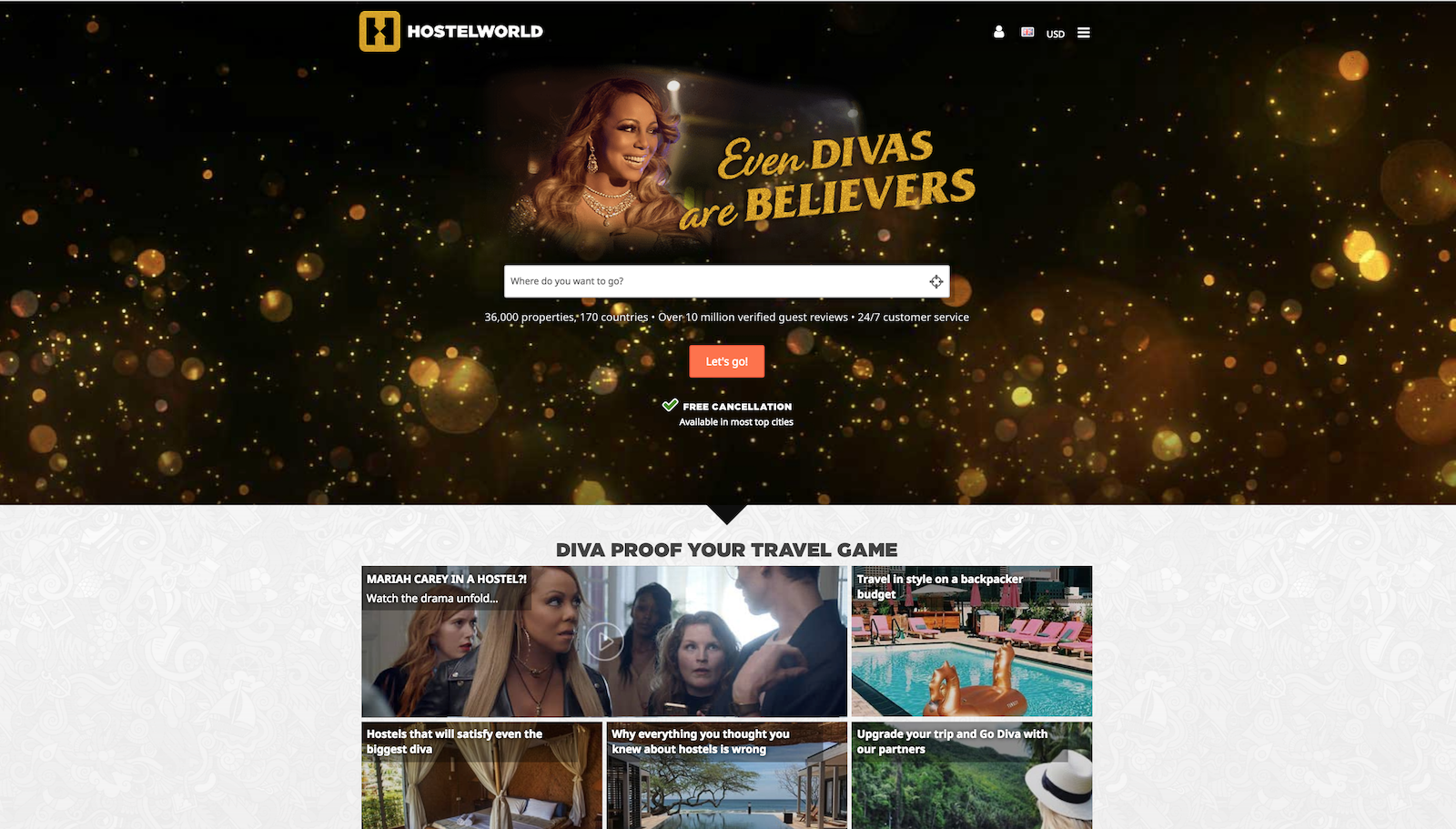 Hostelworld is a booking site that helps users find cheap and affordable housing options across the world. They put consumers in contact with hotels, hostels and bed and breakfasts. This website is geared towards more money-conscious travelers who are looking to travel on the cheap.
As a result, the design of this website is modern, fun and fresh. The homepage is a nod to pop culture, with a happy and flirty Mariah Carey sitting at center stage. The search bar is clearly laid out and there is little room for error. Just type in your destination and dates and hit search.
But if you're looking for some inspiration, HostelWorld offers that too with a grid-like gallery beneath the search bar with travel inspiration.
But once you hit search, you're taken to another page full of all the accommodations you could hope for. At the top are the three most highly rated in clear, bold bubbles. Beneath, you see a list of accommodations, their process, their ratings and the reasons for the rating — think location, cleanliness, etc.
This hotel booking site is extremely intuitive. It knows what people are searching for. Whether you're looking for something close to the city, or something quiet, you can filter through options and choose the type that's right for you.
It is also very thorough in its descriptions and accommodations lists. This is a site geared towards a younger, money-conscious audience that's looking to stay in hostels. And hostels can get shady, so this website knows how to filter out the good from the bad and offer the insights travelers are looking for.
The HostelWorld website is clean, comprehensive and clear. It has a clean, white background, clearly laid out accommodation options in comprehensive boxes and a playful personality that shines through in its subtle imagery and cheeky spokesperson. But most importantly, this website and this brand knows its audience and provides them with all the tools they need to succeed along the way.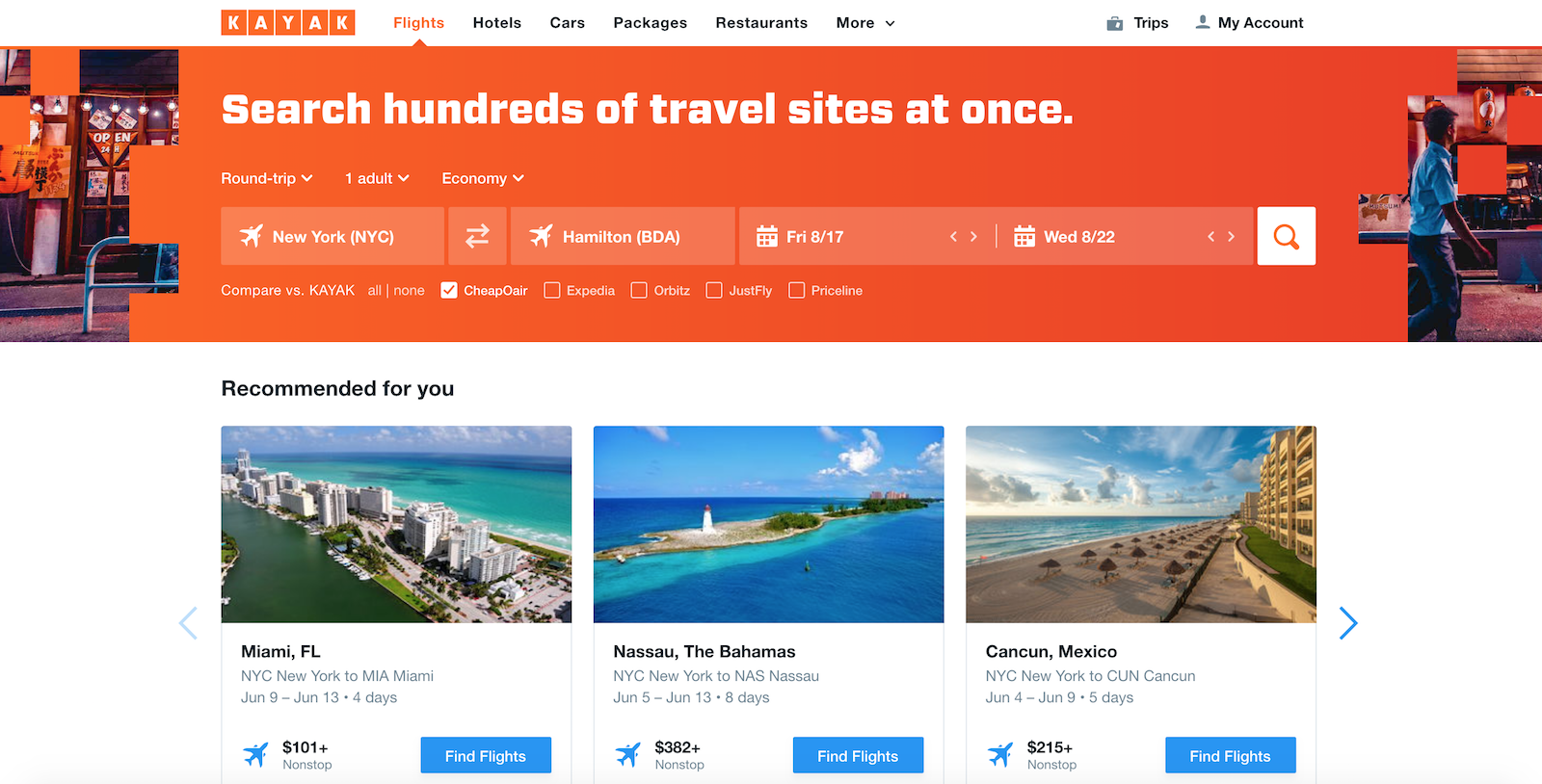 Kayak is an online platform that lets you search for hotels, flights, transportation and vacation packages all from one search bar. Users can compare prices from dozens of booking sites with Kayak to find the right price for their budget.
The Kayak website is extremely pleasing to the eye and easy to use. Users are welcomed with a bright orange header designed with trends in mind as it makes use of soothing color gradients that puts you at ease. Bright white copy in block font immediately grabs your attention and directs you to the comprehensive search bar.
Here, you can choose how many guests, where you want to stay and for how many nights. You also can check a few boxes which indicated what other travel booking sites you want to compare.
Beneath this intuitive search bar is a list of recommended destinations for you. The site also highlights popular destinations and attractions that might catch your eye and draw your attention.
This is a very smooth, clean and bright website design with clear CTAs and simple copy that makes navigation a breeze.
Once you've decided your destination, the search page lists your options — it gives you a picture, and then the rating. You're shown the best price for this specific room and have the option to see price comparisons without having to click through.
Here, you have a very comprehensive and fluid filter system on the left with illustrations, graphs and even a map that can help you better hone in on the right accommodation for your next trip.
This hotel booking platform is seamless and bright. It's clean and airy. It's intuitive and comprehensive. It lays out everything you could possibly want to know and requires the least amount of clicks to get you there.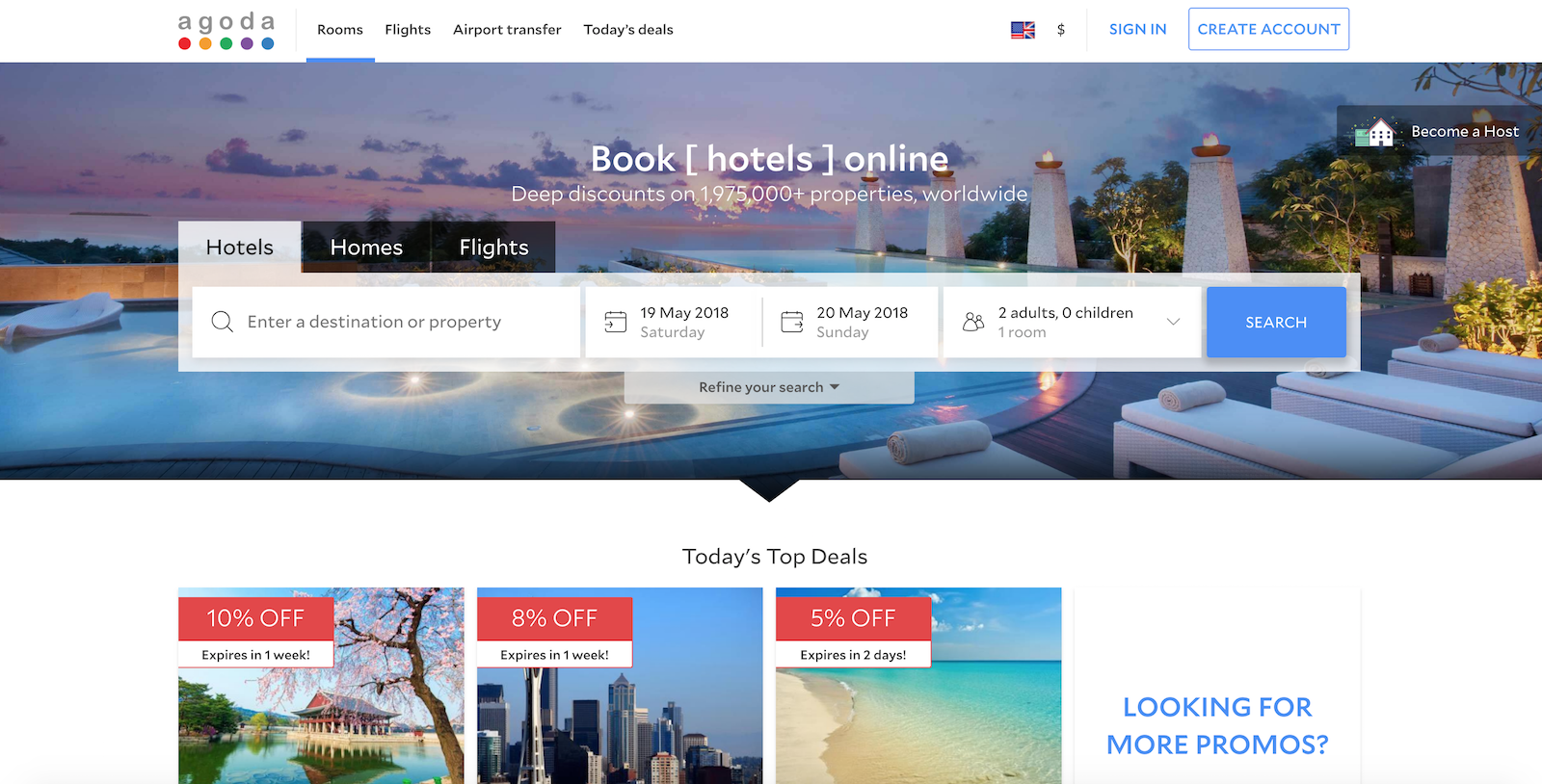 Agoda is another booking platform that offers deals on hotels, flights and transportation. With Agoda, people can also put their own spaces up for people to stay in while traveling. It's like a mix between a traditional hotel booking site and Airbnb.
The website searches through other websites as well to find you the accommodation as cheap as possible.
The Agoda website is bright, colorful and dreamlike. The first thing you notice is the serene travel photo with the search bar overlaid in varying shades of white. There are clear tabs that allow users to choose between hotels, homes and flights.
In the top left corner is the Agoda logo which is made up of colorful dots and a lowercase, grey font. It's fun and cute and approachable. Similarly, the overall design of the main page is light, bright and clean. There is plenty of white space, and the way the search bar lays over the image is fun and exciting.
Beneath this, users see the biggest deals of the day, making the process of narrowing down your next vacay even easier because it's broken down by price.
The overall layout is image-heavy with grids and galleries of images with text overlaid that create a sense of enthusiastic urgency. And the search page is equally exciting.
At the top of the page is a deal bar which is immediately eye-catching. Beneath is the search bar, and beneath that is a filter bar with rations, price ranges and a search option. This is extremely helpful as it allows people to add in their own filters and narrow down the results in a more personal way.
The searches are laid out in a list format, with the image, rating and info clearly displayed. Hotels that have excitingly low prices are outlined in a bright red bringing them immediately to your attention.
Another awesome aspect of this site is the photo gallery included with each listing right on the search page. Hover over these images with your mouse and they get bigger without requiring you to click and go to a new page.
This website is seamless, flawless and clean. There aren't any annoying pop-ups like there are with some sites and it lets you really personalize your travel searches.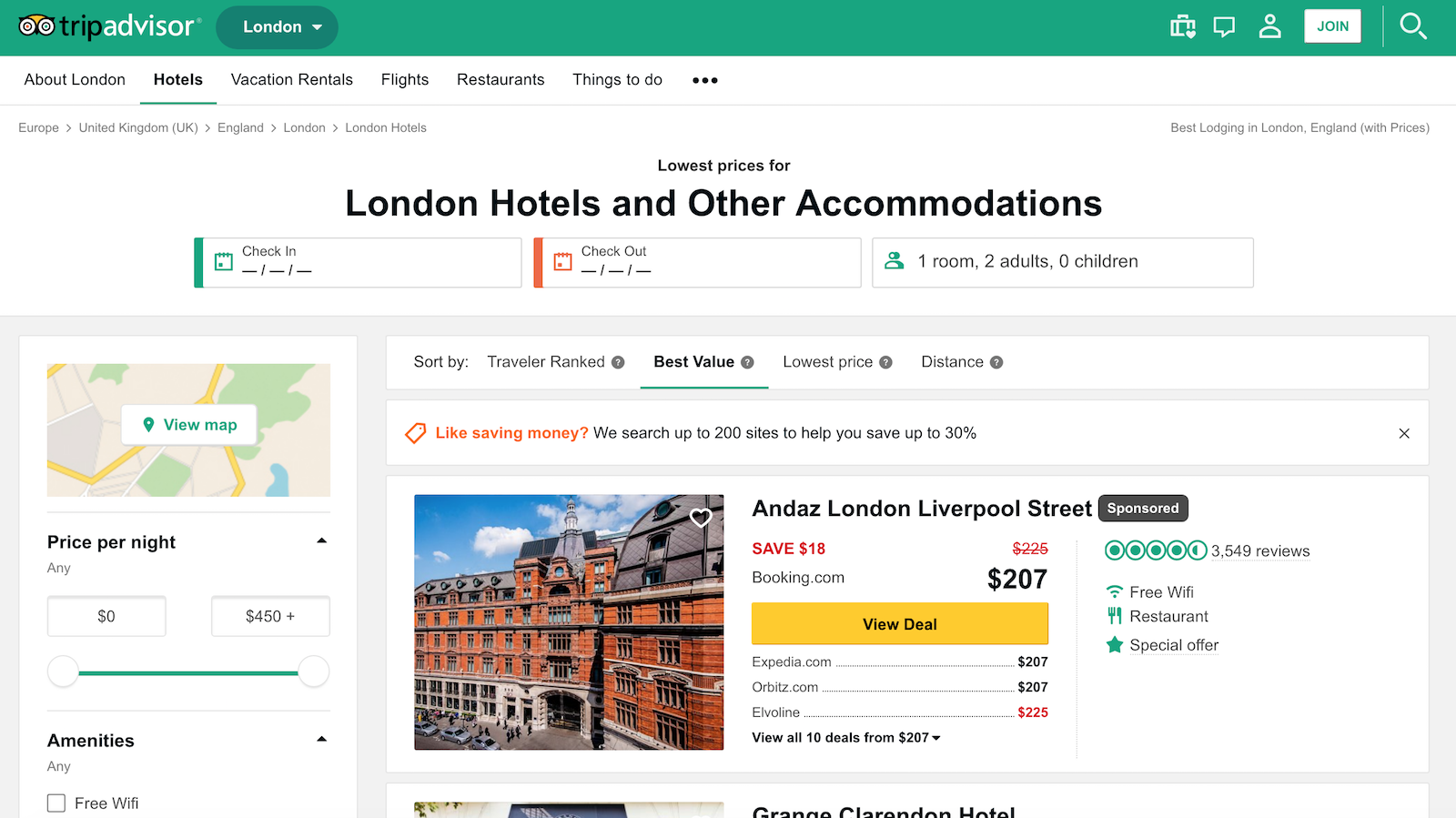 TripAdvisor is one of the most well-known and widely used booking sites that exist today. They are so popular, businesses, restaurants and attraction seek their shining seal of approval. TripAdvisor is in the business of connecting people with the best hotels, flights and attractions possible.
The TripAdvisor website is probably one of the cleanest in this roundup. There is a lot of white space and minimal copy to distract. When you land on the homepage, the header image takes on the persona of the destination you're searching for. This website learns about your interests and gives you an experience that is catered to you.
The search bar is simple and clean, and this rounded menu sits on top of the customized image. Searching is simple, and once you click search you're brought to a similar page that lists out properties, only there is a cleanliness here that is by far more appealing than most search sites.
Each listing gets their own white box that sits against a grey background almost making it jump from the screen. Each box contains an image, which you can interact with by clicking the heart and liking it, a strong yellow CTA box that urges you to click and see more, as well as a list of other price options.
To the right are little illustrations and icons that give you highlights about the property like if there's breakfast, wifi and more.
To the left of this list is a clear, concise and easy to navigate filter menu with boxes you can check.
The TripAdvisor website is great because it's clean and personalized. Users don't just get a list that's generic and vague, but an experience that's catered to them. And TripAdvisor cares about your entire travel experience so they try to offer options and attractions that users can try out and really build their experience as a whole.
Want more website design trends and insights? Sign up for the DesignRush Daily Dose!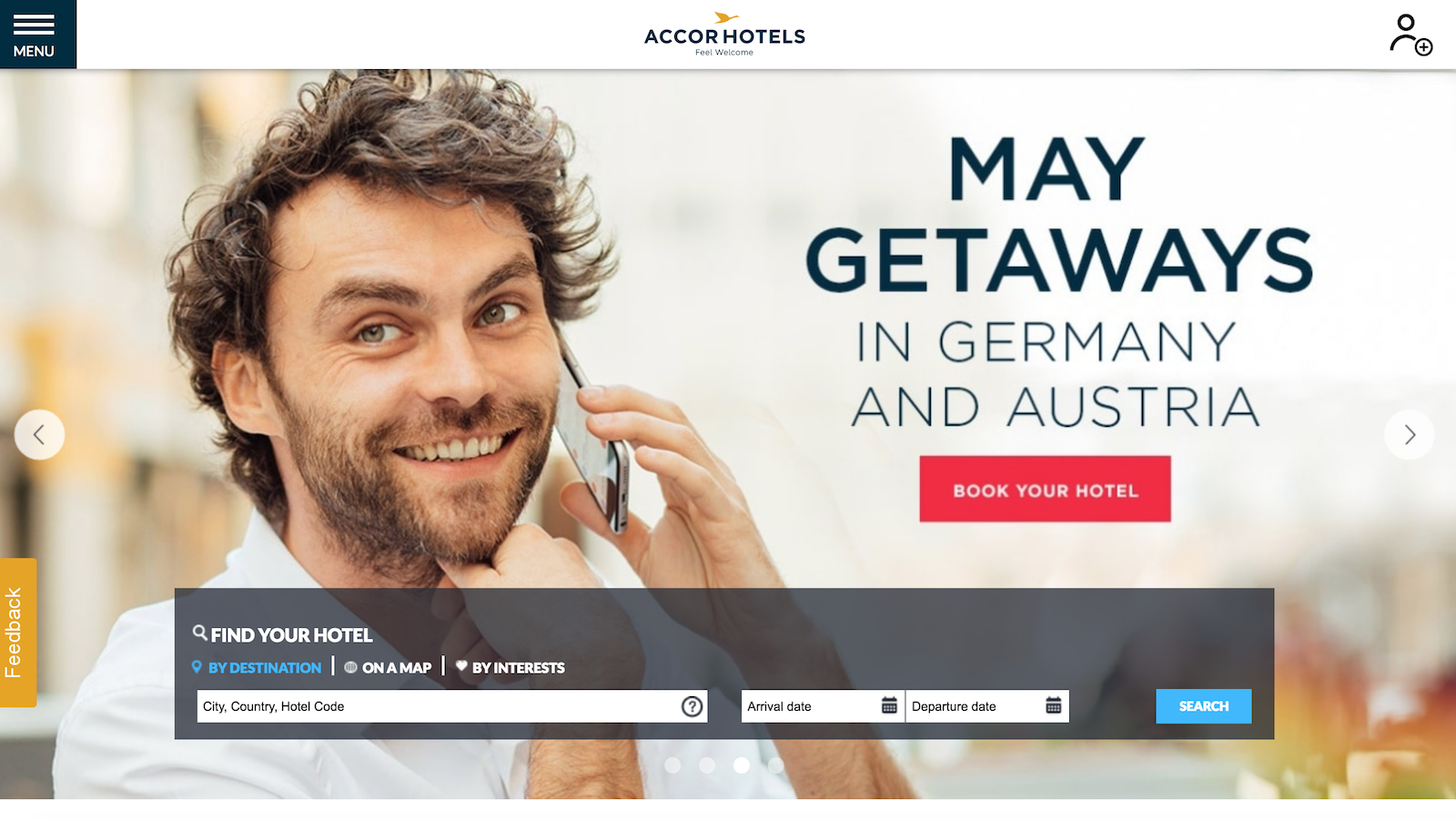 AccorHotels is a visually-driven website that lets users search for hotels in a fun and ingenious way. People can search for hotels by location, they can look on a map and they can search based on interests — like if they want to go to a place with a golf course or if they want a bungalow.
This is an innovative way to search, and it's a stunning display of a brand that knows that people want to do more than search for a city and its hotels. They want to build their own unique and personalized experiences.
This intuitive and the engaging search box sits over a big bold image that takes up most of the screen. Beneath it, however, are special offers and destinations that members can build and choose from.
The search page is equally intuitive. There is an extensive list of filter options on the left, and boxes that display the hotels on the right. Each hotel comes with its TripAdvisor rating and Accor Hotels member price.
There is minimal copy and information in each listing, just an image and its price. This keeps the screen from looking too cluttered and disorganized.
There's a simplicity and a cleanliness to this design that simply can't be ignored, and an intuitive aspect that is leagues ahead of the competition.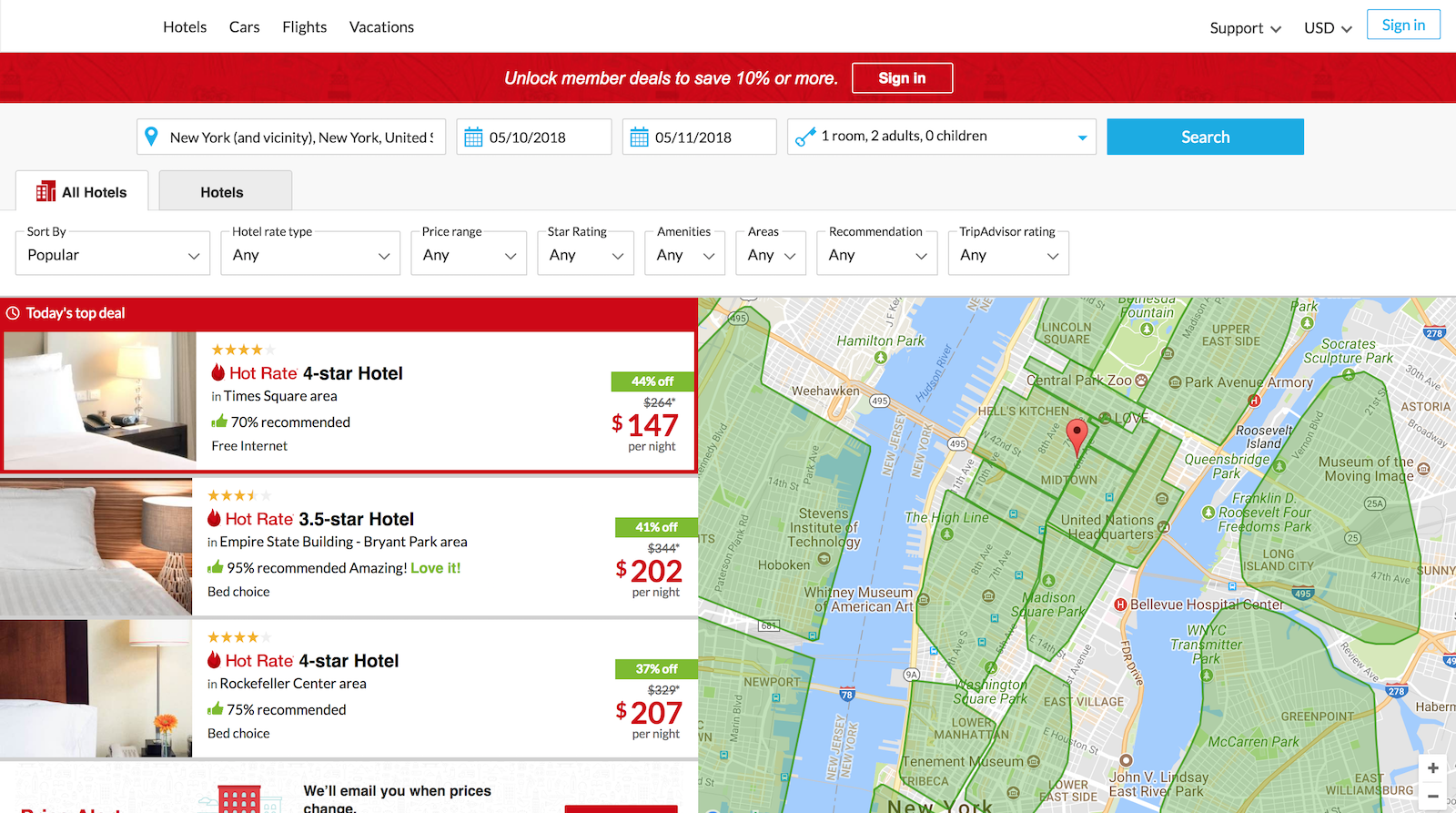 Hotwire is another great discount travel booking site where users can book flights, hotels and vacation packages. It does this by selling off unsold travel inventories.
The main Hotwire homepage is similar to its fellow booking platform counterparts — there is the main image with a simple menu bar. But the shining star of the Hotwire website is its search page.
The layout of this page is much different than the competition. Instead of listing out properties on the right with a menu bar on the left, the Hotwire website incorporates this filter bar right at the top of the screen, giving users the option to choose from a variety of options each with its own drop-down menu.
Another key feature of this website design is the map feature. On the right side of the page, the map of your city or destination is displayed, and it's broken up into sections that differentiate neighborhoods. You can hover over these shaded sections to learn more.
On the left side is a list of option. You can scroll through these while still seeing the same map. It's very fluid and visually appealing. And it's a good dichotomy — seeing movement on one half of the screen while the other remains still.
The list of properties is displayed with an image, the price and its rating. "Hot Rates" are highlighted with a red fire symbol drawing your attention o the best prices.
This design is extremely interactive and in-depth. The map really adds another layer to the website that makes it even more rewarding to scroll through.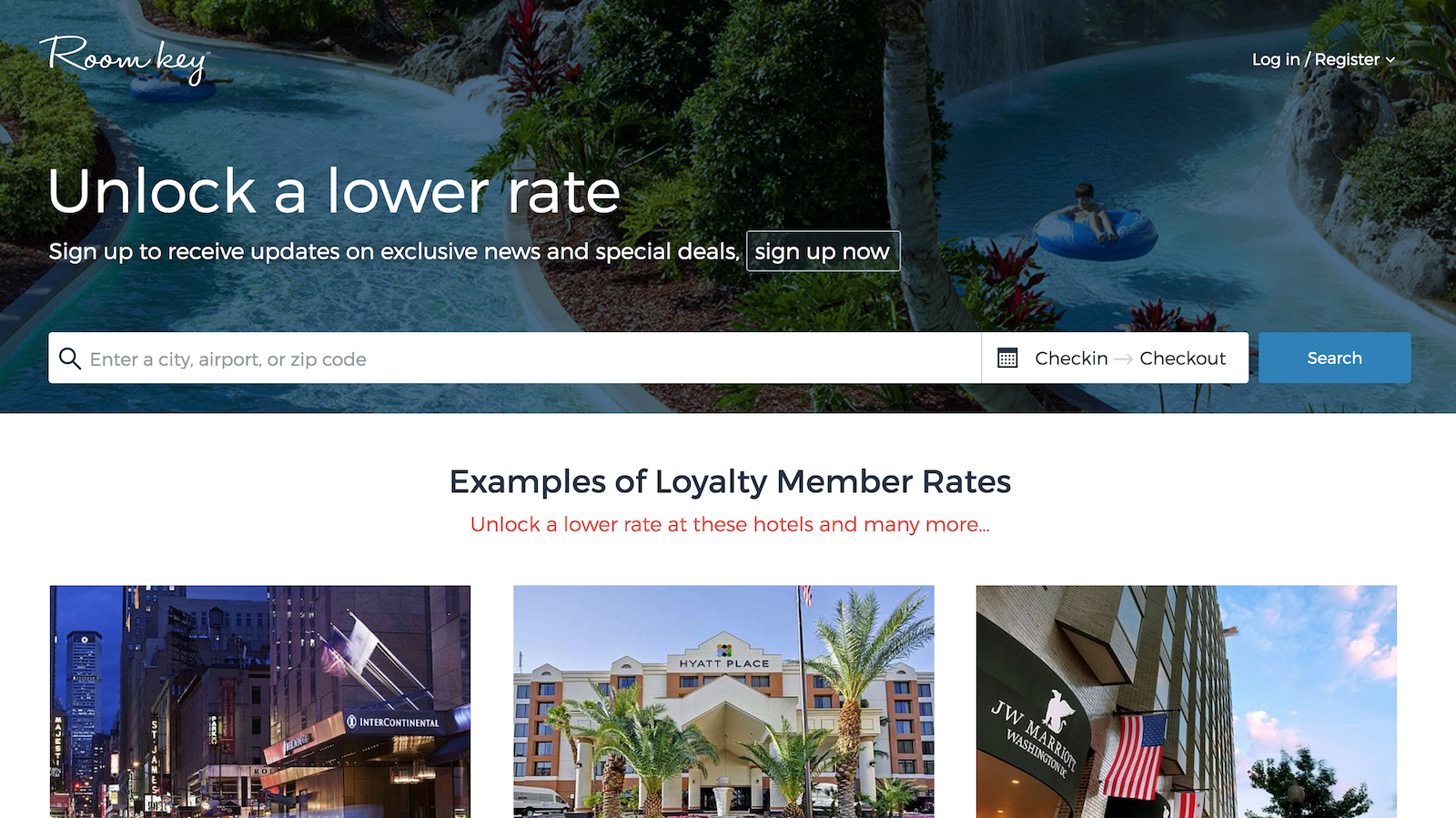 Room Key is a website that offers memberships to travelers looking to score low hotel prices. This brand works with over 60 popular hotel chains to get users low-cost access to top-quality hotels.
To match the sophisticated vibe of the brand, the website's homepage consists of a lavish, paradise-inspired image with a simple white menu bar. The brand name is written in the corner in curly, fun font.
The design and layout are simple, appealing and serene. Beneath is a gallery of the hotels available to members.
The search page is surprisingly simple. The blue and white color scheme remains, with a simple 3-tabbed menu bar sitting underneath the search bar. The listings are displayed in a grid, with three listings in each row. Each listing is accompanied by an image and the price comparison.
The CTA to book is written in a bold orange and is on clear display.
This is a very minimal design. There are few options to choose from, and little information to seek out. It's a very direct and straight to the point website design that leaves little to the imagination.
In this way, it simplifies the booking process and makes it even easier for travelers to plan their next getaway.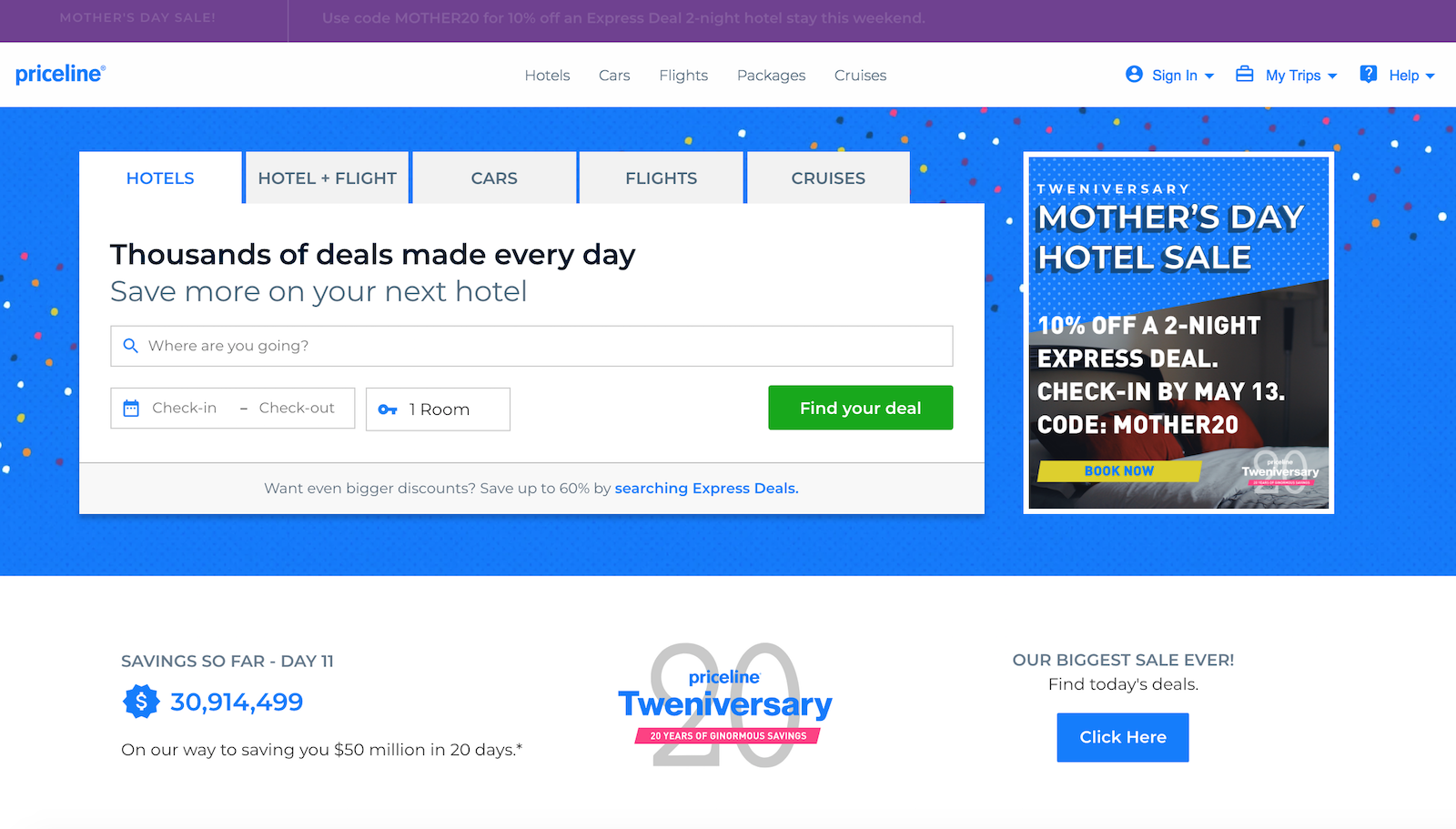 Priceline is a bright and colorful hotel reservation site that compares prices and scouts out the best listings for you. Priceline is one of the most popular sites for booking travel itineraries, and you can see why.
This is an extremely eye-catching website design. There are plenty of playful colors and attention-grabbing illustrations. Priceline has a fun and flirty vibe to the website that is mirrored in the marketing materials and commercials.
The textured blue background is the perfect backdrop for the hotel search bar. And an easy tab system lets consumers easily choose what time of reservation they're trying to make.
Playful and creative multi-colored dots are scattered across the screen adding a party-like mood to the whole design.
Another exciting feature on the main page is the deal counter which depicts how much money people have saved that day. It's a very compelling design element that creates urgency.
The wording on the CTAs is equally effective. Instead of "search" or "book", you are urged to "find your deal" which is a much more captivating CTA that demands to be clicked.
The Priceline search screen is simple, clean and to the point. There's a map feature, as well as a menu of filter options. The property listings are simple and apparent. Check out the offerings, look at photos and compare prices with ease.
Priceline has a history and an authenticity. But its this playful and fun air to the design as a whole that makes it worth your while.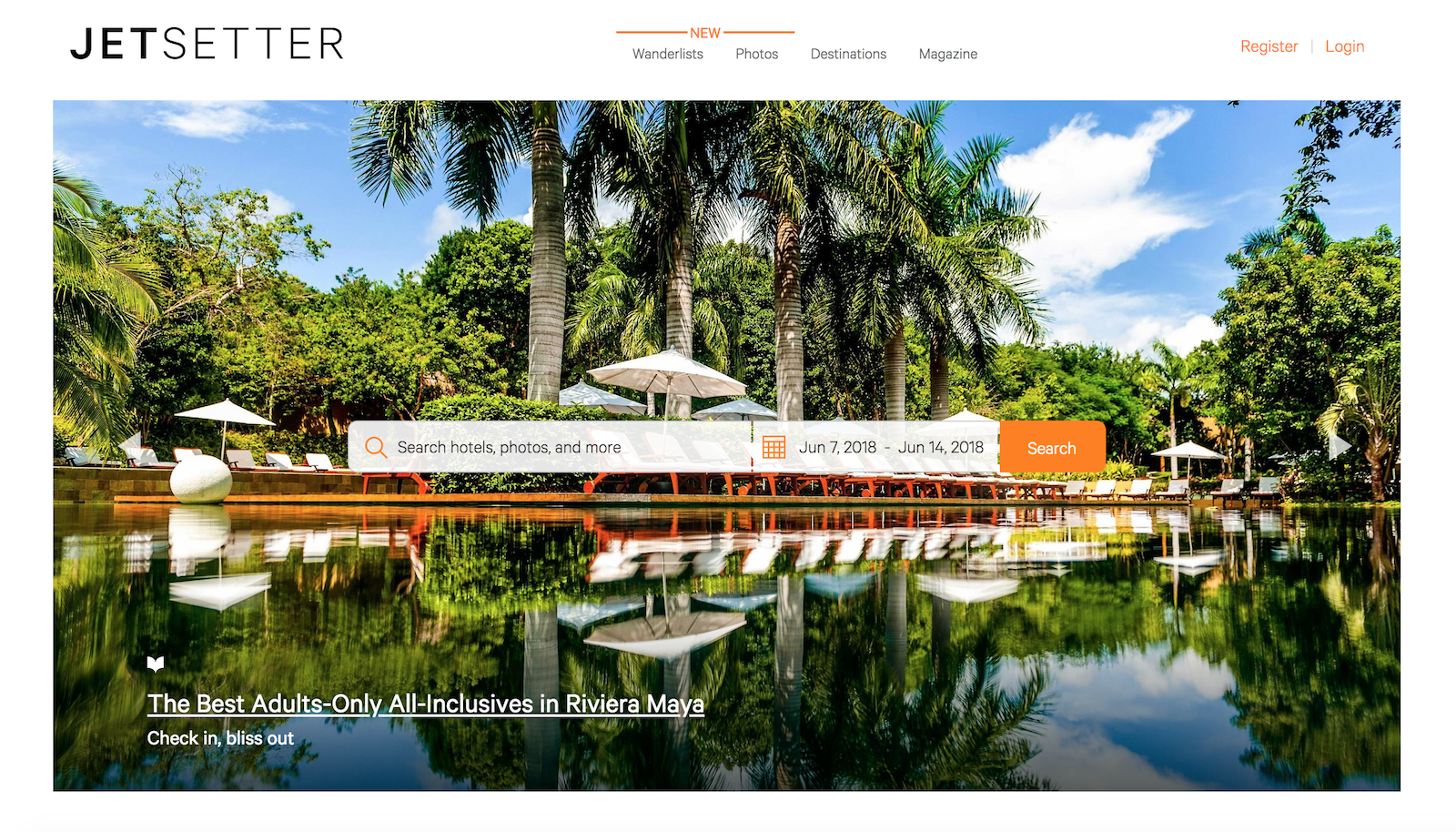 Jetsetter is a brand that considers itself your "travel friend."
Jetsetter is your most well-traveled friend, the one with great taste and inside connections, who you call when you need advice on where to go, where to stay, and what to do when you get there. We travel. There's nothing we'd rather do with our spare time, and we're guessing you feel the same. But it's a wide, wide world, and working out where to go and where to stay can really eat into that precious time. That's why we founded Jetsetter.
As a result, the overall design of this website is fun, intuitive and engaging. The team at Jetsetter created this site with a younger audience in mind and you can see that in the sliding photos that make up the main header image. Beneath, is a gallery of different shaped boxes each with an image of a different destination.
This design is modern, sleek and compelling. This site captivated travelers and those people who want a more intimate and knowledgeable experience. This website was created by travelers and its created for travelers.
This website is fresh, eye-catching and smooth. It offers hotel booking options, but also includes travel guides, inspiration and wanderlists. It was definitely created with millennials in mind.
You can feel the young and hip vibe to this site, even though the search page looks much like other travel websites. It does have little descriptors, though, that pop. Words like "posh," "brilliant" and "royal" describe these listings.
There is still a clean and bright nature to it though that keeps you scrolling through the listings to find your perfect match.
This website offers users more than just reservations. It offers them insights and inspiration. It offers them the full package.
The Wyndham Hotels website combines all of their hotels into one helpful place. It's the only website on this list dedicated to one brand, but it's surely one of the most beautiful B2C sites we've seen.
Subtle movement, rollover effects and bold imagery make up the main page. It's eye-catching, visually appealing and fun. There's also a smooth and sophisticated feel to the soft colors and edgy elements.
It's easy to find the destinations you're looking for, and the search screen is equally bold and in your face.
Each listing stands out from the screen, displayed in a grey block that pops from the white background. The filter bar on the left is simple and streamlined, offering users boxes to check and bars to scroll.
The website design has a modernity and an elegance throughout. It knows what it is, and uses imagery to further elevate its authority and authenticity. This design is great, and this website is the perfect choice for users who know they want to book hotels from a specific chain.
Hotel Booking Platforms With User-Friendly Website Designs That Shine
When it comes to hotel booking sites, you want easy. You want simple. You want bright and bold and colorful. You don't want to feel like you're looking at a website that was built in the late 90s that's for sure.
And these 10 website booking platforms are sure to hit the mark. They are simple. They are efficient. And most importantly, they get the job done and put you in contact with reliable and exciting hotel possibilities.
Planning your next vacation doesn't have to be a nightmare. And it doesn't have to take hours of scrolling through booking websites — unless that sort of thing is your cup of tea. These web designs offer simple navigation, streamlined results, intuitive search and filter bars and plenty of imagery to put you at ease.
If you're looking for a new travel destination, or you're wondering how to better design your booking website, look no further than this list.
If you're a brand or organization looking to give your website design a facelift, check out this comprehensive list of website design agencies to help with your next project.
Subscribe to Spotlight Newsletter
Subscribe to our newsletter to get the latest industry news