The Highest Paying U.S. Companies For Designers
Money isn't everything, but there's no denying that compensation is a crucial element of any designer's job satisfaction and overall wellbeing. Having an understanding of the salary ranges for different design positions is key to being able to plan effectively for the future, and to feeling confident in salary negotiations. The problem is that most companies keep the details of employee compensation closely guarded, making it difficult for designers to accurately assess how their earning potential may be impacted by accepting a job offer from one company versus another. The purpose of this report is to shed some light on which U.S. companies are currently offering the most competitive compensation for designers, with the goal of helping designers make informed decisions about job opportunities and optimal career trajectories.
The information presented here is aggregated from Glassdoor and Payscale. It's important to note that because companies rarely share compensation information, the data that's available is survey data, which is self-reported by nature. Because the data is self-reported, there are cases where it may be exaggerated or skewed, and sample sizes are generally small. Salary is also impacted by location, so designers working for companies based in Silicon Valley or New York City may command higher salaries on average than those working for companies based in other markets. The salary ranges presented should be regarded as estimates, not absolutes, but taken in aggregate they can help illuminate trends and identify patterns.
A final note on the data: In order to give the most complete view of compensation, the ranges include bonus and profit sharing where available. Salary ranges vary widely depending on job description and skill-level, so the data is presented according to job title.
Highest Paying Companies for Web Designers
The role of the web designer is to determine the look and feel of a website or digital product. Web designers deliver mockups that visually represent how the website will look.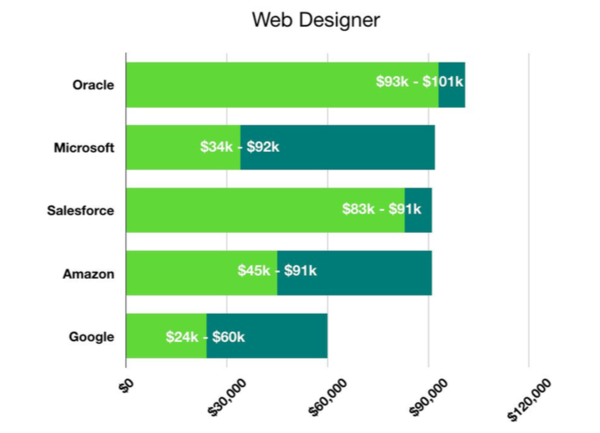 Sometimes the role of web designer also includes web development responsibilities, but at the bare minimum it requires a solid understanding of current digital technologies as they pertain to and influence the design process. In smaller companies, and in non-tech industries, the web designer may be required to be a digital generalist responsible for many of the tasks related to the design, development, and maintenance of a web property.
Highest Paying Companies for Product Designers
Product designers are responsible for conceiving and strategizing digital products and experiences. The product designer seeks to understand the user -- his needs, desires, and impulses -- and create solutions to answer the challenges the user faces. Product designers work closely with engineers and need to have a strong understanding of and fluency with underlying technologies.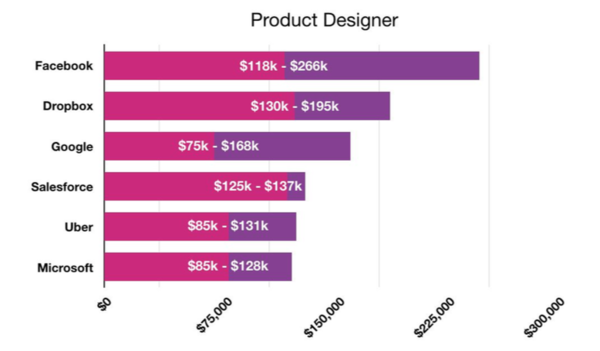 The job requires a high level of proficiency in a variety of design disciplines, and because it's a strategic role, the people who hold this position usually already have years of experience under their belt. Due to the higher level of expertise necessary for the role, salary ranges for product designers are some of the highest within the broader design field.
Highest Paying Companies for UX Designers
The UX designer's role is to strategize and determine how a product or experience will operate. They seek to understand the user's needs and map the user's journey and interaction with a product. Their chief objective is to create the most enjoyable, intuitive user experience possible. They're responsible for producing wireframes and sitemaps.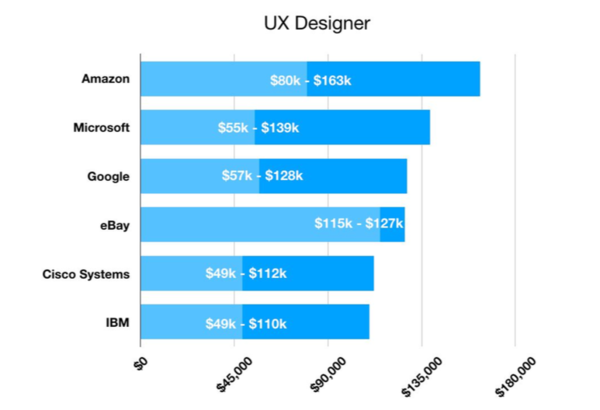 Salaries for designers in this role are generally on the higher end, and top employers include many major tech companies.
Highest Paying Companies for Graphic Designers
The graphic designer (sometimes also known as a visual designer) is responsible for the details of how a product or site looks. Responsibilities are often similar to that of someone in a web designer role. With the help of a style guide, graphic designers create visual designs for web, mobile, and marketing purposes.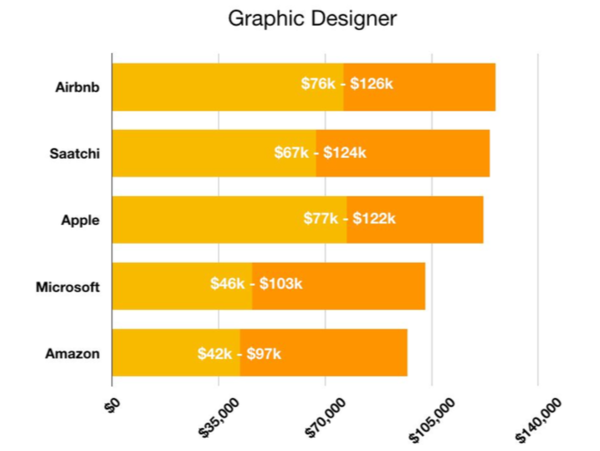 Graphic designers can find work at many high-paying tech companies, but they're also in demand at digital agencies and in-house for companies outside of the tech sector.
Highest Paying Companies for Interaction Designers
Interaction designers — or motion designers, as they're sometimes called — are responsible for determining the details of how an app will behave when the user interacts with it. Motion is critical to the user's experience of a product. It can help direct the user to take an action, confirm that an action has been successfully completed, and reduce user anxiety during brief moments of transition. It's the interaction designer's job to account for and design the animation within a product.
It should come as no surprise that many of the top-paying U.S. design jobs are at tech companies based in Silicon Valley. These companies know that their products live and die by their designs, and competition among tech giants for the best design talent can drive up compensation in major design centers.
Overall, salary ranges for design jobs vary widely based on skillset, experience, and location. Designers earning the highest salaries have the most diverse sets of skills, putting them in position to take on strategic roles with greater levels of responsibility.
Give us your Feedback
We value your feedback
Please share how we can improve the site for you