Traveling businessmen, digital nomads, other parties frequently on the road — or simply businesses that move their back offices face the challenge of not knowing what to do with their postal mail and deliveries.
Luckily, there are reliable mail transfer service providers that can handle any request and overcome any challenge of this ilk.
In this article, we will list the 10 best mail forwarding service companies that rise to the occasion when it comes to promptly directing the mail to any address, ensuring their clients never miss an important delivery.
What Is a Mail Forwarding Service?
A mail forwarding service is a private mailbox service that ensures postal mails and packages are forwarded to businesses, travelers and digital nomads, wherever they may be.
The mail or a parcel can be forwarded to any address internationally, using any available mail carrier service. This way, an individual or an organization doesn't need to have a permanent address to have their mail delivered to them.
Top 10 Mail Forwarding Service Companies
The following mail forwarding providers excel with the breadth and diversity of their services, the number of territories and countries they operate in and their general flexibility.
A global leader in the logistics and mailing service industry, DHL specializes in international shipping, courier services and transportation.
Their specialized division called DHL Global Forwarding has a "global reach and a local knowledge" with numerous benefits and services.
Air Freight: Features a wide range of delivery speeds and service options.
Ocean Freight: Cost-efficient mail forwarding with extensive equipment and consolidation options.
Road Freight: Full and part truck loads for flexible and reliable delivery
Rail Freight: Connecting Asia and Europe, as well as East and West US.
Customs: Reduces complexity, delays and penalties via extensive brokerage and consultancy services.
Same-day shipments: Mail forwarding service that is mission-critical and door-to-door
Additional services and solutions: A wide range of bespoke logistical solutions for mail forwarding that improve the effectiveness of the company's supply chain and provide flexibility to address individual logistics needs.
Another global mail service powerhouse, FedEx, provides mail forwarding/redirecting service that lets recipients request to hold a package for a pickup at a convenient location near them.
FedEx's mail forwarding service works as simply as this:
Go to the company's tracking page and enter the tracking number to manage delivery and hold it at a location
From the options provided, you can choose the location where you want your package to be redirected or search for participating locations nearby
A text notification, automated phone call or email will let you know that your package can be picked up at a new location
FedEx users can also resort to the free Delivery Manager app to request packages to be held for pickup.
In case a recipient chooses to change the delivery address, FedEx will accept the request if there are no restrictions to changing addresses on your account, the new address is not in another country or the shipment hasn't been delivered yet.
Royal Mail provides mail forwarding/redirection options for businesses as well as individuals. The company helps enterprises take their mail with them in case they're moving with a Business Redirection or Diversion plan.
For business recipients that are on the move, Royal Mail enables receiving the mail addressed to the old business address at their new address. They also allow redirections to any addresses outside the UK to provide a flexible solution for a temporary or permanent move.
Business Redirection solution is suitable for businesses that are moving and are not located in a multi-occupancy building (when there is more than one business to a single delivery point).
Business Diversion is most suitable if only a certain part/division of a business is moving or if your business is located in a multi-occupancy building.
Anytime Mailbox enables businesses and individuals to manage their mail forwarding online and is one of the pioneers in the virtual mailbox solution vertical.
The solution provides mailbox forwarding services in most major US and international cities (almost 1,500 locations in total) and is very affordable and flexible with its pricing, starting from $4.98 per month.
With Anytime Mailbox, users can select a real street address by browsing through the list of locations the service covers in order to preview the future digital address. Then, they pick a suitable service plan for a business, an expat or simply an individual who is often on the road. Each plan provides features such as Open & Scan, Forwarding, Check Deposit and Shredding.
Users getting mail forwarded by this service can view and manage it from their mobile device or a computer. Native app alerts, text messaging or email notifications are also part of this service.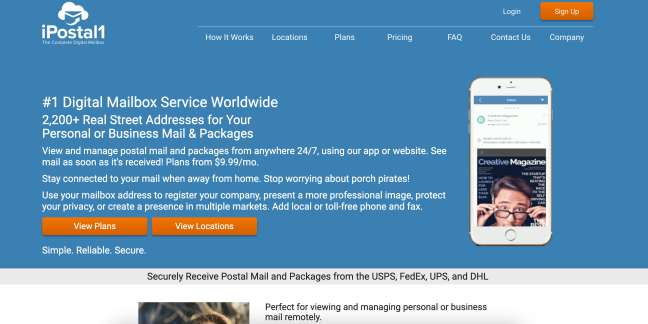 iPostal1 first introduced its digital mailbox technology in 2007 at its shipping store and has since been one of the premium mail forwarding services in the US.
They built a network of digital mailbox locations and over 2,000 real mailbox addresses in various cities and states, from New York and Ohio to Oregon, Texas and South Dakota. Users can view and manage postal mail and packages from anywhere 24/7, using their app or website.
Subscribing to their service will have your package received, stored and managed at the mailing address you choose. The company also offers virtual office services that you can use as your business's virtual address.
IPostal1 even lets you choose to open and scan your mail, forward it, shred it, discard it or store it in order to pick it up later. Their pricing begins at $9.99 per month.
Shipito offers mail forwarding and consolidation services with an exceptionally easy tracking method and low-cost shipping fees. In a nutshell, this company's forwarding process looks like this:
Ship the items you want sent to your address to Shipito's warehouse
Pick a consolidation plan and potentially combine all items into one box
Shipito stores your items in a personal suite space until you are ready to ship
The service forwards mail and packages to over 220 countries worldwide. It alerts users once their package has arrived and even offers additional services like providing detailed content photos, consolidation allowing you to save on shipping costs, adding extra bubble wrap or tape for better protection, etc.
Mailbox forwarding service by Earth Class Mail consists of receiving your mail or parcel, opening, scanning and emailing it to you for your review. When you wish to get hold of your mail, you can create an account shipment and order it. Numerous carrier services, from USPS and FedEx, can deliver the package to any address that you add.
With this service, recipients can combine shipments, add items, schedule or delay forwarding, consolidate multiple items, add insurance and track shipments.
Earth Class Mail has shipment locations in the US only, but they are available in a wide array of cities and states, from Oregon and Washington to Florida and North Carolina. Their pricing starts at $19 per month.
No matter the mailing address, the 24/7 online access to postal mail offered by PostScan Mail is available to its users. The packages ordered will arrive safely at mail facilities before being scanned and uploaded to the clients' virtual mailboxes.
For any new delivery that arrives, users get instant notifications which is a very helpful solution for business owners, travelers, expats, digital nomads, etc. Free physical mail storage is offered for 14 days from the package's arrival, while the unique mail forwarding service delivers the parcel directly to the recipient.
PostScan provides services in hundreds of US locations with a virtual mailbox pricing plan starting at $15.
This virtual mail receiving service caters to individual and business packages and postal mail, then scans and uploads them to their online mailbox. The service user can request these to be uploaded as a PDF or to be held until their return. Traveling Mailbox also offers shredding services or simply forwarding the mail to the recipient without any scanning.
This solution's basic plan begins at $15 per month. Plans can be changed at any point and they all include free mail shredding as well as junk mail filtering.
With forward2me, individuals and businesses everywhere can have their mails and parcels delivered from the UK, Japan, Germany and Turkey to any location in more than 190 countries in only two days.
The process of mail forwarding with this service begins by signing up for an address in one of their warehouse countries. After ordering your goods, the user can utilize the forward2me delivery address as the parcel's destination.
After the company receives your parcel, they can check its contents to make sure it can be safely shipped to the forwarding address. The user can login to their account to choose the preferred courier service, pay for shipping and have the mail shipped to their address immediately.
How Does Mail Forwarding Service Work?
Mail forwarding services are the middlemen between your business and its customers. They provide a virtual address that a user can utilize as a new address.
When your clients, partners or customers send a mail to this address, the mail forwarding service provider will receive it and notify you via various methods they have at their disposal. You can then handle your mail in several ways – you can have it scanned or opened before sending, sent to an address of your choice, shredded or destroyed.
Which Businesses Need a Mail Forwarding Service?
Mail forwarding service is useful for any individual or business on a constant move or in the process of relocating. They benefit travelers and traveling businessmen, BPO companies (find out what is BPO) digital nomads, startups and companies looking to change their place of residence. As far as industries go, mail forwarding service has no limitation in terms of the types of work it supports, from data entry and administrative businesses to creative agencies and tech hubs.
How Long Does Mail Forwarding Service Last?
Different service providers deliver mail forwarding for different periods of time. Most frequently, this service lasts from 15 days to a full year. However, certain services provide mail forwarding for an unlimited amount of time. Take a look at our list of back office service providers.
Subscribe to Spotlight Newsletter
Subscribe to our newsletter to get the latest industry news