Considering that the FBI experienced a cybersecurity breach, it's clear that no organization is safe from cyberattacks. Hiring a cybersecurity consulting firm to prevent data leakage can protect your company's assets and reputation.
This article covers the most common cyberattacks, reveals the top cybersecurity consulting firms, and explains the benefits they can provide to your business.
What is a Cybersecurity Consulting Firm?
A cybersecurity consulting firm is a team of professionals who offer recommendations and solutions to protect your organization's systems and networks from cyberattacks. They evaluate your company's computer systems for vulnerabilities to keep cyber criminals from gaining unauthorized access. Once vulnerabilities are identified, specialists recommend the best software solutions, integrate them, and monitor potential cyber threats.
Cybersecurity consulting firms also offer cybersecurity training for your employees to make them aware of common cyberattacks and can help prevent them from happening.
Cybersecurity vs. IT Security
Cybersecurity and IT security are often used interchangeably, but they differ. IT security, also known as information technology security, is focused on protecting the confidentiality, integrity, and availability of IT systems and data. IT security services include firewalls, antivirus software, and access controls to protect against unauthorized access.
Cybersecurity, on the other hand, is a broader term that includes IT security and the protection of all digital assets, including networks, systems, applications, and data, from attacks, misuse, or unauthorized access.
Simply put, IT security is a subset of cybersecurity covering a wide range of digital assets and threats. While both protect digital information, cybersecurity focuses more on the bigger picture of all digital assets, while IT security is more focused on protecting IT systems and data.
5 Types of Cybersecurity
Cybersecurity is a broad term that can be categorized into five distinct types:
Critical Infrastructure Security: Critical infrastructure security ensures that a country or city's systems, networks and digital assets are protected from cyber attacks.
Application Security: Application security refers to developing and testing security features within your application. This prevents security vulnerabilities such as data manipulation and unauthorized third-party access.
Network Security: Network security (read our article on what is network security) is a set of processes and strategies designed to protect your network from unauthorized threats and access.
Cloud Security: Cloud security is a set of protective measures built to protect data and applications found on the cloud or the internet.
Internet of Things (IoT) Security: IoT Security protects devices connected to the internet and their associated networks from potential cyber threats and vulnerabilities.
Receive proposals from top cybersecurity agencies. It's free.
GET PROPOSALS
Top 10 Cybersecurity Consulting Firms
Here are the top ten cybersecurity consulting firms hand-picked by our experts:
Headquarters: Colorado, United States
Services they provide include:
Software-level security
Network monitoring
Infrastructure protection
Itransition, one of the best cybersecurity companies, provides cyber security consulting services on three levels: assessment, strategy and training.
In the assessment stage, Itransition evaluates your company's security posture to understand your cybersecurity's strengths and vulnerabilities, and whether your system complies with local and global best security standards.
Depending on their findings in the previous step, they will recommend the security solutions your company needs to improve your network's cybersecurity.
If needed, they'll perform security training for your employees and IT experts and train them on how to manage security solutions to establish safe working practices for different devices.
Itransition has worked with notable clients such as Expedia, AstraZeneca, Adidas and ebay.
Headquarters: London, United Kingdom
Services they provide include:
Cybersecurity strategy, risk and compliance
Cybersecurity incident and threat management
Information governance and privacy
Cybersecurity implementation
Cybersecurity and privacy managed services
Cybersecurity for mergers and acquisitions
PwC, another excellent cybersecurity company, offers cybersecurity services that ensure your operations are resilient when a cyber attack occurs.
They ensure your business is secure by integrating cybersecurity technologies, helping you prepare for and respond to a cyber attack, and providing you with clear decision-making skills to reduce cyber threats.
Headquarters: London, United Kingdom
Services they provide include:
Application Security
Infrastructure Security
Data and Privacy
Cyber Cloud
Cyber Strategy
Operating in over 150 countries, Deloitte provides solutions to detect, analyze and contain cybersecurity threats even before they happen in over 150 countries.
From securing your data and cyber infrastructure, or intellectual property, Deloitte raises the bar to prevent cyber risks by staying vigilant and resilient to existing and unforeseeable cyber attacks.
The company has provided its services to big names such as Boeing, Microsoft, UPS, Morgan Stanley and Starbucks.
Headquarters: California, United States
Services they provide include:
Cloud Security
Data Privacy and Security
Incident Response and Cyber Resilience
Operational Resilience
Managed Security Services
From executing a cybersecurity program and adhering to cybersecurity standards to countering a data breach, Protiviti's experts give you deeper understanding of your company's cyber risks.
Protiviti blends its executive-level communication and management with its cybersecurity consulting and strategy services to help you prevent cybersecurity threats from entering your organization.
Headquarters: London, United Kingdom
Services they provide include:
Identity and access management
Data privacy and protection
Next-generation security operations and response
A team of leading cybersecurity consultants and strategists, EY offers you a clear view of your existing cybersecurity position and abilities to better understand how and why you should invest in cybersecurity.
In addition, EY offers expert training and education for your employees to build cybersecurity awareness in your organization.
EY has worked with renowned brands including Hewlett Packard, Verizon, AT&T, Coca Cola and Amazon.
Headquarters: Dublin, Ireland
Services they provide include:
Advanced Attack and Readiness Operations
Cyber Operations and Resilience
Application Security and Advisory Services
Cyber Investigation, Forensics and Response
Cyber Threat Intelligence
Cloud and Infrastructure Security
Accenture is a multinational services company that provides tailor-fit cybersecurity solutions to increase your company's resilience against cyber threats.
Accenture uses proactive and industry-relevant threat intelligence to keep your systems and data secure.
The company designed a three-step plan to protect businesses from cyber attacks with a Cyber Defense, Applied Cybersecurity and Managed Security scheme.
Headquarters: Amstelveen, Netherlands
Services they provide include:
Cyber Maturity Assessment
Cyber Strategy and Target Operating Model Development
Industrial Internet of Things
Third-party Security Risk Management
Business Resilience Information Governance
KPMG starts every solution by evaluating your current cybersecurity landscape then aligning it to your business' priorities.
By implementing their state-of-the-art cybersecurity solutions, they help you track ongoing cybersecurity threats and address each one effectively.
They have worked with many well-known clients, including Wells Fargo, ING Group, General Electric, Deutsche Bank and Citigroup.
Headquarters: California, United States
Services they provide include:
Cloud Solutions
IT Consulting
Consagous is an IT company that provides tailored cloud-based services.
They focus on cyber threats that target cloud-based data such as Distributed Denial of Service (DDoS) attacks, which could shut down your network from occurring.
Their clients include renowned brands like Amazon Web Services and Heroku.
Headquarters: Virginia, United States
Services they provide include:
Security Assessment Framework
Secure Cloud Infrastructure Deployment
Actionable Risk Remediation
Cybersecurity Training and Coaching
InfoSec Program Development
Modus Create offers cybersecurity solutions that include protecting your data on the cloud, defining potential risks your business could encounter and providing you with valuable recommendations to remediate possible cyber attacks.
Modus Create has worked with PBS, Burger King, Atlassian, Ionic and Amazon Web Services.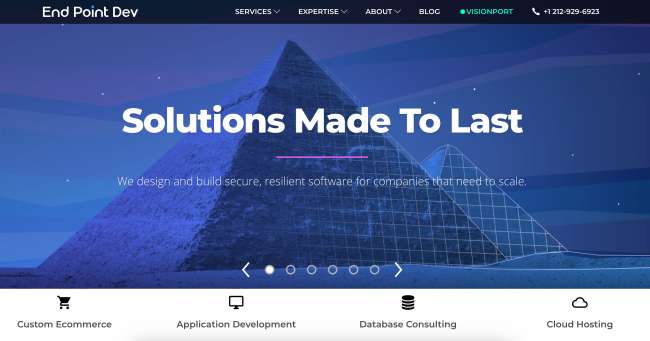 Headquarters: New York, United States
Services they provide include:
Security and Compliance
Cloud Hosting
End Point Dev offers professional cybersecurity protection from cybersecurity threats, disruption and damages.
They provide cybersecurity solutions to a broad range of industries including healthcare, eCommerce and finance.
Their team of experts constantly stays on top of evolving cybersecurity issues so they can keep up with the best cybersecurity practices to ensure you have the privacy and security needed to maintain the integrity of your technology systems.
Why Should You Hire a Cybersecurity Consulting Firm?
From protecting your data to detecting cyber attacks even before they occur, here are the top cybersecurity benefits you can gain from outsourced IT services.
1. Prevent Data Theft
In the first quarter of 2023, 41.9 million data records were compromised by cyberattacks. To avoid being one of the victims, partner with a cybersecurity consulting firm to ensure your enterprise's cybersecurity. They will identify and fix system vulnerabilities and install software to protect your data from cybercriminals.
2. Detect Cyberattacks
Cybersecurity consultants can immediately detect if your network is being hacked or if your employees have violated your company's security policy, which can lead to a cyberattack.
Cybersecurity consultants also offer cybersecurity awareness training to help employees understand and identify possible vulnerabilities that could threaten business operations.
3. Stay Updated About the Latest Cyberattacks
From viruses and worms to server key theft and password attacks, the cyberattack landscape constantly evolves. Awareness of the latest threats allows you to respond appropriately and promptly install the newest software updates to protect your data.
When you hire a cybersecurity consultant, they will guide you through the latest cyber threats and hacking techniques and help you find ways to improve your network's security.
Wrapping Up on Cybersecurity Consulting Firms
From early detection of possible cyber threats to keeping you in the loop with the latest cyber landscape news, partnering with a cybersecurity consulting firm is a worthy investment. Cybersecurity consulting services ensure your business is resilient and prepared for cyberattacks through expert recommendations, solutions, and training. Their most common services include cybersecurity strategy, data privacy, cloud security, network monitoring, and cybersecurity training.
Cybersecurity Consulting FAQs
1. What is a cybersecurity consulting firm?
A cybersecurity consulting firm helps other organizations protect their computer systems and data from cybersecurity threats. They assess the security of the organization's systems, identify potential risks and vulnerabilities, and develop strategies to minimize those risks. They may also train the organization's employees to be aware of and prevent cyberattacks.
2. What are the 5 types of cybersecurity?
Five types of cybersecurity include:
Critical infrastructure security
Application security
Network security
Cloud security
Internet of Things (IoT) security
We'll find qualified cybersecurity agencies for your project, for free.
GET STARTED
Subscribe to Spotlight Newsletter
Subscribe to our newsletter to get the latest industry news