Did you know that Amazon receives $4 of every $10 spent in eCommerce transactions?
The best-performing Amazon vendors don't rake in revenue due to sheer luck. Instead, they smartly take advantage of platform-specific advertising and strategic Amazon Marketing Services (AMS).
The good news? You too can utilize AMS to capture potential customers on Amazon and drastically increase your overall revenue.
What Is Amazon Marketing Services?
Amazon marketing is like a self-contained subset of common digital marketing tactics.
eCommerce brands with Amazon storefronts can utilize search engine optimization, pay-per-click campaigns, sponsored advertisements and more to place their products and business in front of valuable potential consumers.
Amazon Marketing Services are the tools that sellers and vendors can use to promote their products for the specific keywords their customers might be searching within the Amazon marketplace.
On top of targeting key, sellers can also target potential customers based on related products, specific product types, categories, and more.
This enables businesses to create custom audiences that exist solely in the Amazon environment.
How Does Amazon Marketing Services Work?
Mastering the use of AMS can be accomplished quickly to your advantage. The basic features of AMS, offers two options: products that operate through PPC (Cost-Per-Click) and products that operate through impressions (Cost-Per-Thousand).
The primary benefit of AMS, or the Ad Console, is that it can present your product to the target audience, and you can target individual product detail pages. Your product's advertisement can be displayed before the customer makes a similar purchase from your competitor to influence their buying decision.
AMS provides vendors with self-service options, such as Amazon Sponsored Products, which promote products to the target audience when they enter specific keywords, and Amazon Sponsored Brands, which display items when customers use specific keywords.
Amazon Stores can help sellers create a strong brand on Amazon, and Amazon Sponsored Display ads redirect customers who view similar products to your item or storefront.
Depending on your marketing goals, you can use all or only a few marketing tools. As long as you follow Amazon's marketing terms and conditions, these tools offer significant customization, giving you an edge over your competitors.
Two Essential Amazon Marketing Strategies To Implement Now
Here are the top two Amazon marketing strategies:
1. Amazon SEO
Search engine optimization (SEO) doesn't just refer to Google – despite being commonly associated with the Internet search engine.
In reality, SEO is simply the process of optimizing your web pages to rank higher in search listings on various engines.
These can include Google, Bing, Yahoo!, and even Amazon.
Amazon search engine optimization is crucial to capturing consumers and increasing online transactions.
After all, 70% of Amazon shoppers do not venture past the first page of their search listings on the site.
To build a successful search listings presence on Amazon, brands need to beat what's called the A9 Algorithm – or the process that determines the order products will rank based on the keyword phrases that users search for.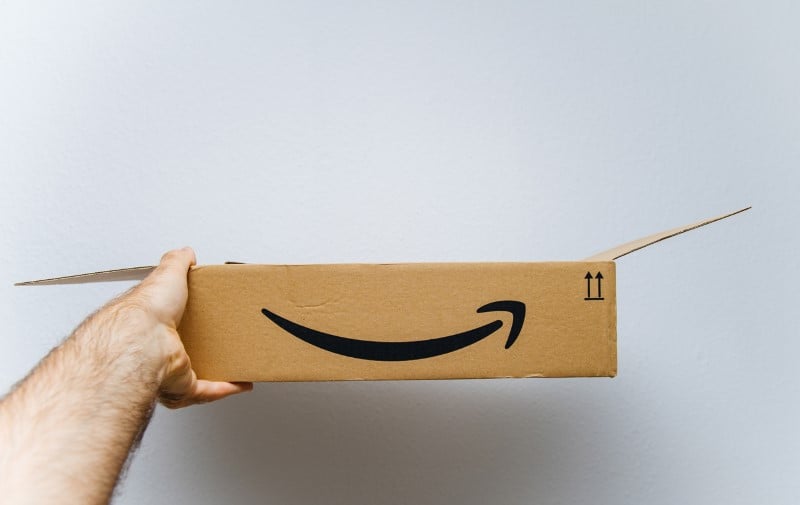 Some common factors that the A9 Algorithm analyzes when determining your rank include:
1. Product Sales & Conversion Rate
This one is pretty simple: The better your product sells on Amazon, the higher you'll rank. You can't cheat this, but you can offer sales, deals, incentives, and competitive costs.
2. Reviews
Better customer testimonials will improve your brand's reliability and foster better trust with consumers. And just like Google, a better customer-brand relationship leads to higher rankings and more organic traffic.
3. Questions
Amazon shoppers have the option to ask questions about your products. Although other consumers can answer these on the forum, providing official guidance directly from your brand adds a layer of credibility and improves Amazon SEO.
4. Product Listing
The more complete your item's "profile" is, the more information Amazon has about your brand and product. This gives consumers more information and helps boost conversion rates. Plus, it also helps Amazon understand exactly what your product is and therefore categorize it more accurately in listings.
2. Amazon Ads
Amazon Marketing Services has a strong focus on Amazon Ads, which run on the pay-per-click cost model. Many businesses nowadays choose to collaborate with a PPC agency to boost the effectiveness of their Amazon ads.
Amazon Ads can include:
Sponsored ad campaigns.
Sponsored brand campaigns
Product display ads.
Ultimately, Amazon advertisements function similarly to Google paid ads or Facebook campaigns – just on a different PPC-powered platform with a strict eCommerce-focused goal.
What's more? The success of your Amazon ads is directly correlated with your Amazon SEO.
"These campaigns are very much tied to the Amazon marketplace search engine ranking performance of a specific product," says Nau. "Sales velocity and clicks improve a product's ranking and visibility in the marketplace. Amazon Ad campaigns help kickstart and support that process."
With complicated search engine optimization tactics and several paid ads on the table, how can brands determine which marketing initiatives they should prioritize first?
If you have to choose, Thrive Internet Marketing Agency recommends investing in proper Amazon SEO – particularly keyword optimization – and coupling that with Amazon sponsored advertisements.
"This amount of control gives the seller the power to work towards generating their ideal ROI on their advertising campaigns while solidifying a product's place within the organic search results of the marketplace," says Nau.
Receive proposals from top digital marketing agencies. It's free.
GET PROPOSALS
Three Amazon Marketing Best Practices To Follow
To leverage Amazon marketing services in the best possible way, here are the best practices to follow:
1. Frontload Keywords In Your Product Titles
"Prioritize the first 60 characters of the product title," says Nau. "If you are able to create a product title that not only clearly communicates the product you are selling, but can incorporate your top target keyword, it will help greatly in your Amazon SEO efforts."
2. Keep Campaigns Focused
Don't overload a specific advertisement with several goals or attempt to rank for several keywords. Instead, pick a few specific and achievable key performance indicators and focus on those.
Honing in on targeted objectives will allow you to be more successful for them, while too many goals dilute success across the board.
3. Don't Rely On Automated Campaigns
Although Amazon does offer automated PPC ad campaigns, which are faster to set up and auto-optimize, we recommend taking the time to create each campaign individually.
This will allow you to customize every aspect of your campaign to your specific brand needs and ensure a better success rate.
Luckily, there are plenty of marketing firms, such as Thrive Internet Marketing Agency, who can set up expert digital ads on Amazon well.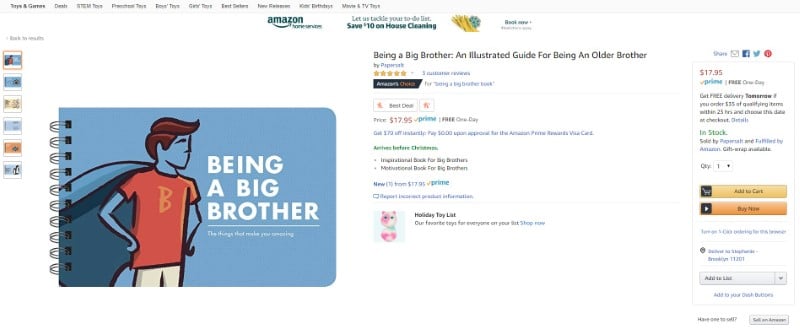 How Much Do Amazon Marketing Service Cost?
Amazon Marketing Services vary depending on the goals of the business.
Costs are dependent on the number of campaigns, and the cumulative daily budget of each of those campaigns that are running at any given time – similar to Google pay-per-click campaigns.
Thrive Internet Marketing Agency recommends that brands budget at least a $20 per day per individual campaign to allow for the best chances of success.
Should You Work With An Amazon Marketing Agency?
Ultimately, partnering with an agency will allow your brand to focus on your core business and enable Amazon marketing experts to do what they do best: Optimize your campaigns and increase eCommerce conversions.
Amazon search engine optimization and ads are complicated. Brands that attempt to manage campaigns themselves can run into a lot of undue stress and inefficiency if they try to manage all of them themselves – particularly if they have a robust online shop.
When brands partner with an AMS company, digital agency marketing experts can optimize campaign performance.
Meanwhile, businesses can focus on fulfillment, customer service, other digital marketing efforts, and more, creating a comprehensive partnership that's made to succeed.
Conclusion
Using Amazon Marketing Services effectively can provide significant benefits to your business.
These marketing tools enable you to display ads in front of your target audience, leading to increased traffic to your brand page and enhanced sales.
AMS offers customization options allowing you to create ads that meet your needs. Whether you want to showcase your entire brand or only a few products, you have complete decision-making power.
Amazon Marketing Services FAQs
1. How to Qualify for Amazon Marketing Services?
Access to Amazon Marketing Services' robust features is only available to some. To utilize these capabilities, one must possess one of the following accounts: Seller Central, Vendor Central, Advantage Central, or Kindle Direct Publishing (KDP). Alternatively, agencies representing an Amazon merchant can also obtain access to Amazon Marketing Services.
We'll find qualified digital marketing agencies for your project, for free.
GET STARTED
Subscribe to Spotlight Newsletter
Subscribe to our newsletter to get the latest industry news