An increasing number of businesses worldwide are outsourcing their web design projects to third-party vendors. Outsourcing has become a cost-saving and workflow-streamlining norm for many organizations, with over 300,000 job positions outsourced every year.
This guide to outsourcing a web design project answers whether you need to outsource your functions, how it can benefit you, and how you can find the best outsourcing partner. Plus, we provide an overview of the cost of outsourcing and the list of outsourcing regions for the best ROI.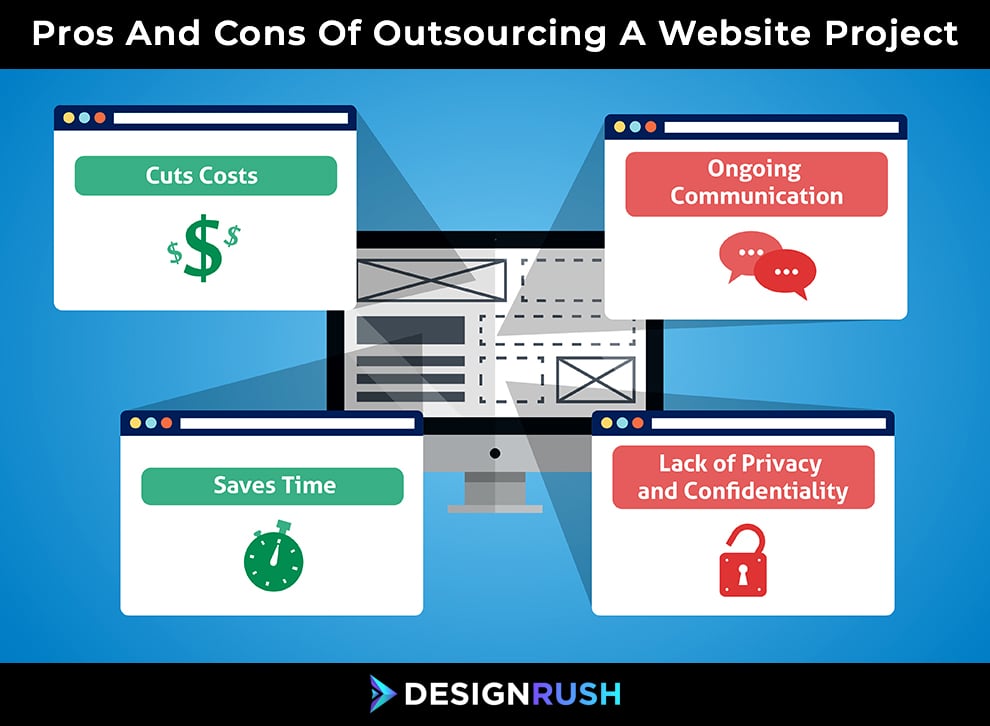 What Are the Benefits of Web Design Outsourcing?
The global IT outsourcing market will be worth $397.6 billion by 2025, and this massive growth is mostly driven by the following benefits:
1. Cost Efficiency
Outsourcing web design is more cost-efficient than in-house services. Hiring a website design expert or an agency in Eastern Europe or Asia cuts costs long-term. On average, companies pay in-house web designers $90,000 annually, while offshore web design professionals can provide the same quality of services for half the price.
2. Global Talent Pool
Outsourcing web design projects gives you access to talents across the globe. You are not restricted to your in-house specialists or even web design agencies in your hometown or region. Thanks to the modern means of communication and file transfer, the world is your market.
3. Time Efficiency
Hiring and working with a full-time in-house employee includes going through rigorous company processes that take up a lot of time. An outsourced web designer can switch between your projects without being integral to your team. For example, you can slot them into the process when you require them to iron out a certain design wrinkle.
4. Fresh Perspective
Outsourcing a web design project introduces an element of new creative flair and lends a fresh take on your project and overall business.
Hiring an external person to apply their expertise to your project often results in new ideas and perspectives you may miss out on. Outsourced specialists from top-rated IT servicing companies have insights and knowledge your employees may not have.
For example, an outsourced web design expert might be able to suggest a more efficient way to design a website layout or offer insights on what they did on a similar project in the past.
5. High-Quality Website
Outsourcing web design projects to outside specialists increases the chances of higher quality output. If you were to hire third-party UX design experts, they would probably give you a day rate for the time it takes to complete the work required.
While that rate might be higher than what you're currently paying your internal designer, the UX specialist will likely be able to deliver a more refined, advanced assessment and improvements on your current website.
Get connected with the right web design agency for your project.
GET STARTED
Who Should Outsource Website Design?
There are numerous reasons why you would want to outsource a web project, no matter what industry or business you're in.
Some of the possible reasons to outsource include:
The price of services in your area are higher than in places where you can outsource
Your company is young, has a limited budget and you need a maximum ROI
You need a one-time service instead of a full-scale, in-house team
You need fresh insights into your company and projects
Your conversion rates and other metrics are not hitting your projected goals
The terms of employing an outsourced team suit you better
You require new website functionalities or changes that your team cannot provide
Your business is growing and your in-house team cannot meet the deadlines and demands
1
DesignRush Recommends: Managed Web Hosting Provider
Outsourcing a website design team can help you solve a majority of project management problems, such as:
Working with a limited budget: You can opt to delegate specific project tasks to those who have the right skills and technologies.
Having a lot of tasks and not enough time: Too big a workload is one of the most common reasons why businesses outsource projects. If the number of tasks is higher than the time frame you have on your hands, outsourcing can help avoid delays.
Not having a website-savvy team: An outsourced team of web designers and developers can get you the necessary skills and knowledge to complete your web project timely and successfully.
Needing the results quick: If your in-house team cannot keep up with the constant changes in the IT industry, you cannot expect to get the desired results fast. Collaborating with an outside agency generates tangible results in a shorter time frame.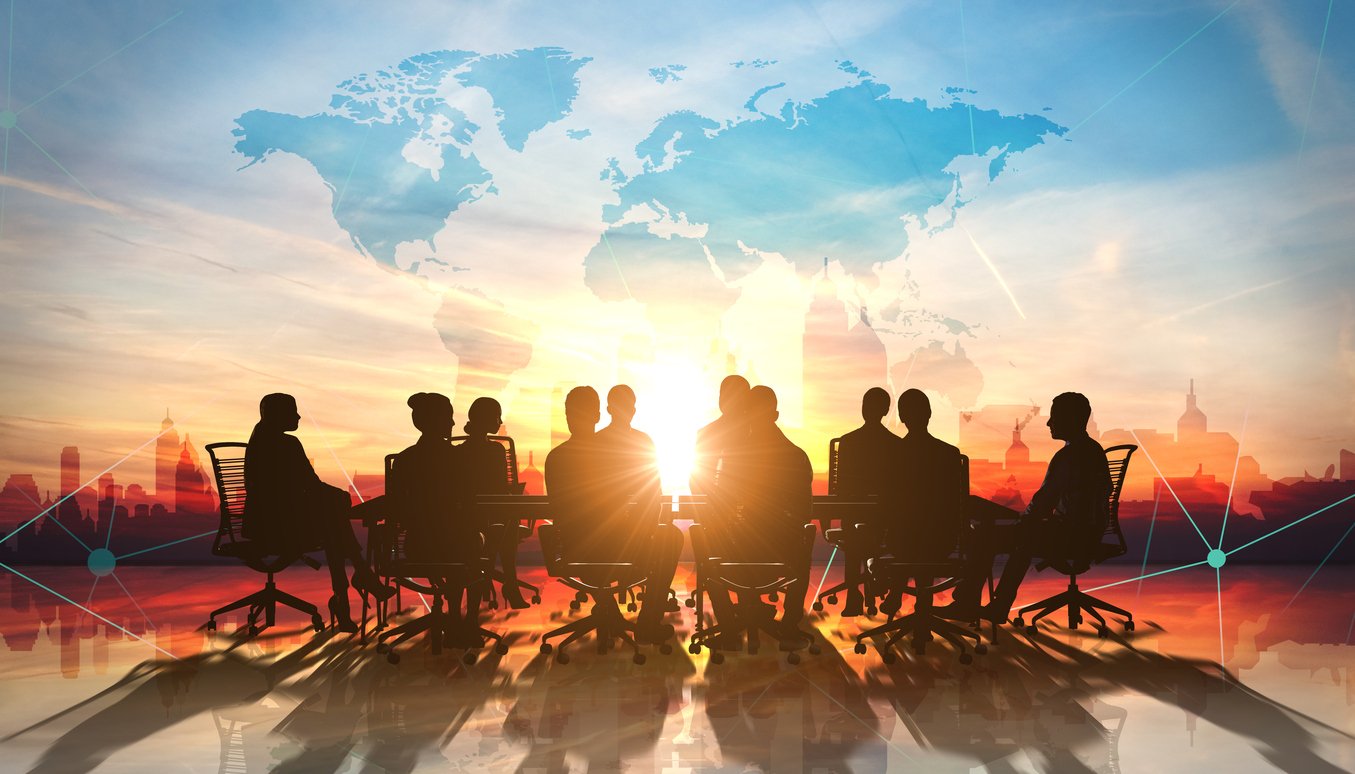 Five Steps on How To Outsource Web Design
Although the very idea of outsourcing a web design project to a third-party vendor may sound complex and intimidating, having a clearly laid out plan helps.
Step #1: Identify Your Goals and Requirements
The first step in getting an outsourced web design and development partner is establishing your exact web project requirements. This includes knowing your goals and current roadblocks because inaccurate expectations will lead to lost time and resources.
Ask yourself the following questions to objectively analyze your current situation and define the requirements you will communicate to your outsourced agency:
What is my website project's ultimate goal?

This can be anything from capturing leads and increasing brand awareness to advertising your products and growing your mailing list – it completely depends on your larger business needs.

What is my budget?

Knowing and setting your budget as accurately as possible will determine the realistic scope of your project.

What are my website's requirements?

Think in terms of website functionality: do you need lead-generating form submissions, an eCommerce page, a 360-degree VR tour, a large gallery of images? It would be best to draft a product specification document to provide a starting point in the development process.

What pain points do you need to solve?

Does your current website have a high bounce rate, low time-on-page stats or very little qualified traffic? Pointing to your current website issues would help the outsourced agency find the solution for your predicament.
Step #2: Choose Your Outsourcing Model
To pick the right outsourced website development service provider, you must establish the type of outsourcing you require: onshore, nearshore, or offshore.
Onshore Outsourcing
Onshore outsourcing is contracting out web development activities to areas within your region or country. Onshore outsourcing saves you from cultural and linguistic obstacles while avoiding the cost of in-house training. If you are in the US, onshore outsourcing will result in steeper pricing than offshore or nearshore options.
Nearshore Outsourcing
Outsourcing a project to a company in the same or nearby time zone is referred to as nearshore outsourcing. The key advantage of this type of outsourcing is that the cultures of a client and vendor are approximate, resulting in a very small number of misunderstandings and miscommunications, if any.
Nearshore outsourcing companies can offer a blend of cost efficiency and high-quality output. That's why it's a viable option for businesses wanting to maintain close collaborative ties without the premium costs associated with onshore services.
Offshore Outsourcing
Hiring an outsourced web design or web development company in a foreign country is called offshore or international outsourcing. This type of outsourcing gives you access to the biggest pool of diverse specialists and is the most cost-effective option.
Step #3: Pick Your Outsourced Agency
Once you decide on a type of outsourcing, you can begin looking for a specific website design and development vendor.
Here are some important aspects you should assess:
Experience: Ask each potential agency whether they have created web projects in a field, niche or industry same or similar to yours.
Portfolio: Look at the projects the company has worked on before and analyze their quality objectively.
Technology: Find out about the tools and tech stack your potential vendor uses, as well as their proficiency.
Team: Review the agency's team members' skills and experience.
Customer feedback: Look for third-party, independent reviews of their services by previous clients and look at what they say about their collaboration outcomes.
You can check DesignRush's global directory of web design and web development agencies to help with your search. You can filter them by criteria such as rates, location, team size, and more to find the one that is ideal for your business requirements.
We'll find qualified web design agencies for your project, for free.
GET STARTED
Step #4: Begin the Hiring Process
The penultimate stage in getting your outsourced website project off the ground is to conduct a hiring process with your chosen agency. To do this, have them provide you with information and specific steps on the following:
Project evaluation and estimation: The outsourced agency should present an in-depth competitive and market research and analysis, as well as a comprehensive overview of the entire project.
Team flexibility: You should be able to pick, add or reduce the web design and development team members based on their core competencies and skills.
Accurate pricing: Have your agency present you with the precise pricing plan for the project and, if possible, include potential extra costs that they may charge you down the line.
Timelines and deadlines: They should update you frequently on the progress of the project and if it is moving along according to the agreed schedule.
Project management: Your outsourced web design agency should be able to conduct and deliver your web design project without your constant supervision. Their managers should be able to keep you in the loop and make sure the designers and developers stay inside the project's scope and timeline.
Step #5: Set Your KPIs
Finally, to make your collaboration a success, make sure to establish realistic, measurable key performance indicators (KPIs). When deciding on your website project's KPIs, you should take the following into account:
KPIs should be objectively measured in numerical terms (quantity, percentage, time, volume, etc.)
They should be aligned with your short-term and long-term website goals, like increasing conversion rates, reducing bounce rates, boosting organic traffic, getting more leads, etc.
Establish each KPI's "weight" and the gradation of the levels of their achievement – in other words, rank them according to how likely they are to be achieved.
It is crucial that you set this with your outsourced service provider. Pay attention to their progress and how they plan to monitor and achieve such KPIs.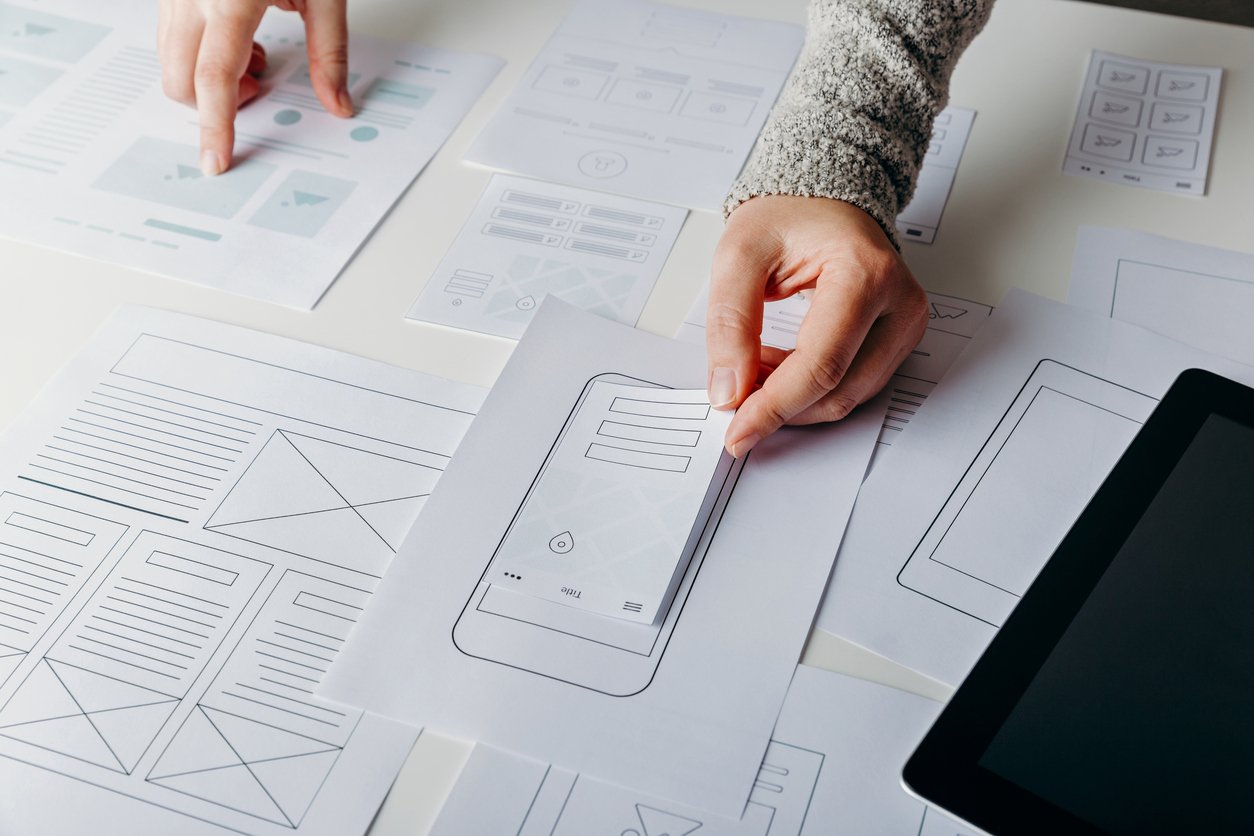 How Much Does Outsourcing Web Design and Development Costs?
Multiple factors affect the cost of a website:
Template vs custom web design approach
Agency's hourly rate
Website's functionalities and integrations
The total number of website pages
Custom messaging
If you are a US-based business and you want to outsource to an onshore web design company, you should know that the US web development companies charge their services in four ways:
Hourly fee: $100-$175 per hour
Per-project fee: at least $1,000
Results-based fee: will depend on the KPIs set by the client and payment will be sent to the agency after the goals have been achieved
Flat fee: common for businesses that need an agency on a retainer for a periodic consulting or website management
As expected, outsourcing to a web design company overseas will bring down the hourly fee expenses.
| | | | |
| --- | --- | --- | --- |
| Region | Designer | Frontend Dev. | Backend Dev. |
| Eastern Europe | $25-40/hr | $25-50/hr | $30-60/hr |
| South America | $15-30/hr | $15-40/hr | $20-50/hr |
| South & SE Asia | >$30/hr | >$35/hr | >40/hr |
What Are the Most Affordable Regions to Outsource Web Design To?
The most common reason why companies are looking to outsource their projects in the first place is to save on costs. If you are looking to cut down expenses while getting top-quality service, offshore outsourcing to these regions may be your best bet.
Eastern Europe
Website design and development specialists in countries like Ukraine, Romania, and Poland can provide highly competent services to businesses of all sizes and profiles – at lower costs.
Businesses in the US and Western Europe often outsource their projects – and even entire businesses – to Eastern Europe because of these reasons:
Affordable pricing for top-notch professionals
A big talent pool
Proficiency in English and cultural proximities
South and Southeast Asia
Countries like India and The Philippines supply some of the best web development talents in the world, while being one of the most cost-effective regions for outsourcing web development services.
Smaller US-based firms may, however, face difficulties caused by cultural differences too big to overcome.
South America
This continent is a relatively new outsourcing destination whose experts can provide good website services at a reasonable cost. However, South American countries are still in the process of developing business procedures and training professionals that could match those in Asia and Eastern Europe.
Takeaways on Outsourcing Website Design
To make most of your outsourced web development project, remember these three things:
Define your requirements: You must have a very clear understanding of your website requirements when outsourcing your project to any agency or organization for each of the tasks to be successful.
Be direct: For outsourcing companies, the most valuable resource is their customers' input. Help them understand your point of view and your project requirements by providing timely feedback and openly communicating your concerns, wishes and instructions.
Define the project expectations: Most issues arise from the agency's misunderstanding of your expectations or the fact that your expectations are not a match to their capabilities. Be clear on what you want from your agency partner and highlight them during the interviewing process.
Subscribe to Spotlight Newsletter
Subscribe to our newsletter to get the latest industry news