Logo design and brand identity are important for growth and success — and the two concepts are intricately connected. Logos help build brand identity, and a strong brand is necessary for building consumer trust and awareness, which translates into increased sales and higher revenue.
The best logo designs needs to make an impact, and studies show that it takes five to seven brand impressions for consumers to remember your brand — so you don't have time to waste. You need to capture your brand and its essence in your logo design in order to ensure they're recognizable and impactful.
The 10 Best Logo Redesigns That Found Success
From major logo changes to the subtlest, barely noticeable ones, brands like to refresh their looks from time to time. This is a prime way to get attention from consumers, spark discussions in the creative industry and generate a positive buzz... and these brands hit the mark.

Coca-Cola is a company that's invested heavily in PR. Even though your initial thought would be that the majority of their budget goes to marketing, that's just not the case.
Coca-Cola is a majestic example of how company's build their reputation based on consumer feelings. Their business model is entirely different than its competition. When you see Coca-Cola's commercials, you know it's clear they want to create a consumer reflex – whenever you have a family gathering, it can't go on without a cold, Coca-Cola. The brand cleverly uses everyday situations that can speak to everyone and embeds Coca-Cola into them in a fluid and approachable way.
This specific approach has brought Coca-Cola the success it's seen today. And that's why they use beloved celebrities with a cool image -- like DJs and performers. They're also fond of affiliate marketers, movie product placement campaigns, influencers, bloggers, and PR campaigns. That said, it makes sense that it's the most recognizable brand in the world.
But we're talking about logos.
So, let's talk about Coca-Cola's famous logo redesigns. So far, Coca-Cola has had 12 different logos.
The brand's story began in 1886 when Dr. Pemberton created a headache elixir with coke leaves. It took some time to perfect the recipe and the branding, but it got there. And in 1950, five logos later, Coca-Cola introduced its signature red color.
Let's take a look at the last two last logo designs, the one introduced in 2003, and the last logo redesign they did in 2007 which is what we see today.
When Coca-Cola explained the meaning of their logo, it was evident that they had a young audience in mind – it was obvious ever since introducing their hip and swirly letters. And in 1969, Coca-Cola introduced its iconic white wave design that they call the Dynamic Ribbon Device.
It's still in use today.
Comparing the logos between 2003 and 2007, the differences are clear. In the 2003 version, Coca-Cola added an attention-grabbing yellow ribbon, and together with bubbles, they emphasized the fizziness and refreshing taste of the soft drink. This logo was introduced as part of Coca-Cola's massive "…Real" campaign.
From actors, boxers, and cyclists to NASCAR drivers, pop stars and singers, Coke's brand advocates showed their true side, their human side. This campaign marked a new era for Coca-Cola's marketing, easing people into their changes with a simple logo redesign.
The new 2007 logo was simplified to keep up with current trends, but still familiar enough to pay homage to the classic design embodying Coke's heritage.
When you look at the changes, you understand their subtlety. The brand wanted to stay recognizable but wanted the redesign to be different enough to make a powerful impact. This logo redesign is sleeker, cleaner and more minimalistic. The same font is used, but in 2007 they went with more breathing room in the design, simpler ribboning and lighter letters.
Coca Cola's current logo is definitely a story of successful logo redesign simply because they understand that a good logo design has to bring changes that are clearly visible, but still keep the brand spirit and elements that add to brand recognition front and center.
If you want to see how a brand can successfully rebrand itself through design, check out this Weight Watchers case study!

We have another giant on our list of successful logo redesigns that reinforced the brand's successful future. Google's logo redesign was presented to the public in 2015.
When you have a wordmark logo without any additional design features, the safest and quickest way to complete a logo redesign is with fonts. Digital agencies often recommend focusing on typography to refresh wordmark logos without losing brand recognition. And Google's design team definitely knew this, because they changed their Catull typeface into flat sans-serif and achieved a lighter and more modern look with a subtle shift.
When compared to the previous logo, it's clear that Google dropped the shading, and its primary colors lost the shining element, but they did become brighter, which made this new logo even more elegant.
Minimalism is a powerful trend that captures consumers immediately, and this simple redesign is a great example of how small changes are enough to make a redesign successful. Keeping Google in mind, it's apparent that subtlety is key.
But it's not just the wordmark that changed. Google also introduced a single letter symbol to the equation to make the branding simpler on a more responsive scale -- a single letter mark symbol is still enough for brand recognition.
Mainly because the redesign team used the same sequence of colors in the wordmark logo and recreated them in the letter mark. The letter "G" is still the same, the colors are there and the design has been utterly simplified. All these features provide a new, well-designed emblem for Google's collaterals and stationery design.

Even though a logo redesign can enhance brand identity and create a new buzz and interest in people, there will always be those people who react negatively. There are millions of opinions and people who simply aren't willing to accept changes when they come, but ultimately, the buzz fades and it's all business as usual.
Mozilla made a smart move (one of the smartest in logo redesign history) – they invited people to comment and share opinions. The logo creation process spanned over five months and instead of just announcing the final product, Mozilla shared each step publicly.
Firstly, this generated an online interest in the process, with people commenting on each proposed design. And they actually listened. In the end, Mozilla created a logo using typeface and typeface only, creating a pun in the process. Mozilla became Moz://a.
With this simple change, Mozilla accentuates the user-centric approach and also put its consumers at the core of its business. Furthermore, they created a logo that is somewhere between a wordmark and icon with the introduction of a new symbol – M://

Uber's logo redesign is controversial. It's a logo design that left many with concerns, and they voiced them loudly. But still, we believe that this is a successful logo redesign that deserves to be mentioned.
Uber wanted to make a drastic change, and to do so they went with a complete redesign, which made sense to stand out from the competition.
Company policies and a new corporates approach dictated the logo redesign. Uber believed that their classic U sign wasn't representing their growth and additional services.
They stated that they clearly weren't just in the business of moving people from place to place, they were expanding. Now, they offer additional services like Uber Eats, which means that they are in the business of moving food, goods and in the future, maybe even more new business initiatives.
However, what critics claim is true. A logo should instantly create an association with a brand, and the old logo did that, while the new logo just doesn't.
Instead of the letter U in a square, now we have a small square in a circle, that is embedded in a hexagon. Even the color and the typeface are different. Here we have a combination of sleek lines forming new, modern patterns, with an almost neon green color, matte dark green for the background, and a white thick circle in the middle. The square in this circle has a line to the left, and looks like a map pinpoint from one perspective, signifying movement.
Sure, the new logo doesn't represent the brand completely, but… that just means it doesn't represent it – yet. The old logo doesn't leave the breathing room for new products and new services, and the new logo lets Uber play with the background and shapes.
Each country can have its own Uber logo. Each newly added service can have a brand new feel and persona that will still be the same as the rest in some capacity. And this, Uber nailed perfectly.
Uber is well, Uber. You'll find the app on your phone and notice the different logo, and in time you'll get used to it. Uber sells a service that many people use, so that instant recognizability isn't the issue – Uber isn't a no-name brand that has to compete for brand recognition. They just needed a design that would grow along with them.
Qantas (Queensland and Northern Territory Aerial Services) is one of the biggest airline companies in Australia. They have an established brand – a combined logo with a kangaroo mascot on top.
And by introducing this triangle shape, the company cleverly inspired flight, showcasing an airplane's tail. It's a nice example of how a physical shape can be used as a reference to the product in a subtle, creative way.
The name Qantas and the image of kangaroo alone don't really resemble anything remotely connected to an airline -- but this twist makes that connection.
When the company introduced new aircraft, they understood that the logo had to be redesigned to better fit the new airplane tails. The changes here were so subtle that unless you compared the two logos side by side, you wouldn't even know what changed.
Again, that's the perfect path to a successful logo redesign – keeping all the good and important elements and just making them better. Qantas did it by changing the typography and making it sleeker. It's a similar story to what Coca-Cola did.
These brands followed popular trends that kept them relevant, gravitating towards a thicker typography and bolded letters. Even the kangaroo was made sleeker so that his legs appeared longer and more powerful.

This is probably the simplest and most subtle logo redesign on our list. The main difference between these two logos is the teal color of the logo's background and some minor changes to the font that is almost impossible to notice unless you compare the logos side by side.
The color change was definitely smart and in line with new color trends, while the last logo was very bland.
Too blue, too bland and too uninspiring, which never made much sense.
It wasn't always like this though; the color was the right choice for the brand back when it was first created, but with new trends and designs, it made much more sense to stick to the black color on the website.
The logo weight was lightened, and the letter meeting points were given a more elegant appeal with thinner strokes. The letters were too condensed in some places, so the designer provided a bit more breathing room with more negative space. The quirky baseline was retained but in the new logo, it was slightly straightened so that it remained playful but less bouncy.
Many small changes were made to the MailChimp logo, but the new one doesn't look odd – it looks better, less inky, creative and refreshed, but the playful side of the brand is still very much so present.
7. Olive Garden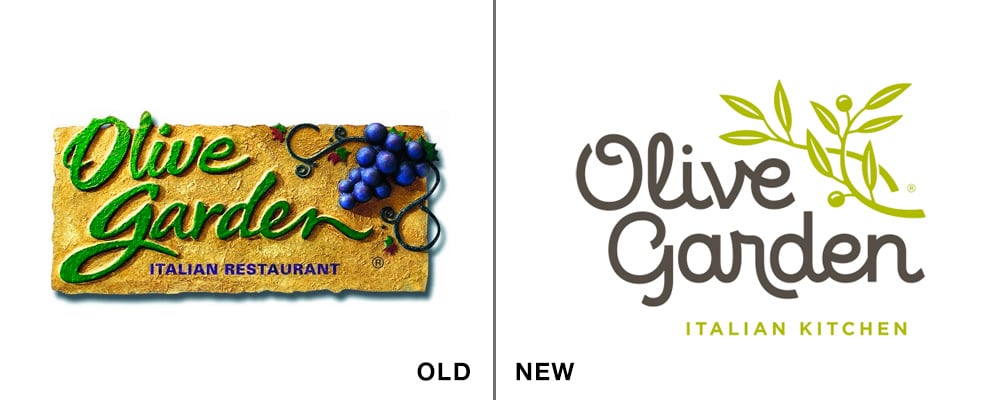 Olive Garden is a famous Italian restaurant that's changed its identity completely with the help of a logo redesign.
Olive Garden originally embodied its brand using a wordmark logo embedded in a Tuscan-esque background. The redesign kept some of these elements keeping the brand name and its integrity but adding a modern twist.
The old logo was cute and with its charms, but it slowly became updated. The thick letters in green color corresponding to the brand's name, Olive Garden, and the grapevine with grapes also provided that Italian cuisine charm.
But the new logo completely modernized the restaurant and changed its identity.
The elements remained the same (or similar) with the new design. In the upper right corner, instead of a grapevine, we can now see olive branches.
The letters on the old logo were strikingly green and attention-grabbing, and in the new logo, they're dark olive green colored to keep that prominence. The typography changed completely, but the idea remained the same – a type of handwriting is used in both logos.
The Olive Garden redesign is a great example of how brands can change their appearance entirely, but still keep the same elements in both iterations.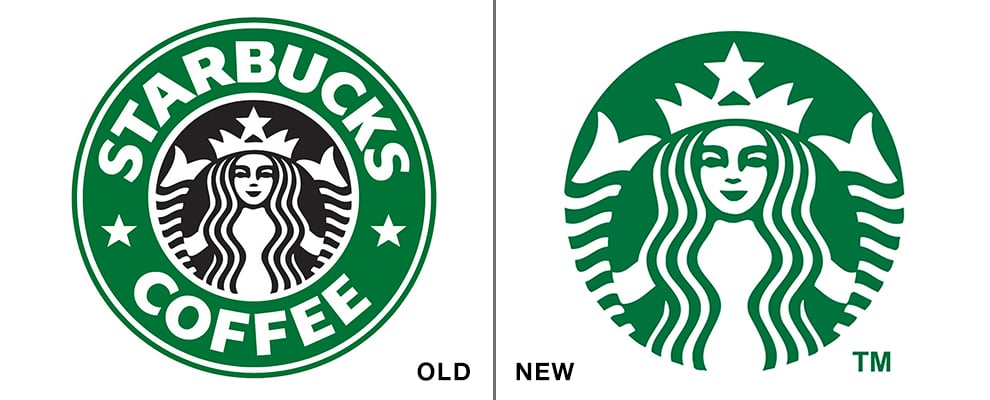 Starbucks is a huge, multinational brand, so any changes made to the logo will directly affect its customer base. That can be a slippery slope, especially since the brand is an iconic one.
However, Starbucks achieved success with its logo redesign, even though there were many critics in the beginning.
First of all, Starbucks centered its redesign around its 40-year anniversary. This marked it as a milestone, almost requiring an entire redesign. The changes were simple yet effective and the brand recognition remained strong through the alterations.
The old logo had the wordmark circling the mermaid, and now in the new logo, this wordmark is completely gone. It's mainly because the mermaid itself is easily recognizable from a distance and people know Starbucks by that creative mermaid -- it needs no other introduction.
It's almost as if the brand wanted to send a message -- they're so well known and they've achieved so much over the past 40 years, so they don't need to be in your face. And neither does their logo.
Another major change is in the color scheme which changed completely. Now, the mermaid is green, and the background is white -- the only black coloring coming from the coffee in your cup. This decision aligns the design well with current minimalistic trends in the design industry.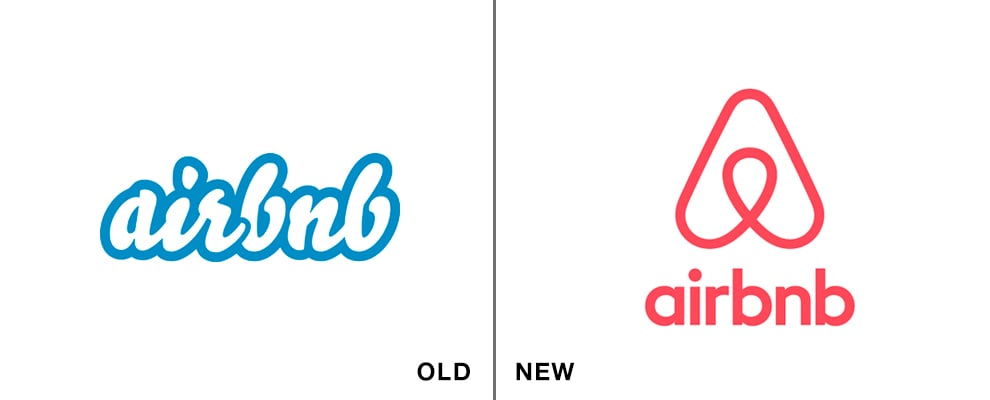 Airbnb has a complete story behind its logo redesign and it's nice to see how a brand can make a story out of the redesign process.
Brand core values are used for logo inspiration and they fit perfectly together in a simple illustration. The logo comprises smaller parts that form a big picture – and these parts are People, Places, Love and Airbnb. The end result is a simple and easily recognizable logo, with a cute color that's neither red nor pink (it's called Rausch).
While the logo naturally symbolizes the brand, it's also a nice way of showing people that they care more about the inner works and their vision than just the brand recognizability.
Also, many brands like to choose the blue color as their main logo color (Facebook, Twitter and the rest are just some of the logo redesign examples). It's always nice to see when brands go bold with their main color, and Airbnb certainly did that with their color choice.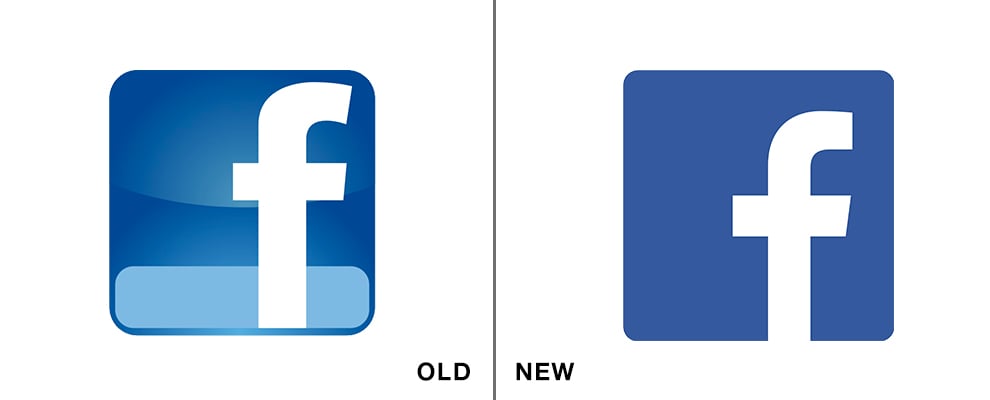 Facebook also had a minimal redesign, so minimal that you probably didn't even notice it. Facebook's previous logo had a small light blue line as a baseline for the F letter. When they wanted to freshen the logo and make it flatter, they did it simply and subtly. By removing the light blue line, their logo achieved a more elegant and simplistic look.
Also, now the letter F doesn't sit atop anything, and its bottom section connects to the white space outside the logo.
Facebook's subtlety in its redesign has greatly supported the successful end results it's achieved. Now, we have a logo that is sleeker but still recognizable. The letter F is just enhanced in the process, and the fact that it's connected to the background has a deeper meaning – after all, Facebook connects people from all walks of life.
How Logo Redesigns Transform Brand Identity
What can we learn from all of these successful logo redesigns? Well, as industry trends change, so should logos. Refreshing a brand's look is always a good way to create a buzz. And changing up a logo is a great place to start.
Successful logo designs can either enhance a brand's logo for the better with subtle changes or can transform an entire identity with massive changes. But either way, redesigns are going to have an impact.
Simpler ways of achieving a successful logo redesign include making changes to the font, adding more negative space and moving elements around. If you want to keep the rest of the elements the same, but just enhance them, opt for a more minimalistic approach, with lighter strokes, lighter typeface, and more breathing room.
Brands should select their colors carefully and make sure that these colors also correspond with brand values and the emotions they want to bring forth.
As a whole, however, it's important for brands to understand the magnitude of logo redesign on their brand identity. They can effectively pave the way for how audiences will perceive your brand going forward, and rightly so. If your brand is looking for a refreshing facelift, look no further than a logo redesign.
Our design experts recognize the most innovative and creative designs from across the globe. Visit Design Awards to see the:
Our team also ranks agencies worldwide to help you find a qualified agency partner. Visit our Agency Directory for the top Logo Design Companies, as well as:
Subscribe to Spotlight Newsletter
Subscribe to our newsletter to get the latest industry news