Wedding invitations are one of the first few pieces of print design that go into a wedding. They're covered in stunning colors, glorious typography and meaningful prose. They may just be small pieces of cardstock, but they sure make an impact.
Invitations set the stage for the big event to come and give attendees a glimpse into the bride and groom's personality. Customarily created by graphic professionals, these designs are a vital part of the entire wedding experience, and wedding invitation designs are the first marker for whether or not a wedding will be a night to remember or a night you'd rather forget.
This importance proves that designs matter. Designs make a difference. Designs make an impact. And wedding invitations are no different — you don't need to be a designer to understand that.
So whether you have a big day of your own coming up or your searching for invitation inspiration for your next corporate event, these top 15 wedding invitation designs are sure to influence your next creation.
The 15 Best Wedding Invitation Designs
1. Creative Wedding Invitations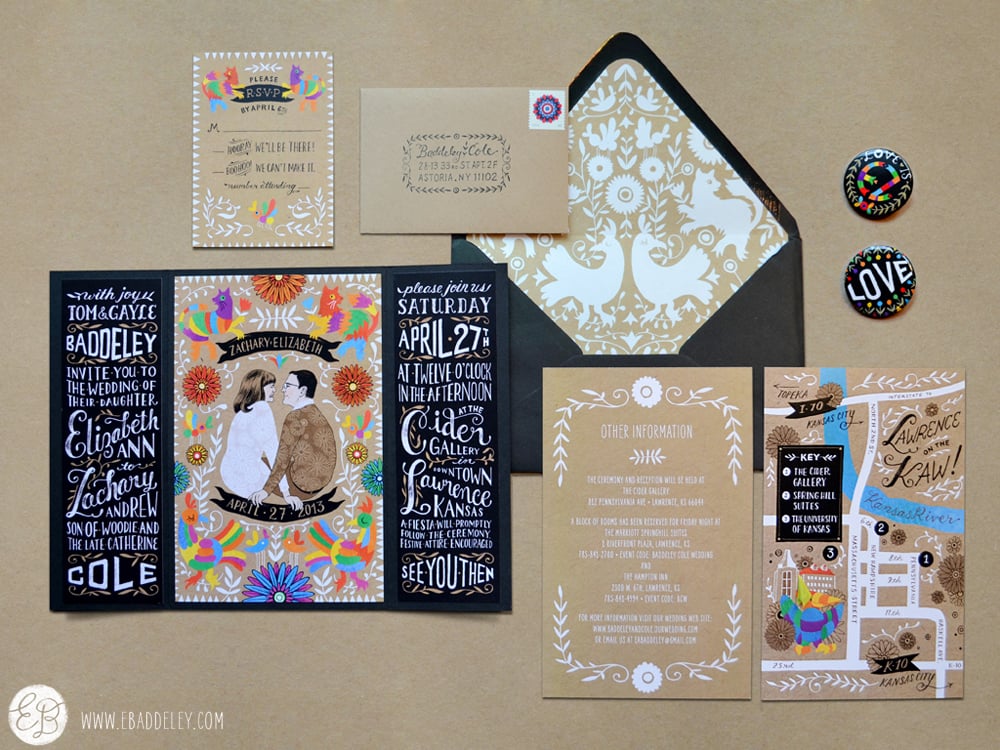 Spring is the perfect time to play with color and design — so have some fun! This wedding invitation does both — using bright and bold colors to add some personality and excitement to the invitation.
The personalized drawing that sits at the front of the invite is cute and sentimental and is surrounded by colorful flowers and silly animal drawings that really give you a feel for the couple and their dynamic. And the fun and playful typography that sits on the brochure-like flaps next to the image is extremely pleasing to the eye.
This invitation is fun and fantastical, and the wedding will probably be too. The accompanying materials, buttons, RSVP notes and directions are all decorated in a similar fashion — with eye-catching colors and in-your-face illustrations. The directions are actually written out like a map which is one of the coolest things I've seen.
Plus, the choice of paper — a tan and textured parchment — is the perfect base for these elegant and creative wedding invitations. If you want to show that you know how to have fun, this type of design from Elizabeth Baddeley is right up your alley.
2. Modern Wedding Invitations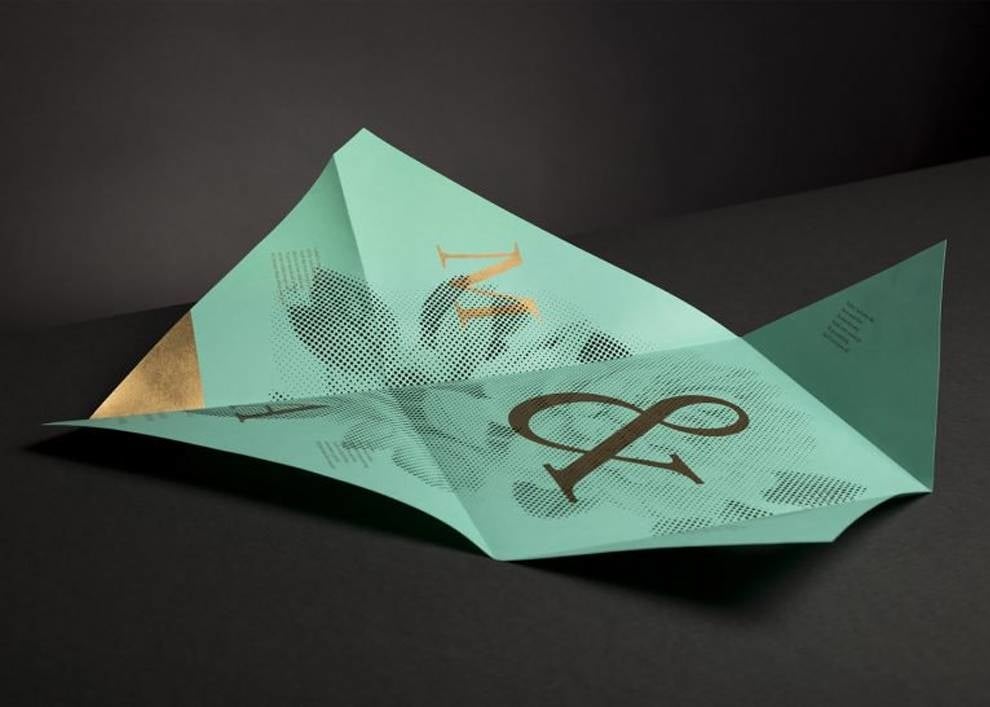 This modern invitation design really does steal the show. Coming in a range of bold colors, and designed in an origami style, opening these invitations feels like a treat in and of itself. Seriously, imagine getting this invitation, folded up like a little puzzle — I'm giddy just thinking about it.
But it's not just the shape of the invitation that's inspiring. The colors are stunning, the gold foil that lines the corner and makes up the monogrammed initials is elegant and the flower illustration that takes center stage is simply gorgeous.
The laser cut peony really does grab attention, and the minimal text draws all eyes to it. These designs are modern, luxurious and fun — not just for the bride and groom, but for everyone involved. Interactive, modern and minimal — this design by M&A Creative Agency is one for the ages.
3. Vintage Wedding Invitations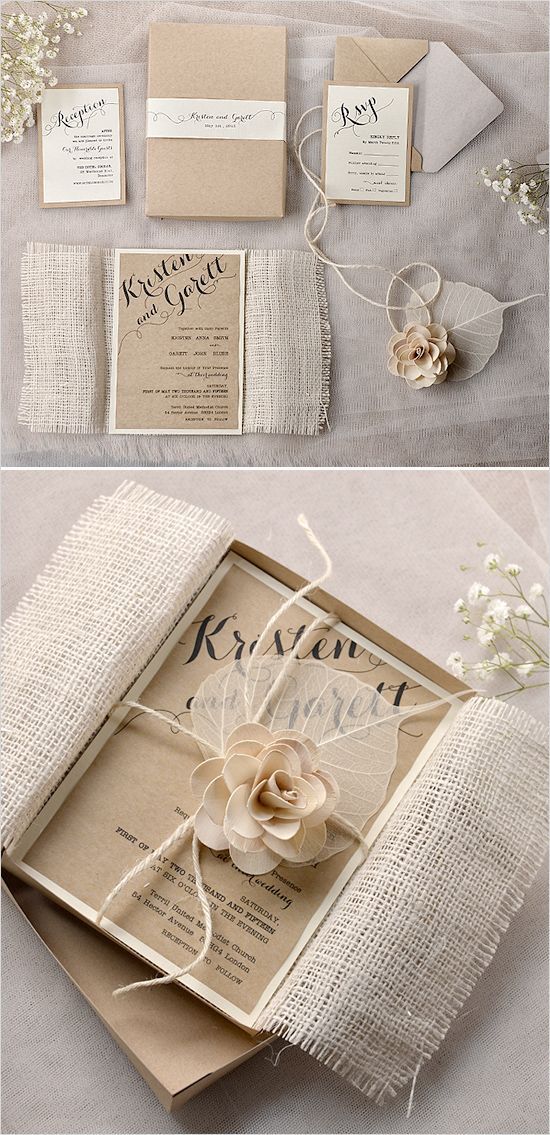 There's something about vintage wedding invitation designs that are just so alluring.
Maybe it's the sandy parchment that calls back to a simpler time. Maybe it's the linen paper that delicately holds the invitation and accompanying cards together. Maybe it's the fact that everything is tied up in a cute, simple little bow and held in a paper box like a present.
Either way, this vintage wedding invitation design template is one any couple would be excited to emulate.
The invite itself holds the couples' name in a bold serif font in the upper left-hand corner. It's simple, elegant and bold. And the rest of the copy is simple and aligned to the bottom right of the design — typed out like it was written on an old-fashioned typewriter.
This design plays with minimal colors, taking advantage of the natural browns, creams and blacks of nature. This vintage design truly is a work of art.
4. Luxurious Wedding Invitations
Sometimes you just want something a little fancy and luxurious — and this wedding invite certainly ooze sophistication.
Wrapped in a gold envelope, with a stunning floral design on its front flap — from the first time you set eyes on this invitation, you know it's regal and elegant. And the luxuriousness doesn't stop there. Hidden within are beautiful, off-white pieces of cardstock with exquisite cursive typography, enchanting corner designs and a glamorous gold coloring that continues to play up the theme of magnificence.
From the invite itself to the additional information and RSVP request, you feel a sense of sophistication and divinity. Laser cut gold designs like this one are definitely worth the splurge — you won't regret it after you see the RSVPs roll in. These gorgeous designs from Paper and Lace Boutique are the perfect choice for anyone with a princess fantasy.
5. Classic Wedding Invitations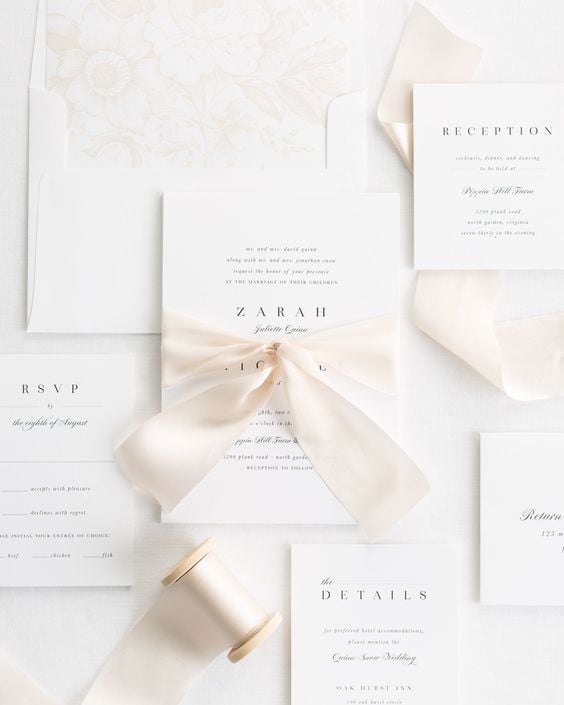 Simple, regal and dignified — those are just a few ways I'd describe these classic wedding invitation designs. And if you're someone that loves a good classic, a template like this one is sure to make all of your dreams come true.
White cardstock, silk cream-colored ribbon, and a subtle floral design along the inner fold of the envelope add personality to this design. Minimal copy in a simple, elegant typography gives guests all the information they need to be laid out in an easy-to-understand and eye-pleasing way.
Sometimes, there's just no messing with a good thing. And these invitation designs are good. There's no messing around, no bold, obnoxious colors, no fanciful text. It's just a straight wedding invitation. And there's nothing wrong with that! Everyone loves a classic.
6. Rustic Wedding Invitation Ideas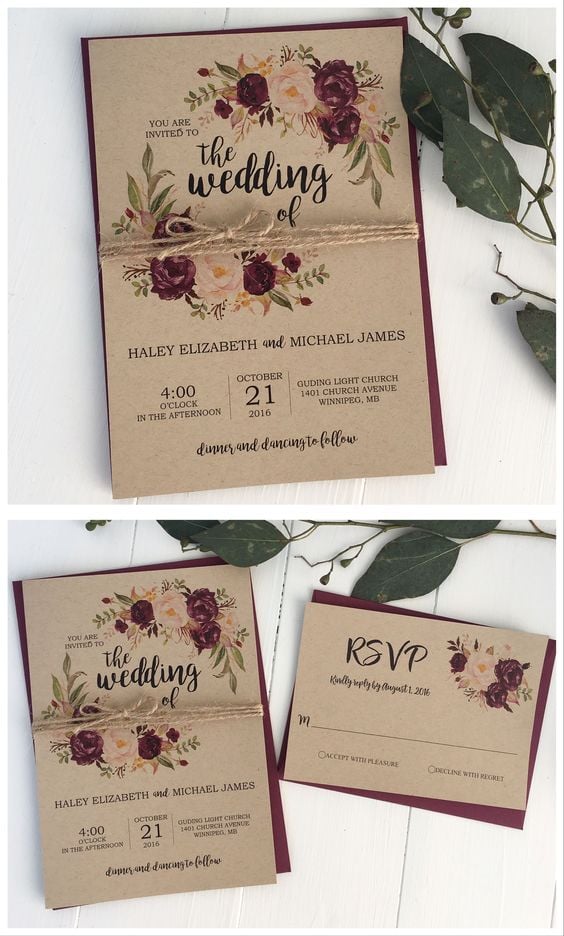 These invitation designs inspire thoughts of happiness, comfort and ease — which might be exactly why so many people are turning towards rustic wedding design inspiration. From their venue to their clothes — rustic inspiration has invaded the wedding scene.
And they've also made an impact on wedding invites. You can see with this one, the sandy cardstock is the perfect backdrop for all the vital information wedding guests might need. A beautiful floral design takes center stage, with deep purples, subtle greens and gorgeous pinks.
Beneath, you have a minimal serif typography that is short, sweet and to the point. All the information is laid out plain as day for anyone and everyone to see. All of the other cards and documents are in the same style, and the envelope in a gorgeous aubergine color gives off deep rustic vibes.
This design also includes a piece of twine to majestically hold it all together — something that makes you think about a big old barn decorated with handmade lamps, hand-picked flowers and string lights. In particular, this more casual wedding invitation design is the best first look at the rustic wedding of your dreams.
7. Minimalist Wedding Invitations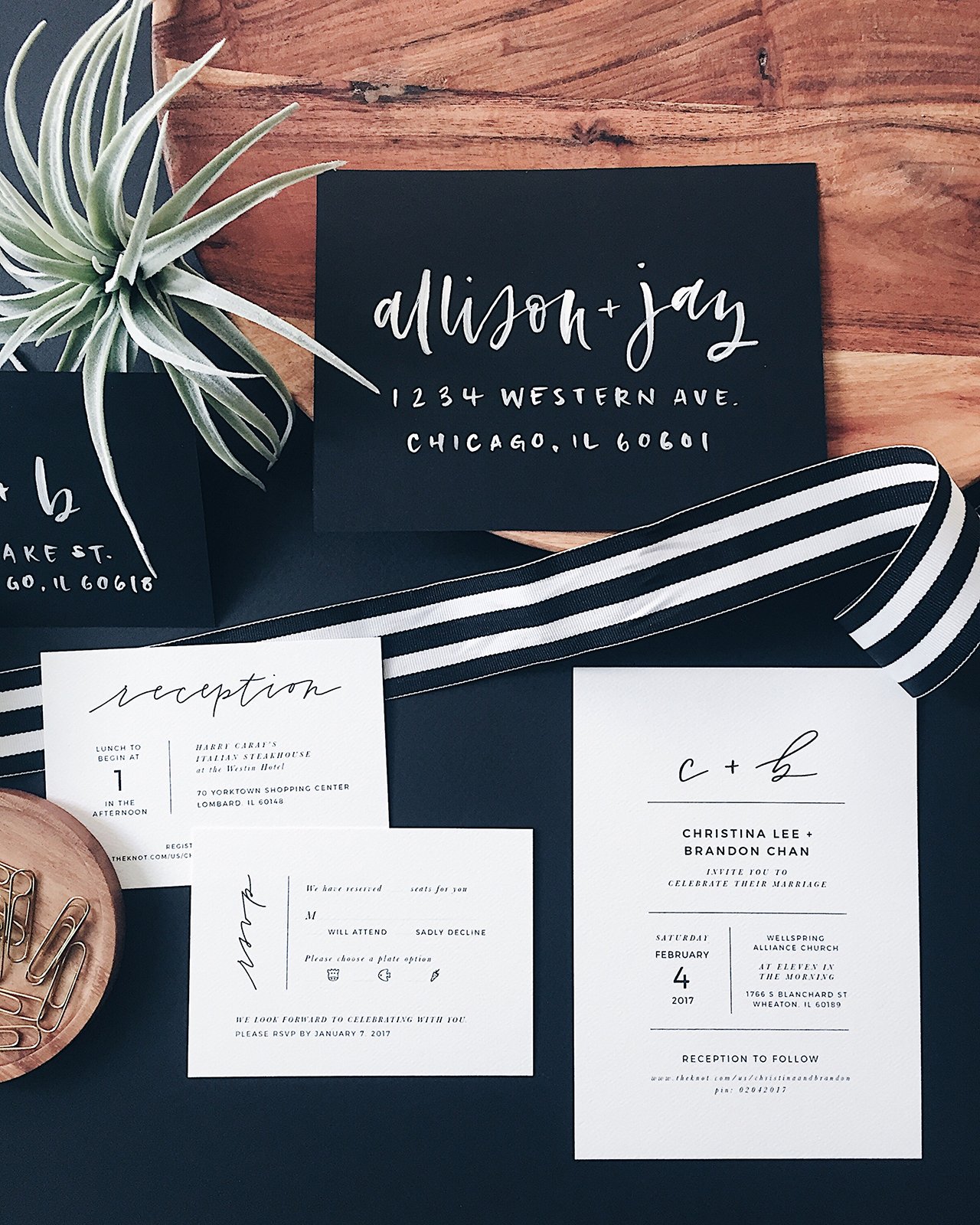 Another design trend that has quickly risen to the top is minimalism. It's simple. It's clean. It's effective.
There's no muss. There's no fuss. There are no big, bright colors. There is no bold typography or whimsical designs. But just because this clean and modern design is void of flare, doesn't mean you can't showcase your personality through it.
Let's start with the envelope — which is a deep, black matte color with a flirty white font that looks straight off of a whiteboard. The invitation itself is broken down into sections — in a very thoughtful and calculated way. At the top, you have the initials of both partners in a lowercase whimsical font. Then you see a line break, and the marriage information is provided. Then there are more line breaks with the information spelled out in a clear and concise way.
Each additional document has minimal copy, tiny illustrations, and one heading that adds personality. It's hard to look away from because the minimalist qualities are so alluring. And you still get a feel for the wedding party itself through them. Play with minimalism with designs like this one by Grace Niu to let your personality shine.
8. Elegant Wedding Invitation Designs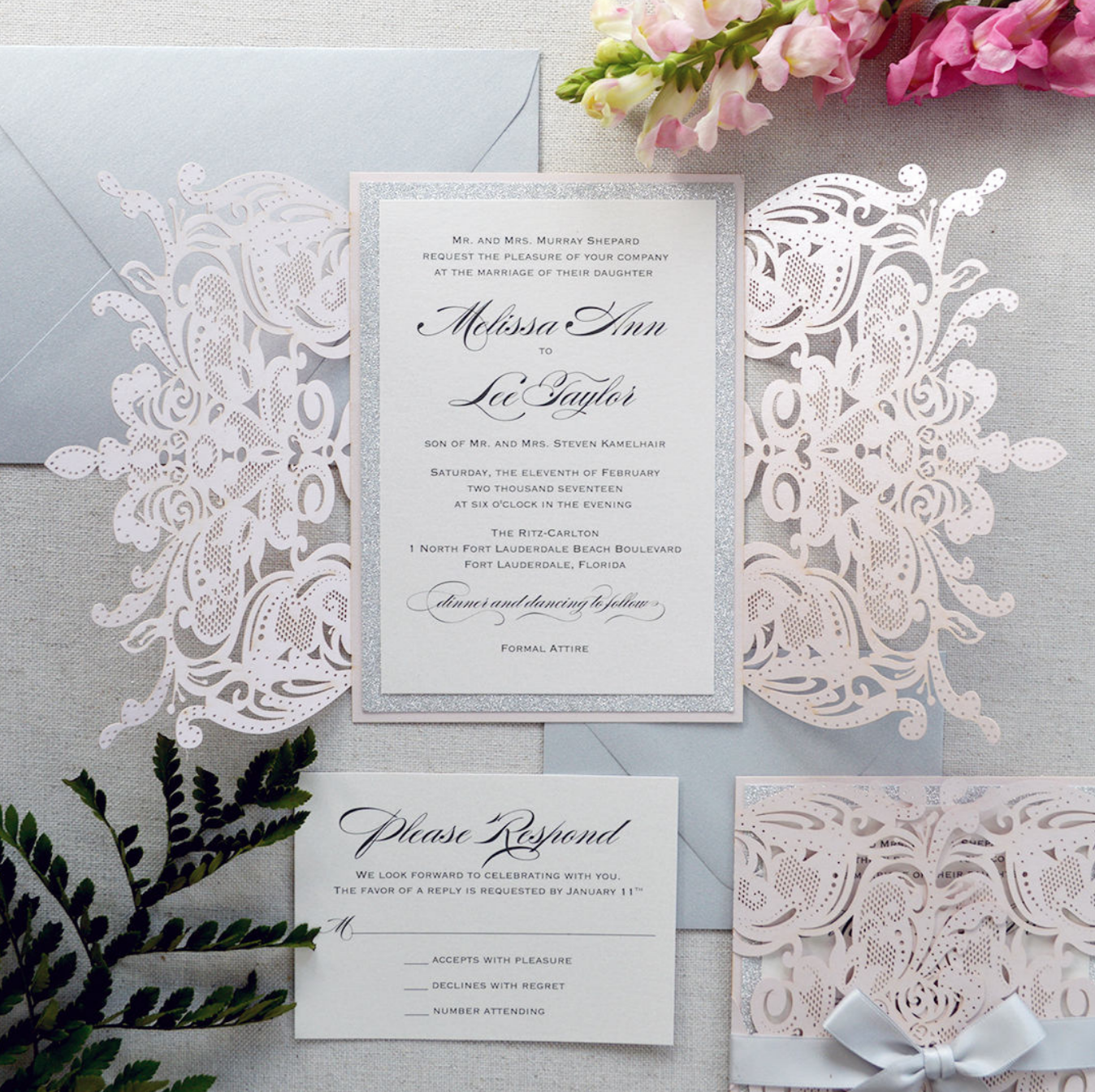 If you're looking for a design that is a little less modern, and a bit more whimsical and fun, an elegant wedding invitation design might be the design for you.
The first thing you notice about this invitation is its brochure-like qualities. In place of a traditional envelope, you have two laser cut folds that wrap around the invitation like a present. In delicate creams and floral patterns, this design is also wrapped up in a delicate and grey bow. This invitation screams excellence and elegance.
The invitation itself is set against a silver glittery background to exemplify the regal beautify of it all. The copy is written in a straightforward sans-serif font except for the names of the bride and groom — emphasizing their significance. And obviously, they're important so it makes sense that their names stand out.
The rest of the invitation is both simple and elegant. It's subtle, classic and minimalistic. But it's effortlessly beautiful as well.
9. Black and White Wedding Invitation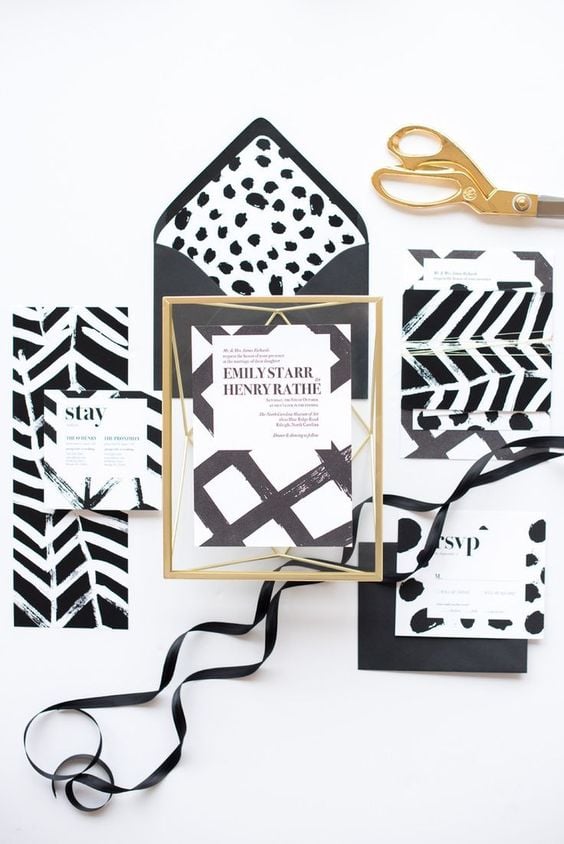 Ditch colors for a design that makes an impact — wedding invites like this one! You don't need bright and bold pops of color to make an impact.
A black and white design like this ones uses a deep, dark black and stark white to tell a story. Each piece of the invite incorporates a different black and white pattern. Some include zig-zags. Some include spots. Some include a leaf-like pattern. Some are decked out in a plaid-like style.
The two colors work magically together, creating stark contrasts that immediately pull the eyes to the page. The typography is equally simple, yet powerful. Bold lettering and minimal copy put these black and white designs on display beautifully. If you want to try something new and different — something edgy and unique — a black and white design is the right pick for you.
10. Laser-Cut Wedding Invitations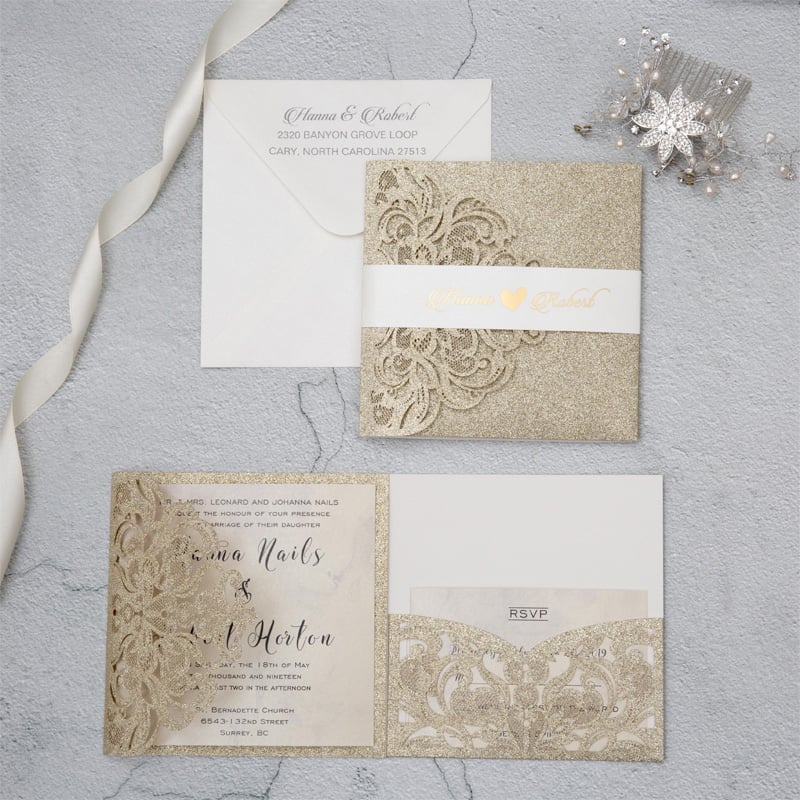 Everyone loves a little bit of glitter, right? Well, I do, which is why I've included this pop of glitter on the list -- and this design is certainly having some fun with gold and glitter.
The envelope itself is encased in golden glitter, with a laser-cut floral flap that adds majesty and beauty. The invite is then wrapped in a bow, the names of the bride and groom etched in gold foil that shines.
Meanwhile, the rest of the invite follows the same pattern. The cardstock is covered in textured gold glitter, and the typography really puts the shine on display. With simple typography — except for the names of the bride and groom which are much more whimsical — the glitter takes over and makes you smile. The glitter is fun. It's flirty. It's cool. It's elegant. I can't look away and you probably can't either.
11. Moody Wedding Invitations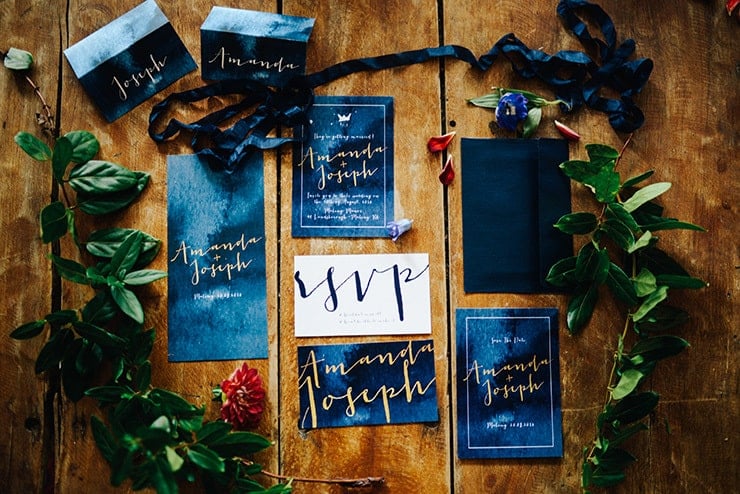 Set the tone and make an impact by giving off moody vibes with your wedding invitation designs. And this is the perfect inspiration for a dark, mysterious and seductive vibe that will certainly leave a lasting impression.
The dark and watercolor background is flowing and smooth, giving off feelings of the deep blue ocean full of mystery and wonder. And the bold, bright white typography stands at attention quickly, providing readers with the information they need as soon as they open the envelope.
Setting the mood with your print design is a great way to give attendees a taste of what they can expect when they arrive at the ceremony. And there's certainly a magical effect here. These designs are bold and enigmatic. They are stunning and deep. And they are sure to get people interested in your upcoming nuptials.
12. Typography Wedding Invitation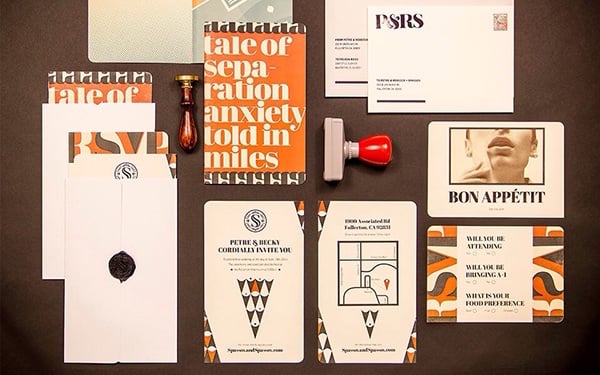 These wedding invitations by Petre Spassov are bright, colorful and energetic. They play with overlapping colors, clean layouts and cool imagery with ease to create a design that is instantly captivating.
But what stands out the most in this design is the clever use of typography. Big, bold and flowing letters line the edges of the pages or make up the entire design in some cases. There's a smoothness in their integration that makes the rest of the design flow organically.
Similarly, this gives the designs a modern and playful edge — it's bold and in your face, not giving the reader any room to misinterpret. On the contrary, these designs are blunt and straightforward, engaging the reader on the first contact with a modern design that makes the idea of attending a new wedding one that fills them with excitement and anticipation instead of dread.
From the save the date to the information card, typography takes center stage making these wedding print designs real winners.
13. Simple Wedding Invitation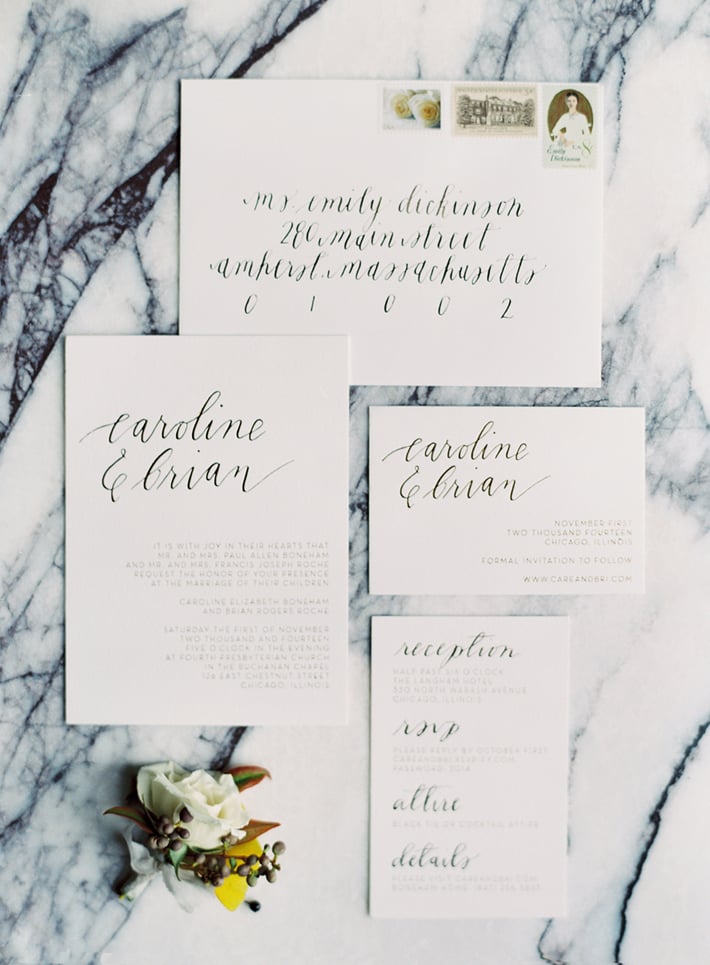 Sometimes, simplicity can go a long way. And in these elegant and regal wedding invitations, that's extremely evident.
These invitations don't wow or amaze with bright colors, clever typography or cool illustrations. Instead, they let the words of love do all the talking — quite literally. These simple, clean and modern designs still capture those feelings of love and togetherness but do so in a refined and sophisticated way. They are made up of a whimsical font grabbing your attention but then pull back to capture you with words that inspire love.
These designs are proof that you don't have to do it all or say it all through your designs. You can still make an impact with subtly and class. And in some cases, that's exactly what you want to make a statement.
14. Whimsical Wedding Invitations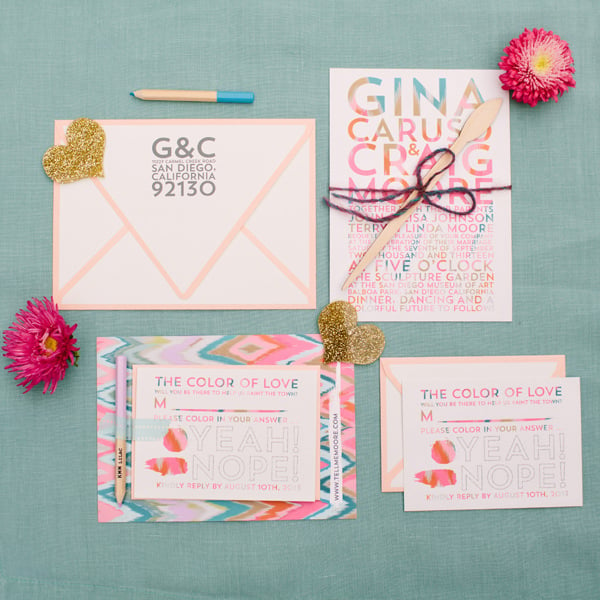 There's no denying the power these colorful wedding invitations have. Right from the start, these exciting pastels pull you in and take you on a dazzling trip to paradise. And they also capture the tranquil essence of love and marriage with ease.
These watercolor pastels are seen in the typography that stands strong and at the center of the design. They're also seen in the imagery that's drawn out and the envelope backgrounds, letting the recipient know right from the start what they're getting themselves into.
With the help of smooth pastels, bold typography and colorful designs, these invitations give off an air of whimsy and enchantment that make you feel like you're being led through a fairytale Disney movie. They are light and airy, with a breeze and fun vibe that fills you with nostalgia, enthusiasm and pure bliss.
15. Unique Wedding Invitation Design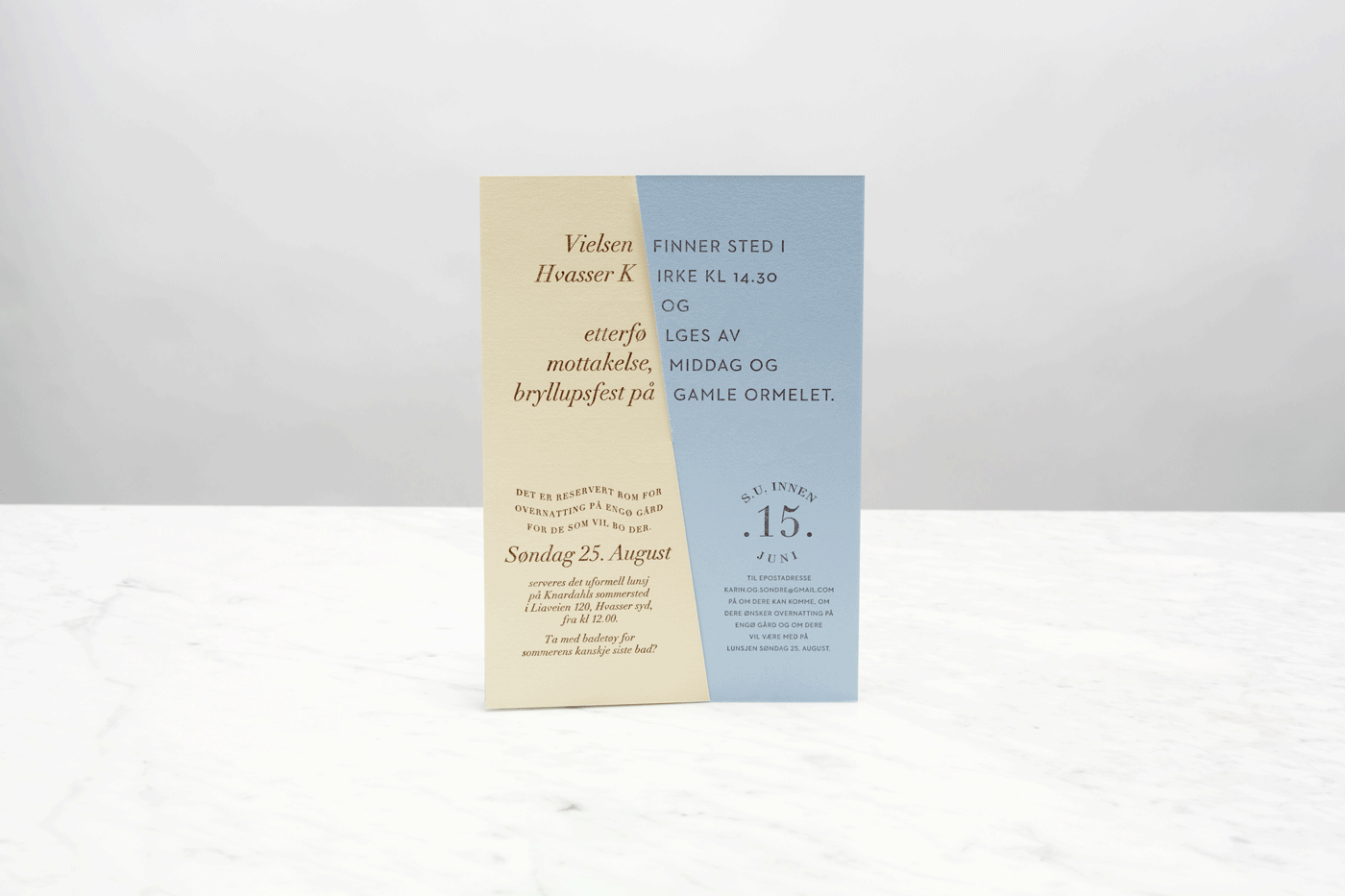 These elegant unique wedding invitations are simple on the surface, but come with a playful twist thanks to their shape and layout. These designs are made up of two colored pieces of cardstock, each with half of the wedding information readily available on the pages. But what makes this stand out is how these invitations are read.
These two pieces of paper actually overlap each other, with cutouts that allow the reader to quite literally fit these two pieces of paper together like they were always meant to be. It's sweet, quirky and endearing — making for a design that is stunning, sophisticated and romantically unique.
Each aspect of this design drives home the message of marriage and unity with simplicity and innovation. They are elegant and crisp designs that are elevated with the help of a creative overlapping effect. These prints by Olsson Barbieri are sure to amaze and wedding guest.
The Importance of Wedding Invitation Designs
Wedding invitations don't get the credit or notoriety that they deserve. For many, they're just a way to announce a wedding — where all the glitz and glam will actually go. But there's a power in these designs that can make an impact and instill great emotion.
Your wedding day is one of the biggest and most emotional days of a couple's life. They deserve to be celebrated with style and grace. And a good wedding invitation design can ensure that your big day goes off like a fairytale.
With your wedding invitations, you can let your true self shine. You can show off your personality, your quirks and your flair. You can model it after the theme of your wedding itself and give people a look into what fun, fabulous and crazy events they're about to be a part of -- similar to how brands can use print designs and ad campaigns to showcase their identity to consumers.
The 15 best wedding invitation designs give you a peek into the different types of couples and the weddings they put together. Whether you want to give your designs a modern flair or a rustic sophistication, the first place you can communicate this information is on your invite. Just let these wedding invitations inspire your own creations.
Our design experts recognize the most innovative and creative designs from across the globe. Visit Design Awards to see the:
Our team also ranks agencies worldwide to help you find a qualified agency partner. Visit our Agency Directory for the top Logo Design Companies, as well as:
Subscribe to Spotlight Newsletter
Subscribe to our newsletter to get the latest industry news