EA Junior Club Video Design Uses Cute Animation And The Power of Imagination To Influence Innovation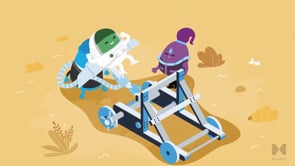 EA Junior Club Video Design Utilizes Cartoon-style Animation To Engage Its Audience
Balance is a Singapore-based studio known for its well-produced corporate, motion graphic and infographic videos. Their drive for technical excellence combined with their immense creative talent is highly evident in their newest video for EA Junior Club.
The studio's ethos and mission are in its name:
"Balance represents the perfect stage of design innovation and creative evolution, empowering brands with confidence to complete their mission."
EA Junior Club video design leans heavily on a distinctive animation style, akin to Cartoon Networks' Saturday-morning cartoons like Adventure Time or The Amazing World of Gumball. And for online natives, this might remind them of the viral sensation Dumb Ways To Die.
Cute animation, fun narration and smooth transitions entice the audience to watch from beginning to end. Even more, its modest length (clocking at less than 48 seconds) inspires multiple viewing.
Playful Animation Highlights The Power Of Imagination, Curiosity And Creativity In Changing The World
EA Junior Club strives to spark curiosity in the minds of young students by bringing the concept of engineering into the home and classroom. Its primary mission is to empower children to see themselves as problem solvers.
This video design frames the future possibilities by playing with the idea of a child's imagination.
From that unique perspective, EA Junior Club starts its soothing narrative of what it truly means to be an engineer.
The equation is simple; every child is a natural-born scientist, an inquisitive engineer that explores the world and eagerly learns about its inner workings.
When introduced to relevant toolset, the classroom stops being the hindrance that bounds imagination. On the contrary, it gives it a genuine voice.
Receive proposals from top video production agencies. It's free.
GET PROPOSALS
Smart Superheroes Embody Different Aspects Of Engineering
EA Junior Club's video draws heavily from concurrent youth trends and contemporary pop culture. It reminds us of how branding experts skillfully weave trendy narratives and references into their strategies, grounding the brand in relatable experiences.
It presents different aspects of engineering as members of a superhero team, giving them a specific and recognizable look that's evocative of current fictional characters. Instead of different workshops showcasing what students are able to enroll in, a series of characters represent different professions.
Ziggy, Digby, Boots, Raf, Lexi and Jax are an engineering team and their superpowers not only paint them as "cool" in the eyes of young students but also show that once hollow-sounding "endless possibilities" are good and well, with the right guidance.
They are creative problem solvers, each having a unique power, or area of expertise, be it aerospace, civil, software, electrical, water or biomedical engineering.
Through creative storytelling, Balance aims to help students to visualize the fun activities they can experience with EA Junior Club.
Although the video is aimed to get children's attention, it also effectively communicates to parents, teachers and guardians. The real value of the program wasn't lost to the playful elements and creative storytelling. After all, it's these decision-makers who will enroll the children in the program.
A Pleasing Color Palette And An Inspiring Soundtrack Appeals To Children, Both Young And Old
Despite the colorful presentation, the video maintains its cohesiveness with cinematic music background and toned down, pastel color palette that lends perfectly to the video's vivacious storytelling aspect.
The captivating colors complement dynamic transitions. It simultaneously evokes the vibrant and chaotic nature of a child's imagination, while streamlining it and adapting it to the program's framework.
Instead of going with bold colors that convey urgency, EA Junior Club's video uses pastel hues without losing the enthusiasm of the storytelling.
The subdued palette of pinks, blues, yellows and greens make a mesmerizing and pleasing design that you don't mind watching from beginning to end.
EA Junior Club's Video Design Is Smart In More Ways Than One
EA Junior Club's promotional video is concise, informative, fun and engaging.
Somehow, they took a topic mostly tedious to the general public (as sciences tend to be less loved in the school curriculum) and made it appealing to both its target, as well as the broad audience that otherwise wouldn't be interested.
It's a spectacular display of video production companies' ability to transform complex, often dry content into engaging, relatable narratives.
The video even takes it one step further as it subtly highlights the girl as a protagonist of the video.
Knowing that only 13% to 26% of engineers globally are women, this video also makes a modern and progressive statement on gender inclusivity.
EA Junior Club's video design was able to embody intelligence, not only with the subject of engineering but also through well-thought-out elements that make it worthy of our Best Video Design Award.